Dec 13 2012
12 Days of Love Notes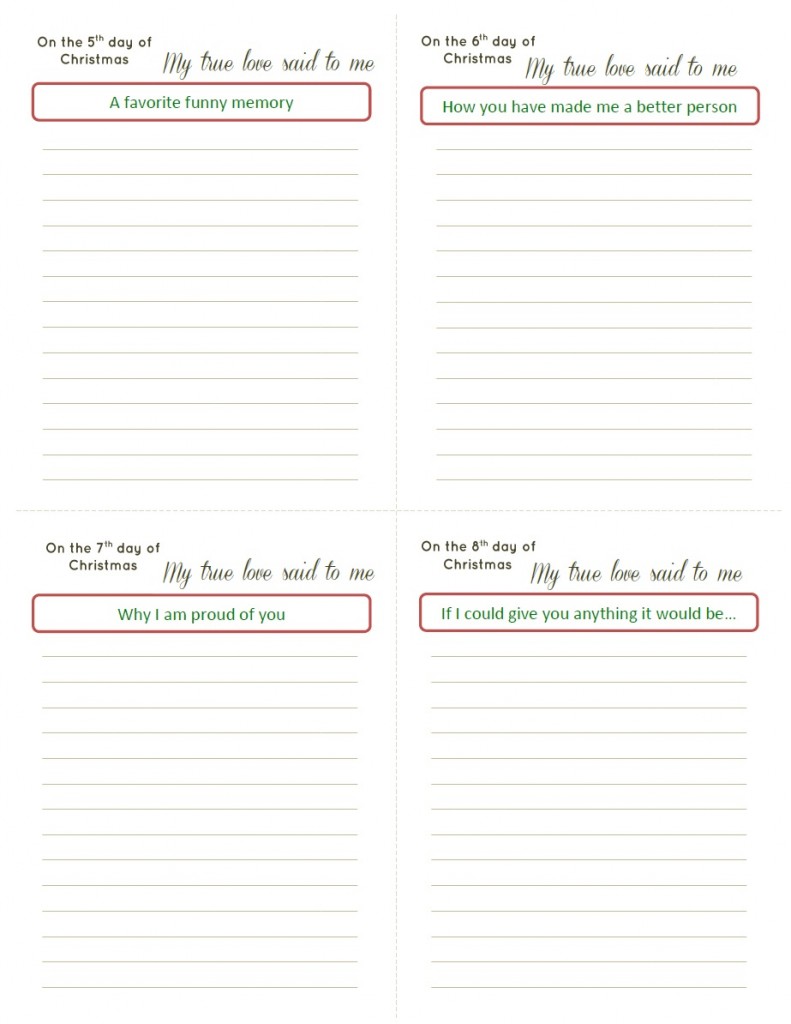 Hey everyone!
This is something that my husband and I are doing this year and I thought I would share the love… literally.
We are doing 12 days of love notes…
nothing fancy… just a little note we will leave in each other's stocking each day. Every day is a different topic and they are already to go – just print out two copies for each other.
Merry Christmas!
Here is the PDF:  
12 days of christmas letters
* You could also do something similar to this with your family and have everyone write 12 notes to each other and leave them in your stockings each day. Just pick 12 topics and assign them to  each day so everyone knows what to write about. (You could also include Grandma and Grandpa so they get a bunch of notes in the mail each day!)
9 Responses to "12 Days of Love Notes"
#

Mindy

on 13 Dec 2012 at 7:29 pm

Hi Shannon. When I print out your pdf each part that says on the ___ day of Christmas is blurred out. Any chance you can correct this today? I'd love to start this today.

Thanks!

I saw this post just as I was getting packages of treats ready to mail to my two missionary sons. I quickly printed and wrote 24 love notes to my boys. My hand is killing me, but Love from home is what my missionaries want most. Thanks for a great idea.

P.S. I am doing them for my husband and my other 3 children as well.

hehehe… this is fun! Thanks!

so lovely. I had heard and loved the idea the 12 dates of christmas and thought – Im going to do that! I wanted to start end of november with two dates each week (HARD! when you have four kids! – some outings but some dates at home after kids in bed) then my husband went away on business for 3 weeks and nixed that plan.. we've done about 4 dates…

so this is much easier! great idea

Thanks so much! What a great idea! My dad always did the 12 days for my mom and all my siblings do it for their spouses. I've felt guilty because I can't afford to do it, but now I can! I'm super excited to do this this year.

#

Laurie

on 14 Dec 2012 at 4:23 pm

Thank for doing this, Shannon. I, too, have a completely blurred, "On the __ day of Christmas."

Mine printed out great! I hope you don't mind I plan to link to this from my blog!

I didn't want my husband to know I am going to do this so I just put it on my Facebook page instead

#

Terri

on 16 Dec 2012 at 8:58 am

Blurred for me too! But what a great idea. Thanks.
Leave a Reply