Jul 15 2012
New Testament Scripture Mastery Flash Cards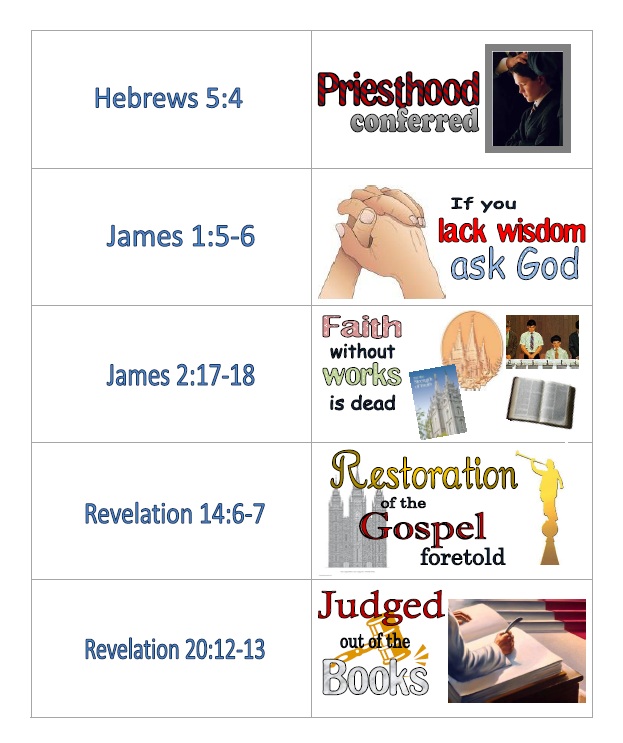 YAY!  I have just finished the New Testament Scripture Mastery Flash Cards!
Each card has the scripture mastery reference on one side and the key phrase on the other. There are a total of 25 cards and each one is meant to help give insight to the key phrase used and add some visual excitement! I will be posting in the near future several fun ways these can be used in your families or classroom.  Once I pulled these out in my classroom I was shocked at how much of a difference it made.  My students loved using these!
Here is the PDF for the New Testament Cards:
new testament scripture mastery cards
For instructions on how to make a set
– go here to the
 Doctrine and Covenants Scripture Mastery Flash Cards
. And go here for the
Old Testament
cards.
24 Responses to "New Testament Scripture Mastery Flash Cards"
Yay! The seminary kids and love using these! Thanks bunches.

#

Janice

on 15 Jul 2012 at 3:34 pm

Hi there
a year ago I emailed you as a new seminary teacher, seeking advice on how to move forward. I was soooo scared and over whelmed! I just HAD to drop you a note this morning when I saw the scripture mastery flashcards and tell you how much you helped me this past year! What an example you are to others…and such a huge help
I do not know if I will be seminary teacher this year, my hubby was called to bishop a month ago and I currently have 3 callings. No matter what, i have 2 teenagers in seminary, so I will be printing these out and helping them to learn the scriptures!!
Just wanted to say Thanks for all you do!!
Janice

#

Neida

on 15 Jul 2012 at 3:46 pm

This is so exciting! I appreciate all you do in helping others – ME! For some reason, when I click the PDF link I only get a blank page. Any suggestions?
Thank you!!

#

Alexis

on 15 Jul 2012 at 8:46 pm

Thank you!! I appreciate the help in making seminary more special and memorable. I really love being a seminary teacher and your suggestions and teaching aids bolster my confidence. Thank you.

#

Elaine

on 16 Jul 2012 at 12:42 pm

I love your website. It is so helpful with Seminary as well as with personal gospel study! I loved the OT Scripture Mastery cards and was excited to see the cards for the NT.

I was wondering if it would be possible to make these into larger cards (half sheet each)? Larger cards would make it easier to hold up to quiz my kids either on the scripture reference or on the picture.

Thanks again for all of your hard work and ideas!

#

Natalie

on 23 Jul 2012 at 4:35 am

Thank YOU! These are such a useful SM tool! You are AWESOME!

#

amy

on 26 Jul 2012 at 1:37 am

Thanks for sharing these…. I love them!

#

Kym Snarr

on 31 Jul 2012 at 11:37 pm

THANK YOU! My husband and I are new seminary teachers for this upcoming year and I can already tell your website is going to be a lifesaver for us! I love these cards and SO appreciate your time and efforts in putting these together!

#

Connie

on 06 Aug 2012 at 2:25 am

I used the OT cards last year and the students LOVED them. Could you do a sheet with just the NT scripture mastery stickers? Thanks!!

#

Trena

on 09 Aug 2012 at 3:34 pm

Love these. How do I print 1 SM per 8.5×11 sheet? (both sides, of course)

#

Kristine

on 10 Aug 2012 at 5:00 am

Thank you so much for making these. I was called to e a teacher mid year last year and the OT cards were so so helpful. I really appreciate all your hard work. Thank you again!

#

Kay

on 12 Aug 2012 at 8:26 pm

I was called to teach seminary last year and just found your website it's fantastic . Thank you ,I have a problem downloading the new testament flash cards any help will be appreciated. Thank you Kay

Thank you Thank you …..this will be a great tool!

I've been trying to teach my little kids scriptures- but they are so visual!! These are great helps! I don't want to sound selfish or impatient – but did I miss the Book of Mormon cards or are you working on them? If you're NOT – don't worry, I've got kids- I get it. If you are- I'll be patient!

#

Janice Gardner

on 24 Aug 2012 at 4:27 pm

Do you have the list yet of all of the scriptures on one or two pages?

I loved having the Old Testament one last year. Thanks so much for your great service. I am so overwhelmed being a new teacher (3 months last year and starting again next week). This has helped me so much.

Many blessings to you…
Janice Gardner

#

Susan

on 27 Aug 2012 at 4:14 pm

I am going into my 14th year of teaching Home Study Seminary and SM's are the hardest to get my kids to do as they have to do most of it on their own. I love these cards and will be using them starting this Wednesday for our first class day. Thanks!!!

#

Laura

on 29 Aug 2012 at 8:58 am

Thank you, however when I click the pdf link it doesn't load……help any suggestions

#

Kristine

on 11 Sep 2012 at 4:05 am

I did find a list of all the SM on one page if people are interested.
http://www.ldsseminary.org/nt/NTSM.pdf

#

etta

on 20 Sep 2012 at 10:26 am

Thanks for your ideas NEW SCRIPTURE CARDS ARE GREAT.

#

Celeste

on 26 Sep 2012 at 2:00 am

Thank you thank you thank you!

#

Paula

on 01 Oct 2012 at 11:50 am

Thanks for your Scripture Mastery cards. We loved the OT ones last year, so we came looking for the NT ones this year. Thanks!

#

shelley

on 15 Nov 2012 at 6:48 pm

Thanks for these great cards and pictures. I would just love to have them a bit larger (maybe two cards per page (on a 8.5X11 page) so that I can use them with my larger class. If you can help me with the reformatting, that would be great!

#

Jodi

on 15 Nov 2012 at 8:26 pm

Thank you so much for letting other people have access to these cards! I appreciate it so much & so does my class!!!

#

Michelle

on 21 Nov 2012 at 2:43 pm

Thank you! I am excited to use these with my children. I love your ideas!
Leave a Reply