Nov 02 2012
Mmmmmm….
Those of you who are new to this site may not know…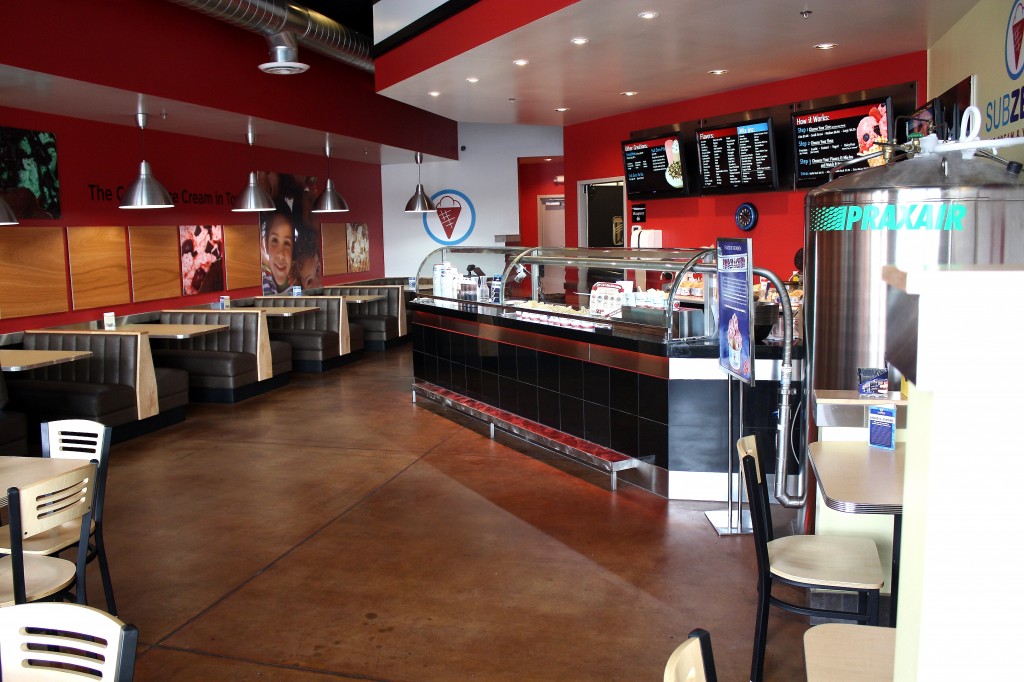 that my husband and I own an ice cream store called Subzero Ice Cream right smack in the middle of the Salt Lake valley in Murray.
If any of you want a real effective lesson on small business… buy into a franchise.  You learn a LOT!
There have been ups and downs, happiness and fears…. and lots of yummy ice cream.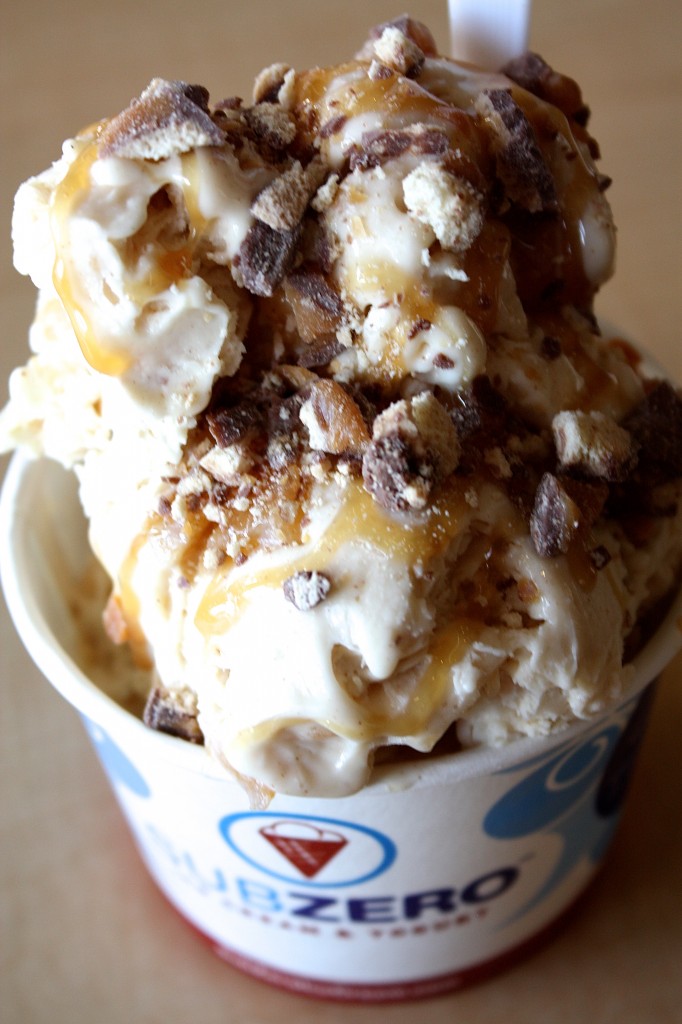 So if you are looking for a fun date or family night, you should swing by and give it a try.
It is truly an experience.
We actually custom make this ice cream right in front of you using Liquid Nitrogen.
Crazy right?
And we have won State's Best ice cream for four years!
So its fun to watch and super yummy!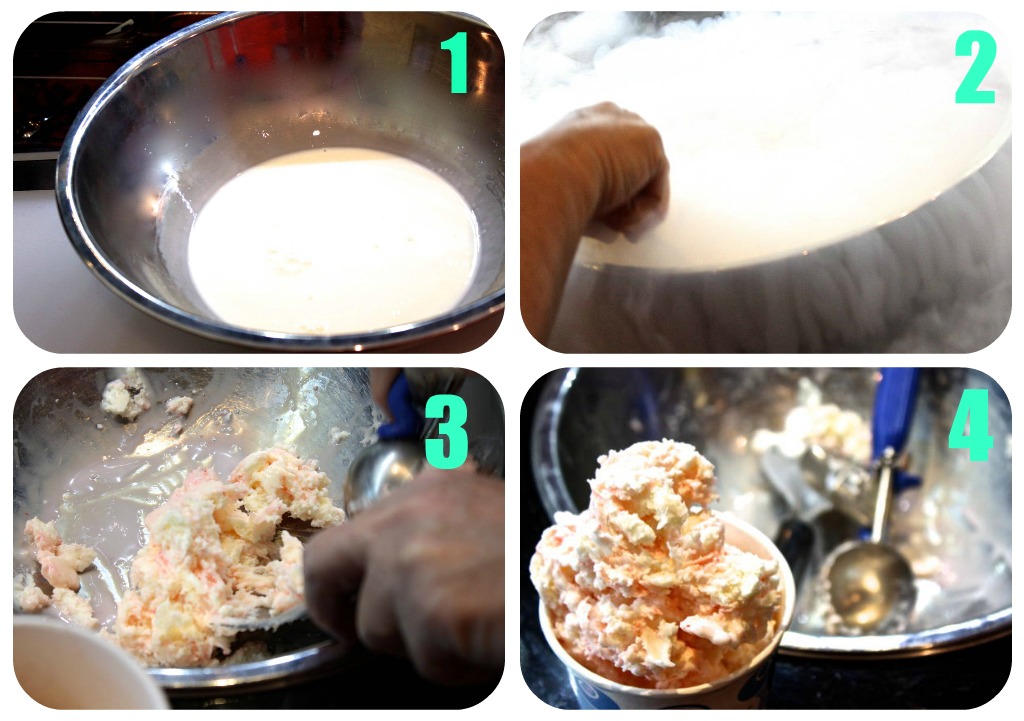 So here is the low down….
First – You choose your base.
Meaning you choose what kind of cream you want.  Do you want real creamy cream? Low fat?  Yogurt?  Lactose free?  Custard?  Your choice….  And then we pour that into a bowl.

Second – We add all of the flavors and mix-ins you want…
and then freeze it with liquid nitrogen (insert squealing children here).  There are over 47,000 possible flavor combinations.  Crazy!  And we have plenty of customers well on their way to that number.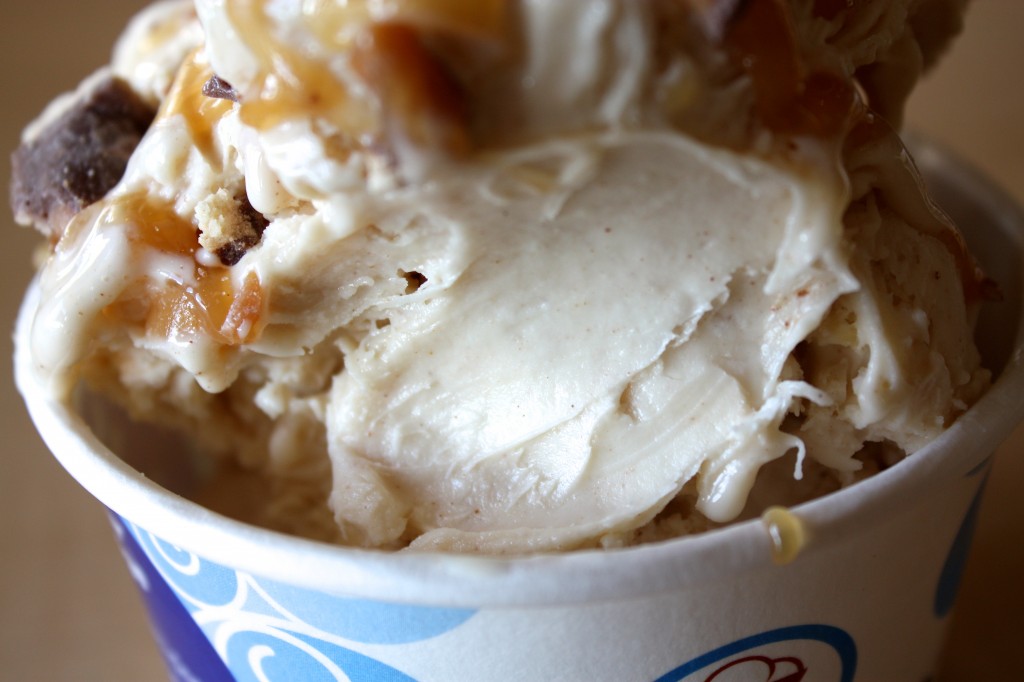 Third – We work it into the creamiest ice cream you have ever had!
Literally because no ice crystals are formed since there isn't a long churning process.  Plus you can choose if you want it soft or medium or a really hard consistency.
Fourth – You enter ice cream heaven.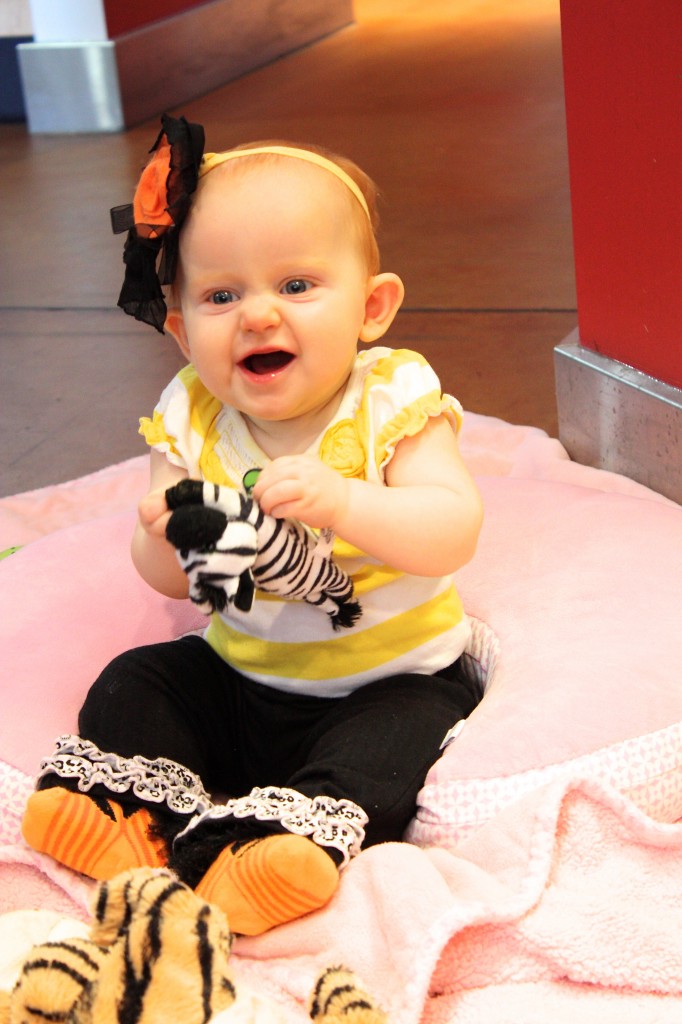 Sometimes I take Hannah to the store (because my mom works there during the day and I like to go hang out with her) and I like to place her where she can see the vapor from the nitrogen.  She LOVES it.  I took this picture on Halloween.  She has cute Jack-O-Lantern socks on I wish you could see better.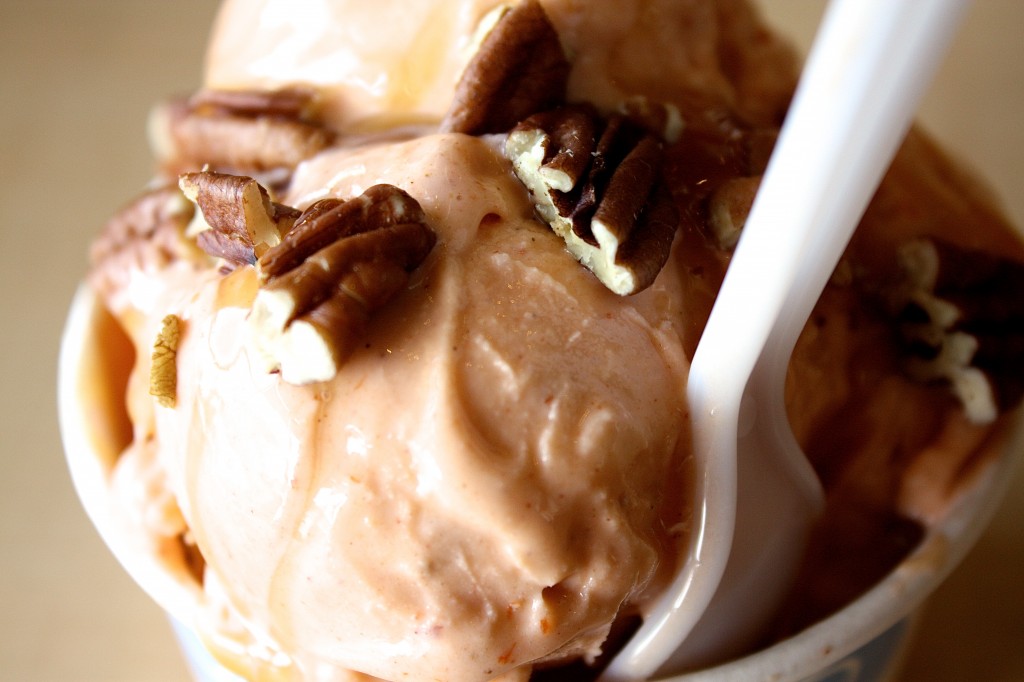 Here is some yummy pumpkin ice cream we made.  BIG hit!!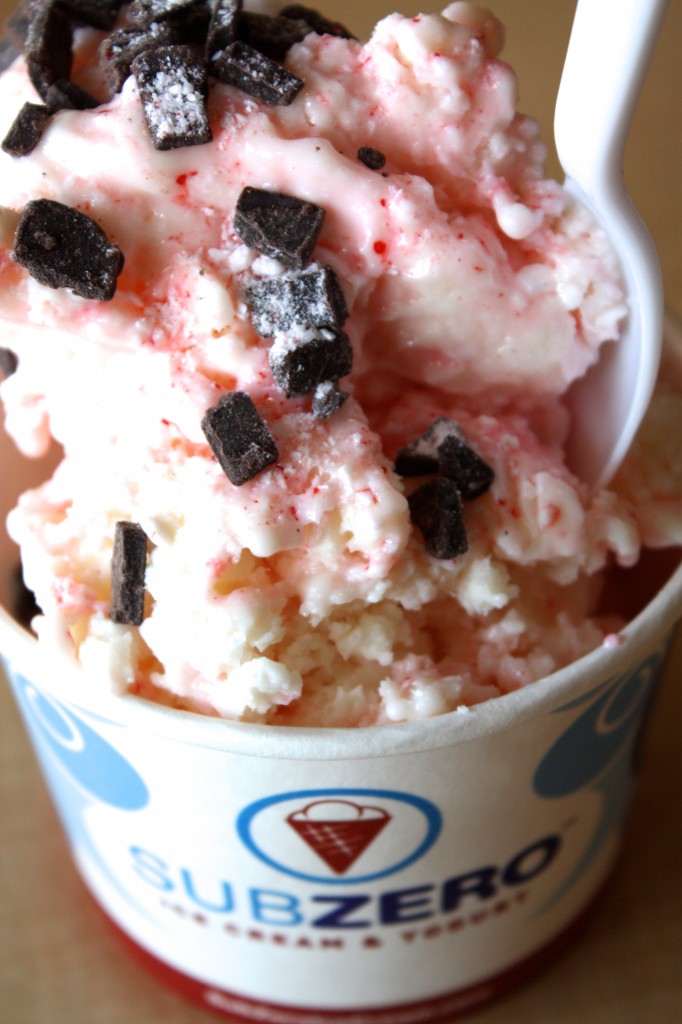 This is one of my favorites.  Peppermint Ice Cream.  And it happens to be made out of a Coconut Base which is Lactose free.  So if you know people who are dairy-free, they can have all of the same flavors as the rest of the world now.
There are several of our store in the nearby area (between Provo and Ogden)… nine I think…. and there are others popping up all over the country.
If you want to come see us… we are at 5612 south 900 east in Murray Utah.  We would sure love to see you.
11 Responses to "Mmmmmm…."
#

carol

on 02 Nov 2012 at 3:01 pm

I can choose my base?! (I can't handle the really creamy stuff.) This is almost as good as Paciugo's! I am definitely coming down there on a date! YUM!

Chocolate Amaretto = Heaven. Just sayin'

Andrea-
That is one of my favorites!!! So tummy!

#

Sasha

on 02 Nov 2012 at 3:50 pm

I was so bummed when the SubZero in Logan closed. The ice cream is yummy and the experience fun. I took my kids there for a science field trip–chemistry. (We homeschool.)

#

Linda Watson

on 02 Nov 2012 at 3:53 pm

We will be visiting SLC for Christmas….will definitely stop by and bring our 3 girls and their families.

Wow…makes me wish I still lived in Holladay! :O)

#

Milika

on 14 Dec 2012 at 7:05 am

Is there a store in California?

Hi Milika!
Yes there are a few I think – you can find the on the subzero icecream website.

#

Natalie

on 30 Dec 2012 at 7:07 pm

My husband and I, just last year, lived right around the corner from that Subzero and WE LOVE IT! We would take everybody we knew for ice cream. We have since moved out of state and this is one of the things we miss the most!!! That's probably sad to say, but it's true. SO GOOD!!!

#

Markelle

on 10 Jan 2013 at 1:38 am

I've been there and it is freaking amazing! Best ice-cream i've ever had. I'm really picky in eating ice cream, there's only 1 flavor I like (chocolate) and I'll only have it from 3 places. Sub-zero is the top of my list. It's AMAZING!

#

Linda

on 26 Sep 2013 at 3:53 pm

I've always loved your website and never knew you had a Sub Zero. So do we! Ours is in Federal Way Washington. Too funny!
Leave a Reply