Oct 27 2012
2013 Young Men and Women Journals Now Available!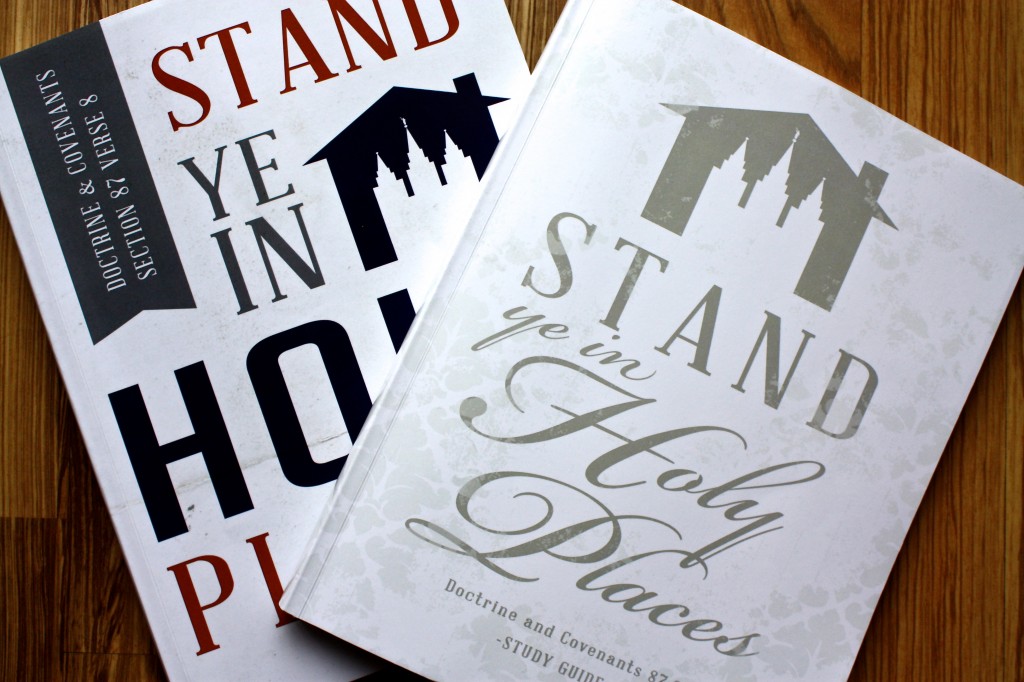 The young-women version of the 2013 mutual journals are now available and here is the winning cover!
I am super excited about this book.
It has all of the good things of this past year's theme with some great improvements!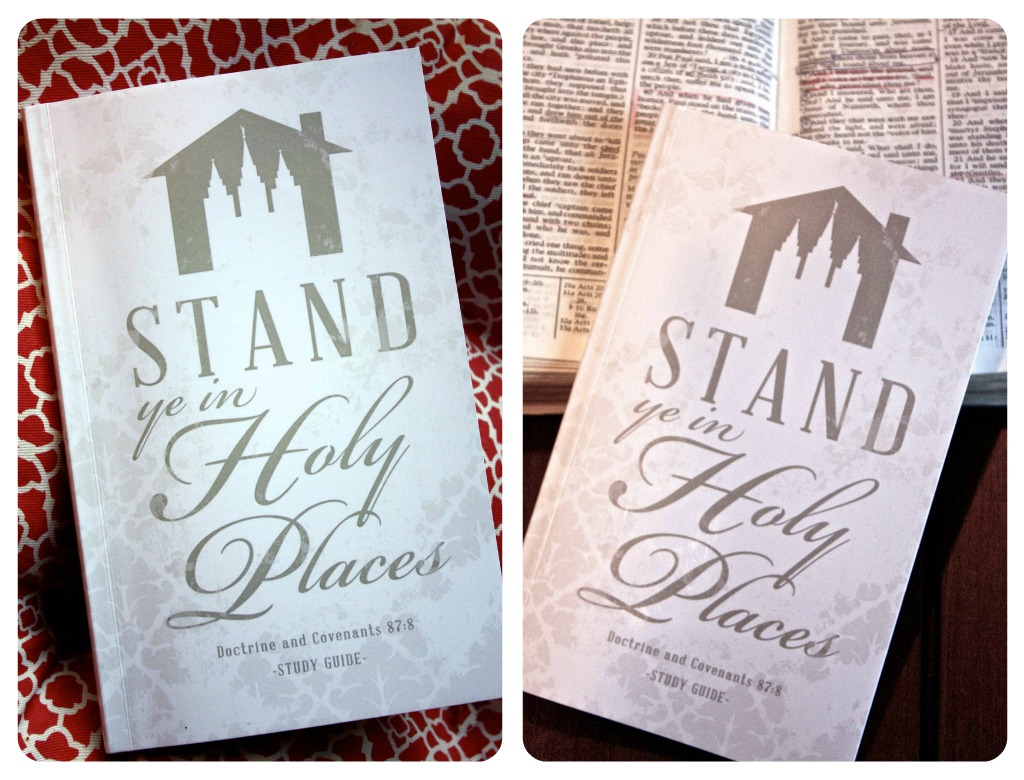 This book is 8 x 6 which means that it should fit in most scripture carriers.
It is 108 pages, and here is a peek inside…
(Sorry about the color variation above – it was a lighting issue.  The one on the left is the correct coloring, but I wanted to include the one on the right because it helps you see the size in context of a regular sized Bible.)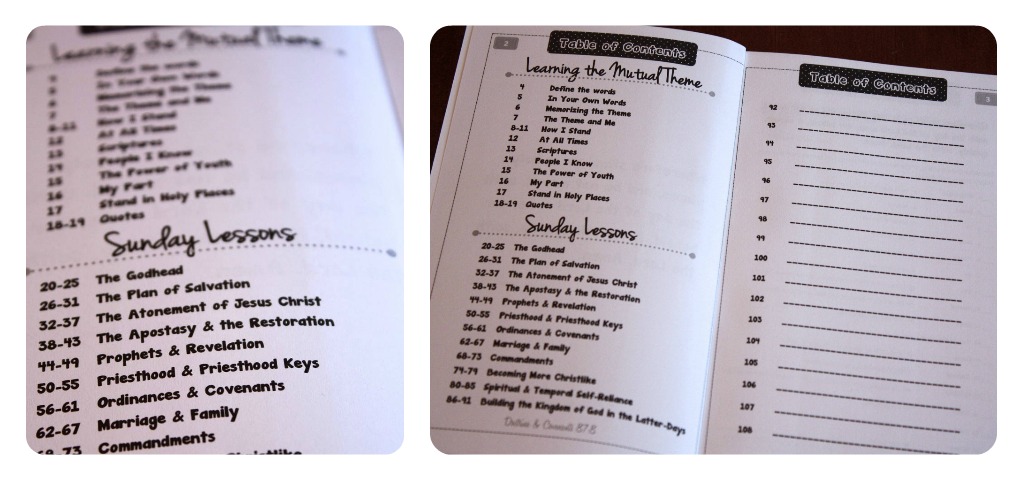 Here is a view of the Table of Contents.
Basically the first set of pages is dedicated to really learning and applying the 2013 mutual theme (Stand Ye In Holy Places), to the lives of the young women.
The second set of pages are dedicated to Sunday lessons.  More on this below.
And there are also additional pages found in the back of the book.  They are blank, lined pages that can be used however you wish.  For when you need more pages during your lessons, for notes and reminders for activities, for personal progress goals, General Conference notes, Sacrament Meeting notes, etc….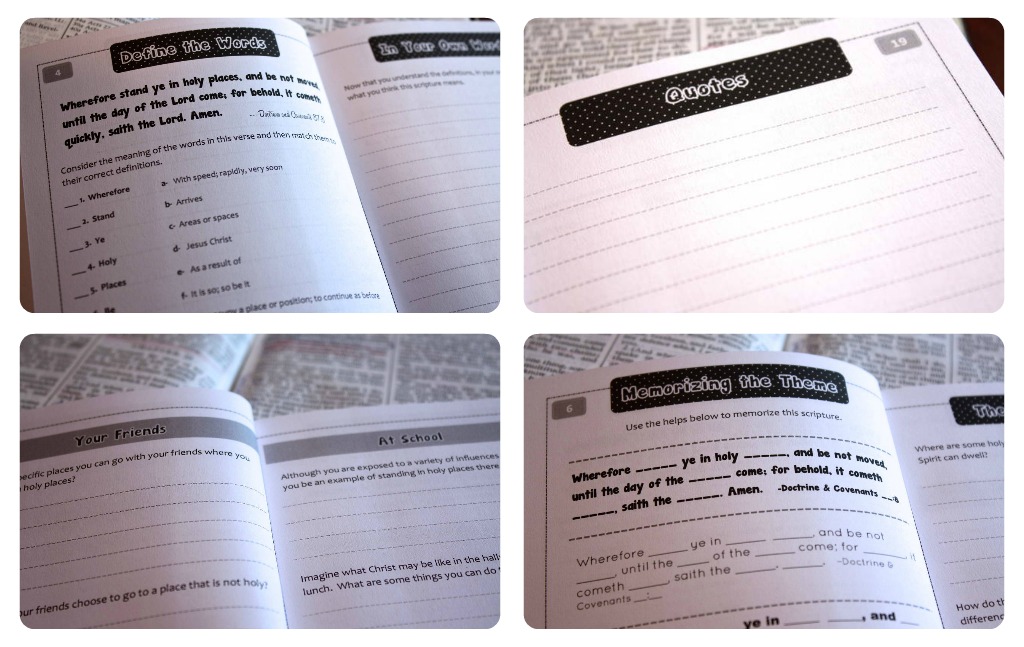 Here are a few pages of the mutual theme section.
Basically this section is dedicated to helping the youth:
1) understand the theme,
2) memorize the theme,
3) apply the theme to their lives
and 4) make goals to help them more fully live it.
You can use the first few pages to introduce the theme in class and send the girls home to finish the rest and then come back and share with each other things they wrote.
Here is what the Sunday sections look like.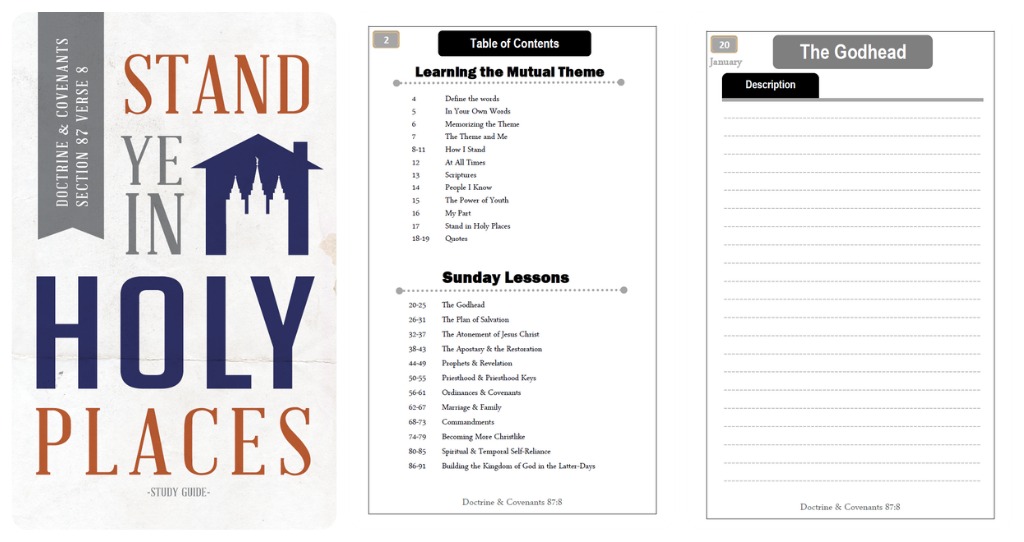 Here are examples of the Young Men's journals.
This year the lessons for Young Men, Young Women (and Sunday School) are changing from the old manuals to doctrinal topics. You can read about it
here
.
There are 6 pages dedicated to each monthly topic.
For example, January is "The Godhead" and the very first page is for the girls to write a description of that doctrine.  So basically a page to list facts and details about that doctrine.  They could add to this page all month long, and if a girl happens to miss a week, she can borrow another girl's journal and still get this valuable information.
The second page is for a list of scriptures that teach about this doctrine.  Again, they can add to this all month long.
Then the remaining four pages are for notes, questions, personal thoughts or however the teacher wants to use them in class.
Those of you who know me know that I am a big believer of writing things down.  The girls are so much more to remember, build on, and review what they have recorded.  Plus it encourages involvement as they will want to fill up their journals.
To purchase these journals, go to my store in the top right of this site.
They retail for $10.95, but for bulk orders for a young women's group I can give you a code that makes them $6.50 each.  Just send me an email at [email protected]  (or click on the envelope under my picture) and tell me that you want the mutual journals for your group and how many you want to order, and I will send the code your way.
Its purpose is to help you study this doctrine in depth so you can teach it with power.  
14 Responses to "2013 Young Men and Women Journals Now Available!"
#

Elizabeth

on 28 Oct 2012 at 8:59 pm

This looks, as always, wonderful! Really eager to see the Leader/Parent version. Thankyou!!

#

LynnEl

on 29 Oct 2012 at 1:30 pm

I can't wait for the leader/parent version!!

#

Wendi

on 30 Oct 2012 at 10:54 pm

I am so happy you are doing a leader/parent version. Thank you so much for publishing your wonderful ideas!

#

Leigh Ann

on 02 Nov 2012 at 11:03 pm

Our YW Presidency is so excited about the leader/parent version and can't wait to be able to purchase ours! A HUGE thanks for doing this!

#

Rachel

on 07 Nov 2012 at 4:49 am

Is this book generic enough to use for the Young Men and their Duty to God program? I would love to use it in my Sunday School class and extend the invitation to the Youth Leaders.

Yes! And the young men's version should be out next week. So stay tuned for those.

#

Sarah

on 13 Dec 2012 at 6:35 am

Will you be offering a group discount for the leader version? This looks fabulous!

I recently went up to the Quilted Bear to pick up some of these journals for my family, unfortunately they were not there. I am headed up that way this week and wanted to know if your booth will be stocked with them.

#

Debbie

on 31 Dec 2012 at 4:29 pm

Has anyone come across a journal for the 11 year old Primary class. This would be a great idea for the 2013 theme, "I am a Child of God." Reflecting through writing is a great tool to engage the kids and foster learning that sticks!

#

Jamie Wilson

on 03 Jan 2013 at 5:46 am

I have some extra leaders books if anyone is interested.

#

Lindsay

on 28 Jan 2013 at 12:30 pm

I purchased these for my YW and handed them out yesterday, they were so thrilled! They started taking notes right away and kept talking about how great these cute little books will be for the whole year! We also purchased the adult ones for the presidency and they are wonderful. Thank-you SO much for putting these together.

#

cristen

on 29 Jan 2013 at 1:28 am

I would like to purchase these for my yw…can I get the code for bulk orders? Thank you!! We are very excited to use them this year!

#

Kate

on 07 Feb 2013 at 3:58 pm

My girls really want one of these journals but happen to like the style of the YM cover better. I know the lesson schedule is slightly different for each class… Is there any difference between the journals besides the cover? Thank you!

#

Megan Olson

on 14 Apr 2013 at 3:15 am

I love these books. Is there any chance that you are developing one for the youth Sunday School program? I would love to use these for my class.
Leave a Reply