Nov 16 2012
Adult 2013 Doctrine Guides Now Available!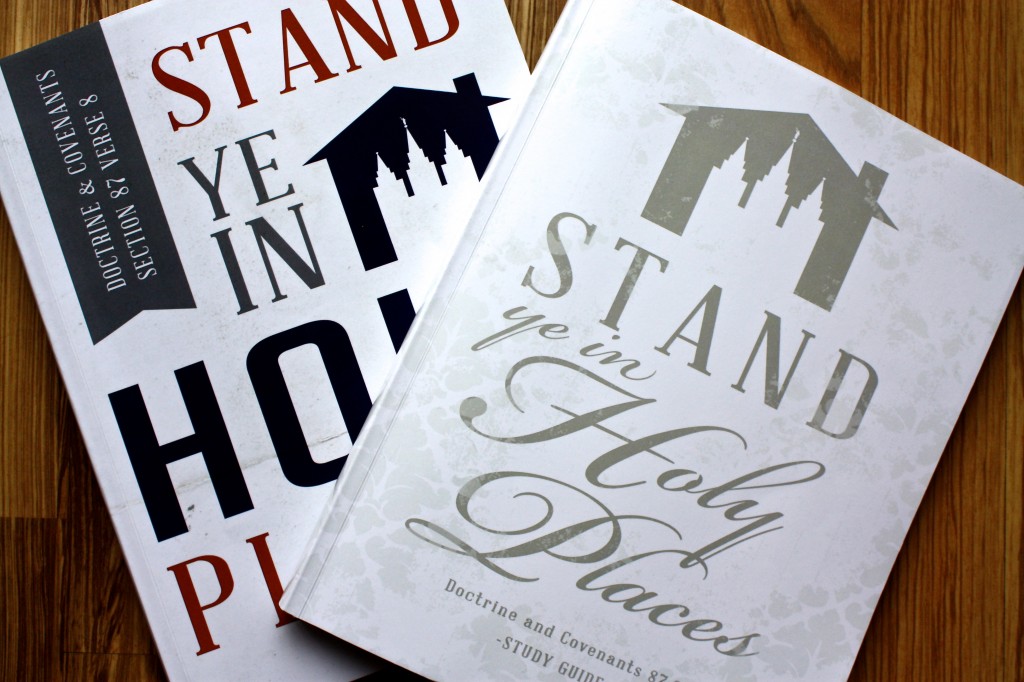 Here are the new Leader/Adult /Parent Study Guides!
The Lady/pretty version is now available and the male version should be available by Monday at the latest.
My purpose in creating these books are
1-  To help strengthen homes
2-  To help you study doctrines and principles of the Gospel
These are designed to help you study 12  doctrines and principles that the youth will be studying both in YM and YW as well as in Sunday School.
So, these will definitely be helpful to Sunday School and Youth leaders, but they are designed to also help anyone, especially parents.
The idea is to prepare yourself before you prepare a lesson.
I get quite a few emails asking me "where do I start?"
The concept of keeping a scripture journal is something many of you want, but you aren't sure where to start.  I get it.  My advice is typically to dive in and you will figure it out as you go.  But, now I think that these study guides may be what you are looking for.
And I will be studying these along with you and providing support
all throughout the year and encouraging you to also share what you find and ideas that you have to teach others.  So if you teach the youth, come share your ideas on how you are going to teach.  And if you are looking for ideas on how to teach your five year old, or ten year old, come and see if anyone has shared an idea that will work for you.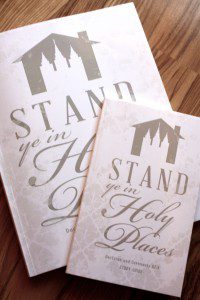 The covers match the youth journals.  But that is all that is the same.  These are larger, thicker and more detailed inside.
Let me give you a look at what these are like.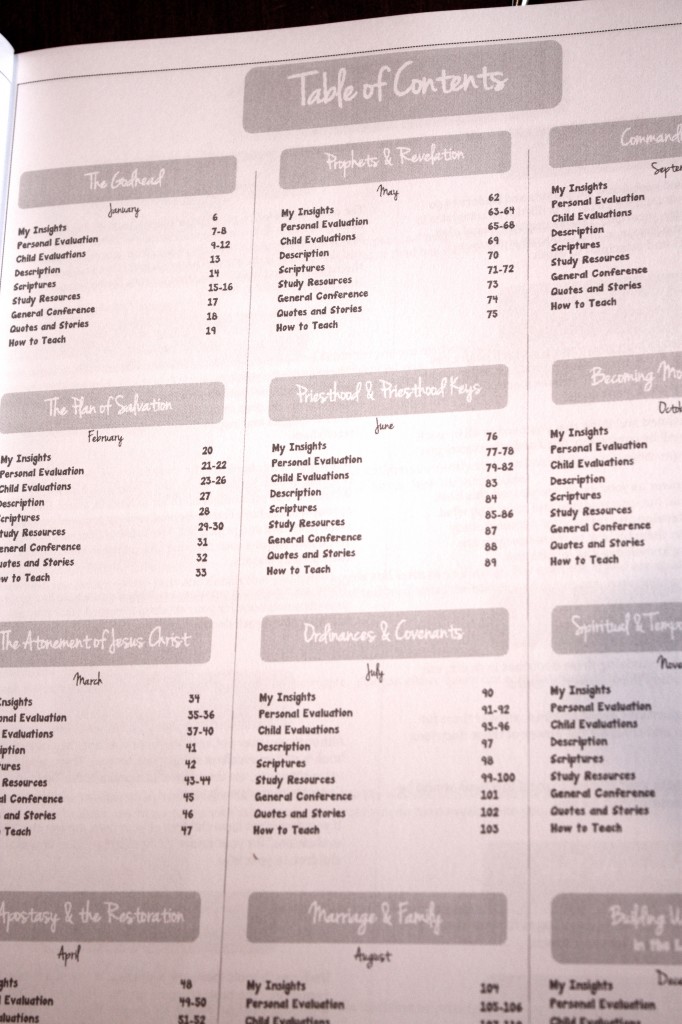 Here is the Table of Contents.
And this is the pretty/lady version.  There is also a more manly version that my husband actually approved of.  And that says A LOT!
There are 12 doctrines and principles divided up throughout the year.  I have indicated in the Table of Contents which month each topic is taught in.  If you do not teach the youth and just want this for your own studying, you can use the months as structure for your studying, or you can disregard them and study what you want when you want.
I will be providing support on the topics in the months indicated in the book.  So in January, I will be doing posts, giving quotes, teaching ideas, etc on The Godhead.
Also, this could be a guide for you to, as you feel appropriate, plan your Family Home Evenings or Family Scripture Study around.  I mean, how awesome would it be if the youth were learning these topics in Young Men and Young Women, Sunday School and in the home!  The likelihood of these doctrines having impact would be GREATLY increased.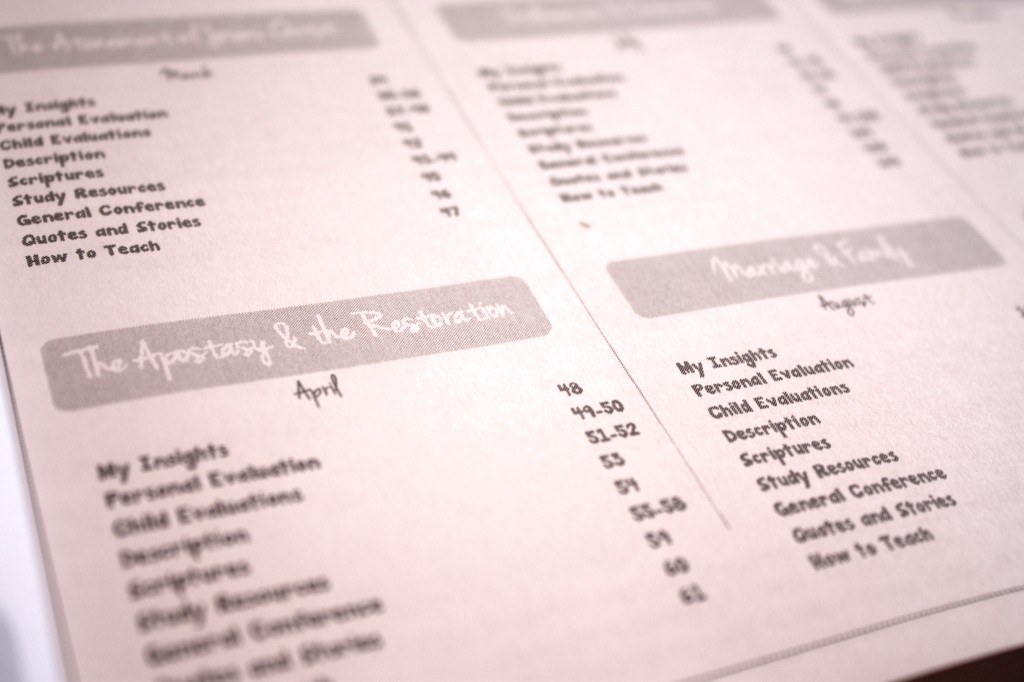 Each topic has a grouping of pages for you to record the things you study and each page guides you to different resources or angles on each topic.
The idea is NOT that you have to fill up each page.  Some pages will be filled up quickly and easily, and others may only have a few things on them – but they all hold value, and everything is automatically organized.
There is a page of instructions on how to use each page in the book, and I will also be providing pictures and posts throughout the year to continue helping you.  But here are a few of the pages….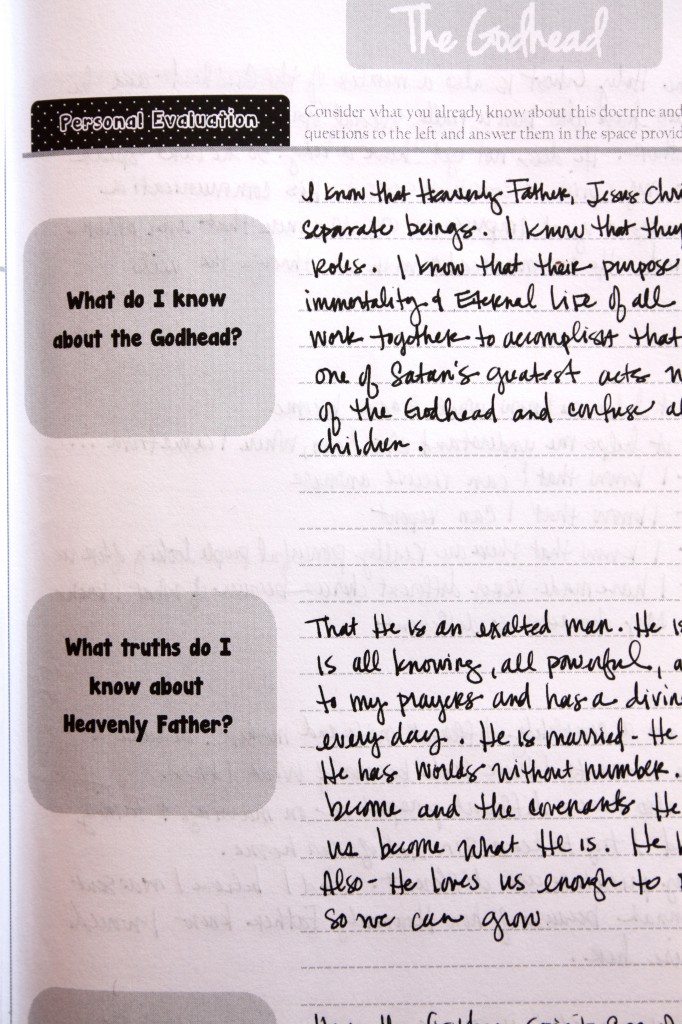 Each topic has a "personal evaluation"
where you answer a series of questions about the topic you are about to study.  The idea is for you to take a moment and write down what you already know about that topic along with how that topic has impacted your life.
By the way, this is a great thing to do with the youth and your children as well.  Before you teach them, find out where they stand.
These doctrines and principles chosen by the General Young Men, Young Women and Sunday School presidencies are critical doctrines that make a huge difference in our lives, our decisions, and our perspectives.  As you answer these questions you take a moment to consider and write how much these doctrines have impacted you.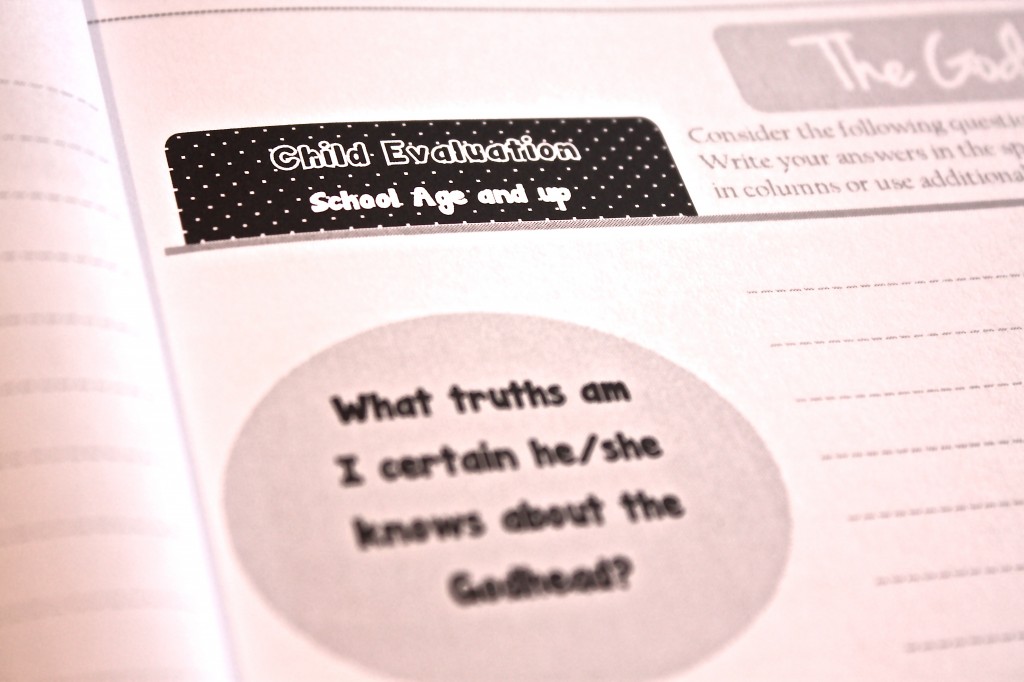 Following that are 2 sets of Child Evaluations.
One for school age and up and another for baby to school age.
The idea for these came from an experience I had once when I was a seminary teacher.
 It was Parent Teacher's Conference and we were just over a month into the new school year.  I had given my students a "what do you know" type test about the Plan of Salvation so I could see where my students stood in knowledge and understanding.  There was one girl in particular who had surprised me by how little she knew of "the Plan".  I pulled her test out and gave it to her mother and she was totally shocked that her daughter had done so poorly.  She then paused, looked at me and told me something that has had a great impact on me ever since.  "She is the youngest and we have been teaching too our older children assuming that she would just catch on.  I guess she hasn't."
I am pretty sure that young woman turned out just fine, but I learned how important it is for us to look at our children and students individually, not as a whole group.  These questions are designed for you to evaluate each of your children and where they currently stand in each doctrine.  If you will seek the Spirit as you consider each question for each child, I believe you will be led and guided as their parent on what and how to teach them.
Also, if you are a teacher of the youth, I believe that if you focus on your family first – the lesson for your youth will come naturally and with more power.
The questions are customized for each topic, but here are some examples:
- What truths am I certain they know about the Priesthood?
- When have I heard them talk about the Plan of Salvation?
- What are some ways they, specifically, strengthen our home and family?
- What are some specific ways I see them preparing themselves for their future family?
- Why is it important for them to know that there was a Premortal Life?
- What are the first 5 things we need to teach him/her about Covenants and Ordinances?
- How will we teach them about the importance of Temple Marriage? What is our plan?
These questions could also be an interesting discussion with your youth.  Have them consider their future families and children.  This could be really helpful as they prepare to be righteous mothers and fathers.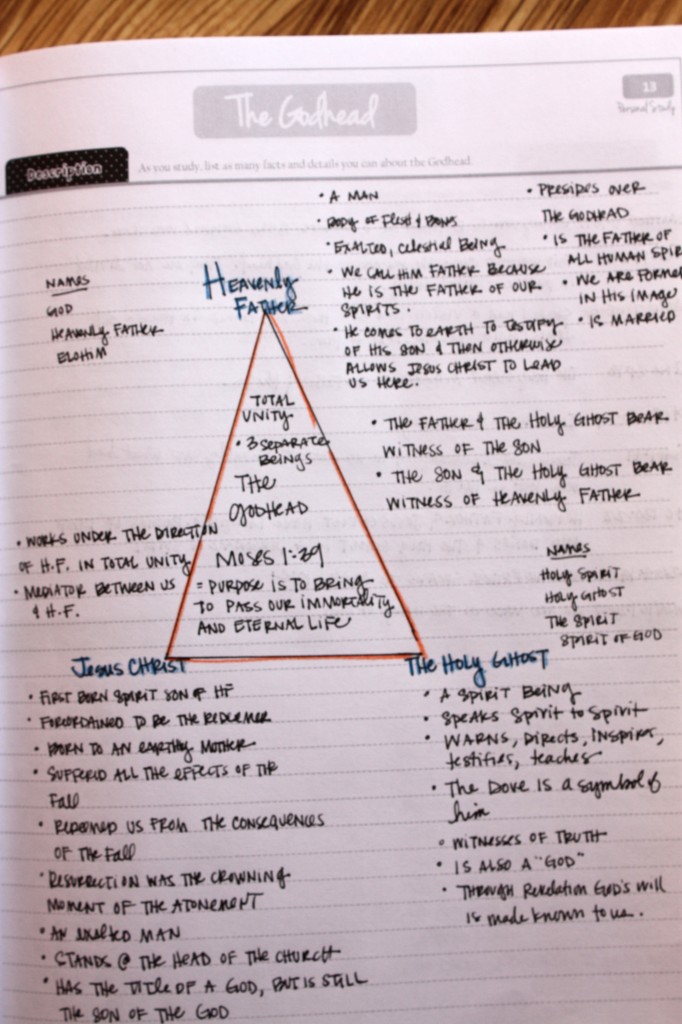 There is a page labeled "Description".
This is where you can write down/layout/visualize what you are learning about this topic.
As I studied, I kept coming back to this page and adding more and more information.
This page also appears in the youth's journal.  Here you can plan how to help the fill in their journals.  And when they see your journal, they will be inspired to also fill in their's.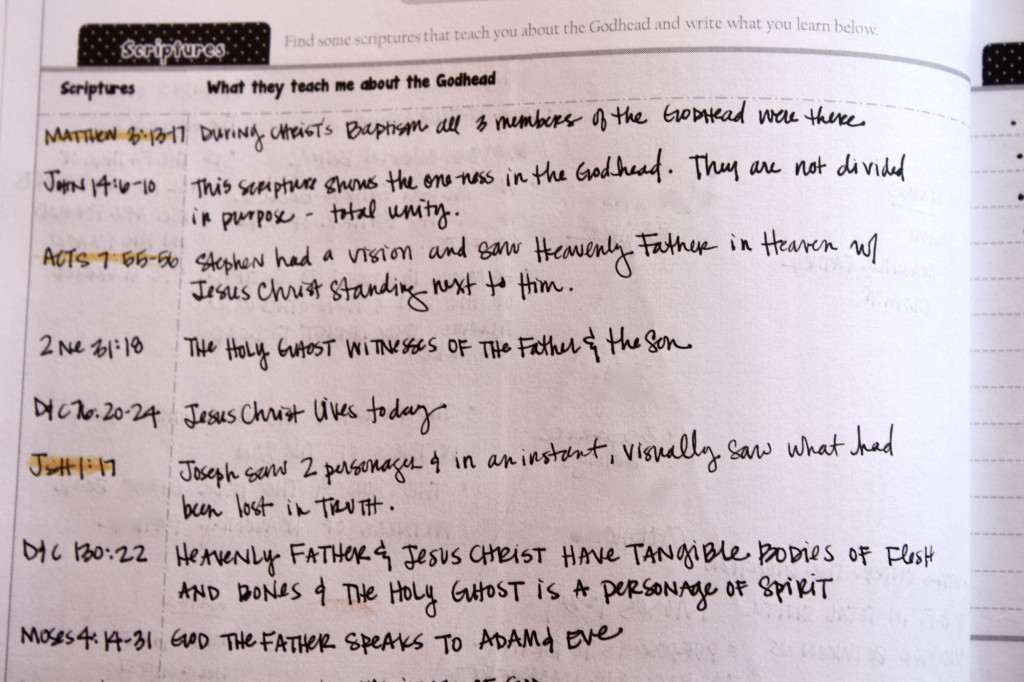 There is a page specifically for scriptures
that you want to gather about this topic.  I highlighted the ones that I would most likely want to use in a lesson or Family Home Evening.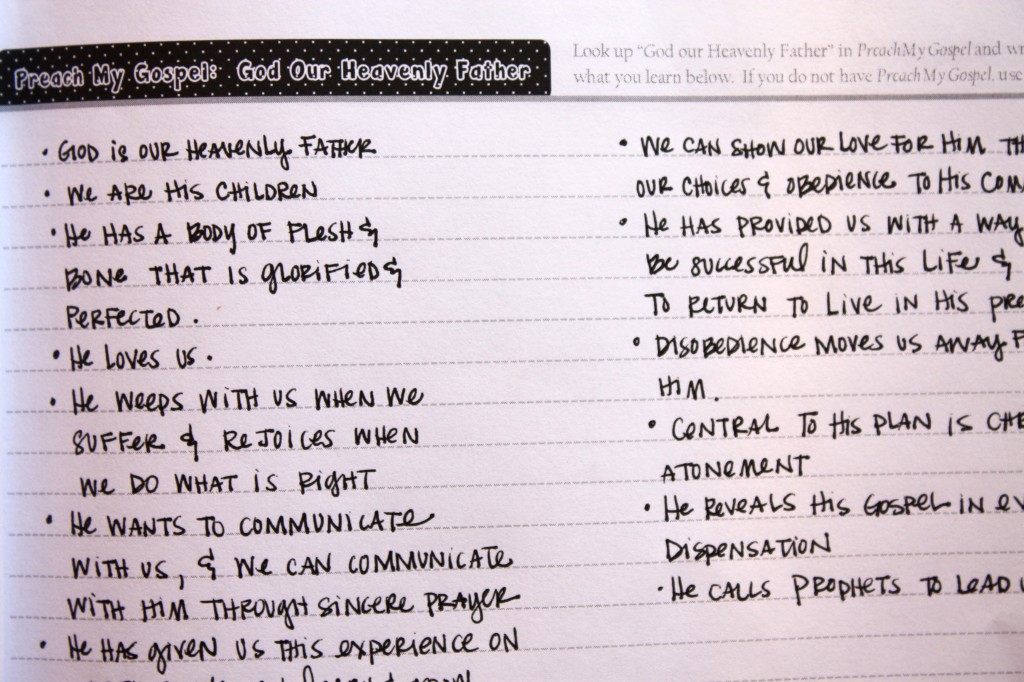 This page sends you to great study aids
that teach these doctrines really effectively and provides a place for you to list what you learn there.
The most common are LDS.ORG and Preach My Gospel (the Missionary Study Guide).  If you don't have access to either of those, use this space for any study resources that you do have access to.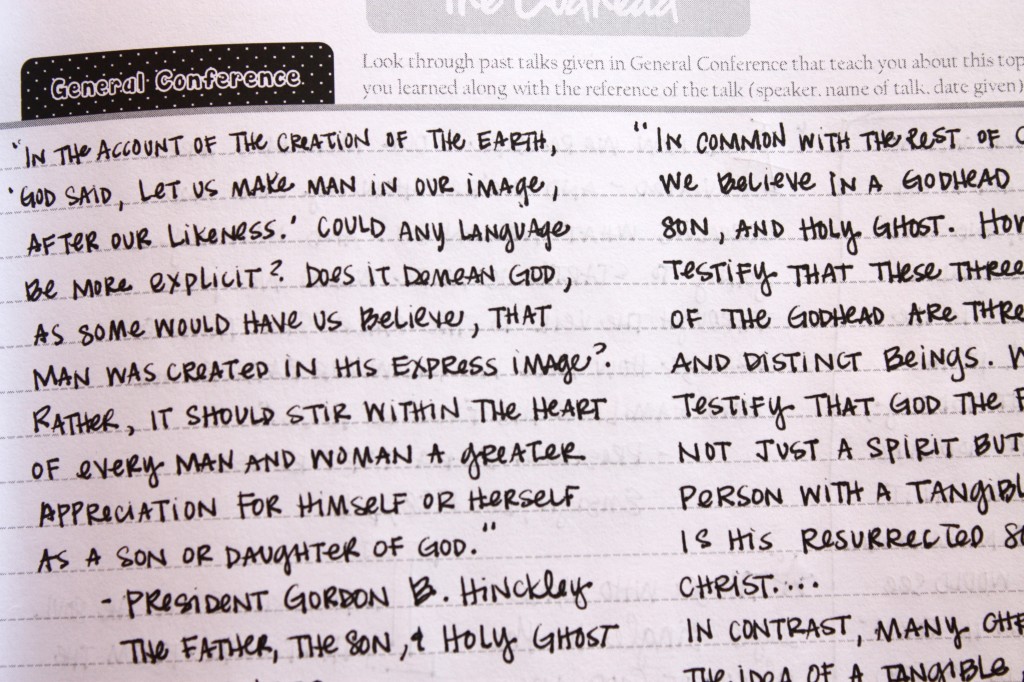 This page is for General Conference talks
that you find and study about each topic.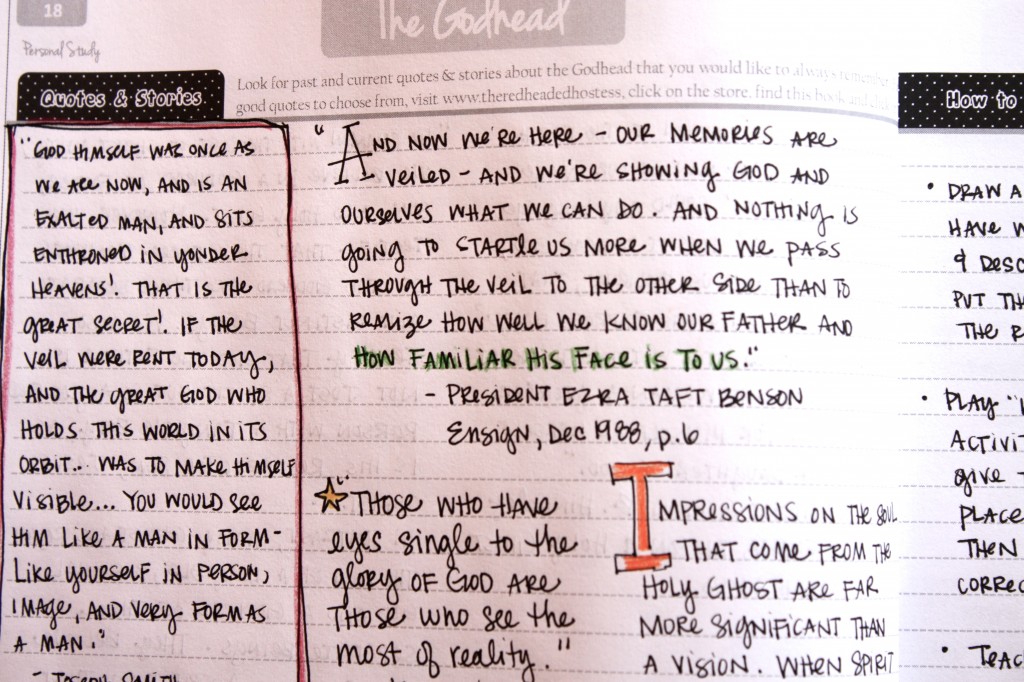 And boy, oh boy, do I have some good quotes for you.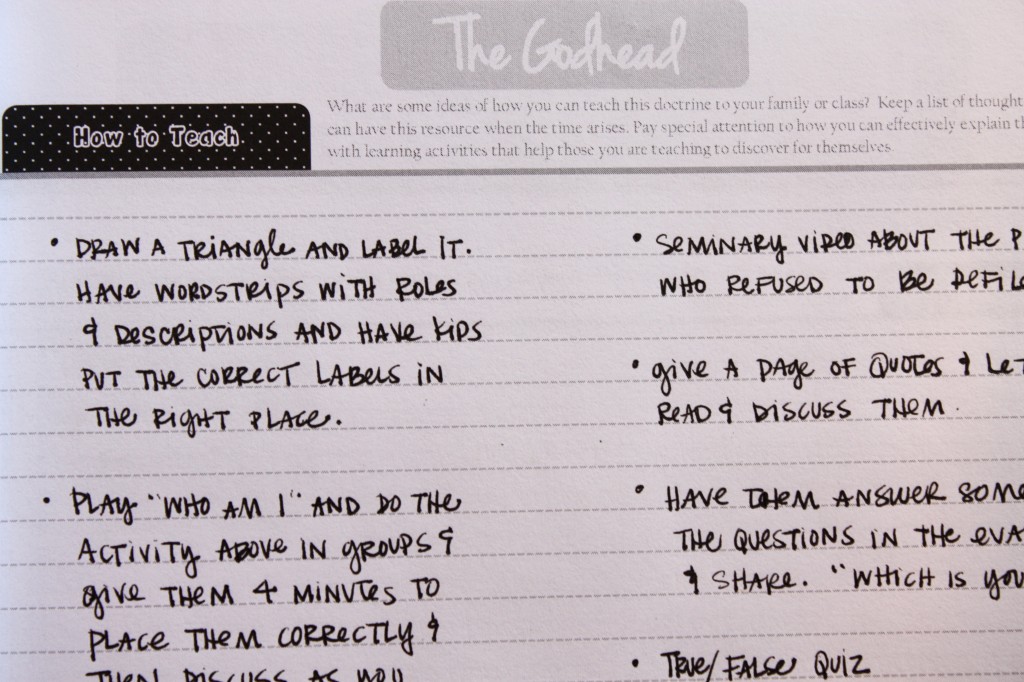 The last page in each series is a page for you to write down teaching ideas
for your class and families.  So, when the time arises for you to teach this doctrine, hopefully you will have several ideas to look over and choose the one that will best suit those you are teaching.
This is what I will pay special attention to on my site.  I want LOTS of ideas so our children are taught with impact!
If you have a blog and do a post about how you taught this to your family or class, please send it to me and I will leave a link to your blog.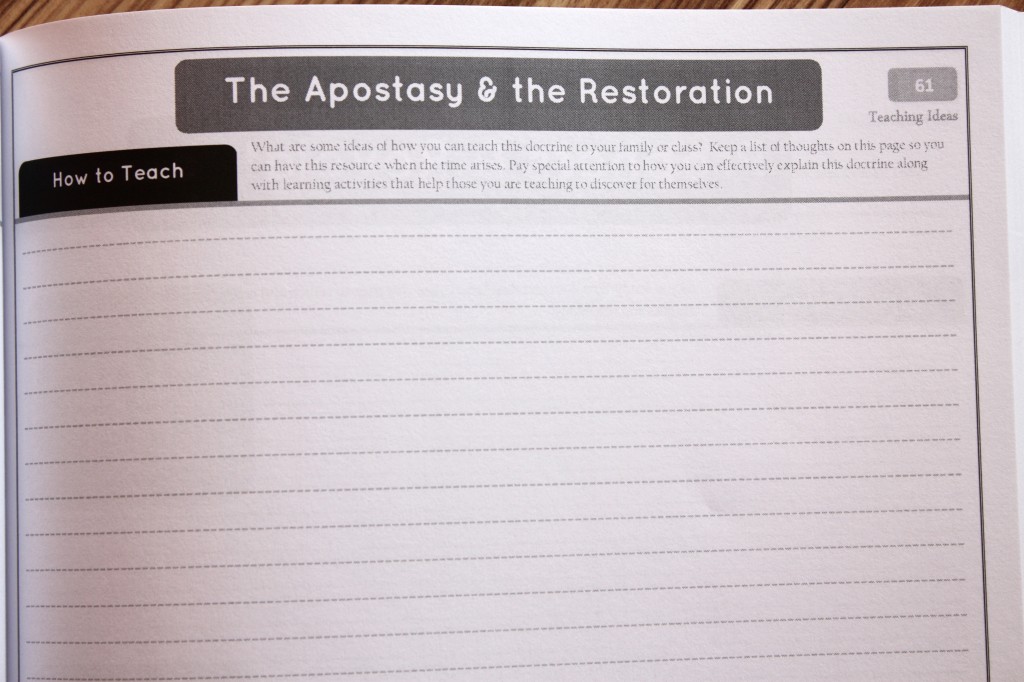 Here is a peek at what it looks like inside the male version.
Just plain and simple.  And the print is darker in the book.  Sorry, bad photos.
Here are the topics inside of the book:
The Godhead
The Plan of Salvation
The Atonement of Jesus Christ
The Apostasy and the Restoration
Prophets and Revelation
Priesthood and Priesthood Keys
Covenants and Ordinances
Marriage and Family
Commandments
Becoming More Christlike
Temporal and Spiritual Self-Reliance
Building Up the Church in the Latter Days
*  Note – I believe that some of the best teachers are those that teach their students how to learn.  As you study, pay attention to what you did that taught you the most.  Was it gathering the scriptures into one space?  Was it looking it up in Preach My Gospel?  Then see if you can figure out how to let the youth or your children have a similar experience.
* These would be appropriate for youth and preparing missionaries as well.  When it comes to answering the questions about their children, they just need to consider their future families.  This could be a very worthwhile experience.  If approved, this would easily be a 10 hour project for a young woman…. and then some.
*  This would also make a very effective Couples Study.  My husband and I are studying separately and then coming together to discuss the needs of our family and our plan on how to teach our daughter with the greatest effectiveness.
* For Grandparents, use the children evaluations for your grandchildren which you have great influence over.  When I would ask my students who they looked up to most in their lives – parents and grandparents were far and beyond the most common answers…. even to the shock of some of the parents I told.  
* These are also available in the UK at Amazon.UK
45 Responses to "Adult 2013 Doctrine Guides Now Available!"
OH! YAY! I'm so excited! Thank you so much for all of your hard work!

#

Elizabeth

on 17 Nov 2012 at 12:46 am

Thank you so much! Off to order mine!

#

Kathy

on 17 Nov 2012 at 1:47 am

Hi Shannon!

These say man/lady version…are they different on the inside or just the cover?

#

Erin Ropelato

on 17 Nov 2012 at 2:22 am

Shannon, Will you be selling these books in the Quilted Bear in Ogden? Thank you so much! This will be a wonderful gift for my YM President Hubby!

#

Jenn

on 17 Nov 2012 at 4:17 am

We have been a part of the pilot program testing this curriculum for the last 6 months and I love it! I'm really excited to order this book and for it to compliment the other studying I am doing. Thank you so much!!

#

sam

on 17 Nov 2012 at 3:59 pm

YAY! just placed my order =)

Wow, it is wonderful! I am so excited to do this! I am the Primary Pres. and I think this will help me in my calling too! Thanks!

#

Kimberly

on 17 Nov 2012 at 5:45 pm

How and where do I order? Sorry- I'm new to this site BTW- I love it!!

#

Carol

on 17 Nov 2012 at 5:48 pm

Shannon, these are wonderful! I would like to buy one for each member of my YW board, including my secretary for Christmas. We all teach and I would need 7. Do you have a bulk discount on these?

Thank you, Carol

Yes Carol! Just email me… actually I will email you.

HI Kimberly – If you look at the right side of my site my journals are shown and you just have to click on the book. Or at the top of the page there is a button on the menu for the "store".
I hope you love them! :
Shannon

#

Jenny

on 18 Nov 2012 at 7:16 pm

I LOVE these!!! What a great tools for our young women teachers to study with! Thank you for your hard work!!!

#

Kim Mask

on 19 Nov 2012 at 1:57 am

I would love the code to get a discount on the journals for my yw and leaders.
I would also like to get the scripture hero journals for my family. If I order them all in one large order can the discount apply to all?
Thanks- Kim

#

Michelle Eckery

on 19 Nov 2012 at 4:31 pm

Love your notebooks! These look terrific and will be another great addition to your "line" of study guides/helps. What an inspiration you are to me! Keep them coming!!

#

Sharrie

on 20 Nov 2012 at 3:15 am

Shannon- I have two of your other journals and I love them. My original journal goes with me to church every Sunday and I use it to help my grandchildren and I to feel the Spirit during the sacrament. They have made such a difference in my scripture study and in the growth of my testimony. I have eagerly awaited the debute of this 2013 study guide and I would love for you to email me the code so that I may order in bulk for my Young Women board. Thank you for sharing your love of the scriptures and your talent for teaching and explaining gospel doctrine to the rest of us!
Sincerely, Sharrie

#

Maggie O.

on 22 Nov 2012 at 2:05 am

I've followed your blog for some time, but have been hesitant to purchase any of the study guides. I've wondered if they are as nice as described, would I like the layouts, would I make use of them (this last one is obviously an issue on MY side of the equation!)
The "Stand Ye in Holy Places" guide is very intriguing and follows the new youth curriculum so nicely, so I bought one.
I'm impressed, Shannon! The book feels good when I hold it, and it gets better when I look at your outlines! What a lot of work and planning, and your experience and love of the gospel shows in every detail! I'm looking forward to the company leaving tomorrow (Thanksgiving) so I can actually begin using the guide.
Thank you for sharing your testimony and talents. Thank you for blessing our lives and giving incentive to make our scripture study more in depth and meaningful.
And, no more hesitation about getting some of the other books!

#

Sarah

on 22 Nov 2012 at 4:04 am

I love your blog and I have a LOT of these journals. I was wondering though, if you would make one just for the personal progress program? My Young Women would really love it.

#

Cody

on 24 Nov 2012 at 4:40 am

Is there any difference in content between the Male/Lady versions? I am thinking of getting the male one because I like the cover better and want to make sure I can still use it as a YW advisor.

Hi Cody!
No – they are just the same. The only difference is the cover and interior font. The "male" version is actually gender neutral. I hope you love it!
Shannon

#

Calli

on 26 Nov 2012 at 6:43 am

You are amazing. Thank you for being passionate about your calling as a teacher and for so beautifully executing your thoughts.

#

VickiUK

on 27 Nov 2012 at 9:10 pm

So excited about using this. Mine arrived this morning. Really impressed with it and can't wait to begin.

#

Terrah

on 05 Dec 2012 at 6:17 am

How can we purchase these?

Terrah-
Just click on my store at the top of the page.
Thanks!!!
Shannon

#

Kathryn

on 05 Dec 2012 at 9:31 pm

I got mine the other day! I can't wait to start using it!!!

#

Tally

on 06 Dec 2012 at 6:31 am

I wished I would have known you were going to do an adult version of the Youth study guides. I bought the youth journals… one for me and one for my daughter. Is the only difference size?

#

Betsy

on 09 Dec 2012 at 5:54 pm

I am YW president of my branch and would also live to have the discount for ordering for my YW. Can you email it to me?

#

Karen Toone

on 10 Dec 2012 at 10:41 pm

These look amazing. Exactly what I have been looking for. I would like to purchase 30 of these journals for my young women. Please let me know how much they will be.

Thank you,
Karen

#

Priscilla

on 11 Dec 2012 at 4:58 am

Hi Shannon- I loved the study guide for last year's mutual theme. I love how it broke it down and made you think about the theme. This year, I notice that there is a book for adults (which is great!). I just want to clarify that the larger book does not have anything the smaller mutual book has. I'm trying to determine if I need to buy both or if buying just the larger size is enough. I am camp director and I loved having a place to put down all the talks, songs, quotes that I felt go along with the theme. And when the camp theme was finalized, it provided a place to plan nightlights and devotionals so everything is all in one place. This book actually save me in a pinch at camp! Thanks so much for all your hard work in making these books!

Hi Priscilla!
Yes – the books are quite different. If you are looking for things specifically about the theme – then you want the mutual book. If you want to study the 12 doctrines in depth – then you want the adult guide. If your nightly devotionals are about the 12 doctrines, then the adult guide is probably enough because there is specifically a page for teaching ideas. If they are about the theme "Stand Ye in Holy Places" then you want the mutual one.
I hope this helps!
Good luck with camp!
Shannon

#

Amanda

on 14 Dec 2012 at 10:26 am

Hi Shannon – Are these available at the Quilted Bear in Midvale as well? I want to make sure before I make a special trip out there. Thank you for a such a great resource!!

Hi Amanda!
Yes they are!
Merry Christmas!
Shannon

#

Keith Erickson

on 19 Dec 2012 at 7:29 am

This looks great. I am excited for the new program to teach the youth. I have been studying the Godhead for January for about 2 weeks now. (Filling my pockets!) I have learned much. I did find a way to make my writing look pretty nice. I ended up making a font and creating pages with it for my scripture journal. My kids were amazed. Thanks for the encouragement.

#

Tammy

on 19 Dec 2012 at 11:34 pm

HI,

I would like to order about 8-10 of the study journals for 2012. Is there a discount for an order that size and about how long would it take to get them?

thanks for the great resource!

i am so excited and can't wait to get a book and i have spread the news about you!!! Thanks so much you are wonderful

#

Tonya Driggers

on 20 Dec 2012 at 4:47 pm

This is perfect!!! Just what I need! Thank you! Thank you! THANK YOU!!!

#

Tonya Driggers

on 20 Dec 2012 at 5:15 pm

I just ordered the adult study guide! I can't wait to receive it! I'm so excited for the help it offers with organizing my studying!

#

Bekky

on 24 Dec 2012 at 6:21 am

My sister-in-law got this for me for my birthday and it was definitely the best present I got this year! I hadn't seen it on here so I was just freaking out with excitement as I looked through it. I'm a YW leader and I can't wait to dive in and fill up the pages. The best part will be to have such an awesome record of my scripture study at the end of the year. What a valuable tool, thank you so much for the time and energy you put into these things! (ps. Our YW in Excellence based on your Scripture Hero packets was awesome too!)

#

Shanna

on 27 Dec 2012 at 7:36 pm

These look amazing!!! I am thinking of purchasing 11 of them for my YW Board. Is there a bulk discount available? Thanks for all your hard work:)

#

Tammy

on 01 Jan 2013 at 10:10 pm

Do you offer a discount for larger order? These look amazing can't wait to get them for my YW and leaders. Thanks for all your hard work and effort in helping the rest of us.

I'd like to purchase 3 copies of the leader 2013 Mutual book, but I can't figure out where to go to order?

Hi Julie!
You just need to click on my store in the top right of this site and then find the book and click on "buy". Please email me if you have any questions.
Shannon

#

Angie

on 19 Jan 2013 at 2:13 am

I am looking at ordering them in bulk as well. Could you email me a code. These look amazing. So excited to purchase and put to use. Thanks for your hard work.

#

Ann

on 22 Jan 2013 at 2:20 pm

Shannon,

I am coming to Utah on 1/24/13. I see that these journals can be purchased at some stores. Can you direct me where I can get some? I will be in Provo, SLC, Logan and Layton. Thank you for such a great aid.

Ann Bush

#

Kristina

on 30 Jan 2013 at 1:45 am

i would love to order these in a bulk order would you be able to please email your code? thanks Kristina

#

Ramona George

on 26 Apr 2013 at 2:58 pm

I love this book!!! I have used it now for 4 months!!! It has helped me focus on my studies. I have used a lot of your ideas on scripture study about using color and pictures!! I was afraid at first because I didn't want someone to think I was weird but then I got over myself and decided that this book is for me!!! If someone else someday finds it, great!! But it is for me and my study!!

The only thing I would change is to make it with holes for a three ring binder. I used an exacto knife and cut off the binding, punched holes in it, and put it in a notebook. I LOVE IT EVEN MORE NOW!!! I can take out pages so they are easier to write on but the best part is the ability to add in pages if I need more room or to add in conference talks that go with that topic.
Leave a Reply