Adult 2013 Doctrine Guides Now Available!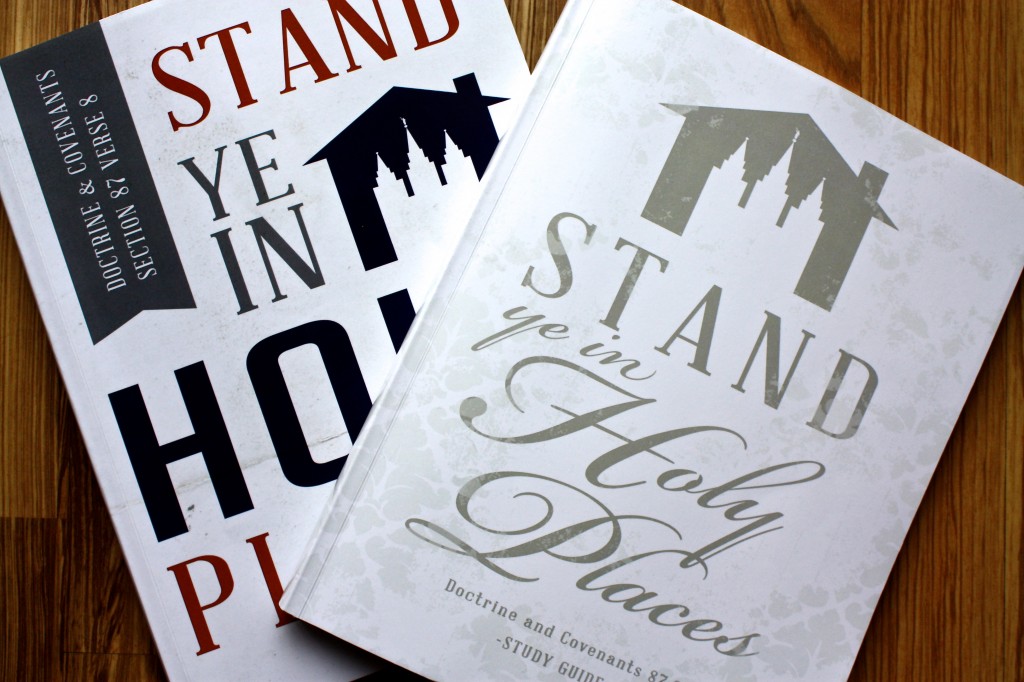 Here are the new Leader/Adult /Parent Study Guides!
The Lady/pretty version is now available and the male version should be available by Monday at the latest.
My purpose in creating these books are
1-  To help strengthen homes
2-  To help you study doctrines and principles of the Gospel
These are designed to help you study 12  doctrines and principles that the youth will be studying both in YM and YW as well as in Sunday School.
So, these will definitely be helpful to Sunday School and Youth leaders, but they are designed to also help anyone, especially parents.
The idea is to prepare yourself before you prepare a lesson.
I get quite a few emails asking me "where do I start?"
The concept of keeping a scripture journal is something many of you want, but you aren't sure where to start.  I get it.  My advice is typically to dive in and you will figure it out as you go.  But, now I think that these study guides may be what you are looking for.
And I will be studying these along with you and providing support
all throughout the year and encouraging you to also share what you find and ideas that you have to teach others.  So if you teach the youth, come share your ideas on how you are going to teach.  And if you are looking for ideas on how to teach your five year old, or ten year old, come and see if anyone has shared an idea that will work for you.
The covers match the youth journals.  But that is all that is the same.  These are larger, thicker and more detailed inside.
Let me give you a look at what these are like.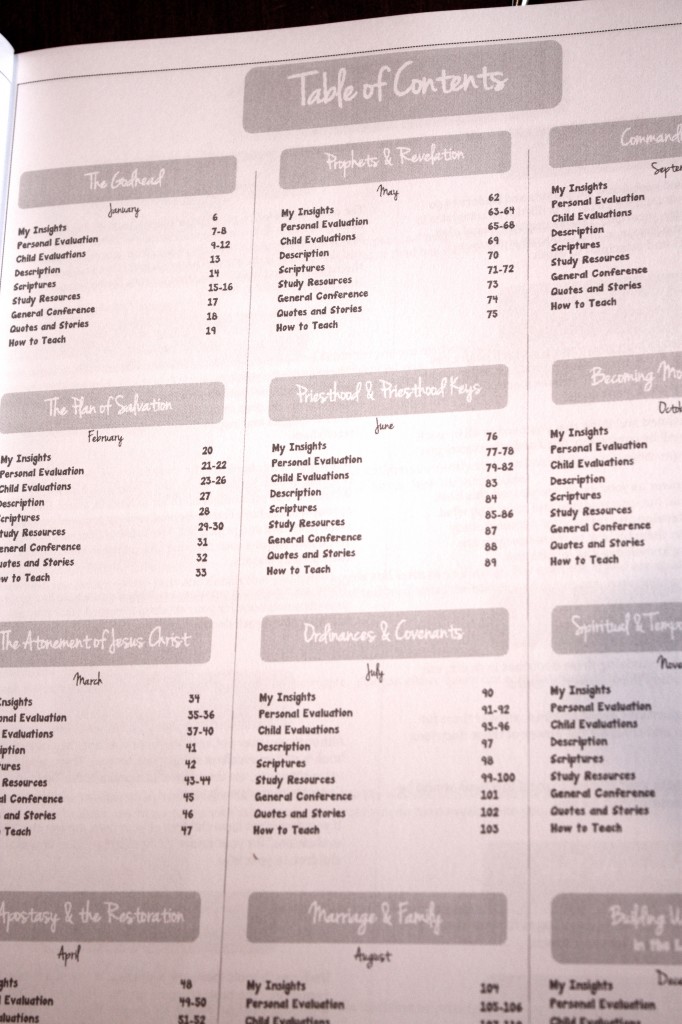 Here is the Table of Contents.
And this is the pretty/lady version.  There is also a more manly version that my husband actually approved of.  And that says A LOT!
There are 12 doctrines and principles divided up throughout the year.  I have indicated in the Table of Contents which month each topic is taught in.  If you do not teach the youth and just want this for your own studying, you can use the months as structure for your studying, or you can disregard them and study what you want when you want.
I will be providing support on the topics in the months indicated in the book.  So in January, I will be doing posts, giving quotes, teaching ideas, etc on The Godhead.
Also, this could be a guide for you to, as you feel appropriate, plan your Family Home Evenings or Family Scripture Study around.  I mean, how awesome would it be if the youth were learning these topics in Young Men and Young Women, Sunday School and in the home!  The likelihood of these doctrines having impact would be GREATLY increased.
Each topic has a grouping of pages for you to record the things you study and each page guides you to different resources or angles on each topic.
The idea is NOT that you have to fill up each page.  Some pages will be filled up quickly and easily, and others may only have a few things on them – but they all hold value, and everything is automatically organized.
There is a page of instructions on how to use each page in the book, and I will also be providing pictures and posts throughout the year to continue helping you.  But here are a few of the pages….
Each topic has a "personal evaluation"
where you answer a series of questions about the topic you are about to study.  The idea is for you to take a moment and write down what you already know about that topic along with how that topic has impacted your life.
By the way, this is a great thing to do with the youth and your children as well.  Before you teach them, find out where they stand.
These doctrines and principles chosen by the General Young Men, Young Women and Sunday School presidencies are critical doctrines that make a huge difference in our lives, our decisions, and our perspectives.  As you answer these questions you take a moment to consider and write how much these doctrines have impacted you.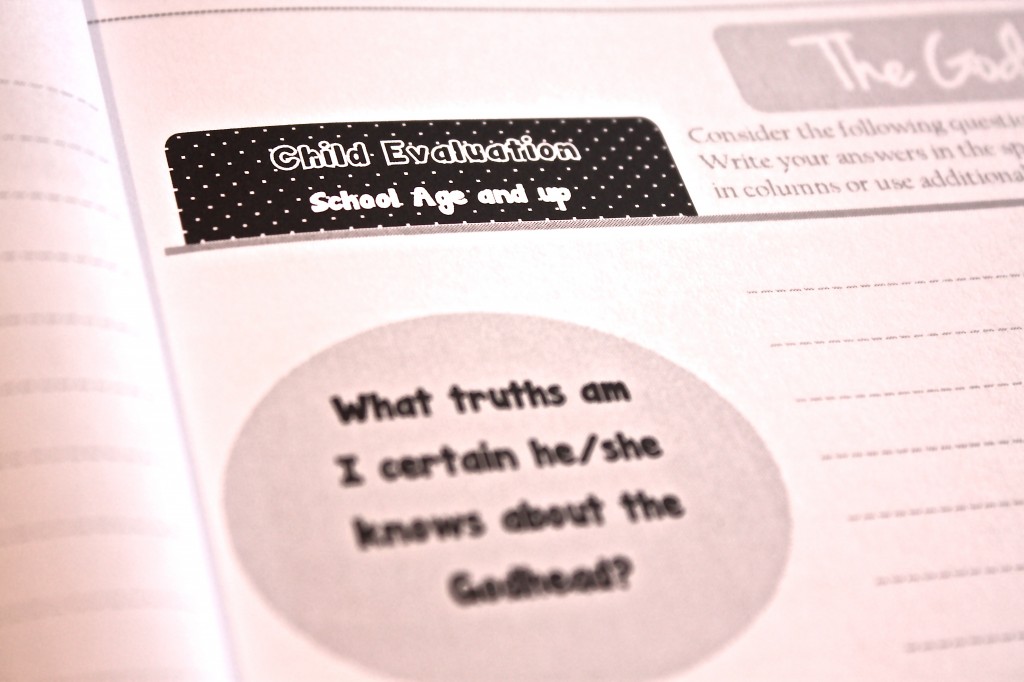 Following that are 2 sets of Child Evaluations.
One for school age and up and another for baby to school age.
The idea for these came from an experience I had once when I was a seminary teacher.
 It was Parent Teacher's Conference and we were just over a month into the new school year.  I had given my students a "what do you know" type test about the Plan of Salvation so I could see where my students stood in knowledge and understanding.  There was one girl in particular who had surprised me by how little she knew of "the Plan".  I pulled her test out and gave it to her mother and she was totally shocked that her daughter had done so poorly.  She then paused, looked at me and told me something that has had a great impact on me ever since.  "She is the youngest and we have been teaching too our older children assuming that she would just catch on.  I guess she hasn't."
I am pretty sure that young woman turned out just fine, but I learned how important it is for us to look at our children and students individually, not as a whole group.  These questions are designed for you to evaluate each of your children and where they currently stand in each doctrine.  If you will seek the Spirit as you consider each question for each child, I believe you will be led and guided as their parent on what and how to teach them.
Also, if you are a teacher of the youth, I believe that if you focus on your family first – the lesson for your youth will come naturally and with more power.
The questions are customized for each topic, but here are some examples:
– What truths am I certain they know about the Priesthood?
– When have I heard them talk about the Plan of Salvation?
– What are some ways they, specifically, strengthen our home and family?
– What are some specific ways I see them preparing themselves for their future family?
– Why is it important for them to know that there was a Premortal Life?
– What are the first 5 things we need to teach him/her about Covenants and Ordinances?
– How will we teach them about the importance of Temple Marriage? What is our plan?
These questions could also be an interesting discussion with your youth.  Have them consider their future families and children.  This could be really helpful as they prepare to be righteous mothers and fathers.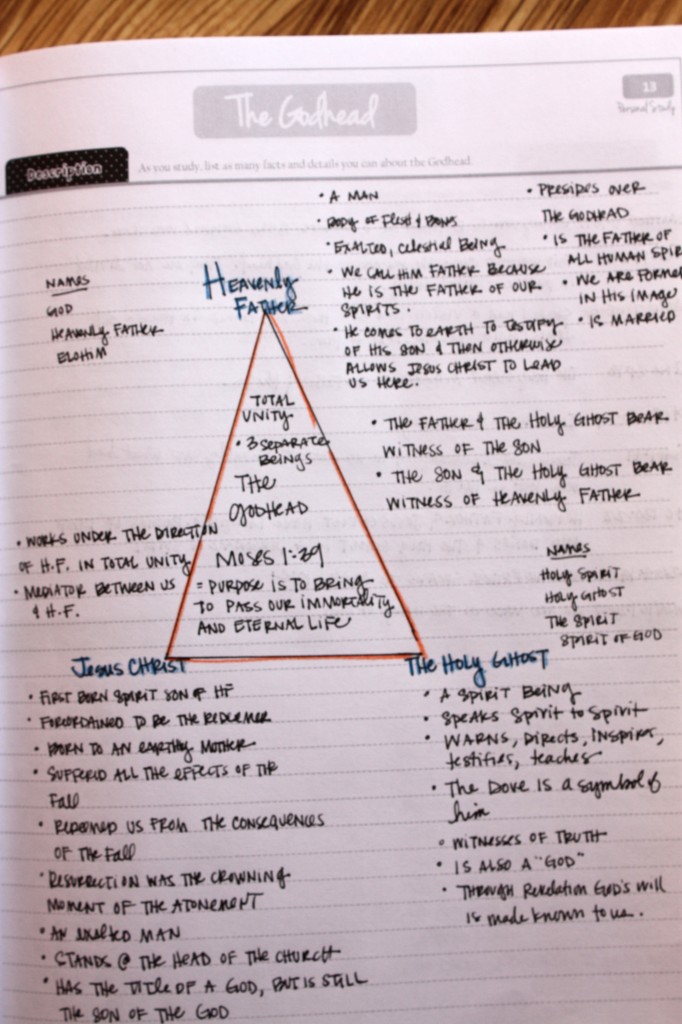 There is a page labeled "Description".
This is where you can write down/layout/visualize what you are learning about this topic.
As I studied, I kept coming back to this page and adding more and more information.
This page also appears in the youth's journal.  Here you can plan how to help the fill in their journals.  And when they see your journal, they will be inspired to also fill in their's.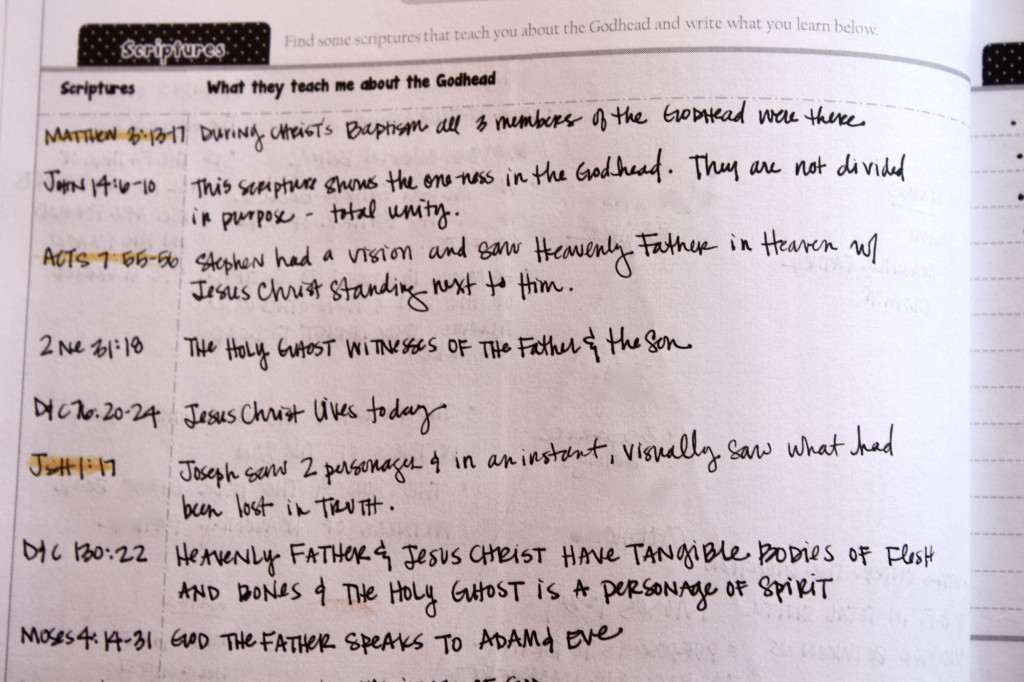 There is a page specifically for scriptures
that you want to gather about this topic.  I highlighted the ones that I would most likely want to use in a lesson or Family Home Evening.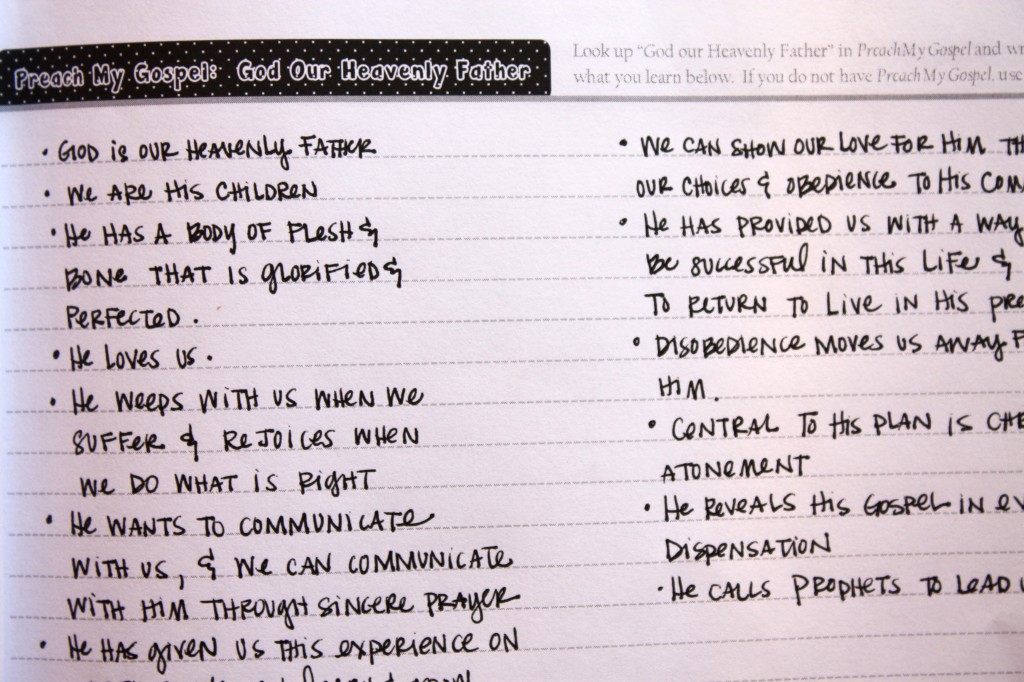 This page sends you to great study aids
that teach these doctrines really effectively and provides a place for you to list what you learn there.
The most common are LDS.ORG and Preach My Gospel (the Missionary Study Guide).  If you don't have access to either of those, use this space for any study resources that you do have access to.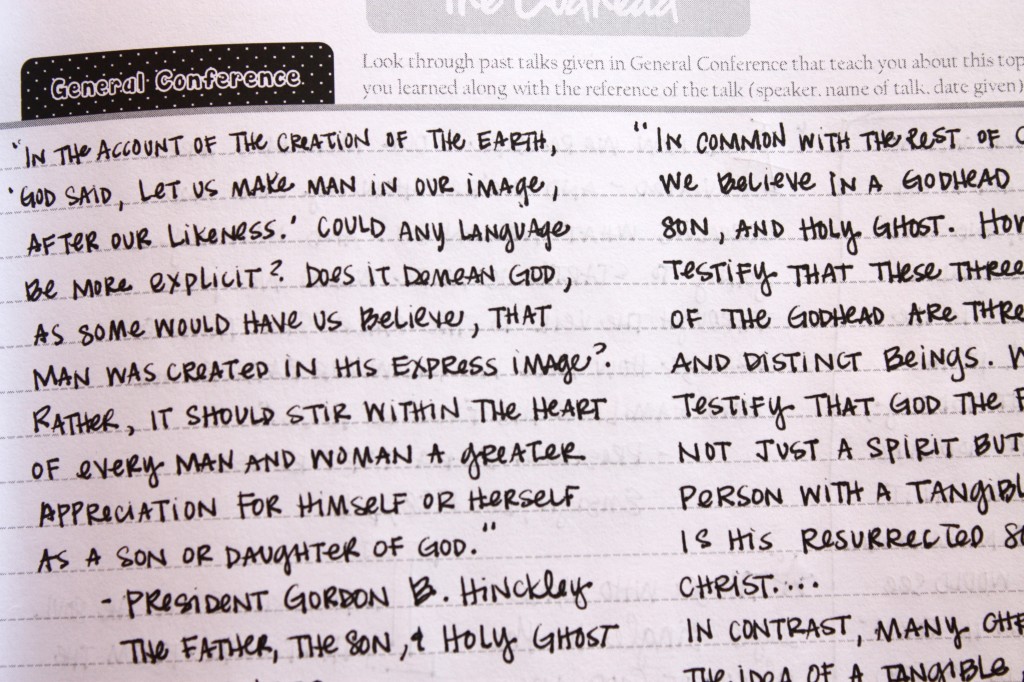 This page is for General Conference talks
that you find and study about each topic.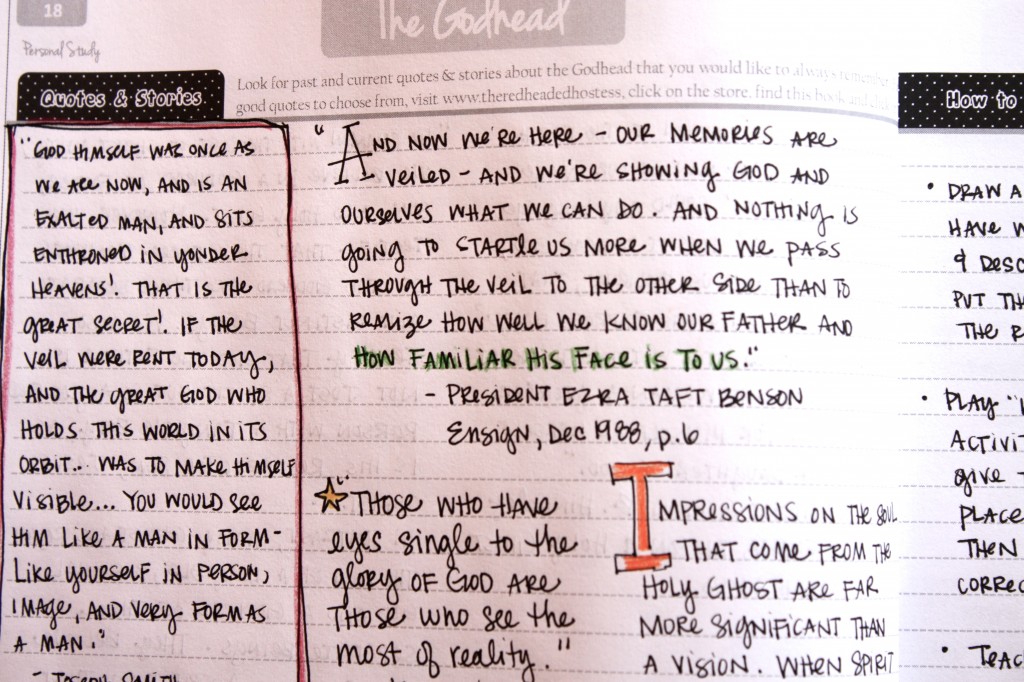 And boy, oh boy, do I have some good quotes for you.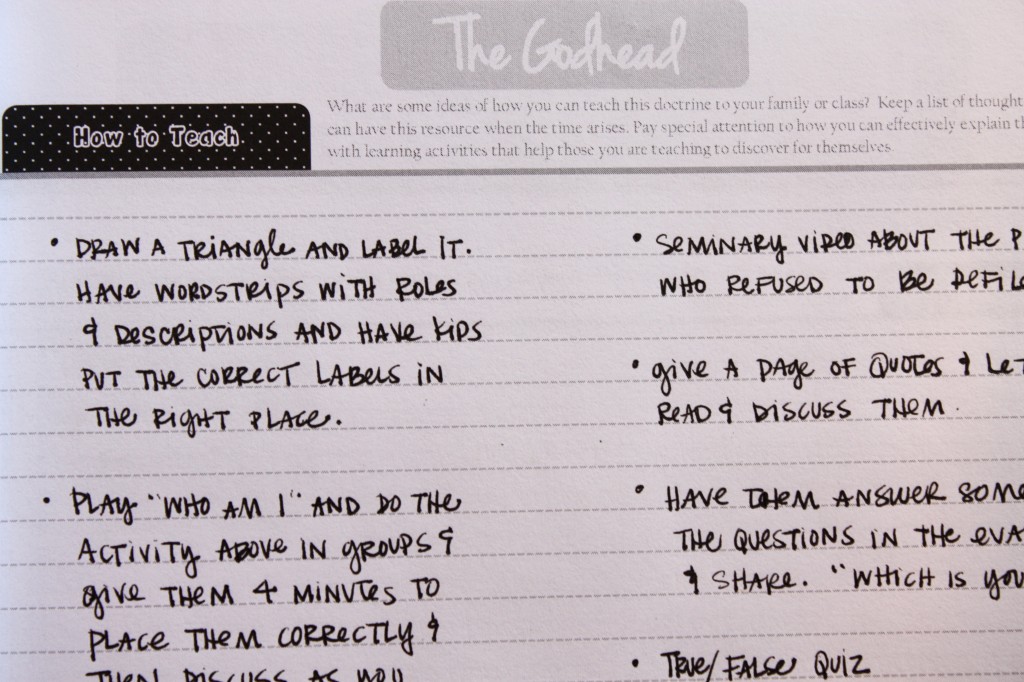 The last page in each series is a page for you to write down teaching ideas
for your class and families.  So, when the time arises for you to teach this doctrine, hopefully you will have several ideas to look over and choose the one that will best suit those you are teaching.
This is what I will pay special attention to on my site.  I want LOTS of ideas so our children are taught with impact!
If you have a blog and do a post about how you taught this to your family or class, please send it to me and I will leave a link to your blog.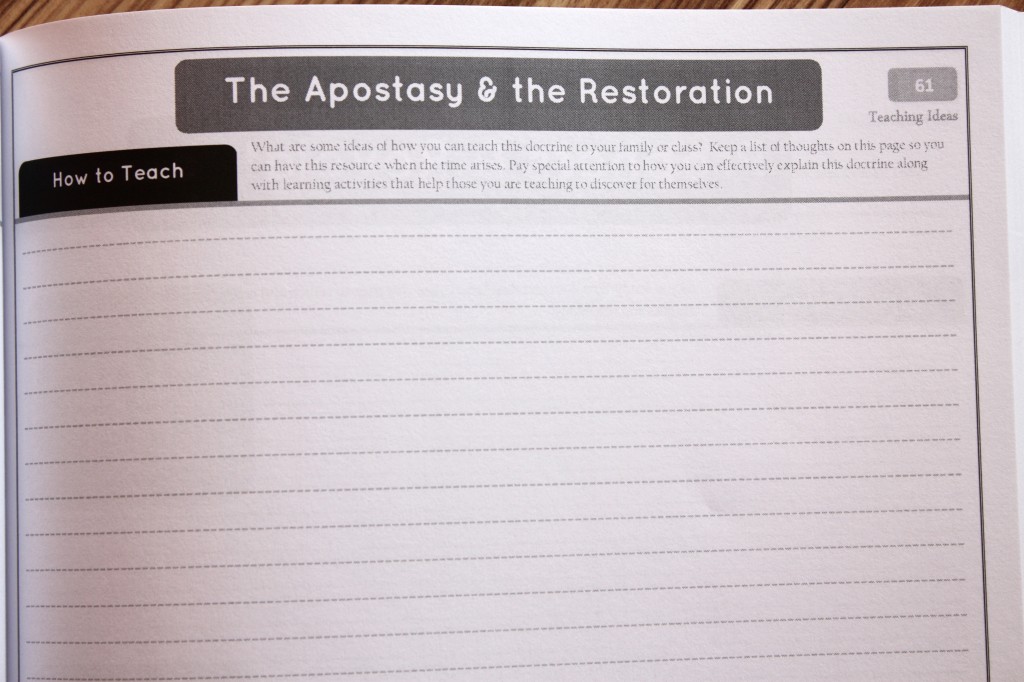 Here is a peek at what it looks like inside the male version.
Just plain and simple.  And the print is darker in the book.  Sorry, bad photos.
Here are the topics inside of the book:
The Godhead
The Plan of Salvation
The Atonement of Jesus Christ
The Apostasy and the Restoration
Prophets and Revelation
Priesthood and Priesthood Keys
Covenants and Ordinances
Marriage and Family
Commandments
Becoming More Christlike
Temporal and Spiritual Self-Reliance
Building Up the Church in the Latter Days
*  Note – I believe that some of the best teachers are those that teach their students how to learn.  As you study, pay attention to what you did that taught you the most.  Was it gathering the scriptures into one space?  Was it looking it up in Preach My Gospel?  Then see if you can figure out how to let the youth or your children have a similar experience.
* These would be appropriate for youth and preparing missionaries as well.  When it comes to answering the questions about their children, they just need to consider their future families.  This could be a very worthwhile experience.  If approved, this would easily be a 10 hour project for a young woman…. and then some.
*  This would also make a very effective Couples Study.  My husband and I are studying separately and then coming together to discuss the needs of our family and our plan on how to teach our daughter with the greatest effectiveness.
* For Grandparents, use the children evaluations for your grandchildren which you have great influence over.  When I would ask my students who they looked up to most in their lives – parents and grandparents were far and beyond the most common answers…. even to the shock of some of the parents I told.  
* These are also available in the UK at Amazon.UK