Nov 19 2012
All Stand Ye In Holy Places Now Available… and In the UK!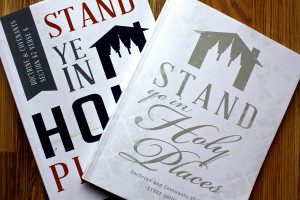 And they are available in Europe here on Amazon.UK
Remember that if you are buying these for your Young Men and Young Women groups you can email me for a bulk code.
And for a limited time I marked down the Amazon.UK prices to reflect the bulk prices since I can't give discounts for Amazon.
I will start posting all sorts of study ideas from the 2013 Adult Doctrinal Study Guide in January as I study these doctrines along with you.  I can't wait (well actually, I have already started studying, but I can't wait to post them…. maybe I won't wait….).
OK… have a good day!
7 Responses to "All Stand Ye In Holy Places Now Available… and In the UK!"
#

Vicki

on 20 Nov 2012 at 3:59 pm

Shannon, thank you. I could kiss you for making these available in the UK. And don't wait to start posting your study ideas. I like to be prepared and I'm planning to get cracking mid Dec so I'm prepared for my 1st lessons in Jan. I'm soooooo excited for this new curriculum I want the new year to come already.

#

VickiUK

on 02 Dec 2012 at 9:44 am

It has arrived and I am so pleased. Thank you.

#

Cathy Bird

on 05 Dec 2012 at 6:48 pm

I would like to read the 13th day of Christmas. Love the author. My favorite Christmas movie is Miracle on 34th Street. Love watching Christmas movies with my grandkids and reading them Christmas books.

#

Cathy Bird

on 05 Dec 2012 at 6:57 pm

Oops, I did this wrong. So I am going to do it right this time. Favorite movie is Miracle on 34th Street, the newer one. I love to watch Christmas movies with my grandkids.

Is there anywhere to buy these locally in Utah? (I'm in SLC) My oldest just turned 12 and I'd really like to give him one for Christmas.

#

Sally

on 30 Dec 2012 at 10:40 pm

Does anyone have any experiences they can share using these in the Young Women's class or Sunday School class? I realize it may be early since the new curriculum doesn't start until next Sunday.

#

Missy

on 05 Jan 2013 at 8:12 pm

I love these study booklet guides to go with the new curriculum. I am interested in purchasing them for our youth but wondering if we can fit it in our budget. Can you tell me what the bulk discount rate is. Thank you for sharing your ideas…you are truly inspired and talented.
Leave a Reply