Nov 03 2012
Vote on Your Favorite Young Men's Cover!
Alright!  The Young Men's cover for the mutual theme journals are here!
Thank you Little Miss Missy!  These look fantastic!  She has a real knack for this stuff.  You should jump over and see all of her stuff.  She is seriously multi-talented.
The Young Women journals are already available. (Thank you for all of the orders so far – I think you will really love them!)
Will you please take a look and see which ones you like best for your boys?  And if they are around, ask them… and if your husband's are around ask them.
I mention husband's because the leader/parent version is almost done!  (And they will have have the same cover as the mutual journals, they will just be bigger and outlined to help you study the doctrines in depth).  And honestly, I think more than just leaders and parents will want this one.   My husband told me to hurry and get it done so that he can study from it, and he is not even in Young Men's anymore.
So I know what my husband's favorite cover is – but I want to see what other husbands think.
Ok… here are your options.  And feel free to leave any comments if you have any suggestions.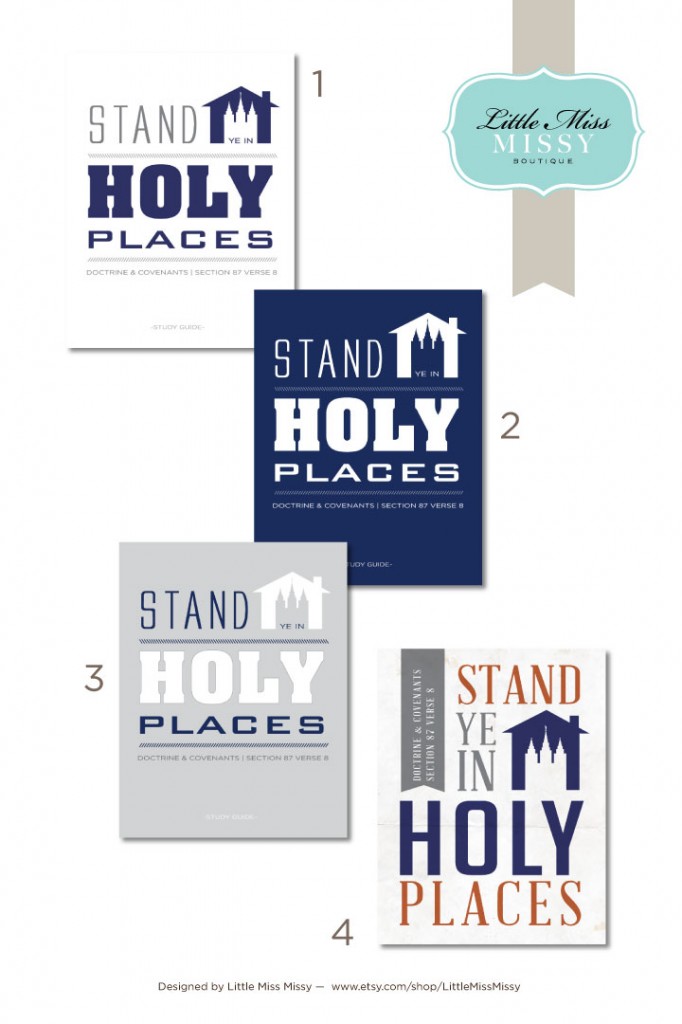 38 Responses to "Vote on Your Favorite Young Men's Cover!"
#

Layne

on 03 Nov 2012 at 2:20 pm

# 4

Hi- I would say that Number 2 looks the most 'boyish' to me. I have a son who LOVES blue and I think the darker color would appeal to more young men. However, I do know that printing that much color can be pricey!!! I asked my hubby and he said Number 1 or 2 These look awesome!!

#

Milz

on 03 Nov 2012 at 3:09 pm

#4
The others look like you're promoting BYU too much.

#

Joey Hodges

on 03 Nov 2012 at 3:37 pm

My vote is for number 4. Husband likes number 2.

#

KC

on 03 Nov 2012 at 3:38 pm

There is NOTHING wrong with BYU. With that said….#4.

#

Carolyn

on 03 Nov 2012 at 3:51 pm

Definitely not seeing any BYU promotion here — my guess would be that blue was selected because it is a traditional boy color. But then again I am confident and not sensitive to color choices. Lets go with #2.

#

Nancy Hill

on 03 Nov 2012 at 4:18 pm

My hubby and I like #4. But #2 is a close runner-up. As former printers adding the red will make it a little more expensive, but certainly makes the cover stand-out more.

#

Cynthia Olsen

on 03 Nov 2012 at 4:24 pm

#4

#

Sharon B

on 03 Nov 2012 at 4:41 pm

I like #4 with #3 a close second.

Like 4

I like the ones where the temple stays white.

#

Kameron

on 03 Nov 2012 at 5:27 pm

I love 4, and my deacon brother says 2! Thank you for doing all this!

#

Corrine

on 03 Nov 2012 at 6:35 pm

I like #2. It's bold & beautiful!

2 and 4!

#

Karen

on 03 Nov 2012 at 7:19 pm

My 15 yr old son says #2. I say #4.

#

Miranda

on 03 Nov 2012 at 7:36 pm

I love #3!

#

Laura Singleton

on 03 Nov 2012 at 7:36 pm

2 or 4

#

Lynne

on 03 Nov 2012 at 8:42 pm

My favs are 2 & 4.

#

Kathy

on 03 Nov 2012 at 9:19 pm

I like 1, 2 and 4….too many choices! Make all three! he he he

#

Elena Felix

on 03 Nov 2012 at 9:59 pm

Both my son and husband voted for #2 what can I say they are cougar fans. My son asked if the "ye in" could be larger. I liked #u4 because the "in"was larger.

#

Trish

on 03 Nov 2012 at 11:09 pm

My 14yr son says #2. I have to agree.

#4, for sure. I like how it makes the temple stand out more than the other.

#

Paula Ritter

on 03 Nov 2012 at 11:50 pm

Hi! I choose number 4!

#

Julie

on 04 Nov 2012 at 12:29 am

#4

#4. Both my husband and I like this one the best.

#

Rachelle

on 04 Nov 2012 at 4:46 am

My husband said #4..

#

Aurora

on 04 Nov 2012 at 6:48 am

I like 2 & 3. All my 3 boys including my husband say that 2&3 look more masculine, more serious and commited.

#

Terri

on 04 Nov 2012 at 8:51 am

This is a hard one to decide!!! First I thought 2 or 4. then I thought 1 and 3. So that's it….1 or 3. But they all look great, so I would get any of them for my son.

#

Jerilyn

on 04 Nov 2012 at 1:53 pm

#4

#

Louise

on 04 Nov 2012 at 2:37 pm

I vote for # 4. They are all great, but 4 is my favorite!!

#

Kari M.

on 05 Nov 2012 at 3:12 pm

#1

#

Cammie

on 05 Nov 2012 at 7:46 pm

#1 and #4

#

Deena

on 06 Nov 2012 at 3:48 am

#4 because it is easier to see the whole title of the book.

#

Tracy

on 06 Nov 2012 at 5:23 am

If I only get one vote I choose #4 but I like them all.

#

Yolanda

on 06 Nov 2012 at 5:04 pm

#2

#

lori

on 07 Nov 2012 at 1:20 am

My 15 year old son chooses #1. we also like #2

#

Laurie Tippets

on 13 Nov 2012 at 12:04 am

I like #2 and #4

#

Julie Anderson

on 13 Nov 2012 at 3:41 am

#4
Leave a Reply