Come Follow Me Mosiah 25-28
How to teach Come Follow Me Mosiah 25-28
We couldn't be happier with how our Come, Follow Me Book of Mormon weekly kit turned out for Mosiah 25-28.  This kit has so many good options for you to choose from for your personal and family study of the Come, Follow Me curriculum from The Church of Jesus Christ of Latter-day Saints for the Mosiah 25-28 week.  This kit also has plenty of options for the Come, Follow Me Sunday School and Primary manuals.
Our weekly kits are created around the Individuals and Families manual but they are very popular among Gospel Doctrine teachers, Sunday School teachers, and Primary teachers because of all the options in each kit.  Each kit has something for adults to small children and everyone in between.  The commentary and tips found in our popular Study Pages are written by professional current and retired seminary and institute teachers and all activities in each kit are designed specifically to get you and your children into the actual scriptures.  With the many years of professional teaching experience our staff has, combined with 10 years in business as The Red Headed Hostess, we know what works and what is effective.  We know how to make you the Come, Follow Me hero for you and your family by giving you effective tools to use each week. This kit will help you to learn lds teaching in the savior's way.
Each kit has detailed explanations and instructions on how to use the options found in that kit.   Just look through those explanations and decide which items you want to use, then print only those items to save on ink and paper.  There is enough content in each kit that you likely won't be able to use all of it.  Using the entire kit is not the intention.  The intention is for you as the parent to have options to choose from so you can pick and choose what you feel is best for your family.
Come Follow Me – Book of Mormon: Mosiah 25-28
STUDY PAGES
Each kit comes with study/commentary pages and we recommend you use these every week.  These are the meat and potatoes of each kit and are by far our most popular item among our subscribers.  These are for adults and teens.  The commentary provided in these study pages is specifically designed to help you apply the scriptures to today.  These pages teach doctrine and principles found in the chapters being covered and also provide relevant tips and quotes about those chapters.
The Book of Mormon text with suggested scripture markings are in the left column of each page and commentary and tips in the right column.  If these pages are the only thing you use out of our kit, it is still worth the $2.50 per week ($10.00 per month) our subscribers pay.  All other activities in each kit are not created until the Study Pages are done so that the activities blend perfectly with what you have learned about in the Study Pages.  These pages will help make you a scripture scholar so you can teach your family with effectiveness and confidence.
Come Follow Me – Book of Mormon: Mosiah 25-28
ACTIVITY PAGES
Above are some pictures of some of the activities found in the Mosiah 25-28 kit.  Every kit has a lot of the same things each week that have proven to be very helpful and popular but each kit also has items specific to that kit so that children can get variety each week.  Some very popular things that are in each kit are the Illustrated (Bedtime) Stories, Scripture Marking Guide for kids, Scripture Glue-Ins, Art Search, Scripture Art Print, Coloring Pages, and Movie Trivia based on the Book of Mormon Videos produced by The Church of Jesus Christ of Latter-day Saints.
The Illustrated Stories are especially good for older and younger children, even teens.  You can print these at the start of the week and use them for quick 5 to 10 minute discussions with your children throughout the week.  Use them at bedtime as part of your routine or use them as part of a more formal study.  You could also print the Scripture Art print at the start of the week and hang them on the fridge. Or keep them in a place that is central and easily seen by everyone in the family. This will help them keep the scriptures they are studying that week on their minds.
Book of Mormon Collectible Cards
The Collectible Cards found in each weekly kit are so fun and so effective.  We get so many great reviews from subscribers whose kids love these! They definitely look forward to earning more each week.  Each card has an illustration of a scripture story from that week's chapters on the front and questions on the back.  As your children answer the questions on the back, they earn the card.  The questions often coincide with the illustrated stories so you can use both of these things together.  Your children add to their collection throughout the year.
The collectible cards are the size of a regular trading card. If you'd like you can purchase clear trading card sleeves and keep them in a binder.  You could even use their collection to review throughout the year. You do this by simply picking a random card and having your child tell you the story on the front.
Kids love watching their collection of these fun and colorful cards grow. It makes them excited to do Come, Follow Me!  They are able to get a reward for all their hard work and feel a sense of accomplishment as they see their collection grow.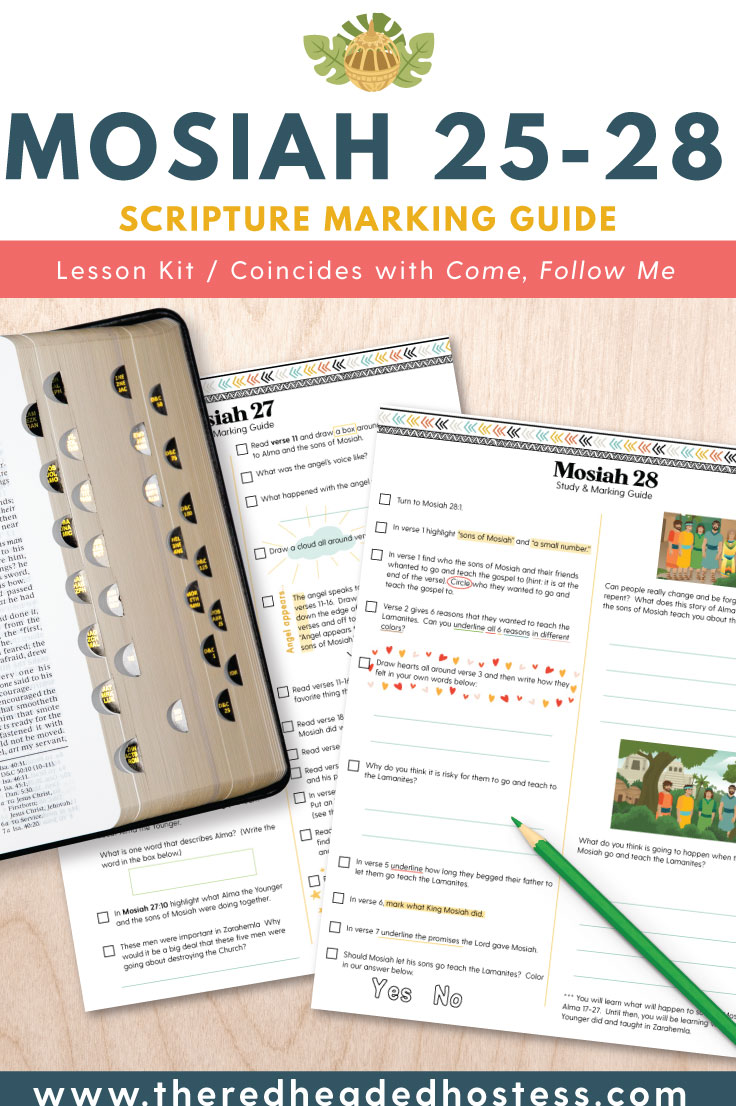 Getting your kids into the actual scriptures can sometimes be a challenge.  Our Scripture Marking Guides for Kids found in each weekly kit will help you with this problem.  Each marking guide will teach your children the important doctrines and principles found in that week's chapters. It also teaches your children important skills in studying their scriptures.  It's fun to watch your child learn with these guides and see the finished result in their scriptures.  Kids who are old enough to read can do these on their own. Sunbeams (lds) just learning to read can do them with mom or dad.
How to Get Our Weekly Kits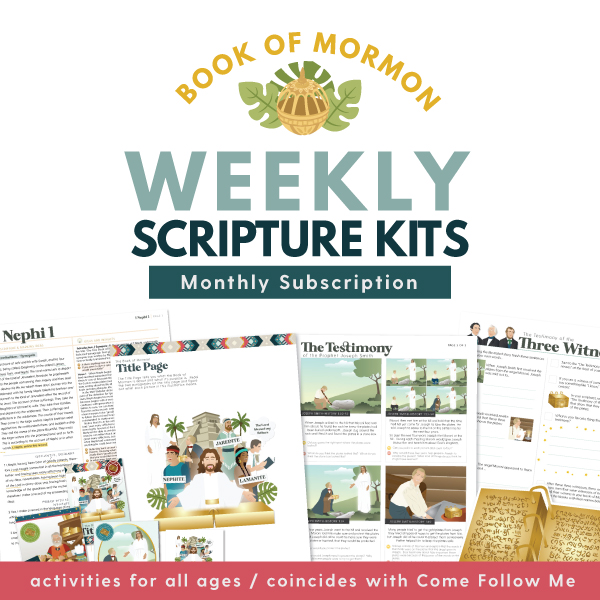 There are two ways to get our weekly kits.  You can purchase each kit individually as needed from THIS section for $4.00 each. You can also subscribe monthly for $10.00 a month which brings the average price per kit down to $2.50 each.  This is an incredible value with each kit averaging 40-60 pages, with tons of options. It averages about 150 hours to create each kit. And we do it so you can enhance your Come, Follow Me experience every week.  Click the image above to learn more about our subscription.