Jan 30 2013
Teaching the Plan of Salvation
Every year when I taught seminary, we would always begin by teaching the Plan of Salvation.
And I LOVED it.
I always did it a little differently every year.
Sometimes I would assign them a religion and have them draw their "Plan".  That was always fun and interesting.
Often I would use President Packer's Three Act Play analogue (there is also a great seminary video that uses this analogue in the Doctrine and Covenants seminary video set)
But I would ALWAYS have them draw it, or give them my Plan of Salvation below and have them put it in order.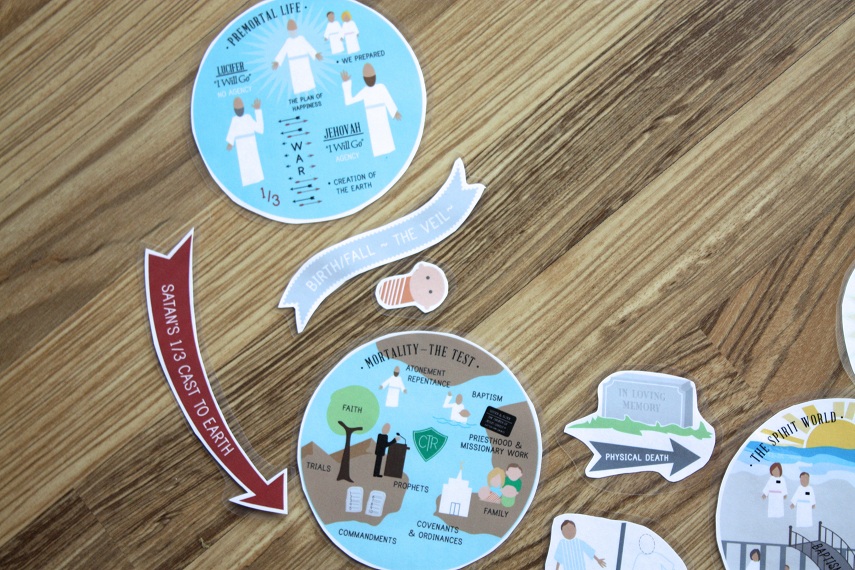 The one you see above is the newly, re-done version that Missy (an awesome graphic designer) did for our new store.  There is also a black and white version for your kids to color (GREAT learning tool because they have to focus on each little picture), and there are "Display" sizes available if you want a bigger size.
Originally I made this for my special needs class.  I drew it up and had the peer tutors lay it out and then their buddy would try to match it.  They did this every single day and it was AWESOME!  The peer tutors would say the names of everything and then by the end of the year, a lot of the students could say it or identify it by name.  SWEET!
Then I thought that maybe I should try using it in my other classes.  And. It. Worked. Like. A. Charm.  I would have one set for every two students and they would discuss their way through it as they put it in order.  As they discuss they are going to have questions – have them write them down in their journals or on a paper and then talk about it.  I used to have students draw it on the board.  But I liked something like this better because they don't feel so on the spot and they can focus on figuring it out and learning rather than feeling anxious because everyone is watching.
Then for the next few days of class we would use these again and again as review.  Just a few minutes – but totally worth it.  Then mid-year, I would bring it out again.  This kind of stuff is too important to cross off the list and say - I taught that lesson at the beginning of the year.  Too risky.  This one needs exposure and clarity.
My husband used this layout in Young Mens.  He came home gushing with comments and questions the boys had from looking at the pictures.  He wasn't sure how it would go over with his tough boys – but there was nothing to fear.
So whatever you do – do something visual.
Let them see it.  Give them time to comprehend, consider, and ask questions.  I don't think I could have drawn out the plan until I was in college because I never had to.
OK… Let me crack open my scripture journal and give you some of my favorite Plan of Salvation quotes:
"Truly, of all the errors mortals could make, God's plan of salvation is the wrong thing to be wrong about! No error could be more enormous or more everlasting in its consequences! No wonder this Church and its people go to such great lengths and expense to share the fulness of the gospel concerning this plan. No wonder the Lord wants the plan taught plainly and repetitively." (Elder Neal A. Maxwell, Ensign, May 1984)
"We are living for eternity and not merely for the moment."  (President Joseph F.  Smith, Gospel Doctrine, 277)
"The Plan of Salvation is a theme which ought to occupy our strict attention."  (Chapter 17: The Great Plan of Salvation," Teachings of Presidents of the Church: Joseph Smith, (2007),206–16)
"If you understand the great plan of happiness and follow it, what goes on in the world will not determine your happiness."  (President Boyd K. Packer, Ensign, May 1994, 20)
Here is another article that could give you some different study and teaching ideas: Deconstructing the Plan
7 Responses to "Teaching the Plan of Salvation"
Hi -
Thank you for all these great ideas. I am teaching on the Plan of salvation on Sunday, and have been pondering the best ways to get the YW engaged.
The link for the article at the end doesn't seem to work, though….

I love the plan of salvation…but all week I have been struggeling on how I am going to teach it to my class of 13 year old boys. Thanks for the ideas!

Thank you for sharing your knowledge and talent – You have been such a great resource to me in many ways! I am so happy I found your website!

#

Annie

on 01 Feb 2013 at 11:51 pm

Love this! Thanks so much for all the great ideas and hard work you put in here. Just checking on this before I teach it: We know that Satan and the 1/3 were cast out of heaven but where does it say that they were "cast to earth" specifically? I just want to make sure before I give this to my YW.

Hey Annie!
Right here in Revelation 12:7-9

#

judi

on 02 Feb 2013 at 9:50 pm

Love this idea…thank you for sharing it.

#

Ramee Kirkland

on 04 Feb 2013 at 5:32 am

Thanks for sharing your amazing talents. I was wondering if you had a source for the "plan" of other religions? Like what do the Baptists, Methodist, etc believe? Or did you have the kids make it up?
Leave a Reply