Come, Follow Me – Book of Mormon: Mosiah 7-10
We are excited to introduce our weekly kit for Come, Follow Me Book of Mormon Mosiah 7-10.  This kit is made to coincide with the Mosiah 7-10 week in the Come, Follow Me for Individuals and Families manual from The Church of Jesus Christ of Latter-day Saints.  Many activities and ideas can also be used for the Come Follow Me manuals for Primary and Sunday School.  All of our content is original and created by professionally trained current and retired seminary and institute teachers.  We strive to offer you the very best commentary and activities to choose from.  Each kit will serve people of all ages from young children, to teens, to adults.  Simply choose the items you want to use with your personal and family study and print those items.  We give you a lot of options to choose from, more than you will be able to use in a week's time.  The intent is for you to choose and print only the items you feel will benefit your family the most based off the age ranges in your family.  See some of the great things we offer in this kit below.
Our Study Pages in each kit are the most popular items each week.  They are created for adults and teens and are meant to turn you into an expert on the chapters being studied so you can then teach your family with confidence.  These pages include the scriptures in the left column and professionally written commentary on the right column.  The scripture text in the left column has suggested marking ideas that you could put into your own scriptures and the right column has great discussion questions, quotes, commentary, and insights to help you pull important principles and doctrines out of the Book of Mormon to apply in your daily life.  We work to make the commentary relatable to everyday situations.  These study pages should always be one of the few items you pick from each week to use, especially for your personal study.  All of the other activities we create are based on what is found in the Study Pages.
Our Come, Follow Me Teaching Activities in each weekly kit provide a lot of great options to choose from based on the age ranges in your family.  Each week, the activities provided will vary BUT there are always some core things that will be there every week because they are so popular.  Core items include the Bedtime Stories, Scripture Marking Guide for kids, Scripture Glue-Ins, and Collectible Cards.  See some pictures and explanations of these items below.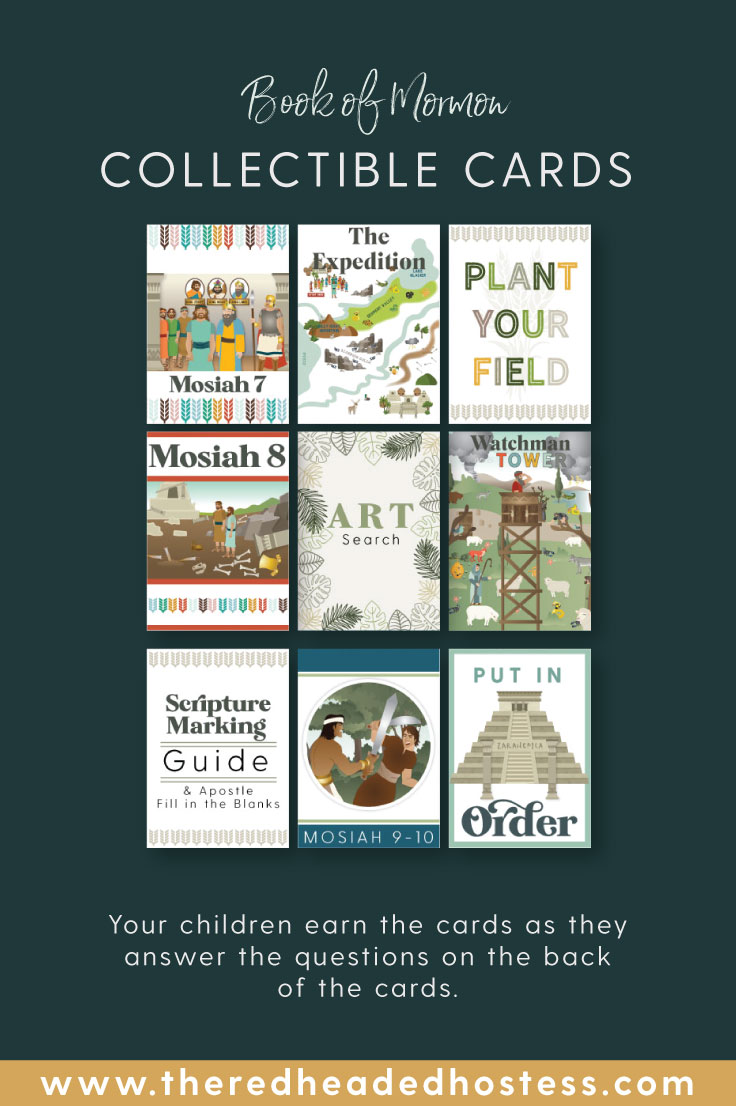 Our collectible cards are new for Come, Follow Me Book of Mormon and have quickly become a game changer for many families.  These cards are the same size as traditional trading cards so you can easily find clear trading card sleeves to store the cards in as your children earn each card.  You will print the cards back-to-back.  On the front of each card is an illustration and on the back are activities or questions that need to be completed by your children in order to earn each card.  As the card collection grows throughout the year, you can review with your children by flipping through the card sleeves asking them random questions from random cards or by pointing at an illustration on the front of a random card and asking your children to tell you the story in the illustration.  These are very popular and kids love earning new cards each week.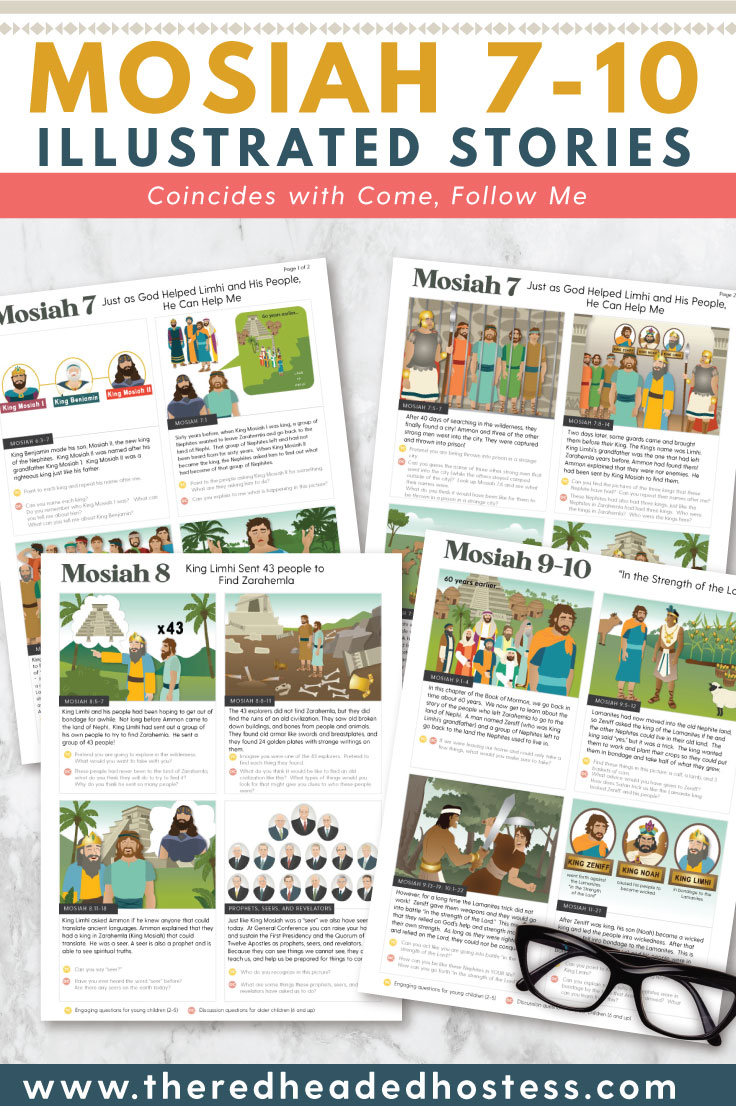 Our "Bedtime Stories" are also very popular and have become a huge help for families.   Each story is illustrated and explained in simple terms under each illustration.  There are also discussion questions for younger children and older children for each story to help you talk about each story with your kids.   One suggestion on how to use these is to print off all the story pages for the week and keep them on a clipboard next to a child's bed or wherever you do family prayer before bedtime.  Take 5 minutes to go over a story each night and have a small discussion with your family.  These don't have to be used at bedtime but however you feel is best to work them into your routine.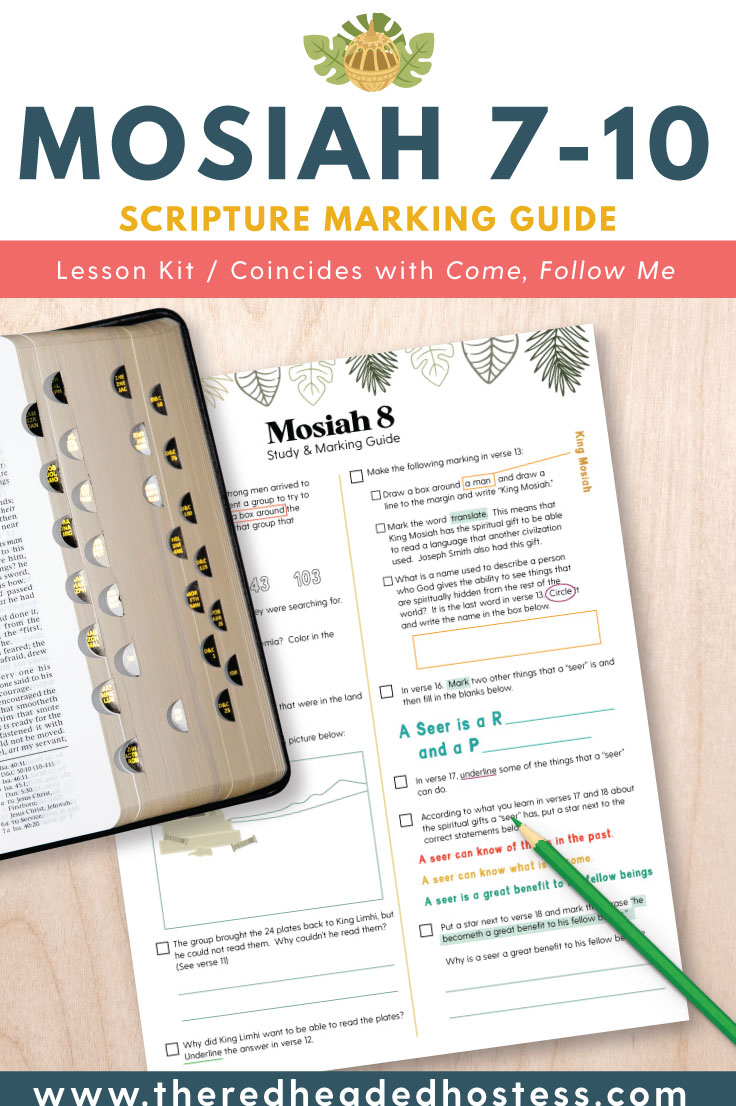 Have you ever wondered how to get your children into the actual scriptures more?  If so, our Scripture Marking Guide for kids is a great way to do it.  We have a marking guide in every weekly kit and they are incredibly helpful.  It is so much more than just telling your kids what to mark and giving them busy work.  These guides teach scripture skills; they teach doctrine; they teach principles.  After each guide, your children will know in detail what is covered in those verses.  It's so awesome, as a parent, to look at your children's scriptures and see so many meaningful markings and to be able to have them tell you what they just learned.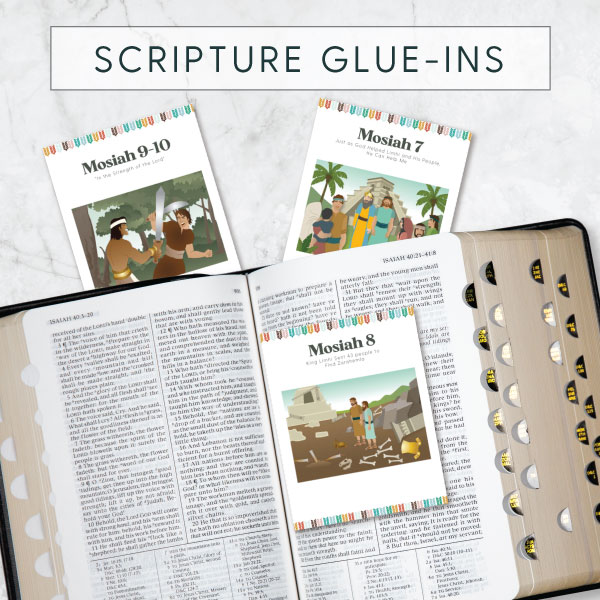 Our Scripture Glue-ins are an item that is included in each weekly kit.  Just open your scriptures to the chapter/verses being illustrated in the glue-in, run a thin bead of glue from a glue stick along the edge of the back of the glue-in, and stick it in the margin of your scriptures in the correct place.  These are usually the same illustrations in the "Bedtime Stories" so your children can recall what they learned and then be able to find those stories in their scriptures.
Here are some more items that are specific to the Mosiah 7-10 kit.  Each week we always have unique activities to do.  Even though the Activities download may seem that it is for children, still look through it.  It will often contain items good for any age, even adults.  Things like the Scripture Art Print and Art Search will be in most kits most weeks.  There are also video trivia activities based on the Book of Mormon Videos produced by the Church of Jesus Christ of Latter-day Saints.
We work very hard to give you the most professional and best material for your Come, Follow Me Study at the lowest possible price.  Each kit has an average of 150 hours put into it between the creation of commentary, professional illustrations, teaching activities and methods, proofing, and more.  Our weekly kits are a product line that has resulted from decades of seminary and institute teaching experience and over 10 years in business as a company.
You can get our weekly kits two ways.  You can purchase each kit individually as needed for $4.00 each or you can subscribe which gets the average price per kit down to $2.50 each.  Our subscription offers great bonus files for free and it also offers a free streaming video series called "Drawn In" produced by David Bowman which are great videos for kids to supplement their studies that have already taken place as a family.    Click the image below to learn more about how our subscription works and enroll.
"Drawn In" with David Bowman video series –  FREE to Red Headed Hostess subscribers!
The Drawn In video series is created by David Bowman.  These videos are great for kids but will also entertain and teach teens and adults as well.  See more information about these videos HERE.