The Apostasy and the Restoration (worksheet)
Here is a worksheet for The Apostasy and The Restoration
Over my years of teaching seminary, I became better and better at teaching this topic.
Because….
1-  It is REALLY interesting!
2-  Most students didn't really understand it
3-  The youth cannot fully understand and appreciate the Restoration without knowing what the Apostasy was.  And they had been taught SO much about the Restoration, Joseph Smith and the First Vision – but they hadn't been taught well about the Apostasy, and most students couldn't explain with confidence what that was.
4-  It is critical to understand.  In terms of what "the Last Days" means, what Joseph Smith really accomplished, why we needed the Book of Mormon, why the Priesthood was restored, why the CHURCH was restored…. and about 100 other things.
So here is a little worksheet for you to use.  This could also make a GREAT Family Home Evening.
You could take the worksheet and adapt it for your family.  Take the events and simplify them.  Have the kids draw pictures of them and then put them in order.
AFTER you talk about the Apostasy, THEN show the Joseph Smith movie that you can now get.  It will mean A LOT more to your kids when they understand it in context!
Here is the PDF: apostasy and restoration worksheet
And here are some suggestions of how to use: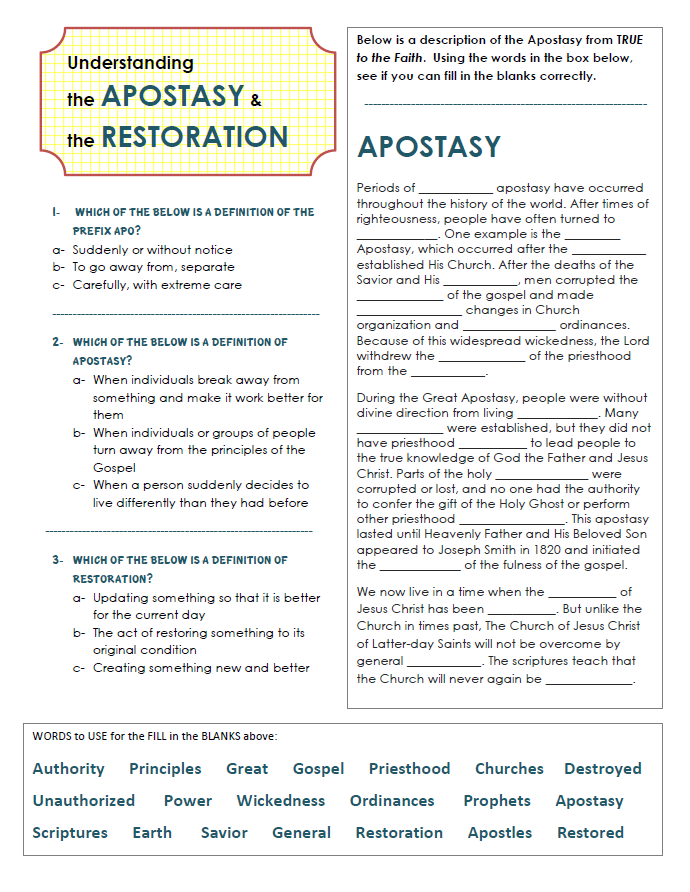 You can click on these images and print them off as images or you can use the PDF below.
Above you see definitions and descriptions.  If it is a bit intimidating for your youth, let them try it in pairs or small groups.
And give them plenty of time!  The process of thinking through it is VERY valuable and much more effective than being told it.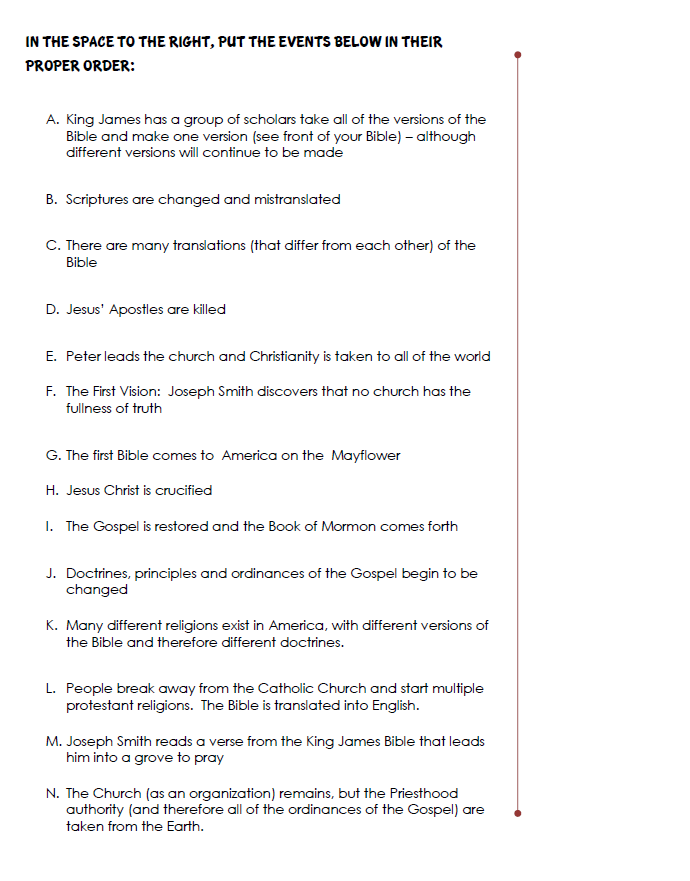 On this page is a bunch of events that need to be put in proper order.
THIS can help your youth immensely!!!
When I taught seminary, I would cut them up and have them try to line it up in order.  This is actually better than the activity  above (where they just write the letters in order to the right ) because it is easier to figure out and  they can fix things easily.  Also, as you talk through it they can follow the timeline right in front of them and it will click better.
So if you cut the sheet into strips – just cut off the letter so that  they aren't confused by it.
Also— I tried to stay pretty general.  But trust me, this could be thousands of descriptions, as you learn about specific events, people and occurrences.  SO very interesting!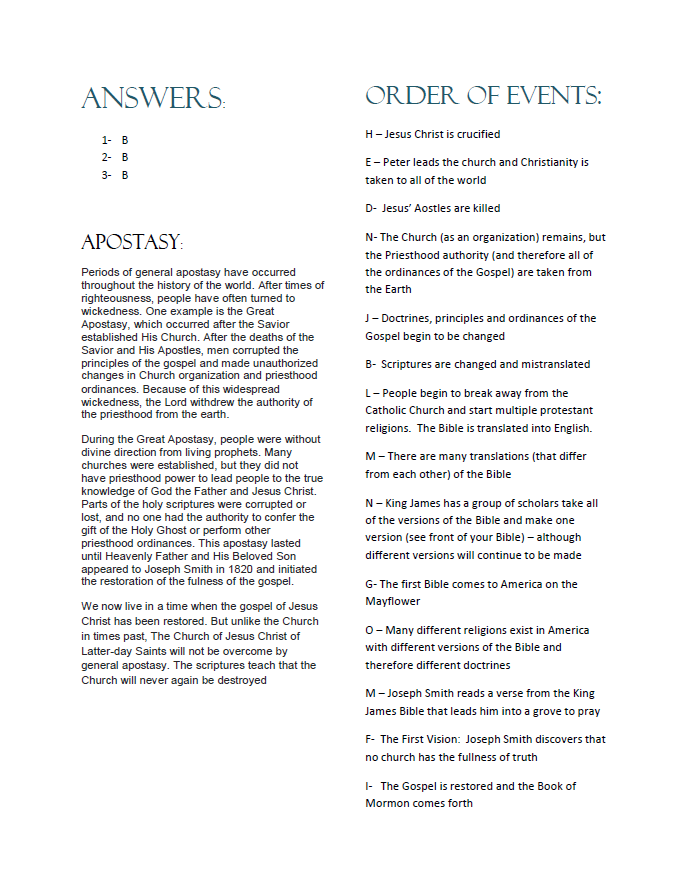 Here are the answers.
And here is the PDF again:
apostasy and restoration worksheet