Dec 11 2012
Chocolate Brownie Trifle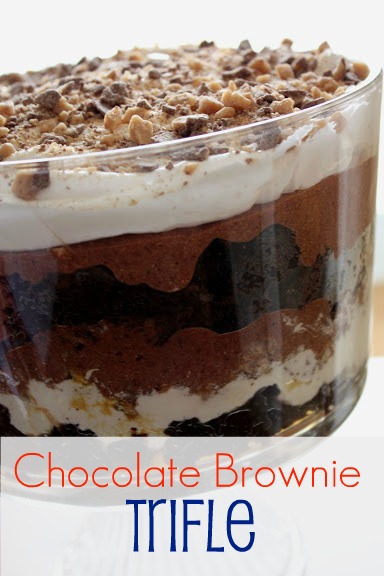 Here is everything I love about this dessert:
1-  It is easy to make
2-  You can make it ahead of time.  And in fact several hours ahead is better
3-  It is SO good that you will cry
Here is the play by play:
1- layer crumbled brownies along the base
2-  drizzle caramel sauce all over the brownies
3-  Spread whipped cream all over
4-  Sprinkle with toffee bits
Then layer on chocolate pudding
*This is chocolate pudding mixed with 2 cups of  whipped cream and 1 tsp of cinniamon (for a Christmas flare)
Then repeat your layers and end with whipped cream and toffee on top
Then refrigerate
Note:  You should make sure and push all of the layers up to the edges really well so that you get the pretty layers pressed up against the glass
Ok… Here is the recipe again:
1 box of chocolate pudding
Whipped Cream
Brownies
Caramel Sauce (or sweetened condensed milk)
Toffee Bits
* Prepare the pudding as directed on the box.  Mix in2 cups of whipped cream (an optional 1 tsp cinnamon).
*  Crumble up the brownies and put a layer on the bottom of your trifle dish
*  Drizzle caramel sauce (or sweetened condensed milk) all over the brownies
*  Layer on some whipped cream
*Sprinkle toffee bits over whipped cream
*Layer on pudding mixture
*Repeat layers until you reach the top and then finish with whipped cream and toffee bits
*Refrigerate
*Eat
10 Responses to "Chocolate Brownie Trifle"
#

Jackie Mitchell

on 01 Dec 2011 at 5:04 pm

This looks awesome! I usually make a black forest trifle, but sometimes people aren't crazy about the cherries, so this will be fun to try. I've just been asked to make a trifle for our ward's Christmas party, so perfect timing for me! Thank you! <3

#

Jana

on 01 Dec 2011 at 11:56 pm

I am assuming that I can use Cool Whip instead of whipped cream, is that right?

#

Donna

on 01 Mar 2012 at 3:17 am

Awesome!!!!!!!!!

Wow! This looks delicious! I'm going to try this in my set of mini trifles for a party this weekend!

#

wanda

on 10 Dec 2012 at 10:15 pm

Yes, I was wondering if you could use cool whip instead of whipped cream? Could you please contact me at [email protected] and let me know. I can't wait to try the recipe. I am going to fix it tomorrow for our Christmas luncheon at work. Thanks, Wanda

Hi Wanda!
Yes – I imagine that would be fine. Has anyone tried it?

#

Tonya Driggers

on 20 Dec 2012 at 4:00 pm

Oh my! This looks divine and sounds so yummy! Thank you for sharing the love!

We mad this for Christmas dessert.. WHAT A HIT! xoxo – love the recipe and mom always talks about your FAB blog!

#

Sonia

on 30 Jan 2013 at 8:42 pm

My daughter has been making this for the past 7 years minus the caramel but calls it Death by Chocolate and it's still delicious with Cool Whip!! Always a hit at parties…..now I want to try it with caramel and cinnamon!

#

Julie

on 02 Jun 2013 at 3:18 pm

I tried this for a work picnic and it was a huge hit! I used Cool Whip instead of whipped cream and it was delicious. In fact, I'm coming back to print the recipe since everyone is asking for it! Will make sure your blog credit is attached. Thanks!
Leave a Reply