Jan 02 2013
2013 Youth Curriculum… to parents and teachers.
Last Sunday my husband and I stepped in and taught the 12 and 13 year old Sunday School class.
They had completed the
Book of Mormon
lessons so we decided to talk with them about the new curriculum.  After chatting with them about the basics of the change, we split the class into two groups and gave them a paper with each month of the year on it.  "Which doctrines do you think are really important for you to understand?"  We asked.  "What doctrines will ground your testimony and influence the choices you make every day?" So off they went.  We told them they would get 1 point for every right answer, half of a point if they got a partial answer (so a sub-topic under a main doctrine) and a bonus point if they put the right doctrine on the right month. Here is what is so interesting….  these 12 and 13 year old youth pretty much got it.  Both groups guessed 9 out of the 12 topics, plus some of the sub-topics.  We were so impressed with how sharp they were! After we went through their answers we talked about this new curriculum and how they will be taught about that doctrine all month in all of their youth classes, so at the end of the month their knowledge and testimony of that topic should be greatly increased. "What can you do to make sure that you learn as much as possible each month?"  we asked. "Study on our own", "participate in the lessons", and "have family home evenings on these topics" were the answers they gave. Can you imagine?  What would happen to the youth of the church if they personally concentrated and then were effectively taught these doctrines and principles in the new curriculum?  I just love the idea of this!
Also… a note to parents.
The leaders are getting instruction to encourage the youth to teach and testify of these doctrines in class.  In my experience teaching the youth who are most willing to do this are the youth who have already discussed and learned these doctrines and have been put in the position where the Holy Ghost can testify and give them experience in those things.  Therefore, if you stay aware of their topics and can discuss them in the home, your child may be more willing to contribute in the classroom setting with their peers.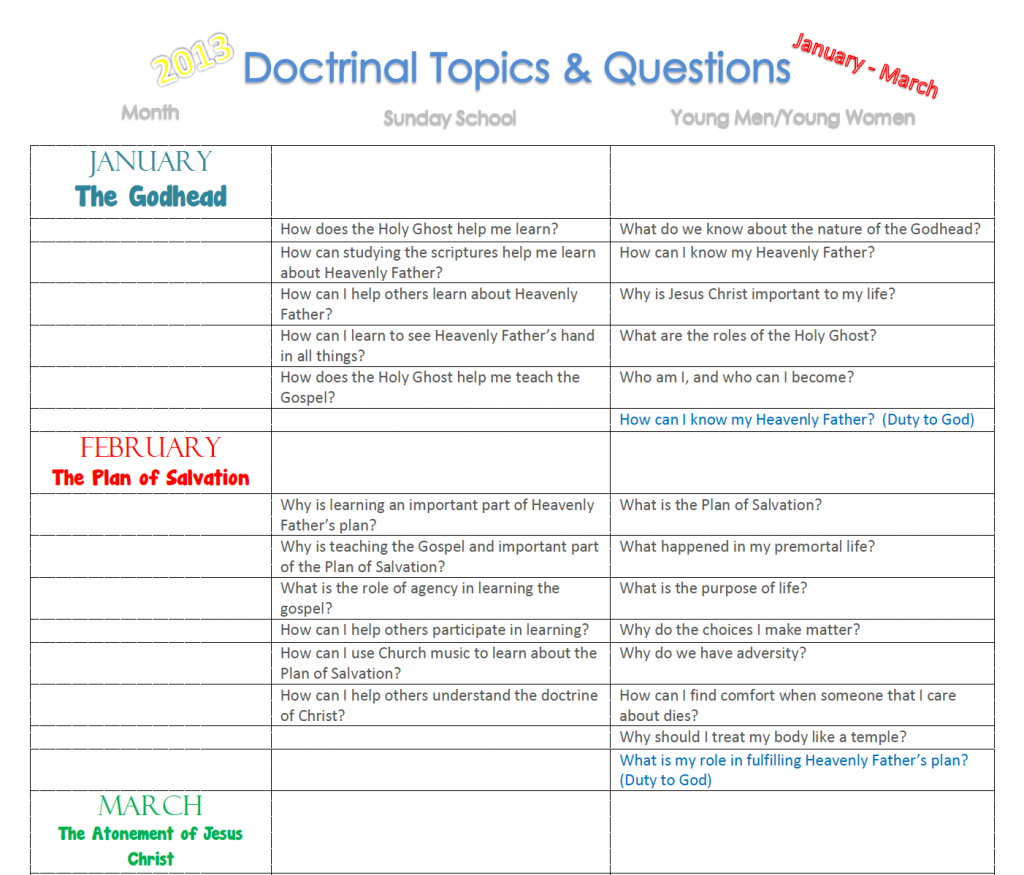 If you go to
this website
, you can explore the new curriculum.  You will see that under each doctrine there are questions with outlines the leaders and teachers can choose from. Each question may or may not be discussed in class, depending on what the leaders and teachers feel they should do, but it is a really good place to start. So, here is a PDF for you with all of the questions that are suggested with the topics.  This just covers January – March, but the other months will follow.
2013 doctrinal topics january – march
If you have any ideas on how you can introduce the new curriculum to your family or youth classes, please share below!
9 Responses to "2013 Youth Curriculum… to parents and teachers."
I am the secretary in Young Women's and I have been thinking about our new calendar for the month. Last year I put different things they could do every month to help them really learn the theme but I have been trying to figure out what I can put in this year to help them with the topics each month. Seeing all these questions in one place helped to answer that. I will add these to the calendar each month so they are all in one place for the youth. Thank you so much!! I am sure that is not what you had in mind when you posted it but it has really helped to answer the question I have been having.

This is great! I have been brainstorming in my head on what I was going to do for our first week. I teach the 14 year old Sunday School class. These are great questions.

#

Christie

on 03 Jan 2013 at 3:37 am

Love it! Thanks!

#

carol

on 03 Jan 2013 at 3:35 pm

I would love to hear suggestions for children/teens who have a small attention span when it comes to FHE. Please share ideas!

#

Rachel H

on 03 Jan 2013 at 5:05 pm

I taught our YW Sunday and we watched together the five videos that the Church has put together to explain the new curriculum to the youth. THey are titled We Learn, We Share, We Teach, We Act and We Become. In between each one we brainstormed about what is required of the youth and what is required of the leaders in order to accomplish what each video was focusing. We used your journals in the brainstorming and then at the end of the class, we took a few minutes privately to review and each set a goal (they wrote it in their journals) for Learn, Share, Teach and Act that they were going to work really hard on the next 3 months and then we will evaluate if they are "Becoming" and set new goals. I also let each of them choose another religion to learn a little about their beliefs regarding the nature of the Godhead and they are to report back next week. Later that afternoon, I got an email from one of the Beehives saying she had been searching online for the beliefs about the Godhead for her "chosen" religion and she needed my help a little! It was so great to see she was actively fulfilling her assignment! I am SOOOOO excited about this new curriculum. In our ward we are each teaching an entire month at a time so I have been submersing myself in learning about the Godhead and I have already had some life altering realizations that I hadn't ever realized before! It really is amazing!!

Awesome ideas Rachel!!!

#

Kelsey

on 04 Jan 2013 at 6:19 am

In our Ward we have decided to make the girls journals. 3 ring binders with journal pages I made with the months theme and some quotes and questions randomly placed on the 4-5 sheets. Also there is a spot at the bottom to fill in their "assignment" to do that week. Hopefully this is something they will learn and grow from and really have their testimony and knowledge written down. I'm excited!!

Shannon, I have to tell you how AMAZING your journals have already been to my tiny twig's group of YW. I have two girls that are preparing to serve a mission, one more actively than the other due to some health concerns. However, that one that I think of especially, is sending ME text messages and ideas on things I can add to my journal. She is so excited and loving every one of the tools you have put at our fingertips. Thank you, thank you, THANK YOU!!! I LOVE seeing their excitement for the gospel, it's contagious!

#

Gerilyn

on 15 Mar 2013 at 2:55 pm

Thank you for your outline….it is fantastice and I'm going to use it for my scripture journal…..love that it is color coded. Looking forward to the next quarter, (April – June)

Thanks again.
Leave a Reply