Christ Centered Easter Countdown by The Dating Divas
How cute is all of this!?!  This Christ Centered Easter Countdown is by The Dating Divas and I just LOVE it!  Everything is so cute and the PDF is super easy to print and make everything.  And this is JAM-PACKED with tons of things – you will not be disappointed!  You can find this countdown HERE.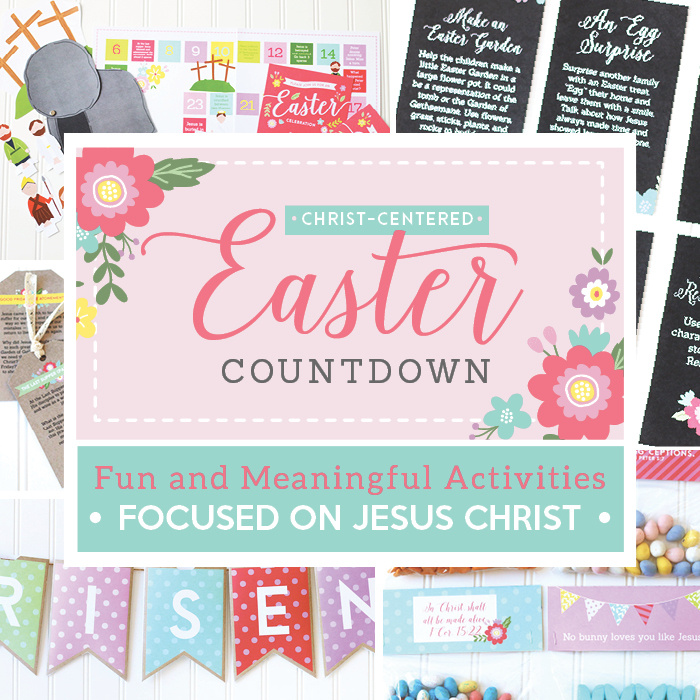 Check out everything in this easy-to-print PDF:
Easter Envelope Countdown Banner – Each letter on the banner is a pocket that holds a Christ-Centered Activity or Conversation Card for each day of the 2-week countdown. Add them to the gorgeous banner- and you also have a darling spring home decoration!  So perfect for a Christ Centered Easter.
Thoughtful Easter Conversation Cards – By using scriptures and questions to guide evening conversations, the Christ-Centered Easter Conversation Cards get your family talking as you explore the last few weeks of Christ's life.
Creative Christ-Centered Activity Cards – Help your family learn more about the meaning of Easter in a fun and creative way. These cards contain activities that are perfect for young families!
Printable Easter Activities – Some of the Christ Centered Easter Activity Cards have accompanying printables to help teach, explore, and understand the importance of Easter. All of those are in this section including: PassoverMeal Invitation, Easter Scavenger Hunt, Printable Resurrection Play Set, Christ-Centered Coloring Book, and Easter Board Game.
Bonus Easter Basket Tags – End your two week countdown with a surprise! Add special tags to a few items in your family's Easter baskets for a little reminder of the Savior. We've also added a scripture bookmark to treasure all year.
Help your family learn more about the true meaning of Easter in a fun and creative way. Day after day your family's understanding of Jesus and the importance of this season will grow.
Seriously, check this out!  Just go HERE.
Also – check out what we have!  These items would go GREAT with The Dating Divas Christ Centered Easter countdown as you seek to keep your family focused on Christ this Easter!
We have three printable flip books for you – just print, cut, punch holes, and attach with string or book ring.  So easy!
You can get all three of these printable books HERE.  You can read more about them below.
This illustrated book teaches all about the death and resurrection of Christ, and how the Easter symbols all around us remind us of the resurrection!  The illustrations teach the story of Christ, and the red-headed girl on the bottom gives tips and insights. Your kids will learn so much!
You can see this book, and a lot more pictures, HERE.
Names of Christ Study Flip Book
This study book will help you study 72 names of Christ!  Each page contains a name or title at the top, and then you can study and fill in each page as you study, ponder, and learn about each name.
You can see this book, and a lot more pictures, HERE.
Or you can get all three books at a discounted price HERE.