Mar 24 2011
General Conference Note Packet
A lot of you have asked me: How do I use my scripture journal and take notes during General Conference?
Well… the answer is… I don't.
I don't want to sit there and flip back and forth between topics during the talks.  There ARE times where I will jot things down in my journal if I have an "ah-ha" moment.  But as far as note-taking…
I am much more likely to do something like this, and then LATER transfer the most meaningful things into my journal:
Here is a packet I have made for General Conference Notes.  There is a page for each Apostle.
Here is a closer view.  You can see that each page has the following things:
Name and Picture
A place where you can circle the session they spoke in
A place where you can write down scripture references they used
Fun facts about them
A place for notes
AND MOST IMPORTANT:  A place for you to write down your own personal thoughts and insights.  I feel that the most important part of conference is the personal promptings and inspiration I receive.  And that is what that little cloud is for.
And let me emphasize… After conference is over I will go through my notes and transfer things into my journal under the appropriate topics.
In the packet there are 15 pages – one for each Apostle, and 2 pages of what you see above.  As you fill these up with notes from members of the Seventy and other auxillaries, you can just print off more of this page.
Here are a couple of suggestions with this packet:
Save it to your computer and THEN print it off.  The proportions will be correct if you print it off that way, for some reason if you just pull up the link below – it may print off smaller.  I don't get why – but it does it on my computer and my brain will explode if I try and figure it out.
I wanted to post this today because this would be a GREAT thing to give your YM/YW or Sunday School Class. It would be fun to give them a "General Conference Kit" including, this packet, some trivia cards (which will be posted tomorrow) and some treats they can't eat until Conference.  Also, to prep them, you may want to play this game.
Here is the PDF: General Conference Notes
And check out these really fun General Conference Doodle Journals!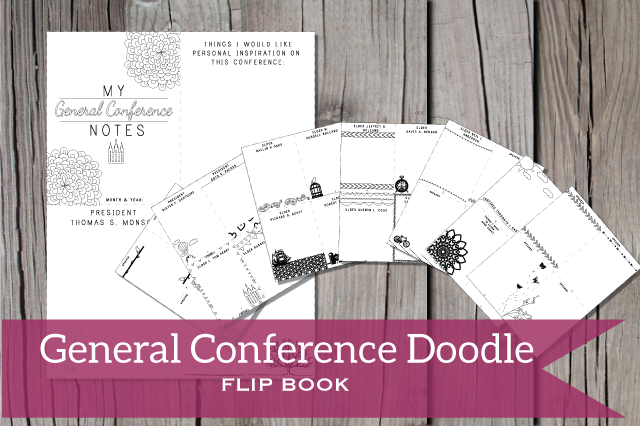 28 Responses to "General Conference Note Packet"
#

Sue

on 24 Mar 2011 at 6:30 am

This is fantastic! It's like Christmas everyday!

Wow! I love this idea. I will be giving it to my YW, my teenagers and using it myself. Thank you for providing so many great ideas for teens and us older "kids".

Last General Conference our Stake President asked everyone to take notes and then turn a copy of those notes into the stake presidency. At our next stake conference he shared some of the insights members of the stake had written down. Then he shared his favorite way of taking notes that someone had turned in – it was very similar to what you have here. They had just drawn a line down the middle of their paper and written notes on one side and their own personal thoughts or 'what they could do to change or work on' because of what was taught on the other. Love the idea!

#

JoAnn

on 24 Mar 2011 at 7:57 am

Sue (comment 1) said it best….This is fantastic! It's like Christmas everyday!!!!

This is just great! I am a horrible note taker, and I like how this one organizes things quite well. THANKS!

#

Elena

on 24 Mar 2011 at 2:16 pm

I'm off to make copies…Do I need to say more Thanks so much!!!

#

Susan G

on 24 Mar 2011 at 6:01 pm

Thank you for sharing your talents with the rest of us. I will be sharing this with my grown children. We can compare notes afterwards.

#

Amy

on 24 Mar 2011 at 10:48 pm

love this – I give my seminary students a booklet similar to this for each conference. One time I did a twist on the Disney commercial. I had the page say "You've just listened to the living prophets and apostles speak… what are you going to do next?" then I listed the apostles and first presidency's names and encouraged the kids to take note of what the spirit was telling them they needed to do. I like your layout! You just saved me some time – thank you!

#

MaryEllen

on 29 Mar 2011 at 9:53 am

Thank you so much! You bless so many with your talents. This is what I have been looking for.

AmaZiNg! WOndErful! Thank you!

#

Linda

on 30 Mar 2011 at 2:35 pm

There are some wonderful pages in all of the packets. I appreciate the effort that was put into organizing this information. These papers will make conference a more meaningful experience for everyone, from the adults to my 3 yr old granddaughter.

love it shann….thanks for all your work!:) will be thinking of you as i take my notes…(that is if i get to use my pen at all..baby max is keeping my hands full at the moment!) xooxoox

#

Maria

on 31 Mar 2011 at 9:01 am

I'm having a hard time finding the link to download the packet…. where is it? Help!

#

Shannon

on 31 Mar 2011 at 9:03 am

Maria-
It is the last sentence in the post. It is highlighted in red.

Thank you Shannon…..

#

Sharon

on 01 Apr 2011 at 2:13 pm

Thank you so much, Shannon! I began my scripture journal a few weeks ago, and it is becoming so precious to me. I am going to really enjoy using the above "adult conference packet" this weekend. It will be so useful in transferring my thoughts and impressions to my scripture journal later! You are the BEST!

Thanks for the idea. We are still new to this (converted about two years ago), so we're still trying to figure it all out.

Thanks for this! I linked to you today: http://beinglds.blogspot.com/2011/04/gennifer-conferencehere-we-come.html

#

Amy

on 03 Apr 2011 at 6:45 am

Yeah!! Thank you for having this readily available!! My weeek was crazy and not I almost can catch up!!!!

I found this 5 minutes before conference started. Love it!!! I printed them out and used them myself and got so much more out of conference this weekend. Thank you so much! Please do it again in the fall.

#

Morasue

on 03 Apr 2011 at 7:32 pm

Thank you for your diligence, your creativity, and your willingness to share. You have made conference immensely more applicable and enjoyable for me. May the Lord bless you!

#

Luana

on 16 Apr 2011 at 1:09 pm

It is great to see Conference in another why. Your packets are great. Thankyou for sharing with my family of eight. It caters for the whole family.

Just wanted to tell you that I used this last conference, and it was awesome…I've used it every week since as I study…thanks! I just pinned it on pinterest!

Great ideas, I think I can get my 16 year old to use this. Me–well I could be a little more organized at conf. time. I'll try.

#

Jessel Joy Bacalla

on 05 Oct 2011 at 8:00 am

Thanks for this… i can manage to be more organize…

#

Julie

on 27 Mar 2012 at 2:31 am

I, too, used these myself last October conference. I got a lot more out of ALL their talks, including the speakers that are not apostles because of the handy extra pages for notes at the end of the packet. My 6yo son was excited to help me remember to mark down the session day/time and topic, so he paid better attention too.
These were also a great resource for study as I read the talks again in the Ensign and got to reflect on all the thoughts I had jotted down. I look forward to doing this again!
Thank you so much for sharing your talents with all of us Shannon! I always really enjoy your blog.

#

Lori

on 29 Mar 2012 at 2:40 am

My seminary students asked if they get conference packets again. Thanks to you, the answer is yes. They loved them in October. I appreciated that you share your ideas!

#

Lorna

on 08 Oct 2012 at 9:07 pm

I appreciate your hard work (and service)! This helps so many parents and youth leaders!I am so grateful that you share your ideas and activities. It sure makes my job as a working mother and youth leader much easier and able to manage. God Bless You!
Leave a Reply