Book of Mormon Scripture Mastery Quizzes (Set 2)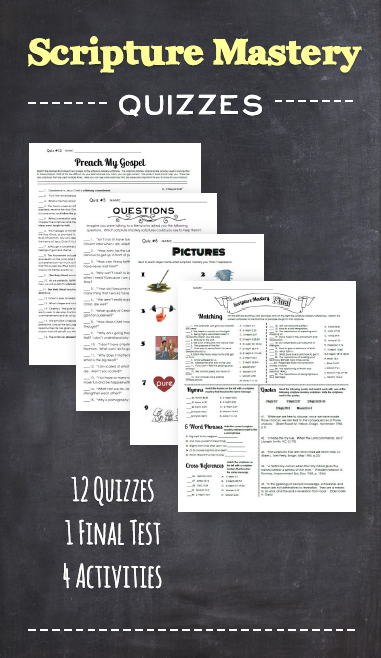 We have another set of scripture mastery quizzes available for you!
The last set was to help the youth learn the key phrases and references, and this set is designed to help the youth UNDERSTAND and APPLY the scripture mastery scriptures to their lives.
Many of these quizzes focus on critical thinking so the youth can weigh the questions with the scriptures and their application to various situations.  These kinds of activities can help them gain confidence and experience in using the scriptures to find answers.
These are great for seminary and mission prep!
When I taught seminary, I would focus on learning key phrases 1st quarter, and then understanding of the content in the verses the 2nd quarter.  Then I would work on memorization the last half of the year (so much easier after they have had the scriptures running through their minds the first half of the year).  So these are they kinds of quizzes and activities I used to do.
For a more in depth explanation of how I taught scripture mastery, go HERE.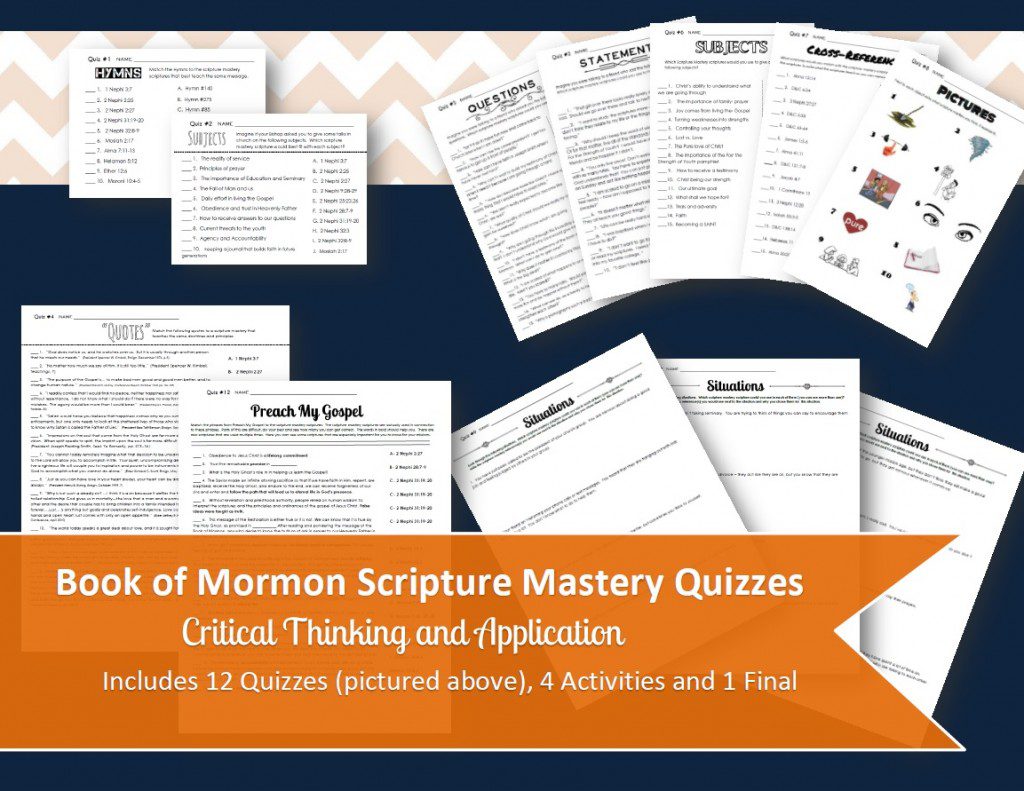 In this package there are 12 separate quizzes.  There is a wide variety in these quizzes so that the youth can approach the scripture mastery scriptures from all sorts of angles.
An answer key is included, however there are 3 "situation" quizzes where they consider which scripture mastery verses they would use in each situation.  There will be a wide variety of answers as the youth apply different scriptures to the same situations – it would be amazing to hear the youth share their insights after this.
Note:  Although there is an answer key there will be times where other scriptures will apply – let the students explain themselves – what a great discussion!
Another note:  I would let the youth use their scriptures or a scripture mastery printout during all of these quizzes.  My goal is to have them learn – not to test if they already know.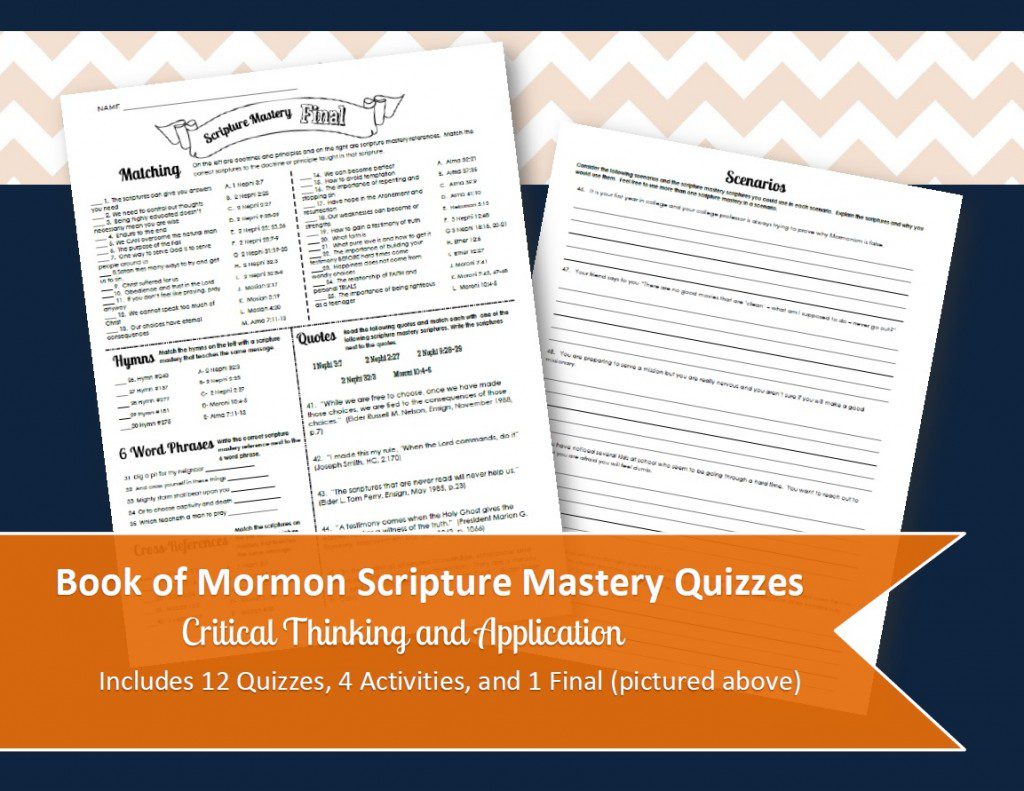 There is also a final test included.
I would allow this to be open scripture – since they haven't memorized them yet – the idea is about comprehension, not memorization.
Also, when I gave finals I had the rule that they could take them as many times as they wanted to until they got the grade they wanted.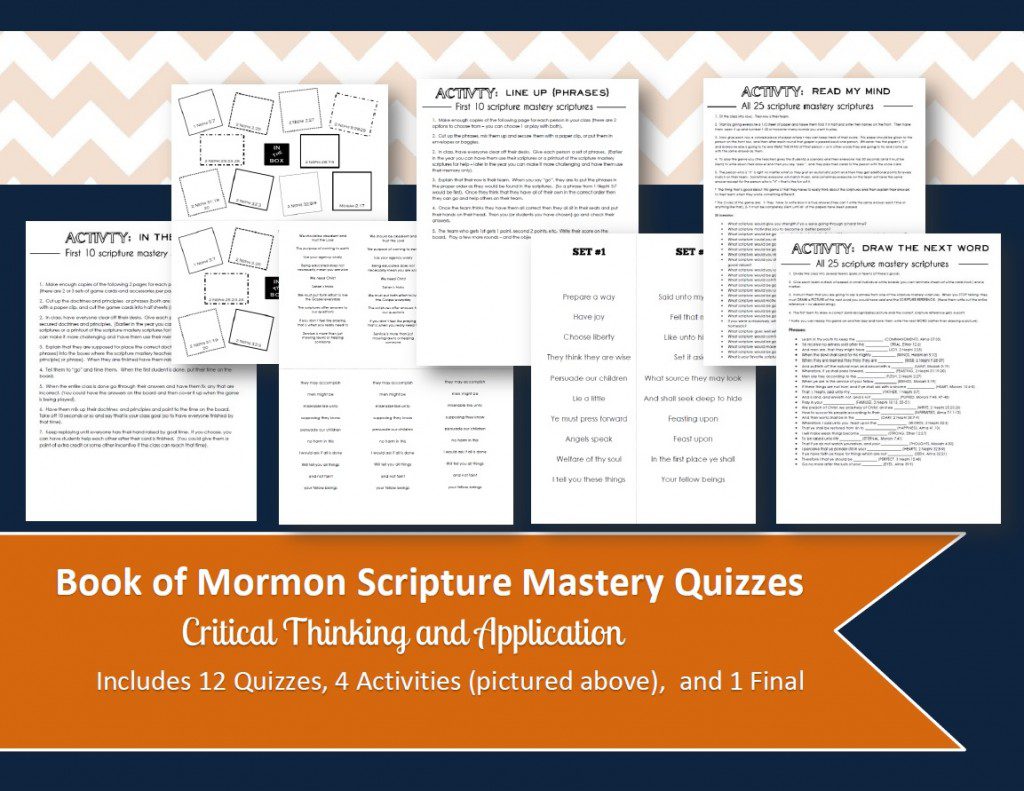 And finally, there are 4, ready-to-go activities included.  These activities are designed for comprehension, critical thinking and application.  All you may need to do is cut papers to prep for these fun activities.
To find this package, go HERE.