Download Store…. Now Open!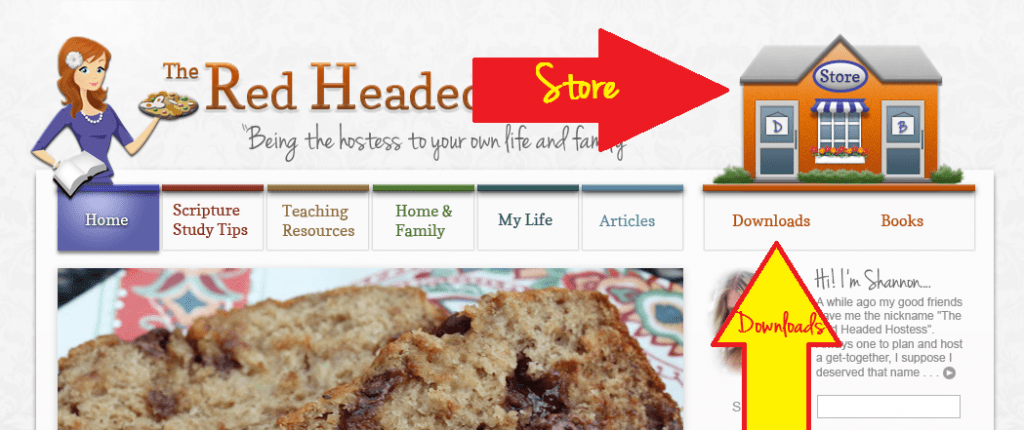 My Download store is NOW OPEN!
YIPEE!!!!
This has been QUITE the project… and we are relieved to finally be ready to open!
I can't tell you how excited I am about this.  This little ol' blog has evolved so much, and become SO much bigger than I EVER dreamed!  And my desires are truly to help you teach your loved ones and strengthen homes and families – so I am INCREDIBLY grateful it is reaching so many people!!
This new venture has been an important step for me because I am finally able to get all of these teaching aids out of my head and into the hands of talented, professional artists/graphic designers who can make them available for you.  That is the purpose of the store.  To help you strengthen your family.  So I REALLY hope you can find things that will do so.
We have tried to keep the costs really low so people in all sorts of situations and places in the world can have access to these things.  And the convenience of this is that you get to download the file and print whatever you need!
You can see that there is a new little shop up in the corner of the site.
Isn't it so cute?  My website guys are awesome!
You can also see that there are 2 separate doors on the shop:  D and B
The B is for my BOOKS
and will take you to a store which links you to a professional printing and shipping company who takes care of all of my journal orders.
The D is for my  DOWNLOADS store
and this  is my brand-spanking-new store…. and here is how it works:
You find a print/study-aid/clipart/etc. that you want
Add it to your cart and purchase it
Log back in to your account (on the store) and download it to your computer and print out however many copies you want!   (If you get confused, just follow the detailed instructions from the email you will automatically get).
Super easy.
Seriously I am so excited to have artists contributing these things that will help you teach your loved ones.
Let me show you some of the things that are sitting in there right now:
(and there will be new things added all of the time!)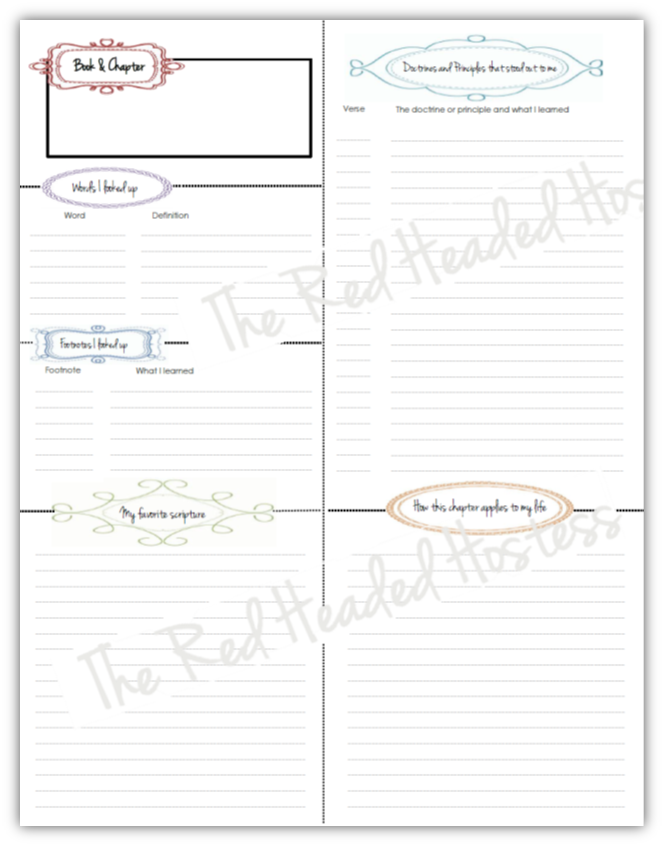 I am super excited to offer a series of templates…
So you can build your own scripture journal!!!
Basically, you will be able to purchase files and print off and arrange your favorite templates as you need them.
Let me explain
The template above is a CHAPTER REVIEW template.
Some of you have CHAPTER journals.  This is similar to that, but not quite as extensive.
I recommend that you use this template as the foundation of your scripture journal and then add in other templates.
This template would also be a great thing for:
Your family scripture study
When you challenge your mutual groups to read the Book of Mormon To use in seminary
Etc.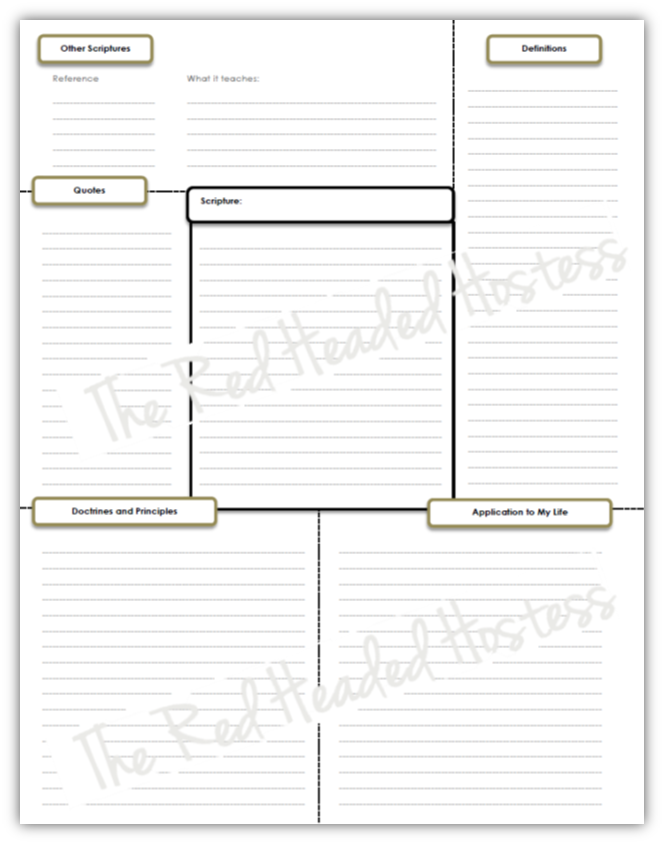 The template you see above is a SINGLE SCRIPTURE VERSE STUDY template.
(and it is a "boy" version of it – so you can have your choice of templates)
So lets say you are studying using the CHAPTER REVIEW template, and you come across a verse, or a phrase, you LOVE or want to dig deeper into. You just insert this template into your journal!
Or you could use this template in a separate journal and study all of the scripture mastery scriptures, or some of the missionary scriptures in Preach My Gospel…. the options are endless!
I have some more templates in the works so you can sort of pick your favorites and just build your own scripture journal.
You can put them in a binder and keep them all organized. And I like this option to because if I made a big mistake on a page, enough where it bothers me, I can just redo it!
My bound scripture journal books will still be available for those of you who want a bound book, and actually the templates are a little different, but I want to be able to appeal to all types of studiers, and all countries (i.e. no shipping costs).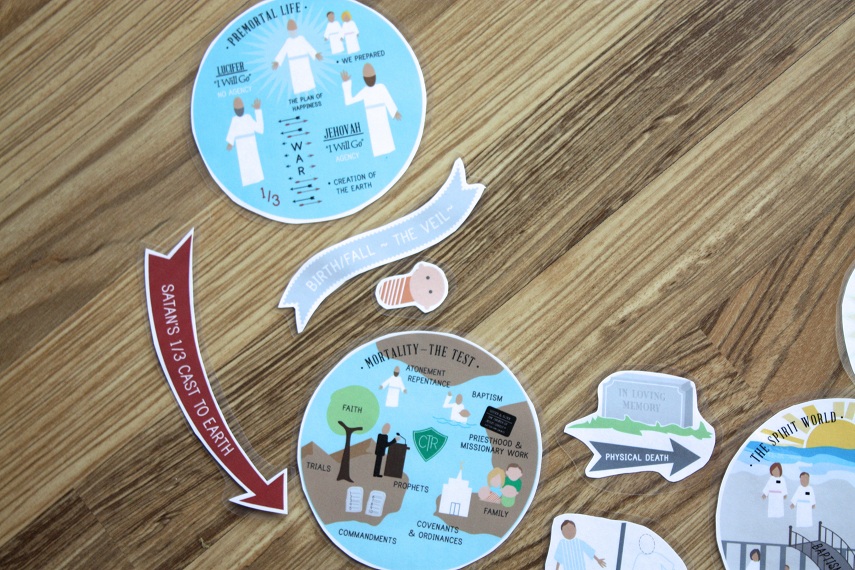 Here is a Plan of Salvation… available in different sizes
I am WAY excited about this.  I had one of the professional designers, Little Miss Missy, put my Plan of Salvation into a better format.  Plus I fixed a couple doctrinal things.
This one comes in a small and a large size and it also comes in a small and a large black and white/color your own file.
I used these all of the time in seminary. I had a classroom set so each student could have one to use. Whenever we were going to talk about a specific part of the Plan, we would pull these out to put it into context.
Also, on each product on the "description" portion, I give you ideas on how you can effectively use these items in your home or class.
By the way… if you are excited about stuff like this… go get a laminator.  I  think I found one for about $15.  Its an awesome thing to have on hand to keep these things in great condition and child proof.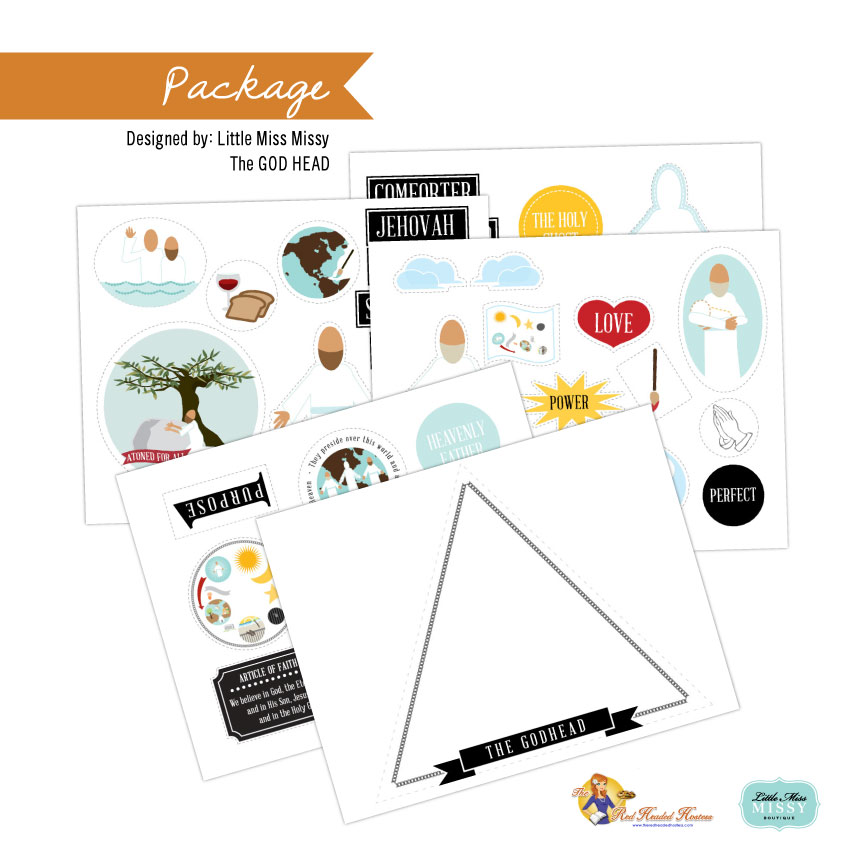 This is a similar printout that teaches about the Godhead
There are symbols that represent different characteristics and qualities of the Godhead as a whole as well as individual members of the Godhead. Each symbol comes from a description from True to the Faith - which if you don't have, is available online. So the youth can use that book to try and figure everything out, and will naturally bring up teaching opportunities for you.
If you pull it up on the store, there are suggested ways on how to use this with primary aged children as well.
I have also brought on an amazing photographer named Janae
who has put on her images that she has formerly only sold as super nice prints.  I have actually given them a few times as Christmas gifts!  And now she has made them available to everyone in a more affordable / no shipping = international way!
So you can purchase the temple file of your choice, print it off and put it up in your little boys room.  Or get it printed on canvas.  Or give them out as wedding gifts.
You just HAVE to go into the store and look at how beautiful her prints are.  I want all of them. Find the Salt Lake Temple with the pink blossoms. I have that in my Hannah's room.
She also has a file that you can buy filled with BEAUTIFUL temple images for a screen saver.  I have it on my computer and I LOVE it.  It seriously brings peace into my heart whenever I look at it.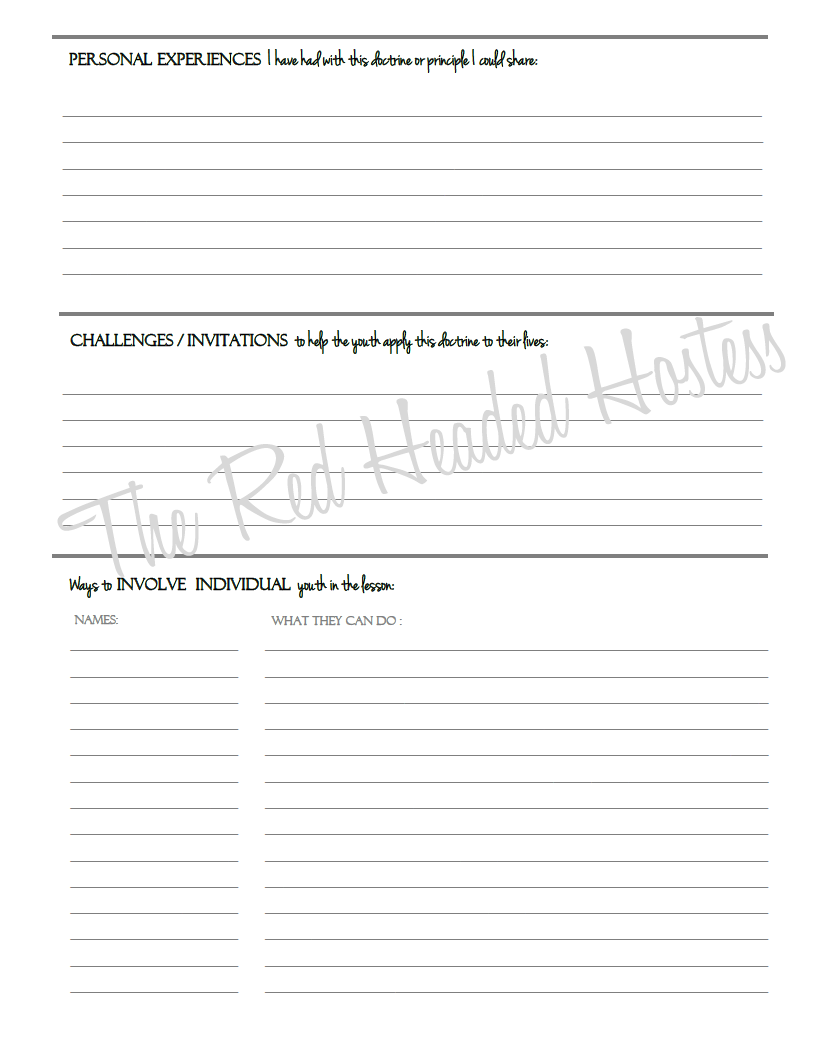 Here is a teacher lesson-prep template for you Young Men, Women and Sunday School teachers.
It is a template that you can fill in as you are planning your lesson.  You can see each page on the store.
If you find that you need more room on a certain page – you just print that specific page off!
It is designed to help you organize your thoughts and teach with power.
Plus, how many awesome lessons have you given, but have totally forgotten about!  This way you have a written record!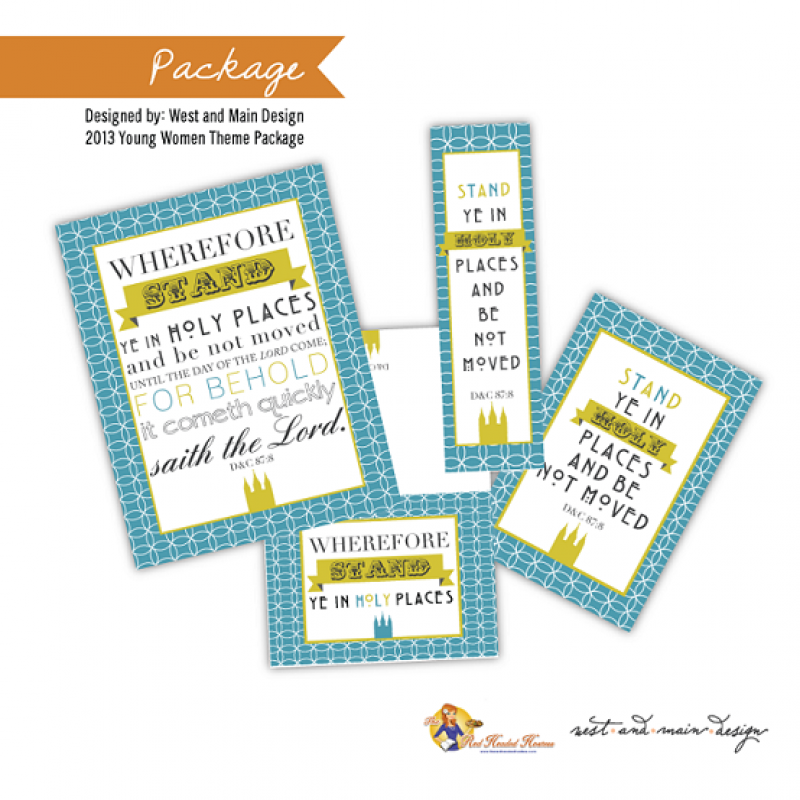 And if you are in Young Womens or have daughters in Young Women….  we have tons of great stuff for you!
Above you can see the 2013 mutual theme (by Ashley) in a package with various printouts.
Along with prints that you can frame or hang in lockers, there are bookmarks and note cards.  Wouldn't it be awesome if your Young Women used those note cards to write to people?
There is also a deluxe package with the same types of items, but for each of the 8 Young Women values.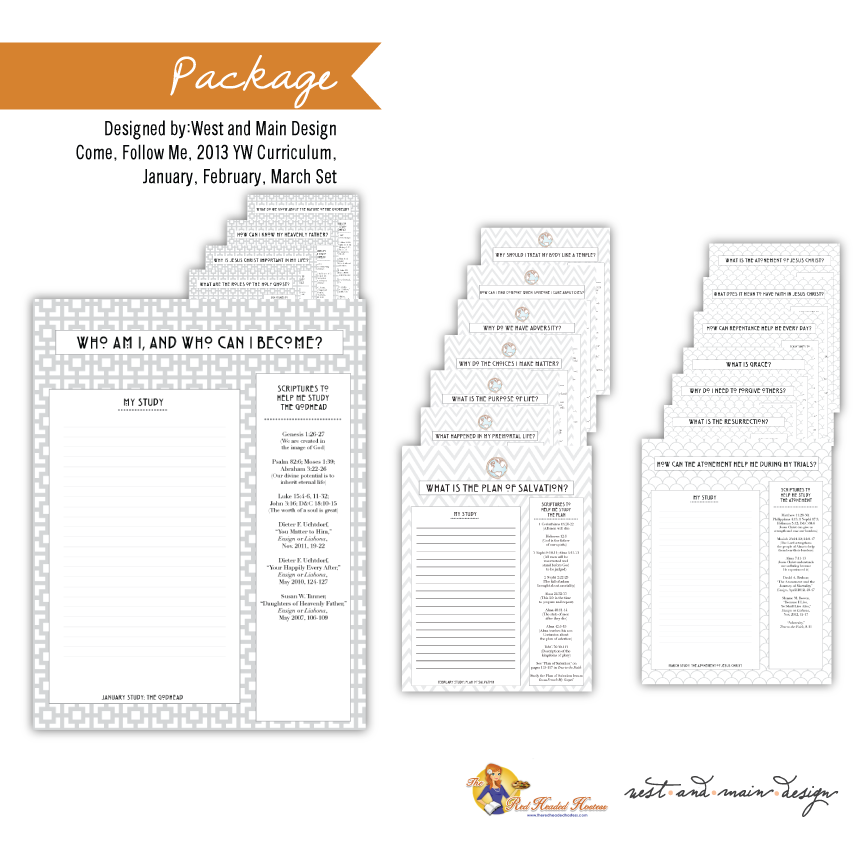 This is a package of note/study pages for each of the questions that fall under the monthly doctrines.
It includes the question at the top along with a column full of all of the suggested scriptures and conference talks.
You can print them off for class, or give them to the YW to take home and study.  Or you can print them off for your daughter so she can create a study binder of these important doctrines.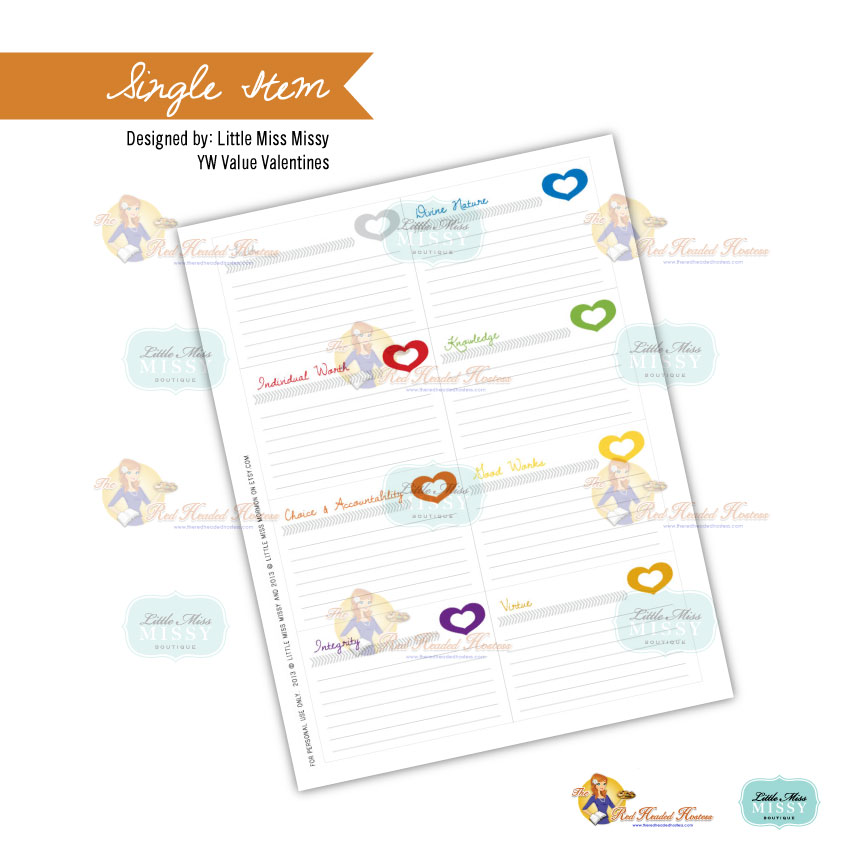 We will also have fun things for holidays and special times.
Like this Young Women Value Valentine.
Print these off and write your daughter little notes about how she exemplifies these values.
Or have your Young Women write people in the neighborhood who exemplify that value and leave them the note on their porch on Valentine's Day.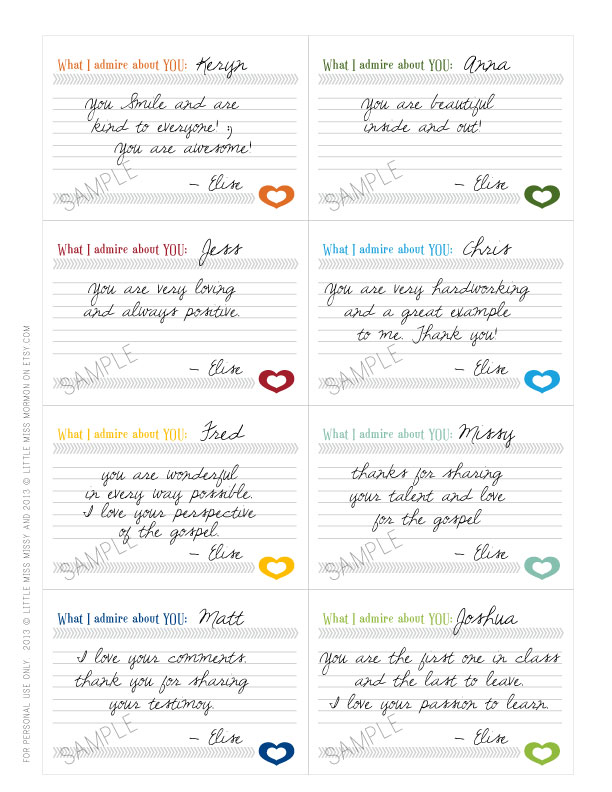 This would be a great thing for your family or seminary class.
You could use them for Valentine's Day or for any day of the year.
They are ADMIRATION cards.  Where they write a little note about what they admire about that person.  You could have your entire class write one to each person.  They will LOVE it!
Or have your family write to each other.  Or have your kids mail them off to extended family members.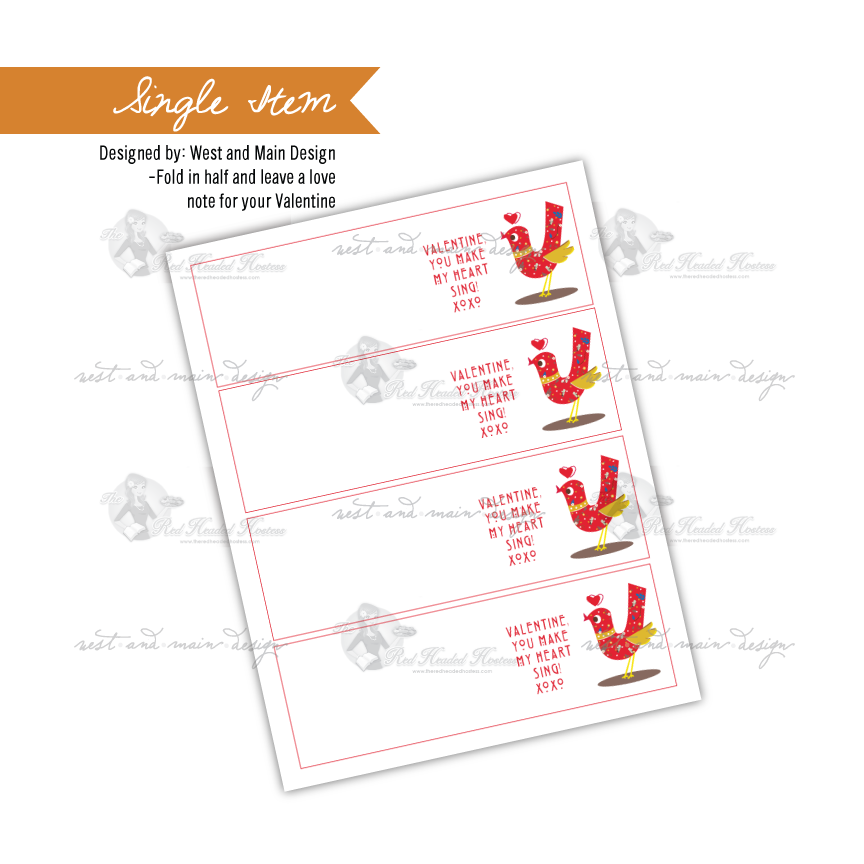 There are a bunch of other Valentine options – just go and explore on the store!
Take a look around and see if anything is something you could use for you, your family, or your calling.
And keep coming back – because we are JUST getting started!