Mar 11 2013
April 2013 General Conference Helps
Have you realized that General Conference is just in a few weeks?
So, if you like to encourage your primary or youth classes to participate – it is time to start coming up with a plan!  
I am pretty confident that most of you are familiar with the website Sugardoodle…
She has SEVERAL great ideas for you to look through and choose what would best fit your needs.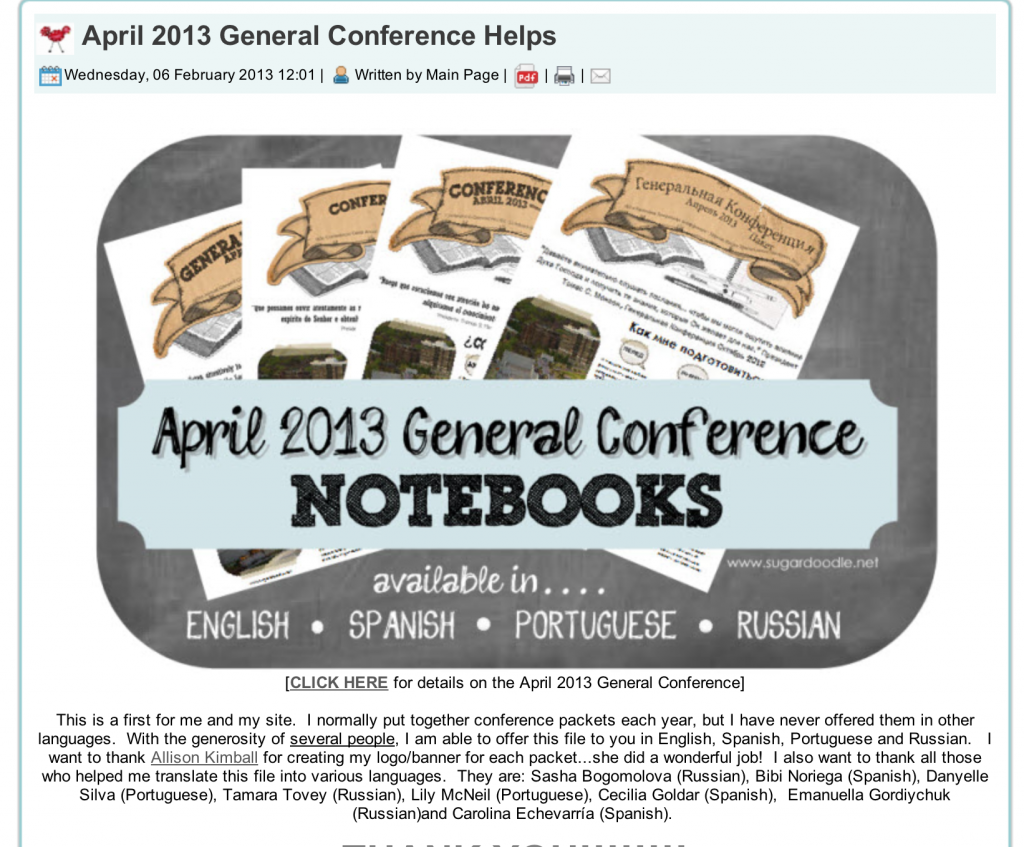 This is a screenshot of her page where she has all of the helps.
You can see that she has made some AMAZING packets.  Seriously, I was going to takes some screenshots of them to show you, but you better just go and check them out yourself.
Ok… here is one…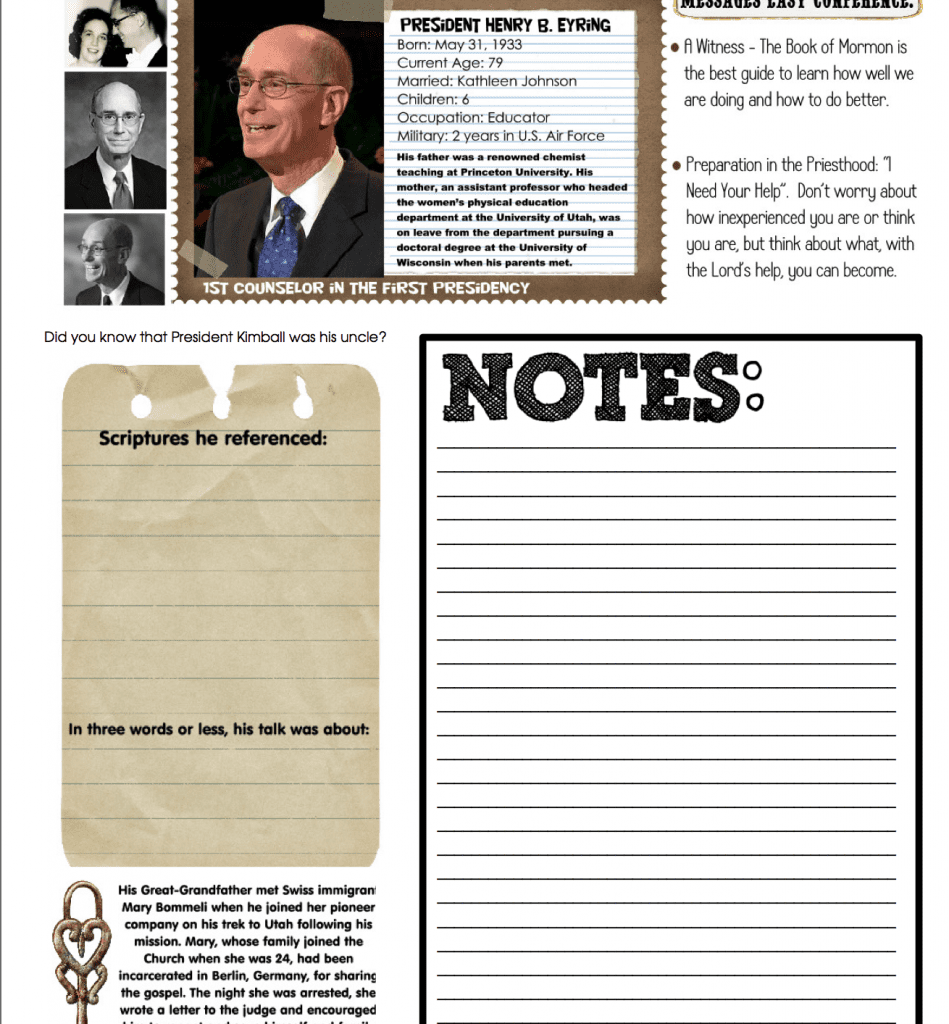 For each member of the First Presidency she has these amazing pages.  Look at everything you learn about on this page!
And for the first time ever they are available in English, Spanish, Portuguese and Russian!
Seriously, when she first told me that she had them in all of those languages I thought that was really neat – until I saw HOW EXTENSIVE the packets were and then I saw that it was AMAZING.
So if any of you have missionaries serving and speaking any of those languages – wouldn't it be amazing to send them a little conference package with fun stuff like this inside?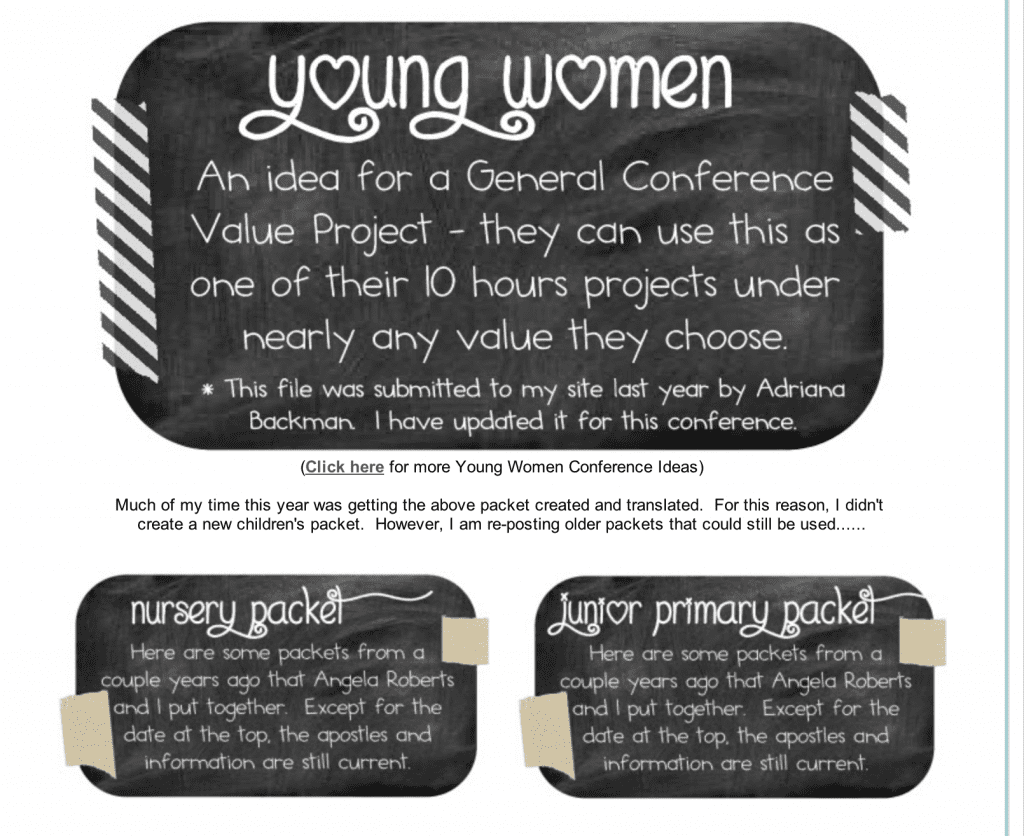 And as you keep exploring her page, you will find loads more ideas!
Seriously… go check it out!
4 Responses to "April 2013 General Conference Helps"
#

Brenda

on 13 Mar 2013 at 1:43 pm

I love these!! Thank you so much!!

This is great! I can't wait to use it!
Thanks for sharing!

#

Mindy

on 28 Mar 2013 at 3:10 pm

Wow!! I'm stunned, amazing!! Thanks so much!

#

Kristi

on 02 Apr 2013 at 9:39 am

Using this for our Class acitivty on Wednesday night to get the girls pumped up for this weekend! I have two that will actually be at conference, and have invited the others over to watch it if they aren't watching with their families, so we can do it all together! Can't wait, it is amazing!
Leave a Reply