Good Music in the Home and the Proclamation in Our Hearts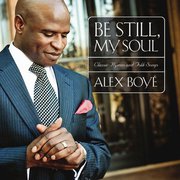 Today our guest writer is my friend, Alex Boye,
and what a treat this is!  If you have a minute, BEFORE you read his post below, go here to mormon.org and hear his story… it will make your day!:  Hi, I'm Alex Boye
Ok… how inspiring was that?
Now… check out some of the things he has done with his life by going here and reading his Bio:  About Alex Boye
and then you will appreciate his words all the more.
But, let me just add my two bits.
When you hear Alex sing, you hear the message – not just the song.  He has a real gift of communicating the true meaning of what the words are seeking to convey.  Never, will you hear him sing and think of anything other than the song he is singing – you are in it. And when he is singing a hymn, you will want all you love dearly to hear what you just heard.  He has a gift, pure and true.
——————————————————————-
GOOD MUSIC IN THE HOME AND THE PROCLAMATION IN OUR HEARTS
                                            By Alex Boye'
So i tried this experiment recently and it freaked me out a little, ok alot.
I want you to try it and see if you get the same results.
I listened to top 40 mainstream radio for 1 hour,
switching stations every 2-3 minutes. I had a notebook with me and wrote down a list of all the subjects i picked up on. Are you ready for this?
COUNTERFEIT LOVE, FLIRTY GIRLS, ANGRY BOYS, DRUGS, SEX WITH NO CONSEQUENCE, BINGE DRINKING, SLEEPING WITH MULTIPLE PARTNERS, SEX BEFORE MARRIAGE, ROCKS, DIAMONDS, BACKBITING, ICE, BLING-BLING, IMMODEST CLOTHING, WARS, HATE, 30 INCH RIMS, RAPE, ASSAULT, DEATH, VANITY, PRIDE, JEALOUSY, ENVY, CRYSTAL, CHAMPAGNE, PLATINUM RINGS, LYRICAL PORNOGRAPHY, MARIJUANA, ADULTERY, SMOKING TO LOOK COOL, DISRESPECTING WOMEN AND GIRLS, USE OF GUNS IN GANGS, PROSTITUTION, LUST, MURDER, MASTURBATION, SUICIDE, HATERS OF PEOPLE WHO DO GOOD, LOVERS OF PLEASURES, PRIDE, BLASPHEMY
 (Phew, i said all that without breathing!)
Remember, this is just mainstream radio which targets children as young as 14 that goes out to the whole world!
A popular music producer who has been saying for years
that children are at risk from pop music was quoted as saying,
"WELCOME TO THE WORLD YOU HELPED TO CREATE. YOU WANTED A SECULAR SOCIETY WITHOUT THE LORD AND HIS WORD. NOW YOU'VE GOT IT."
Innocent hearts are being damaged
and the world is suffering as a result of all the subjects i mentioned above.
There is a scripture in proverbs 23:7
that says "As a man thinketh in his heart, so is he". To me, that means we pretty much become what we think about most of the time.
A friend recently made a comment that has stuck with me.
He said "In my opinion, families will never be together forever if we try to think the way that the world thinks, and try to live the way the world lives". To me, that sums up what the family proclamation represents. It is a call to the world to stand up and be counted, and for us to live closer to the laws of God than we ever have before, which will ultimately result in incredibly fulfilled lives and unparalleled joy, purpose and meaning.
N. Eldon Tanner was once quoted as saying
" We cannot serve God and mammon (The world). We will grow to love one and hate the other. Whose side are we on?
I think more and more people in the world are coming to the realization
that the world is failing, fast! I also believe that more and more people in the world are seeing the great blessings in their lives that derive from keeping Gods laws. They are going back to they're roots, back to the God who created them. I love it! It's true!
We do have a long way to go to influence
the people who are responsible for shaping this world and how it is today for good. I am certainly no expert, but even i know how this can be done thanks to Gods unfailing principles of success found in scriptures and modern day prophets. One thing i do know is that adherence to the family proclamation is needed now more than ever. The last part of the proclamation says" We warn that the disintegration of the family will bring upon individuals, communities and nations the calamities foretold by ancient and modern prophets. Well. It's happening. The world may continue to mock everything that is good, wholesome and true, but as for me and my house, we will follow the Lord.
 Like my music page on Facebook
—————————————————————————
Remember to visit the other blogs hosting this celebration!
They have great things going on each day!  Montserrat from Chocolate on My Cranium,  Jocelyn from We Talk of Christ,  and Jaime from Welcome to the Madness.  Be sure to visit each blog every day!
————————————————————————————————
And here is today's giveaway!  We are doubling up so you have double the chance to win!
The amazingly talented singer, Alex Boye, who is the guest blogger for The Red Headed Hostess today, is giving away a copy of his CD Spirit. Feel the spirit of life and a passion for worship with songs like "Word of God Speak," '"I Can Only Imagine," "I Will Not Forget" and a special arrangement of the popular hymn '"How Great Thou Art!"
AND

We are a mother/daughter team who enjoy working together in our business, Design Divas. Alison is the business manager and Rachel is the artistic designer, who has a Bachelor of Fine Arts degree. We operate from two different cities and love what we do.
When we started Design Divas, our goal was to start a business that would use our combined talents to create something special. We have created a unique product line of Vinyl Wall Quotes, and are currently designing another line of Vinyl Wall Art. Rachel enjoys a challenge, so please contact us about placing a custom order! Thanks for checking us out!
This beautiful vinyl lettering wall decal can add that special touch to any room in your home. Just think of the possibilities!
This listing includes


One (1) item #1113 "A happy family is but an earlier Heaven" vinyl lettering quote. Size 6 x 24 inches. (Please Note: These sizes indicate the parameters of the space the quote is designed in, not always the actual size of the vinyl quote. All sizes are in inches.)