Question for you: Morning Scripture Study Routines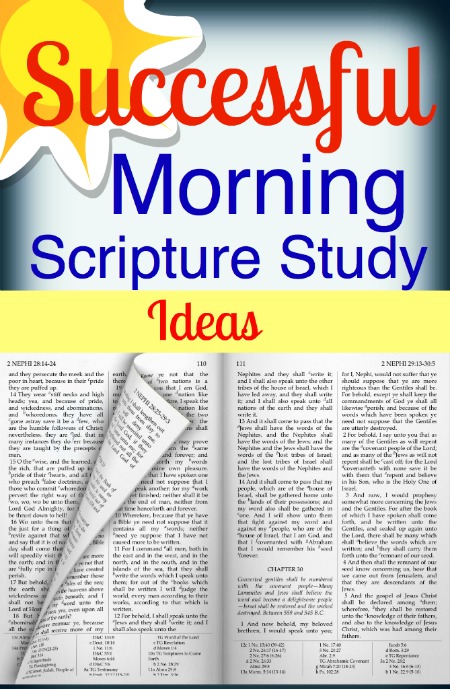 I have been receiving emails from parents who are trying to get a morning scripture study routine and my hats are off to all of you!
I wanted to open it up and see if you will share what has worked for you and your family in the past so you can all sift through each other's comments and pick out some things to try.  And please share – I get so many comments from single mothers who are searching for ideas to use with their children – so if you have some good ideas, please leave them in the comments below.
Here are some of my ideas – just from a teaching perspective, and I fully admit that I have a 1 1/2 year old, so I am NOT speaking from kitchen table experience – just classroom experience.  So take it or leave it, but this is a version of the formula I used while planning my seminary lessons:
1-  Make it relevant
We will all listen to things that are relevant to ourselves – say you are looking to buy a car, you may stop and watch a car commercial you never noticed before because it is relevant to you at that time.
If your morning scripture study routine consists of reading sections of scriptures together, I would probably try to pre-read it (with my spouse) searching for relevant principles for our family so we would be inspired and prepared when we read that section.  So I am looking for things they NEED right now.  Something about the start of school, or making friends, or being a good example.  Then when I  find that principle I may try to think of a short story or a really good quote so it really applies to them.
2-  Make it sparkle
A few years back Elder Richard G. Scott was speaking to the seminary teachers and he told us that our lessons should "sparkle".  He didn't mean that they should be flashy, but that they should "sparkle".  I think of a beautiful gem, sparkling in the sun – it is showing its amazing beauty and capturing your attention.
That message really resonated with me and I put the word "sparkle" above my office door so I could see it whenever I was planning a lesson.  And I would alway know when I was getting there – I could feel it.
A sparkling scripture study moment can be as much as you sharing an amazing story, opening up the meaning of a scripture, giving a challenge, or bearing a powerful testimony. But you will know it when it is happening – you will see it in your children's faces.
3-  Keep it short
I am pretty sure that things are hectic in most homes before school and that most people don't have the time to have more than 5 or 10 minutes together.  But those 10 minutes can really count.  It may take some prayerful planning, but 10 minutes can be the power minutes for the rest of the day.
And honestly, I think a powerful lesson or thought can often be lost if the teacher keeps on talking on and on.  So a power 5 or 10 minutes can actually be more impactful than an hour long scripture study. The lesson will be taught and then your children can think on that one important doctrine or principle the rest of the day.
4-  Establish it as a life line
I imagine that in most homes it would be hard to implement a morning scripture study routine, until it became a need rather than a duty.  If the morning messages really were relevant to your family's lives, then they would quickly come to rely on the guidance they received in those precious moments.  And trust me, if you walked through the halls at your kid's schools and saw what they had to see and hear, you may have an hour of scripture study every morning! It really is a life line!
5-  Have impact
This goes with being relevant, but the goal is that every day our children leave our house feeling strong.  The goal isn't to read a few scriptures, but rather to learn something that has impact in their lives.
I hope that little formula can help you out as you seek to teach those you love so much.
I also wanted to show you a new series me and my graphic designers are working on.  It is for personal, family or classroom study of the Book of Mormon.  We have just released the very first one which covers the political conditions in Lehi's day and 1 Nephi 1.  It is pretty insightful.  This one is pretty extensive so you can understand the history of that day – the ones coming up won't be so extensive… but we will have to see.  🙂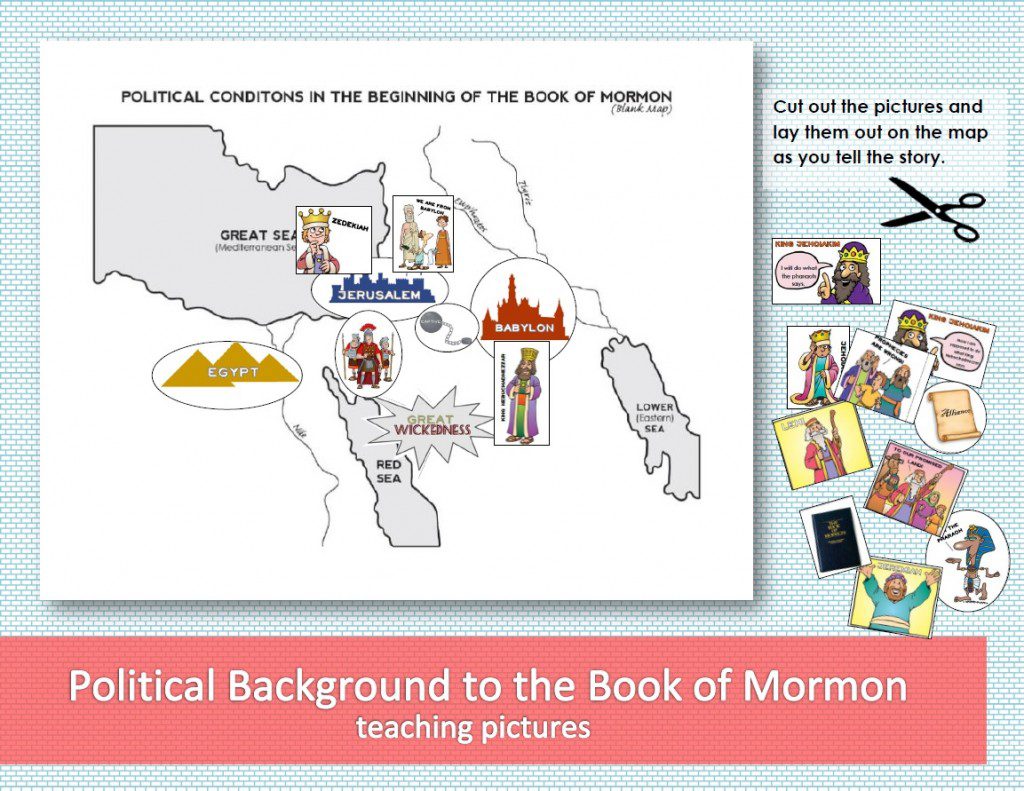 Oh – and these packages will also include story maps you can use as you study.  So – we will eventually have them for the entire Book of Mormon!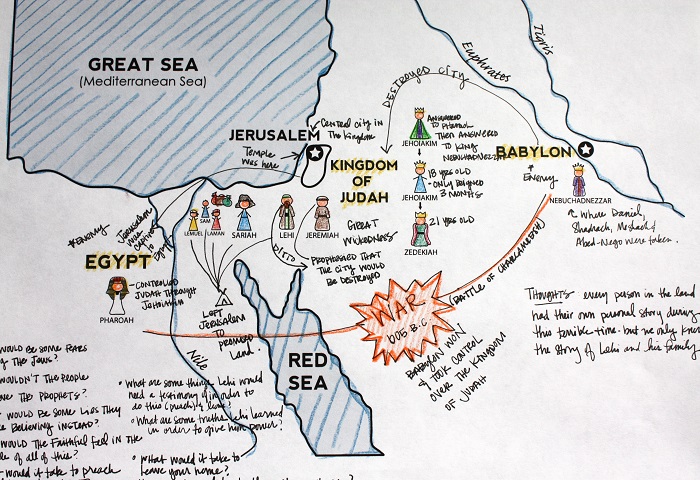 You can check this all  out HERE.
Please leave any comments you have about your morning scripture study in the comments below.  Thank You!!!