Parenthood and the Atonement- The Red Headed Hostess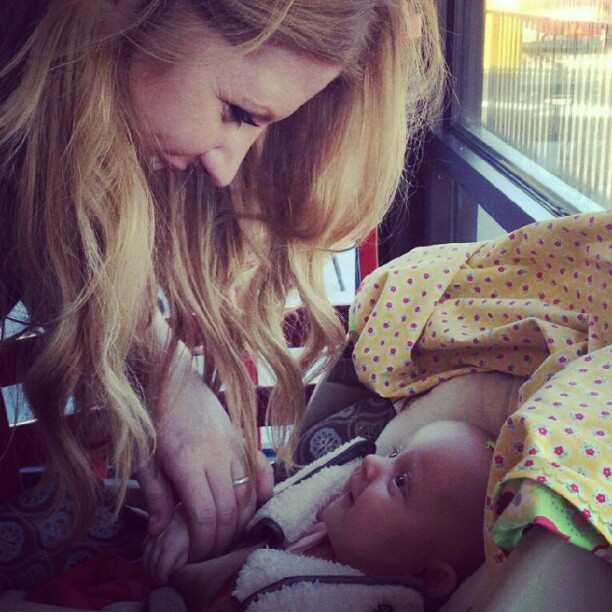 Have you seen this scripture?
If we say that we have no sin, we deceive ourselves, and the truth is not in us. (1 John 1:8)
Phew!
I don't think sin is just when we blatantly break commandments or covenants, but also the natural man in all of us. That part of us that needs some fixing. The thoughts, habits, and attributes that aren't quite Christ-like. And we all got em.
I have come to the conclusion that the Celestial Kingdom will be filled with realists.
I don't think it will only be full of people who never missed a visiting teaching appointment, or who attended the temple faithfully every week of their lives. It won't be full of people who never argued with their spouse, or who never said a bad word about someone. It won't be full of people who always studied their scriptures an hour every day, or who never, ever said a bad word. But, It will be filled with REALISTS – Individuals who wanted to know what their faults were, admitted them, faced them, and then knew how to apply the Atonement to their lives, one day at a time.
Among the many life skills we are to teach our children, perhaps one that should be at the top of our list is to help them know how to overcome the natural man.
Because the fact is, they are one and if we tip toe around it, they may view themselves as broken.
I remember one year when I was teaching seminary we were learning about the Kingdoms of Glory. I was curious to what they thought about it, so I passed around slips of paper and asked them to anonymously write down the Kingdom they thought they would go to. The purpose of this was not for them to eternally judge themselves, rather I wanted to see if they had "hope". Sure their Bishop would go to the Celestial Kingdom, but could they?
I counted up the papers and the majority of the answers were either Terrestrial or Telestial Kingdoms. A few Celestial and a few Outer Darkness!! "Ok," I said, "let's fix this". And then we talked about the doctrine. I mean, most of these kids were sitting there with Temple Recommends in their wallets, they just did not understand! They viewed themselves as wicked!
I remember after that class, several of the students came up, some in tears, expressing gratitude! They had hope!
Can you see the difference between someone who understands that they are in mortality and are meant to overcome the natural man and it is a process, verses someone who beats themselves up because they make mistakes?
Doctrinal understanding is a powerful thing.
During my years of teaching seminary, I would often talk about "repentance", and noticed that often it felt like an uncomfortable topic.
It was evident that many of them felt guilty about something, and the mention of "repentance" would bring up those tender emotions.
Likewise, there were youth that were living virtuous and clean lives who didn't feel that they needed repentance because they hadn't done anything really bad.
Both of these groups needed to gain more understanding of what repentance is, and what it means to lay hold of the Atonement.
I have been thinking a lot about what I can do to be living, walking, breathing example of this to my children.
I think that so often our spirituality is something that is quiet and personal, which it should be. But, what would happen if we were more open about these things with our family?
This amazing quote by Elder Bednar has had a huge impact in my life:
"The journey of a lifetime, as described by President McKay, is to go from bad to good to better and to have our very natures changed. And the Book of Mormon is replete with examples of disciples and prophets who knew and understood and were transformed by the enabling power of the Atonement in making that journey. May I suggest, brothers and sisters, that as we come to better understand this sacred power, our gospel perspective will be greatly enlarged and enriched. Such a perspective will change us in remarkable ways.
"Nephi is an example of one who knew and understood and relied upon the enabling power of the Savior. In 1 Nephi 7 we recall that the sons of Lehi had returned to Jerusalem to enlist Ishmael and his household in their cause. Laman and others in the party traveling with Nephi from Jerusalem back to the wilderness rebelled, and Nephi exhorted his brethren to have faith in the Lord. It was at this point in their trip that Nephi's brothers bound him with cords and planned his destruction. Now please note Nephi's prayer in verse 17: "O Lord, according to my faith which is in thee, wilt thou deliver me from the hands of my brethren; yea, even give me strength that I may burst these bands with which I am bound".
"Brothers and sisters, do you know what I likely would have prayed for if I had been tied up by my brothers? My prayer would have included a request for something bad to happen to my brothers and ended with the phrase "wilt thou deliver me from the hands of my brethren" or, in other words, "Please get me out of this mess, now!" It is especially interesting to me that Nephi did not pray, as I probably would have prayed, to have his circumstances changed. Rather, he prayed for the strength to change his circumstances. And may I suggest that he prayed in this manner precisely because he knew and understood and had experienced the enabling power of the Atonement of the Savior.
"I personally do not believe the bands with which Nephi was bound just magically fell from his hands and wrists. Rather, I suspect that he was blessed with both persistence and personal strength beyond his natural capacity, that he then "in the strength of the Lord" (Mosiah 9:17) worked and twisted and tugged on the cords and ultimately and literally was enabled to break the bands.
Elder David A. Bednar, In the Strength of the Lord, BYU Devotional, October 23, 2001
So, I have lots of ropes that I am trying to break through.
Some are little ropes, and others seem really thick. But we all have them, and my children will have them.
What if my rope was that I have a problem comparing myself to others, and I tend to tear others down? Or what if my rope was that I have a really hard time admitting I am wrong and saying "I am sorry"? I surely know that these are not Christ-like attributes and that I need to pray and work these out of me. I may spend hours of quiet time praying about this, studying about this, and serving others to gain this virtue in myself, and at some point strength would come and I could turn this weakness into strength, and work out of those ropes.
But think of this, it is likely that my children have witnessed this behavior in me and just as likely that they don't know that I am working on improving it. So, think of what it could do if they also witnessed the struggle out of the bands?
To say to them, "hey, I would like to improve this in myself," or "I need to gain strength in this area," and then study about it together. Let them watch you face weakness, become stronger, break those bands and overcome the natural man.
As we prepared to come to earth, knowing what mortality would entail,
I doubt we looked at each other and said, "the best thing to do is act like you are perfect." And even more dangerous, "act like repentance is only for bad people".
No! It is for Celestial people! That is what the Celestial kingdom will be full of! Realists! People with enough knowledge, humility, strength and courage to take that painful, perfecting journey of becoming like our Savior.
Think of a mother and a father who work together on this journey! Who apologize to each other and who smooth the rough edges so that their marriage is full of respect and admiration. Who use repentance to become better and better as each year passes. Think of what they are teaching their children! Because your children are being taught "happily ever after" fairy tales, without the way of getting the "happily ever after". But you can show them that we become worthy of that through becoming more like Christ.
I am not suggesting that we lay our sins out for the entire world to see. But since we are here to overcome the natural man, would it not serve each other to be more realistic about mortality? To admit that we are not perfect, and show each other, especially our children, how to run straight at this problem? And to cheer each other on?
What if our children saw us daily, actively seeking the power of the Atonement?
What if they saw my spouse and I humbly admitting our faults? What if they witnessed the power of that? What if we were more concerned with reality than being right? What if we apologized more and asked for forgiveness? Would they not then naturally apply this to their own lives? Would it not impact all of their future choices and relationships?
And think of how much happier WE would be!
This, I think is a perfect answer:
"One of the questions we must ask of our Heavenly father in private prayer is this: "What have I done today, or not done, which displeases Thee? If I can only know, I will repent with all my heart without delay.' That humble prayer will be answered. And the answers will surely include the assurance that asking today was better than waiting to ask tomorrow." (Henry B. Eyring, Ensign, November 1999, p.33)
I would love it if my children repented like that! Imagine the people they would become! Imagine the person I would become! And imagine the example I would be for my children! It is definitely worth working for.