What are Your Favorite Games?
With the Holiday season fast approaching, and the Fall weather in full swing
my family has been in "game mode" for some reason.
We just feel like playing games.
And I love it.  There is something so bonding and worthwhile when you sit down at a table together to play a game. So many memories are made.
So I want to ask you…
What are your favorite family games?
I am looking for everything from good ol' classics to the latest and greatest.
So I will start.
I don't know how old this game is – but my brother and his wife introduced it to us.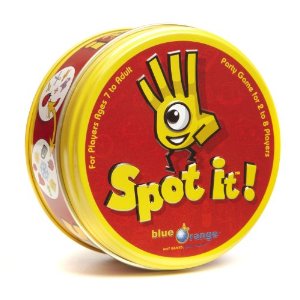 It is called "Spot It", and it comes in a little can like this.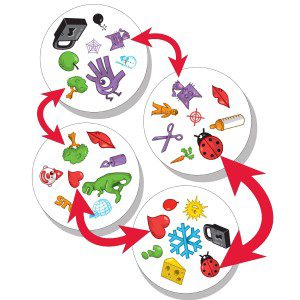 Each card has these little pictures on it – and I don't know how they did it, but each card has one match with every other card.
There are a few ways to play this game, but this is how we do it:
1- You put one card upside down in the center and then deal out the rest evenly with the players.
2- You then flip the center card over and you frantically try to find what matches on your card.  When you find the match you yell it out "ladybug!" (or whatever your match is) and then set your card on top of the center card.  Your card is now the new card everyone is trying to match. It is maddening because so often you just barely "spot" your match and then someone sets their card down and you now have to find a totally new match.
3- The first one out of cards wins.
Let me tell you why I like this game.
First:  it is addicting
Second:  all ages can play
Third:  each round lasts no more than a couple of minutes
Fourth:  because the rounds are so short, people can jump in and out of the game as different responsibilities pull them away.  (This game went on for over an hour at my mom's the other night.  I think I played at three different intervals).
Fifth:  Its just some cards.  Easy game to set up and clean up.
Sixth:  it is just plain fun
Each tin has 54 cards.  If you have a big family, you may want two IDENTICAL games.
OK… there is my recommendation.
What are yours?