Young Men and Young Women Crossword and Wordsearch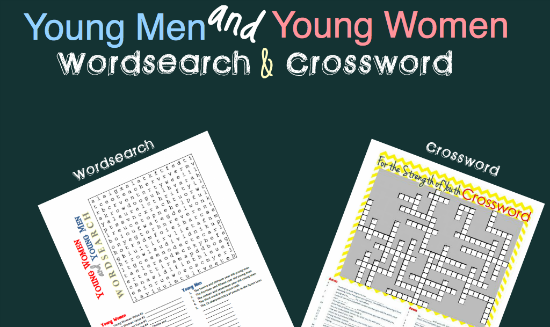 So my husband and I were in charge of youth conference this year.  We took our youth up to Utah State and had a great time!  They have a set outline of activities and you just plug in a handful of activities specific for your group.  So sometimes you are just with your little group, and other times you meet up with all of the other youth conferences for events like the dance, games, and things like that.  Also, the kids stay in the dorms – which is a great experience for them since college is such an unknown thing – and this way they get a little taste of college-life.
In 2 1/2 days, this is what we did:
Education seminar
Scavenger hunt all over campus (which we cancelled because of the heat, so we took them on a mini-tour)
BBQ
Swim and gym
4 hour ropes course
Lawn games
Banquet and Fireside
Dance
Movie under the stars
Pizza at midnight
Temple activity
It is times like these that you remember that you aren't a teenager anymore… we came home TIRED!!!  But we had a blast with these kids.  I really miss being with the youth everyday.
At the beginning of the conference we handed out some journals that had the schedule, a map and various pages with activities and other things.  Part of the book had this word search and crossword, so I thought I would share them in case you could use them.
I think these could be fun for a combined activity with both the young men and young women.  Put them in group and have them progress through stations – with these being at two of them.
Here they are in PDF format:
young women and young men wordsearch