More Doodle Sample Pages- The Red Headed Hostess
*  Reminder:  the coupon code for $2.00 off of these journals (either the BOOKS or the DOWNLOAD) is good until October 31st (2013) at midnight.  Check out this post for the code.
Thank you for all the fun emails about this new journal!  I am excited about it too!
I wanted to show you some more sample pages that I have been working on – I can't stop because they are so fun to do!
(If you missed the post that introduced these journals, go HERE)
I took some photos as I went – here is the process of one of the pages:
The page I started working on was about Motherhood, and the instructions are to doodle everything you learn about Motherhood in The Family: A Proclamation to the World.
So I gathered supplies and made some copies of some Doodle labels…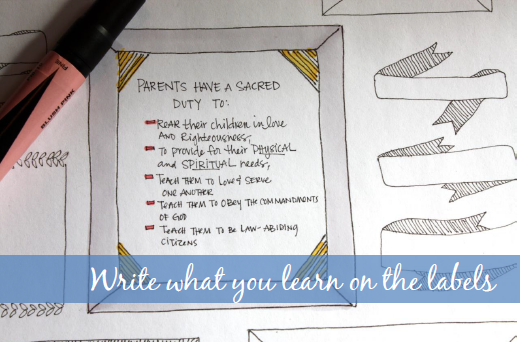 As I studied, I would write things I found on different labels.  I like working "off" of the paper in the book a lot so I don't make mistakes in my book – so I found that I use labels a lot.
The ones above are the Doodle labels that you can color yourself.  I like that because I can have fun playing around with different color themes on each page.
Also, as I wrote them out on labels I picked out teachings I hadn't really considered before.  It was a fun way to study.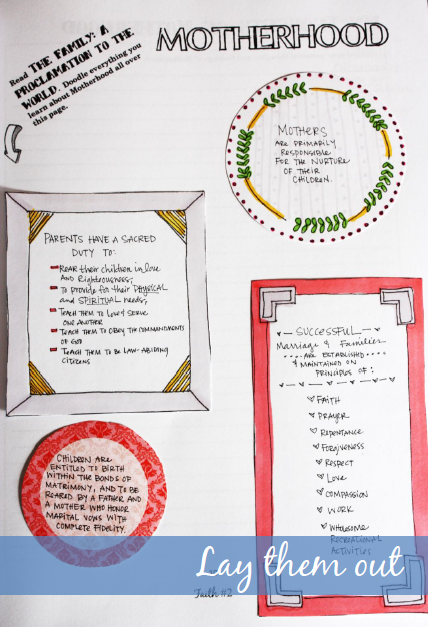 Then I took everything I wrote, cut them out and then played with how they should be on the page.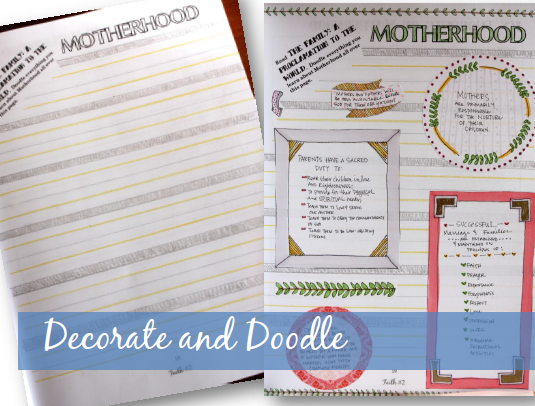 Then I decided to do some more decorating and moved all of the labels off and drew a pattern on my page.
I like to use colored pencils on the page itself and markers on the labels.
Then I placed the labels and actually stuck them to the page and then did some other doodling and used a couple more images from one of the Doodle packages.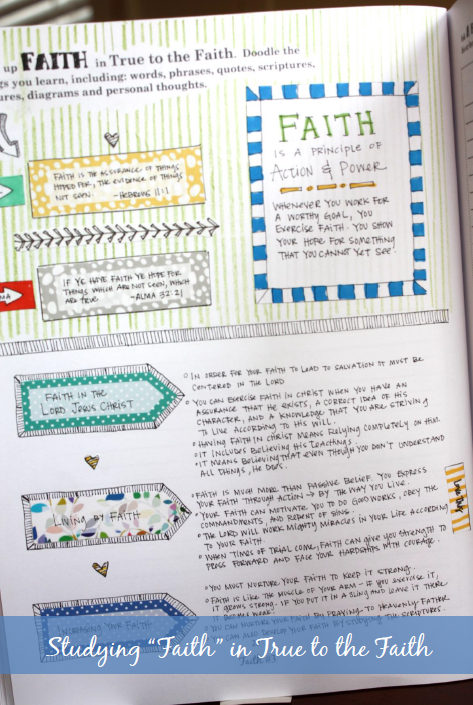 Here is another page. Here I studied "Faith" using True to the Faith.  Have I ever mentioned how much I love that book?  I think it is a fantastic resource and I love that the youth are encouraged to use it so much in the Come Follow Me Curriculum.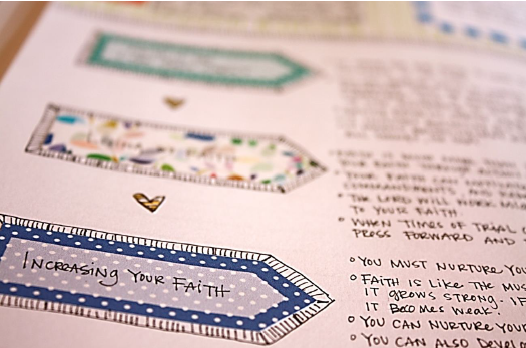 I think whenever journaling is incorporated into study, it is easier to pick up on themes and see things that could have otherwise been easily missed.
And one thing I like about this kind of art-journaling is that you are thinking in terms of how to lay things out – which helps you to pick up on themes.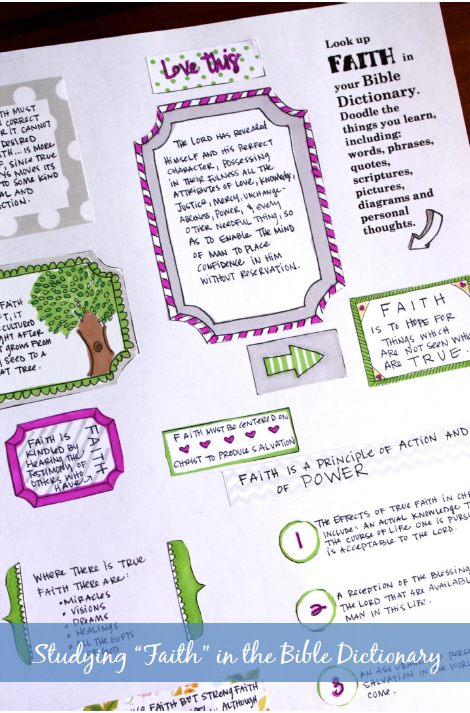 The page just before the last one where you study in True to the Faith, is this one – where you study "Faith" in the Bible Dictionary.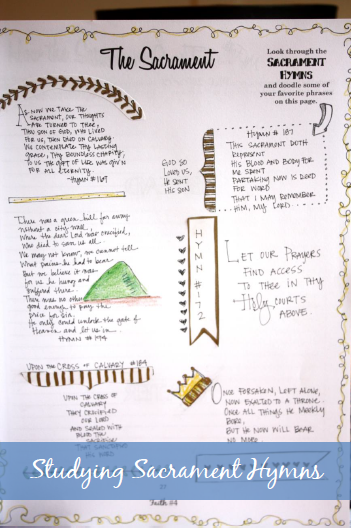 And this is one where you study different Sacrament Hymns.  You can't really tell in this picture – but the color theme on the page was metallic gold (using a paint pen).
It may sound silly to some, but when you are going to so much effort to make a pretty page, you are extra careful with what and how you are writing everything.  You end up paying really close attention to every phrase that is going on the page.  This is why I thought this would be a good idea for the young women – they end up taking every single reference in the Personal Progress Program and really giving them a lot of thought.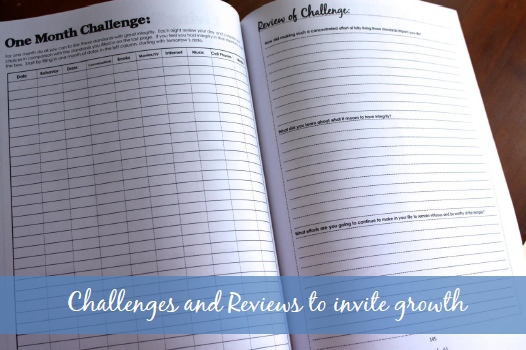 And then after they spend so much time and effort studying about the principles and doctrines, there are all sorts of challenges to help them incorporate them into their lives and character.  THESE are my favorite pages because this is where the most impact is.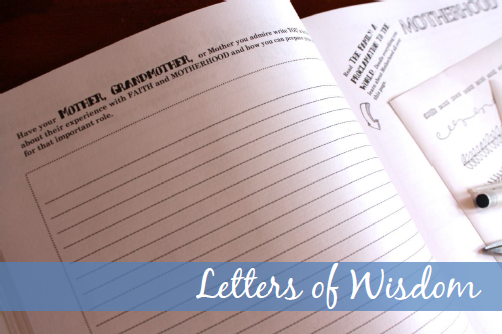 There are also pages like this – where the young woman can give her book to someone (in this case her mother or grandmother) and have them write them a letter about the topic they are studying.  I just think these can be so incredibly meaningful and help make these journals priceless.  In the Personal Progress program there are several times they are asked to interview someone and that is what these pages are for.  They should still interview – but these can be a place where the person has a minute to sort out their thoughts and write them down so they can be re-read again and again – especially far into the future or in specific times of need.
Ok…  we will still continue to add new sample pages for you so you can see different ways you can do your own pages.
Also – we just added a new doodle package.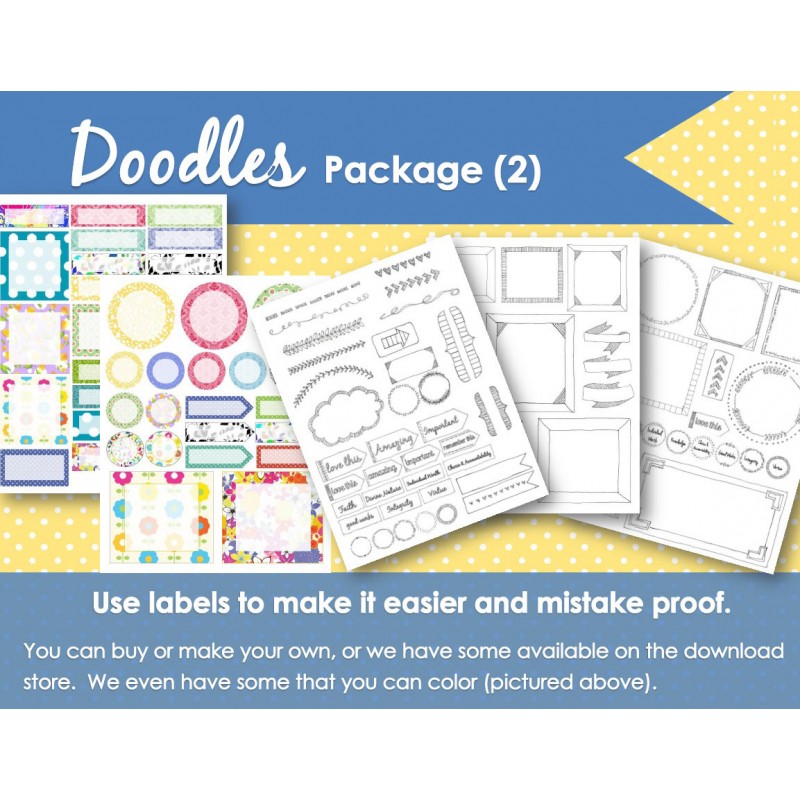 Thanks everyone!