Before Picture of our Kitchen- The Red Headed Hostess
And when I say "before"… I mean this morning.
The kitchen is now some flooring… some walls… and some framing.
Actually my kitchen is partly in my family room (on two tables), partly in my living room (fridge), and partly in Hannah's room (boxes).
We have been saving, and dreaming about this new kitchen for FIVE YEARS!
That may not sound like a lot of years to some of you – but to us… it is, because when we moved in we pretty much painted, refinished floors, put in new carpet, remodeled and touched up almost every room but this one.
And I mean we didn't even touch it.  No paint, nothing.
Because… we were going to re-do the whole thing!  And you know how it goes… five years later…. we wished we would have AT LEAST painted!
So here are some BEFORE pictures.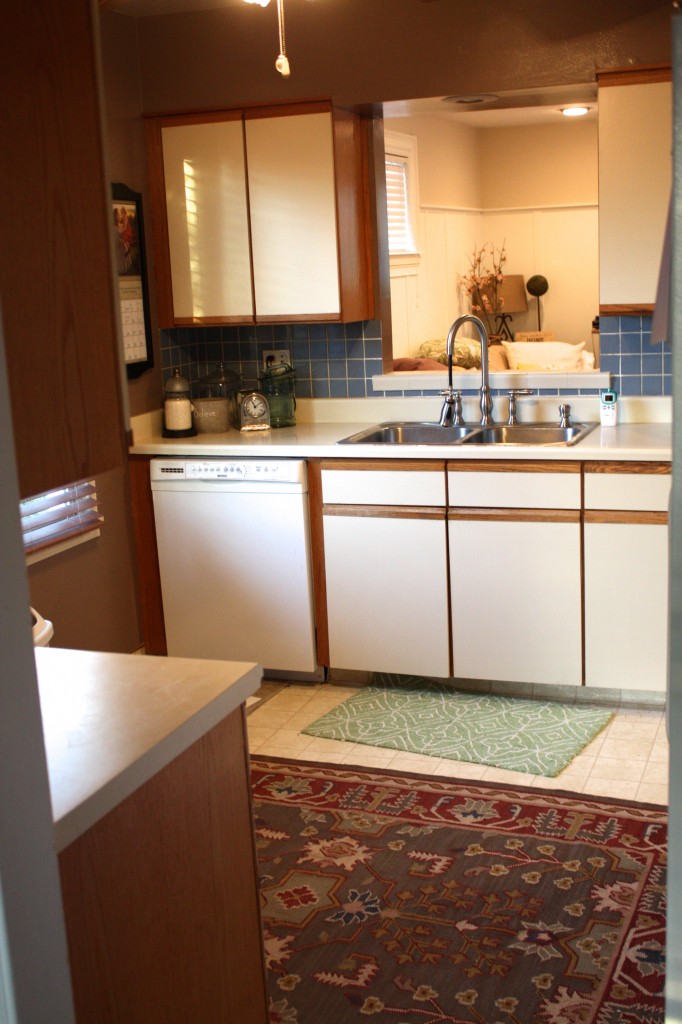 Here is the entrance into the kitchen.  First – raise of hands to how many of you out there have at one time lived somewhere with these cabinets!
I should admit that I am sort of addicted to HGTV and all of the home improvement shows… and I have seen these cabinets COUNTLESS times!
I am sure that these cabinets have served many wonderful families in this home's 60 years – but their time is up.
As is that floor's.  It is a laminate that is so beat up that no matter what I do it never looks good.
Hence the large rug.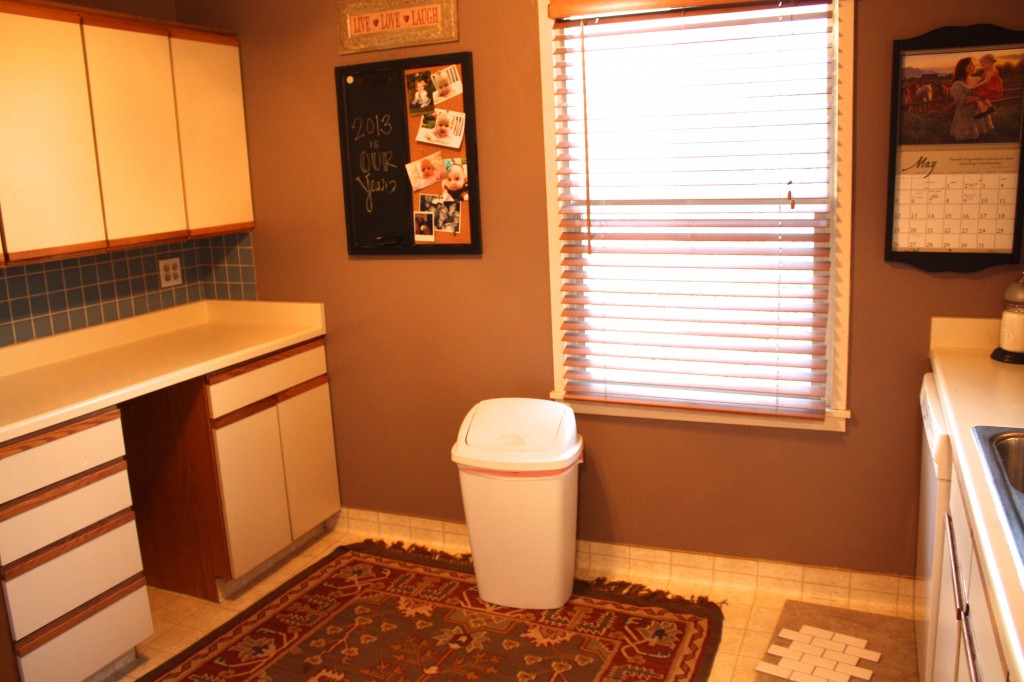 This is a poorly lit picture… but you can see that back in the day that space in the wall is where the kitchen table would have been.
And that space in the cabinet was because there is a vent there (that we no longer use)
You can also see the new tile and backsplash over in the corner.  I had to "live" with it for a couple of weeks and see if we could get along.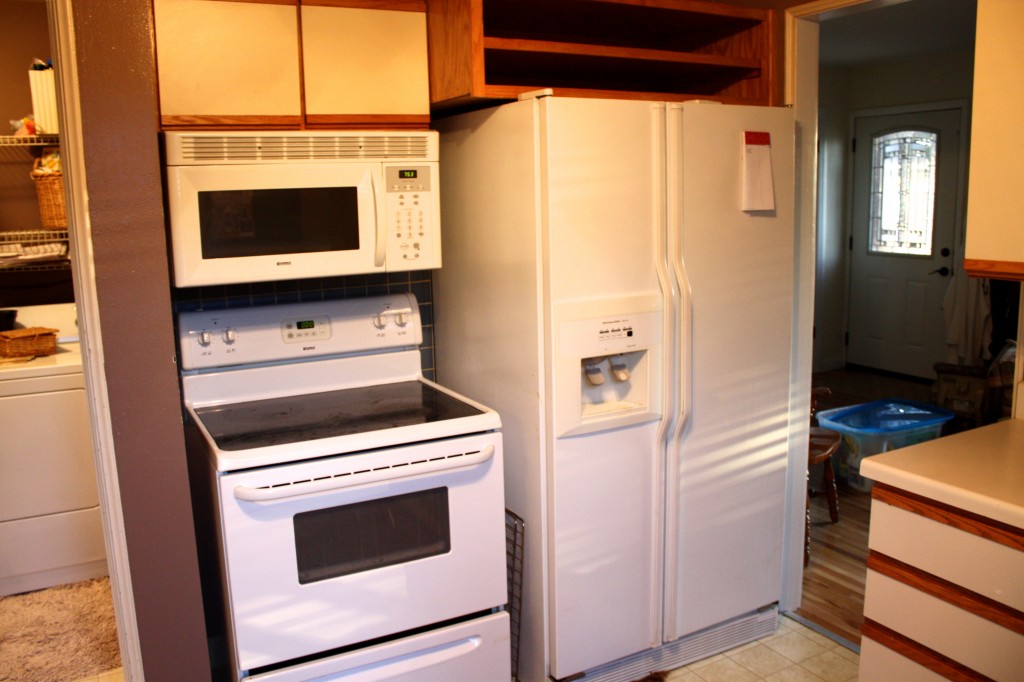 This is the other side of the kitchen.  This is going to be re-arranged – that stove will be somewhere else in the kitchen.
To the right you can see evidence of us cleaning out the cabinets.  What a job!
You can also get a peek over on the left side of the laundry/old mud room.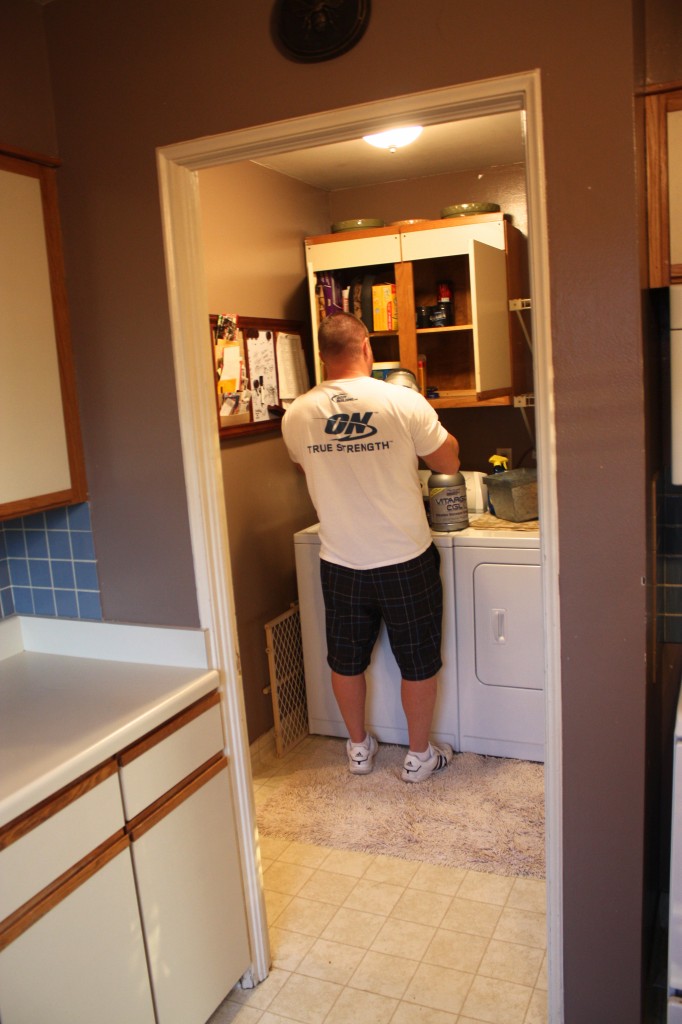 And my husband.
That room used to be (when it was first built) a multi-function room, including: back entrance, laundry room, and furnace room.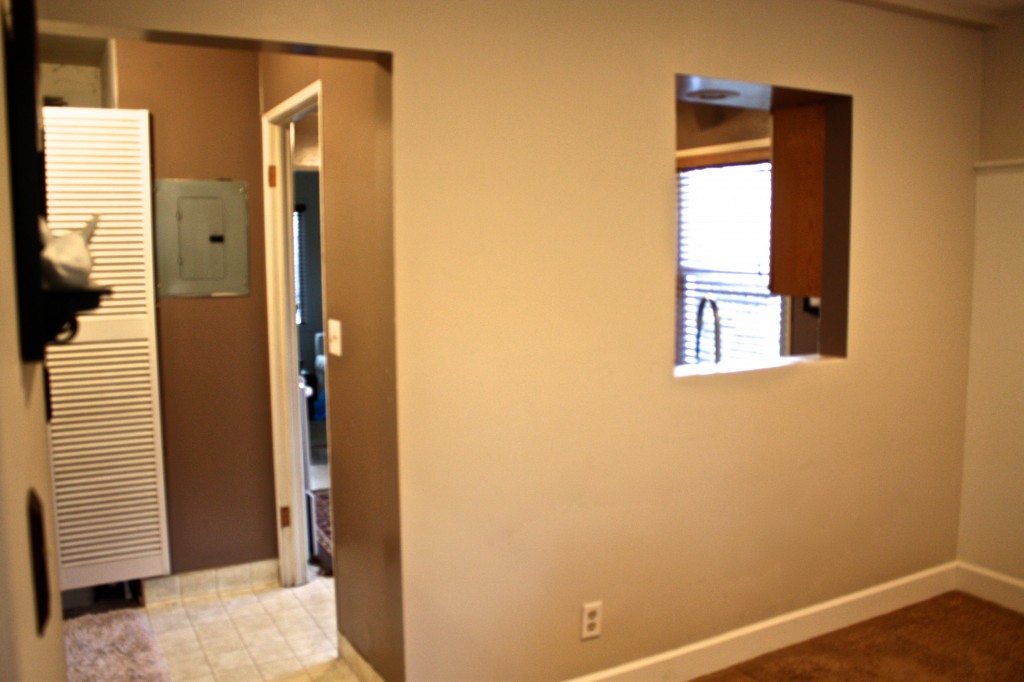 Then some previous owners built on an addition.  So you can see where the back window and entrance were.  (Not a good picture… but these were literally snapped as we were cleaning out the cabinets.)
The addition is awesome and is where we live most of the time.  But this room has been a hard thing to know how to fix because we are dealing with the needs of a furnace ventelating.  So… with the help of a creative contractor, we have some tricks up our sleeve.
So along with a closed-off laundry/furnace space, we are also opening up that kitchen.
What is coming is totally going to be lighter, fresher and more cottage-y – because that is totally what my house is all about.  Cottage.  When we first moved in my mom called it the Three Bear's Cottage.
So… I will post updates as they come.  Wish us luck!