Which Window Coverings? The Red Headed Hostess
Thank you so much for everyone's kinds and encouraging words!
I have been flooded with such wonderful emails and comments throughout the weekend and it has been really great hearing from you.  I read many of your comments to my husband and we are just so overcome by how gracious you all are.  This "blog world" can feel so strange at times, but at the end of the day we are all people sitting at the other sides of our computers.
You all have been so encouraging, and kind, and understanding.  I sort of wish I would have written about this months earlier when I especially needed those words.  I am on the tail end of things now, and feel renewed in so many ways.  But when the going gets tough, you really need each other.
So, on a lighter note…  I have spent the weekend clearing off a layer of dust on everything in my home… and I think I successfully finished ONE room so far (thanks to my mother-in-law).  If you have ever had walls knocked out, dry wall and sheetrock, etc.  in your home – you know what I am talking about.  No matter how many layers of plastic you put up – it finds its way onto every surface, toy, molding…. even our computer keyboard – which we use every day – COVERED in dust.
But I am NOT complaining.  I am thankful for this dust.  We have been dreaming and saving for this new kitchen since we moved into this house and we finally took the leap – so dust is welcome!  🙂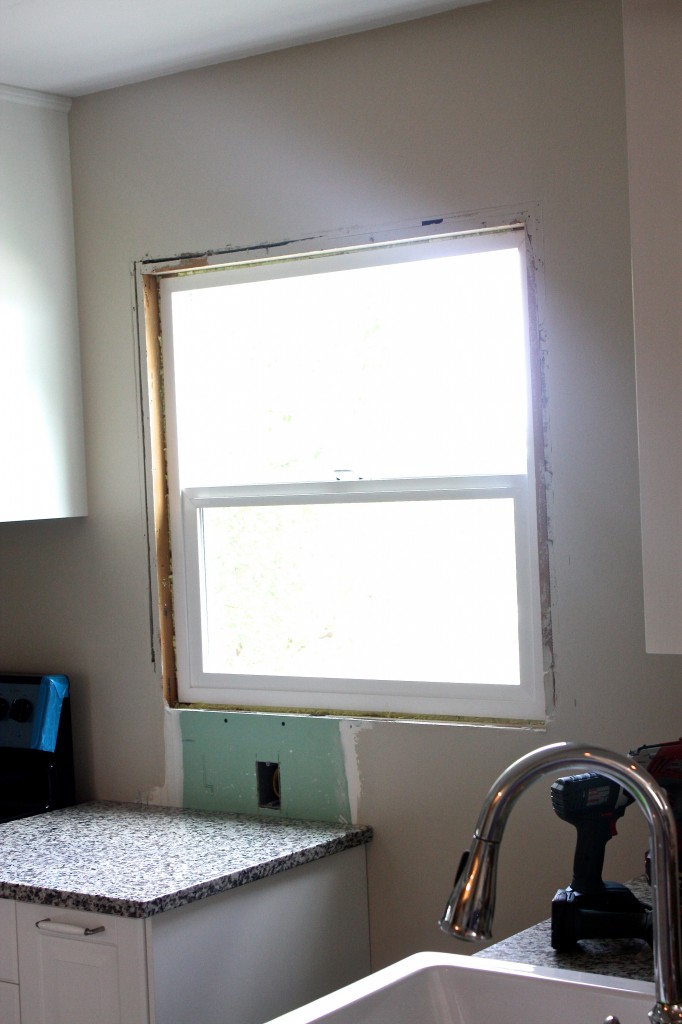 This is a peek of our kitchen this morning.  We are almost functioning!  By the end of today I think I will have my sink and all appliances working!
So… I am going back and forth about what kind of window coverings to use.  The back splash will be white subway tile and nice white molding around the window.
So do I go with white blinds to keep everything white, clean and fresh?  Or do I go with something with more personality?
Here are a few inspiration photos… which is your favorite look?
This photo came from here.
1- White Wood Blinds.
This was my first instinct since this is what is on the windows in the rest of the room. I like how they just kind of disappear and are clean and fresh.  They are also really easy to clean – which is nice for a kitchen.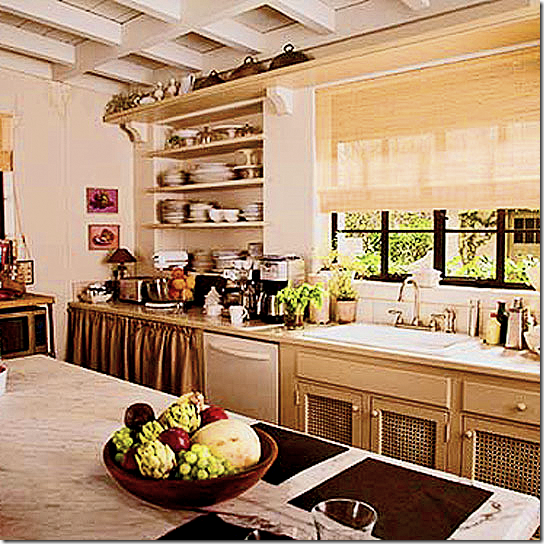 2-  Natural Shades
I also have these in my joining room to cover our sliding door.  I LOVE them.  I love the texture they bring into the room and how the light filters through.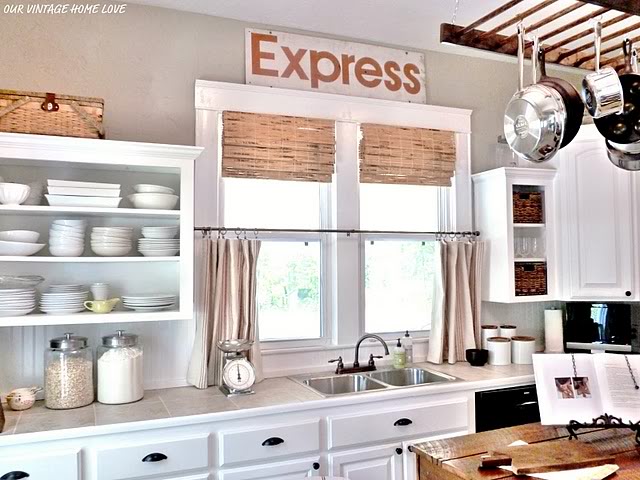 3- Combined Window Treatments
This photo came from here.
I think this is so charming.  These window treatments really bring a lot of personality without a lot of color.  Plus you can bring light in by rolling up the shades while closing the curtains and still have privacy.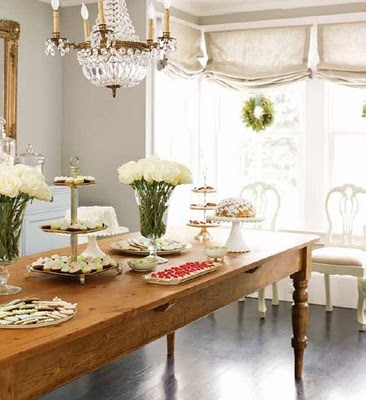 4-  Neutral Relaxed Roman Shades
This photo came from here.
LOVE this look.  I only worry about the practicality of fabric like this in the kitchen – right over a counter!  Could I treat them somehow?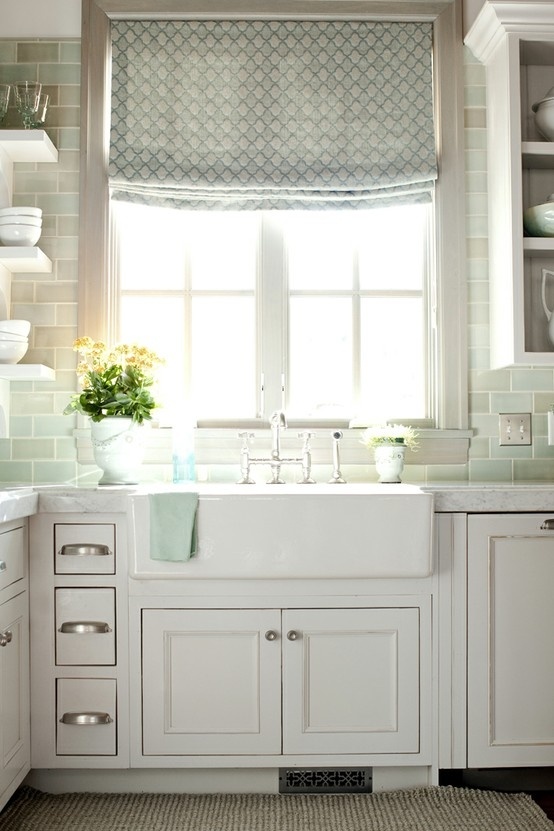 5-  Patterned Roman Shades
This photo came from here.
Again, a fabric.  But what if I had them made with an outdoor fabric?  Such a fun way to bring in some color in an otherwise white kitchen.
If you had to choose one, right now – this very second… which one would you choose?
*You can choose more than one answer if you just can't decide