The Last Hours of Christ's Life – Study Packet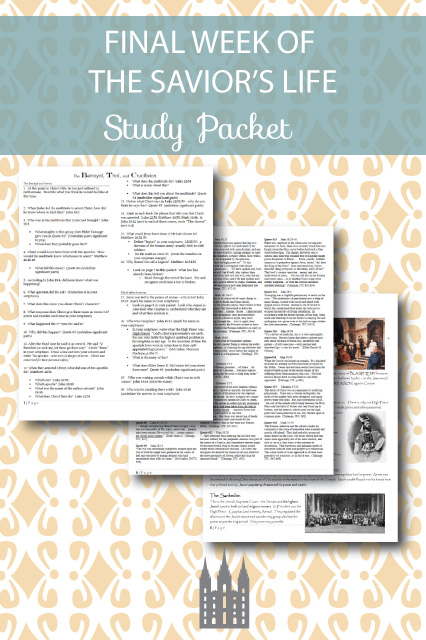 Some of you may have already found this awhile ago on my blog, but I have been waiting for Easter to repost it.
It is a study packet about the last week of Christ's life
This packet has been a long work in progress.  Essentially, it will take you from the betrayal of Christ (after Gethsemane) through his trials, to the crufixion, and through the details of what happened while he was on the cross.
It is so humbling and insightful to know these events well and to realize just what he went through those final hours.  It is maddening actually.
Included in this packet are questions and it  is totally scripture-centered.
I suggest that you take 4 sticky notes and label each one  either "Matthew, Mark, Luke, or John" and put them in your scriptures so it is easier to flip back and forth as you follow the story.
Also in the packet is a page of quotes that relate to what you will be studying. You will love these quotes.  They are laid out in three columns so you can cut them out and put them into your scriptures if you wish.
There are also things like this.  This is a page of Laws meant for Jewish trials.  Wait until you see all of the laws they broke in order to get Christ sentenced!
And there are pages like this.  Descriptions of the people involved.  The more you know about the people, positions and responsibilities, the more you will be able to uncover layers and layers of teachings and respect for Christ and how beautifully he handled the onslaught.
My husband and I studied this with each other.  What a wonderful experience for us.   Although I had put this packet together, there was something so beautiful about us sitting down and discussing each part.  I think we could do this every year, and Easter would be a perfect time.
Here is the PDF:
The Last Hours of Christ's Life study guide
Note:  In some cases, it will print better if you click on the link above and save it to your computer and THEN print it from your computer file.