Four Fundamental Purposes of Gospel Teaching- Anthony Sweat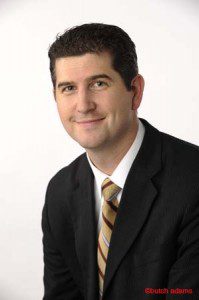 but I know him as "Tony", and he knows me as "Shannon" always spoken with an Irish accent.   He is hands down one of the most phenomenal teachers I have ever known.    This guy really gets it.  And he just happens to be one of Deseret Book's best selling authors – you  can see his impressive line of books here.
and he is going to give away an autographed copy to one of you!  I LOVE this book!  He helps put things into words that sometimes you just don't know how to answer.
I really like the layout of this book too!  A lot of Tony's books are this way.  You can take a look at a few more pages of his book here.
——————————————————————————————————
"Lift Up Your Eyes": Four Fundamental Purposes of Gospel Teaching
by
Anthony Sweat
Most people who don't know me are surprised to find out that before I became a full-time teacher for the Church I once had dreams of becoming the next Rembrandt.
Yep, my original plans were to become a full-time artist, and I graduated with a bachelor's degree in fine art from the University of Utah. Here is a painting I did a few year back for a bridal company, just to prove that I can actually work a brush: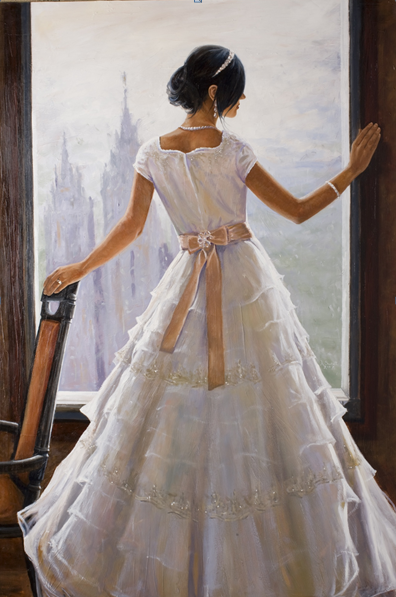 Up to this point, the Lord has had different plans for me than being an artist
(and, alas, Walter Rane has blessed all our lives and become the modern-day LDS Rembrandt). However, being an artists has taught me a lot about being a teacher, as teaching, according to President Boyd K. Packer, is the "finest of the fine arts." As most of us begin our teaching year in seminary, one analogy between teaching and painting I want to draw upon (no pun intended!) in this post is the need to step and pull back, lift up our eyes, and see the big picture. When you paint, especially when you paint a large painting, it is necessary to step back quite often a few feet from the painting and look at it as a whole to see if it is coming together the way you want—if all the little brush strokes are coming together into what someone might call a nice piece of art. Similarly, when we teach, we need to step back from the day to day of planning and presenting lessons and look at the bigger picture of what gospel teaching is really about. The following are four fundamental purposes of gospel teaching—four indicators that the art of our teaching is on track, if you will—that I feel will bless all of us as teachers to step back and take a look at:
1. The primary purpose of gospel teaching is to help facilitate the Holy Ghost in the learning process.
This is so simple, and so oft repeated, that it can be overlooked. As a seminary principal, when I ask teachers if they feel like their class went well, I often hear answers like, "Yeah, the kids seemed to be having fun today" or "No. I didn't really get through everything I had planned in my outline" and "I don't know, nobody was really answering my questions and they were so quiet." Perhaps you have said similar things. I know I have. Rarely do I have a teacher respond to that question by linking their success in the teaching/learning process to the degree that that Holy Ghost was present in class. I know it is difficult sometimes to know to what degree the Spirit was present, but we usually have a good spiritually discerning barometer. We need to use the presence of the Holy Ghost as our primary measuring device for teaching success. Speaking of teaching and learning by the Spirit, Elder Jeffrey R. Holland said, "That is what our members really want when they gather in a meeting or come into a classroom anyway. Most people don't come to church looking merely for a few new gospel facts or to see old friends, though all of that is important. They come seeking a spiritual experience" ("A Teacher Come from God", Ensign (CR), May 1998, p.25). The challenge that is ours is to identify and implement effective ways of inviting the Holy Ghost into the learning experience on a consistent basis.
2. Teach eternal doctrines and unchanging principles from the scriptures and words of the prophets.
The word of God is more powerful than our personality (see Alma 31:5). The truths in the scriptures are more impactful on our students than if an angel—let's say his name is Lazarus –personally visited them from the dead (see Luke 16:20-31, especially verses 30-31). The light and truth in the word of God will lead people to God the Father faster than any method we can employ, even using technology, music, and videos (read D&C 84:43-48 to learn about that). Let's never forget that one of the fundamental purposes of gospel teaching is to get people in the words of the prophets. Doing the things that the ministers did in young Joseph Smith's day—and that we sometimes do in our teaching—such as "reason and sophistry" and "disprov[ing] all others" in a "war of words and tumult of opinions" (JS-H 1:9-10) had little to no effect on young Joseph. But 26 short words in James 1:5 changed his life, and changed our world. There is power in the word. I testify of that.
3. Inviting students to exert spiritual, mental, and physical effort in the learning process.
Elder David A. Bednar has taught, "I personally do not know of a principle more central, important, or essential to spiritual learning than the principle of acting as agents and not being acted upon as objects" (Elder David A. Bednar, Increase in Learning, 2011, p. xxi) and "A learner exercising agency by acting in accordance with correct principles opens his or her heart to the Holy Ghost…[it]requires spiritual, mental, and physical exertion and not just passive reception." (Address to CES Religious Educators, Feb. 3rd, 2006, p. 3). In other words, one of the reasons why we teach is to invite learners to use their agency. As they do so, their voluntary use of agency will open their hearts to the Holy Ghost more than anything else. As teachers in class we should constantly be asking ourselves: What are my students DOING right now? Am I requiring and inviting them to exert effort to learn? Or are they just sitting passively and being acted upon by me? Are they reading, searching, marking, thinking, analyzing, discussing, writing, observing, touching, feeling, tasting, testifying, and exerting? Or are they sitting, sitting, sitting, sitting…bored, bored, bored, bored…Bueller? Beuller? Beuller? Bueller? Let's get them to exert effort and use their agency as they learn. As they do so they will open their hearts more to the Holy Ghost, be touched by him, and become spiritually self-reliant.
4. Go and do thou likewise.
Preach My Gospel says something profound that should impact every lesson we teach. It says: "Rarely, if ever, should you talk to people or teach them without extending an invitation to do something that will strengthen their faith in Christ…People will not likely change unless they are invited to do so" (PMG, p. 196). In other words, our classes need to be relevant and applicable in the lives of the learner. And not only should they be relevant and applicable, we should invite students to act on what has been learned and follow up with them on what they are doing about it. Once again, some rarely do this in classroom teaching, but think how often missionaries do it: "Hi, here's a Book of Mormon. Let me teach you about it. We invite you to read 3 Nephi 11. Can we come back on Wednesday?" (a few days later on Wednesday): "Hi. Did you read 3 Nephi 11? How did it go?" I have found there is power in teaching in a way that is not only relevant and applicable, but in a way in which I invite students to go and do something about what we are learning and then to periodically follow up with them on what their experience was. Notice how often the Lord tells us of the need to ACT on what we are learning, "And now, behold, I give unto you a commandment, that when ye are assembled together ye shall instruct and edify each other, that ye may know how to act and direct my church, how to act upon the points of my law and commandments, which I have given. And thus ye shall become instructed in the law of my church, and be sanctified by that which ye have received, and ye shall bind yourselves to act in all holiness before me" (D&C 43:8-9, emphasis added). Jesus did it with the Parable of the Good Samaritan, we should go and do likewise too.
To conclude, here are four questions to ask ourselves each time we teach to help us step back and take a look at the painting of our gospel teaching to make sure we are on target.
May God bless us all as teachers of his children. I know he will as we strive our best to emulate the greatest teacher we have ever had, even Jesus Christ.
1. How will my actions and methods today invite the Holy Ghost into the learning process?
2. Am I using the scriptures and words of the prophets as the main content of my class?
3. What are my students going to do in the lesson today to invite spiritual, mental, and physical exertion in the learning process?
4. How can I invite my students to act upon the truths learned today in class, and how can I appropriately follow up with them?