New Plan of Salvation! Great for all ages!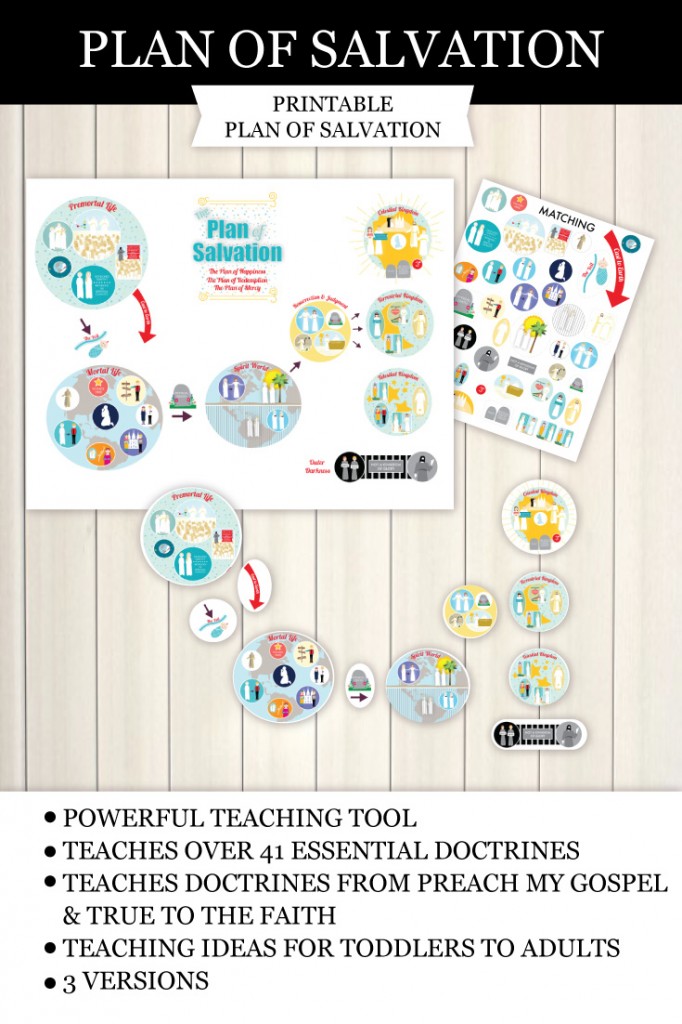 We have a brand new Plan of Salvation for you!  This is our fourth edition and we keep improving it to make it better and more useful for you and those you teach.
This illustrated plan of salvation teaches 41 essential doctrines through illustrations.  We gathered all of the doctrines using Preach My Gospel, True to the Faith, and D&C 76.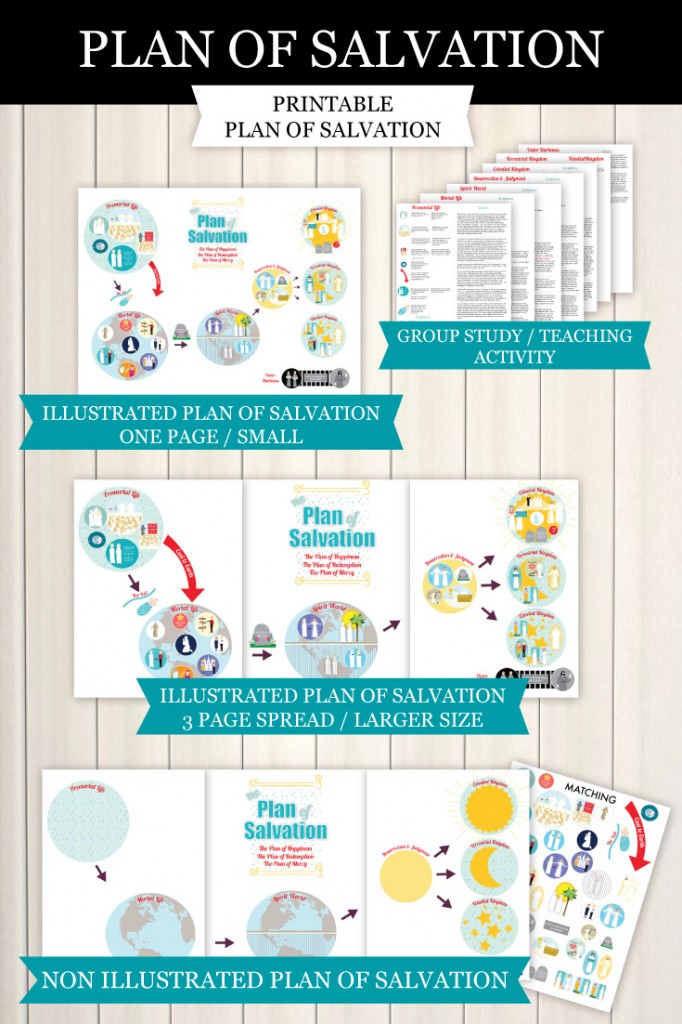 This file comes with everything you see here.
1-  There is an all-on-one page illustrated plan of salvation where everything fits onto one printable page.
2-  There is a 3 page spread of the illustrated Plan of Salvation
3-  There is a 3 pages spread of a blank Plan of Salvation where you can then place the 41 doctrines in the proper places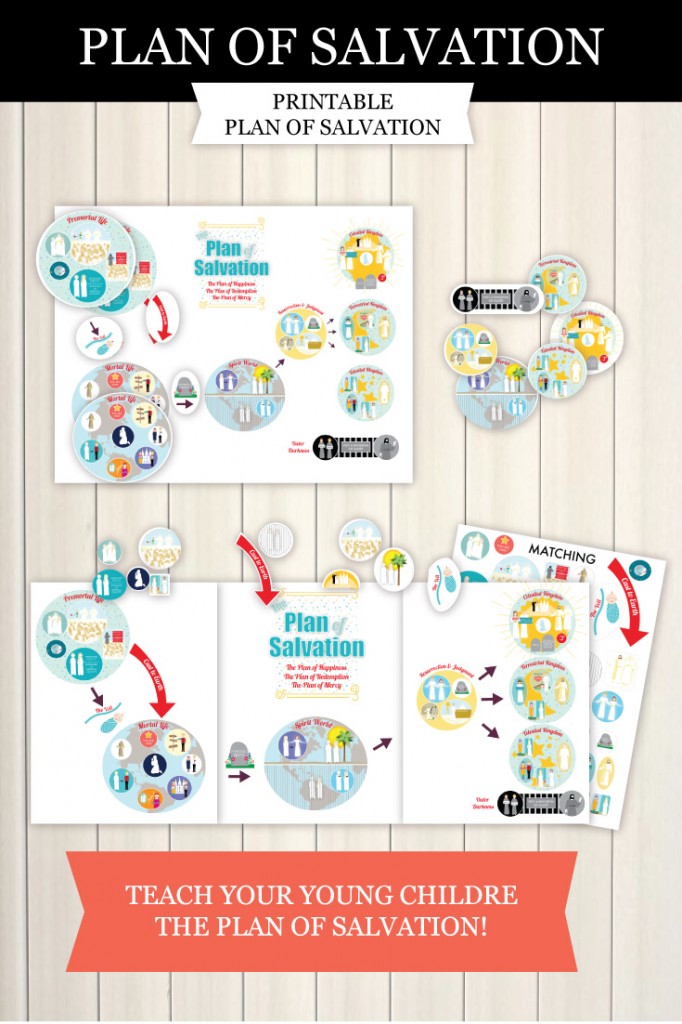 These options can be used in so many ways – and we include those ideas in this file.
If you have a toddler you can print 2 copies onto card stock and then cut one of the pages up into individual pieces.  You can then have your toddlers try to match the different pictures to each other.  Over time you can teach them names and specific things about the pictures.
When they are old enough, you could print the 3 page spread and have them match the individual pictures to each other.
For older kids you can cut up the plan in pieces and have them learn its proper order and placement.  You can make a game out of it and have them race each other!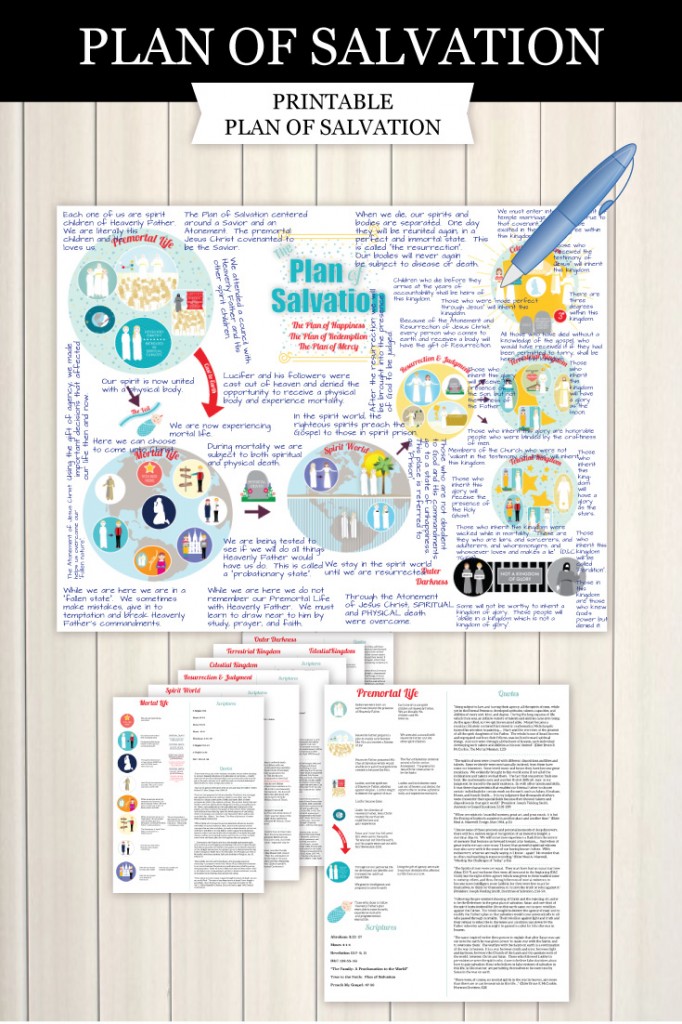 Here you can see another option.  This file also comes with study sheets.  The sheets dive into each portion of the plan with doctrinal descriptions of the illustrations, scriptures you can study, and quotes you can read.
This really is a flexible product to help you teach these important doctrines to several ages all at once!
You can find this package HERE.
You can find it in DISPLAY sizes as well where we have taken individual sizes and enlarged them to print on an 8 1/2 x 11 piece of paper.  This is great for teaching.  You can find that HERE.  Or you can find a COMBO package with both sizes HERE.