To Parents: 2013 Primary and Youth Lesson Schedules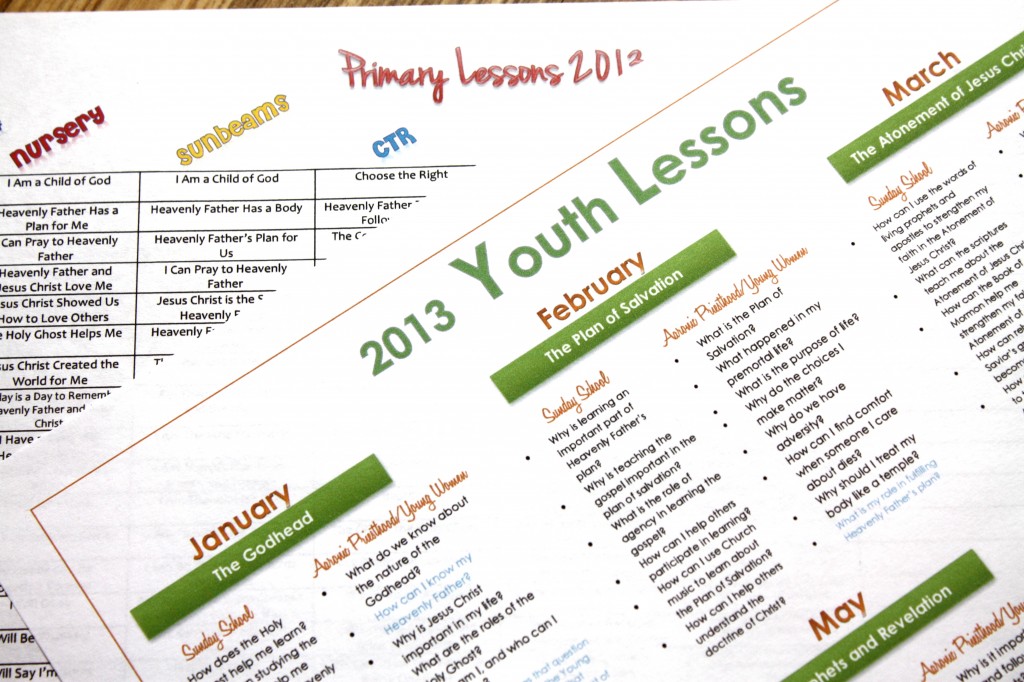 First I want to say that I have been emailing back and forth with my writers for February, and I am just SO thrilled!
This past month you heard from Anthony Sweat and Hank Smith, and you will hear from them again – but this month there are a couple more contributors that I am just giddy about!  So stay tuned for that!
So the other day I was studying in 1 Nephi, and I was reading verse 1… again… (how many times do you think you have read that scripture?  as many times as the last scripture in Moroni?  … I wish…)  and, now that I am a mom, I have new perspectives.  What a wonderful way for Nephi to begin his record.  He acknowledges his parents and God, and what they offered him.  He gives them accolades  right up front for what he knows and why he can write the chapters that are about to follow.
I just hope that Hannah will be able to say the same things.  I hope that, for the most part, what she learns in class, she has already learned in the home.  And that we, as her parents, taught her so that she understands.  That is hard and takes a LOT of skill.  I'm working on it.
So, I was making this calendar for my graphic designers so that they could stay on top of the things your children are learning and provide you with relevant and effective teaching helps.  And I thought to myself that this would be a great thing for YOU!  If you feel overwhelmed by what to teach your children – this is a great outline.
Really smart people have already considered your child's age and put together doctrines and principles that are good for them.
AND if they are getting it in the home FIRST and then in church – not only is it more likely to sink in, but they are more likely to participate and add their thoughts and testimony, and it may help them if church is hard.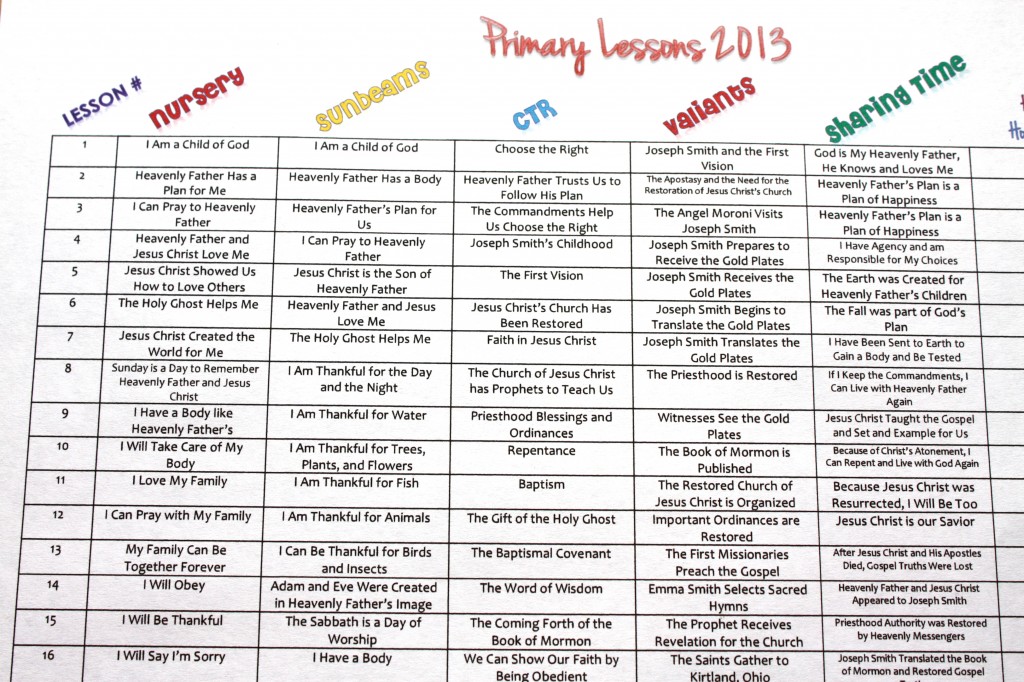 Here is the primary calendar.
I cannot guarantee it will be right on all of the time.  You know when you hit Stake Conference, and some may skip the lesson when others may continue on as usual.  Or Sharing Time – those are outlined by month – so if Stake Conference hits in March, they will skip or combine those – so those might be off a bit.  But in general – this is a good outline for you.
You will see that there is a lot of cross-over in principles and doctrines, so I don't think it would be hard to hit children of  different ages. And try not to overwhelm yourself and think you have to teach every single thing. That would likely bring anxiety into your life, rather than peace. 🙂 Pray about it, look over the calendar. Circle the ones that you want to focus on. Make a plan.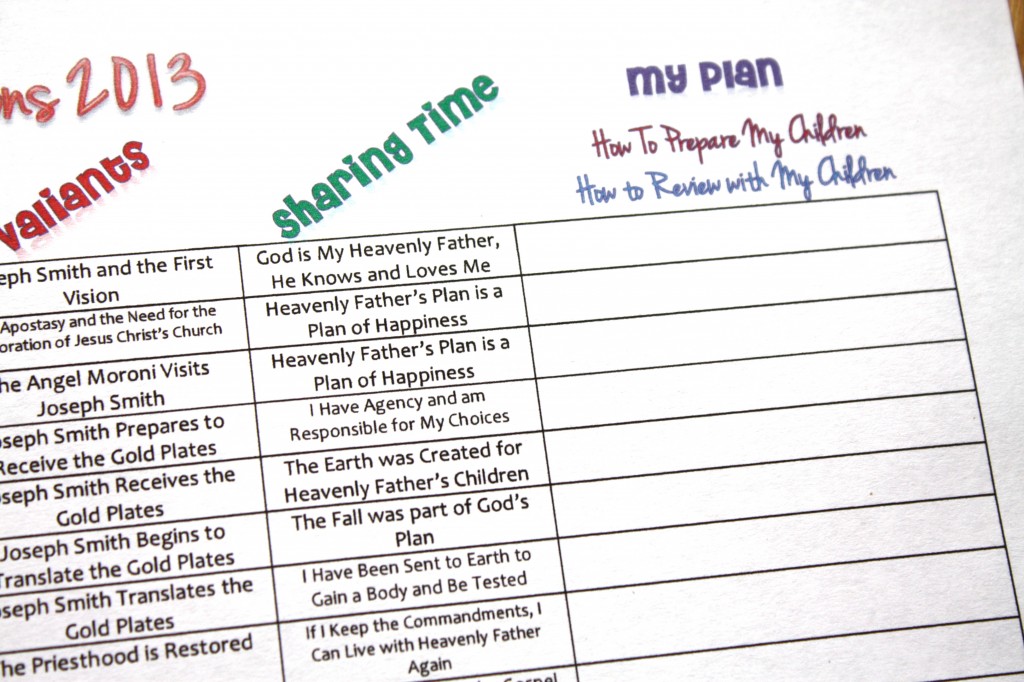 THere is a little place for you to write down your thoughts if you get ideas on how to prepare or review with your kiddos.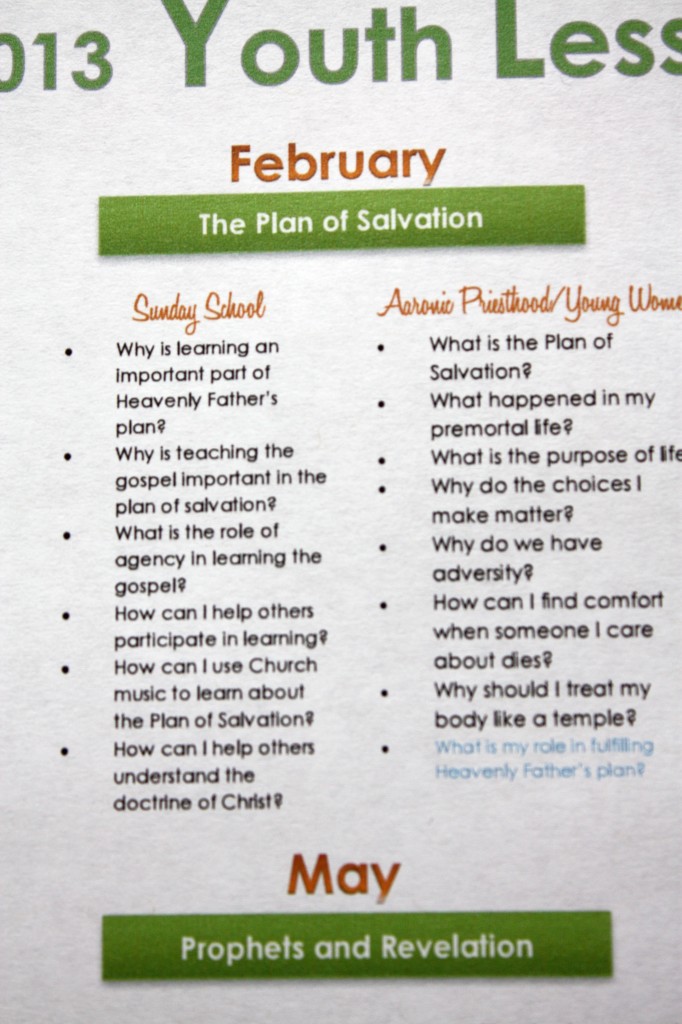 There is also a page for your teenagers.
This is only the first 6 months, but I will make the other one… before June for sure… but can't promise when. 🙂 Each month will show you the monthly doctrine and the suggested questions that they will probably be taught about in Sunday School and Priesthood/Young Womens.
I know I have mentioned this before, but I think this is GREAT guided topical study for adults too!
Ok… Here you go:
Here is a PDF for the Primary lessons
Here is a PDF for the Youth lessons