Why is Family Important in Heavenly Father's Plan? Lesson Helps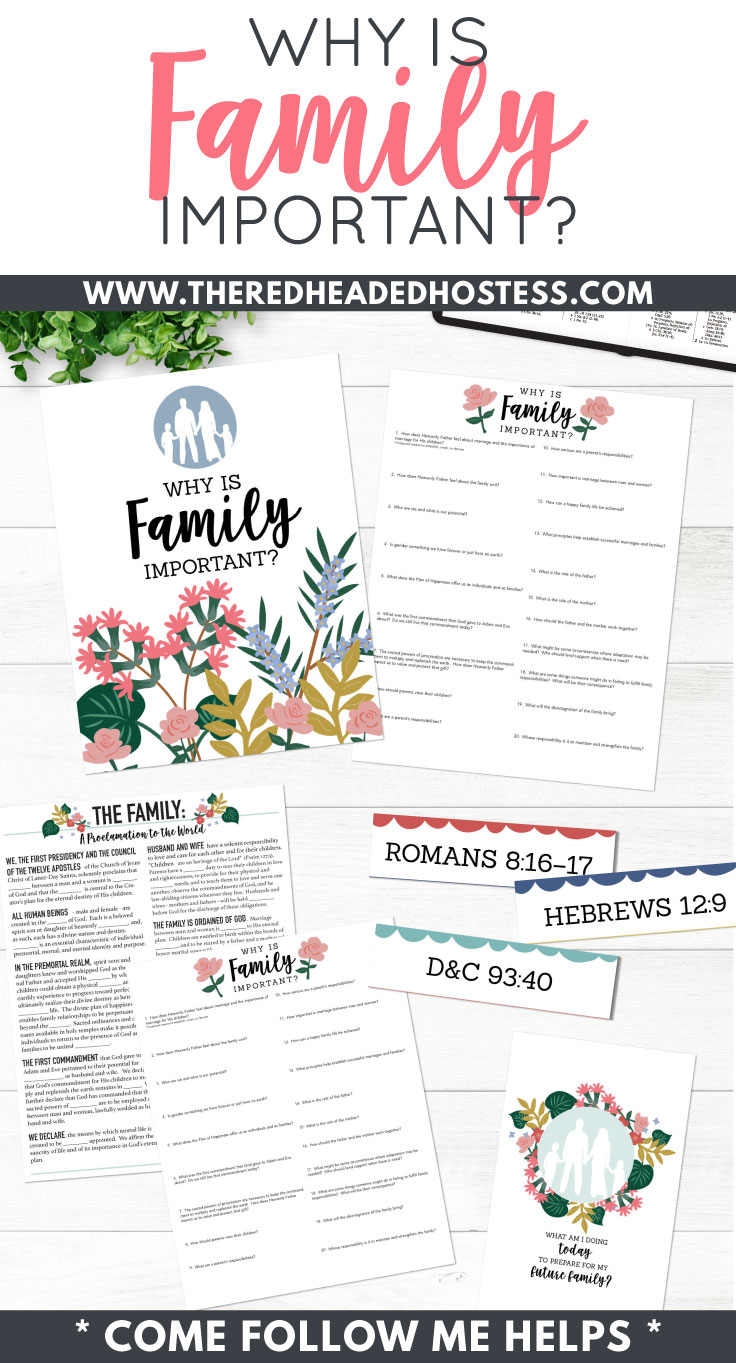 Many people ask the question, why is family important?
This teaching package comes in three different ways (you choose which best suits your needs):
1-  Single package HERE.
2-  Combo package HERE.  This includes the teaching package, Proclamation prints, and family crest prints.
3-  The August combo package includes all 7 teaching packages for August plus Proclamation prints and family crest prints.  You can find this HERE.
We are so excited about this lesson package.  This package has learning activities that really help you dive into the doctrines found in The Family: A Proclamation to the World.  It also comes with great suggestions and instructions on how to use everything in your classroom or in your Family Study.
You can see some of the learning activities here. One of the activities is a fill in the blank Proclamation activity.  In the package we give you teaching suggestions and this fill in the blank activity comes with a really effective way to teach about doctrine, what a doctrine is, and then helps those you are teaching pull out doctrines from the Proclamation.
23 pages in all.  Use them all or choose your favorites activities.  


We have also made 4 beautiful prints for the Family Proclamation.  You can find them HERE, and HERE.
We have also made this beautiful family crest that illustrates teachings from the Family Proclamation.  It depicts things you can do to protect your family and home.
A really fun learning activity could be to have those you are teaching design their own family crest depicting things they would want to include to have a righteous home.  Then after everyone draws and then shares with one another you can give this is a gift.
You can find this HERE or HERE.
You can find everything in this article in this combo package HERE.  It is also available in our August combo package HERE.
We also wanted to link to an insightful talk about the family.  It is written by a BYU-Idaho professor named Bruce Satterfield and is worth a very careful read.  Satterfield Family Under Siege
Here are some great quotes about the family (most of these are included in the lesson package)
The Family Unit:
"Heavenly Father has assigned us to a great variety of stations to strengthen and, when needed, to lead travelers to safety. Our most important and powerful assignments are in the family."  (President Henry B. Eyring, General Conference, April 2010)"The family is far and away the greatest social unit, the best answer to human problems, in the history of mankind."  (President James E. Faust, Ensign, May 1987, p.82)
"The Lord organized the whole program in the beginning with a father who procreates, provides, and loves and directs, and a mother who conceives and bears and nurtures and feeds and trains.  The Lord could have organized it otherwise but chose to have a unit with responsibility and purposeful associations where children train and discipline each other and come to love, honor and appreciate each other.  The family is the great plan of life as conceived and organized by our Father in Heaven."  (President Spencer W. Kimball, Ensign, May 1984)
"There is more of a connection that many realize between the order and purpose of the universe and the order and harmony which exists in a happy and good family."  (President Spencer W. Kimball, Ensign, November 1978, p.105)
"We came to this earth charged with a mission: to learn to love and serve one another.  To best help us accomplish this, God has placed us in families, for he knows that is where we can best learn to overcome selfishness and pride and to sacrifice for others and to make happiness and helpfulness and humility and love the very essence of our character."  (Elder John H. Groberg, Ensign, May 1982, p.50)
"The Creation of the earth was the creation of an earth where a family could live. It was a creation of a man and a woman who were the two essential halves of a family. It was not about a creation of a man and a woman who happened to have a family. It was intentional all along that Adam and Eve form an eternal family. It was part of the plan that these two be sealed and form an eternal family unit. That was the plan of happiness." (Sister Julie B. Beck, Seminaries and Institutes of Religion Satellite Broadcast, August 4, 2009).
"The human family – without the gospel or without strong families – is not going to go very far.  Unless we can fix families, you can't fix anything else.  Most of the problems that most vexing are things government can't fix.  They have to be fixed at a different level.  That's the urgency of our message.  I'd rather have ten commandments than ten thousand federal regulations….  Unless we rebuild marriages and families, then we really are just straightening deck chairs on the Titanic."  (Elder Neal A. Maxwell,Searching for God in America, pp 132-133).
Attack on the family:
"The time will come when only those who believe deeply and actively in the family will be able to preserve their families in the midst of the gathering evil around us."  (President Spencer W. Kimball, Ensign, November 1980, p.4)
"Throughout the ages, evil forces have attacked the family.  Why do you suppose Satan is so obsessed with its dissolution?  Because it stands for everything he wants and cannot have.  He cannot be a husband, a father, or a grandfather.  He cannot have posterity now or ever.  Satan cannot even keep those he has led away from God.  He has no eternal kingdom or inheritance.  (J. Richard Clarke, Ensign, May 1989, p.60)
"Teach the truth with courage and clarity.  The world offers many morally-confusing philosophies.  Remain committed to the eternal, unchanging doctrines of the gospel and teach them so clearly that they cannot be misunderstood."  (President Dieter F. Uchtdorf, CES Fireside, January 28, 2011)
"Our eternal happiness is not one of Satan's objectives. He knows that an essential key to making men and women miserable like himself is to deprive them of family relationships which have eternal potential. Because Satan understands that true happiness in this life and in the eternities is found in the form of family, he does everything in his power to destroy it." (Elder Richard Maynes, April 2011, General Conference)
Parenthood:
"Oh! God, let me not lose my own.  I cannot afford to lose mine, whom God has given to me and whom I am responsible for before the Lord, and who are dependent upon me for guidance, for instruction, for proper influence….  The Lord help me to save my own, so far as one can help another.  I realize I cannot save anybody, but I can teach them how to be saved.  I can set an example before my children how they can be saved, and it is my duty to do that first.  I owe it more to them than to anybody else in the world.  Then, when I have accomplished the work I should do in my own home circle, let me extend my power for good abroad just as far as I can."  (President Joseph F. Smith, Gospel Doctrine, 462)
"Let love, peace, and the Spirit of the Lord, kindness, charity, sacrifice for others, abound in your families.  Banish harsh words, … and let the Spirit of God take possession of your hearts.  Teach to your children these things, in spirit and power….  Not one child in a hundred would go astray, if the home environment, example and training, were in harmony with … the gospel of Christ."  (President Joseph F. Smith, Improvement Era, December 1904, p.135)
Family Home Evening:
If the Saints obey the counsel [to have regular Family Home Evening], we promise that great blessings will result.  Love at home and obedience to parents will increase.  Faith will be developed in the hearts of the youth of Israel, and they will gain power to combat the evil influences and temptations which beset them.  (Harold B. Lee. Ye are the Light of the World, p.82)
Here are some image you can share on social media: