25+ of Your Amazing General Conference Traditions!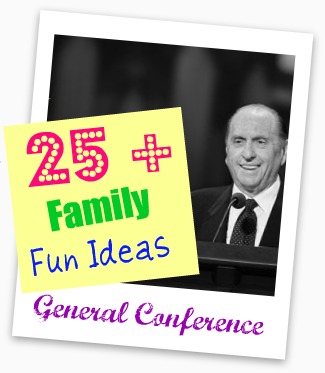 I have gone through your comments of your General Conference Traditions
and I have summarized them so you can easily look through them and see which ones will fit for your family and will help your children count down the days until General Conference!
I can't wait to try some of these myself!
 Transform your TV room into a "Conference Viewing Room" with a sign that says "Quiet Zone".  Rearrange your furniture to be faced toward the TV, have quiet crafts and puzzles, note packets, etc.
Put up a conference reverence tent
On your wall have a picture of each of the First Presidency and Quorum of the Twelve.  When each of them speak have each family member write (or draw) what they learned on a sticky note and put them up on the picture of who was speaking.  (You can also use those sticky notes for a review game in Family Home Evening)
Make a "Conference Basket of Love" for those in your neighborhood who may be watching conference alone.  Include notepad, pens, chocolate, cookies, fuzzy socks,etc.
Have a family picnic between sessions
Puzzles for those who need to keep their hands busy while listening.
Conference Note Packets.
Have "pizza-fest".  Every conference order pizza on Saturday and make it on Sunday.
Clean the house on Friday so everyone can enjoy an orderly atmosphere during Conference
Big Breakfasts!  Have big breakfasts Saturday and/or Sunday.  (Waffles, Breakfast burritos, crepes, … you guys had a lot of yummy ideas)
Put up forts in the TV room pointing the TV like in the beginning of Mosiah.  Have quiet crafts or note packets inside for the kids to do.
Hot and yummy cinnamon rolls every conference!
Girl's Night Out while the guys go to Priesthood Session (chick flicks, games, yummy food, Deseret Book ladies night, etc.).
After conference review the Prophet's talks and choose a family motto to work on (and have FHE centered on) for the next 6 months.
Buy yummy foods you normally say "no" to.
Children can earn CTR dollars by listening, taking notes, etc.  They can buy prizes and treats with those dollars
Have a "conference meal", everything has to start with the letter "C" .
Have a Sunday brunch in between Sunday sessions.
Have jars of candy by the TV labeled with words like "Temple", "Testimony", and "Prophet", or with phrases like "I learned something", "I felt the Spirit", etc.  Your family can take a piece of candy each time they hear that word or experience what the jar says.
Play "Guess the Title" for each talk and then when it shows online the titles, each person gets points.  One point for each word they got write (excluding filler words like "the", "and", etc.) or 10 points if they get the entire title correct.  Prizes are awarded for most points.
Have a traditional seasonal meal – like chili and cornbread in the Fall.
As a family fast and pray some time the week prior that your hearts and minds may be open during Conference.
In between sessions play some fun games like "Pin the Tie on the Prophet"
Have 15 paper bags, each with the picture or name of each of the First Presidency and Quorum of the Twelve Apostles.  When they speak, the kids get to open them and find either a treat or a quiet activity inside.
Make home-made doughnuts!