Teaching Self-Reliance Part 1- The Red Headed Hostess
During the month of November the Come Follow Me Curriculum is all about self-reliance.  If you have been keeping up with the changes, here and there, in the For the Strength of Youth pamphlet – you know that this is a recently added standard.  You can read it here:  Work and Self-Reliance.
If you are a parent with a child who will be learning about self-reliance this month, it may be good to review the lessons they will be learning (in both Young Men and Women, and Sunday School) and prayerfully consider how you can reinforce what they are learning in the home.
Here is the lesson break down with links to the actual lessons (the first half of them) with some ideas of what you can teach them in the home.  (If you are a teacher of youth, you could take this list – add to it as you wish – and give it to the parents so that they could be involved with teaching their youth).
I would recommend that each of these would be best preceded by a Family Home Evening, or a discussion on the subject so that the Spirit has had a chance to touch your hearts before effort is made to apply these principles.  Motivation to change and become more like Christ is so much better (and lasting) when the Spirit is involved.
——————————————————————————————
Young Men and Young Women:  What does it mean to be self-reliant?
For a week you could have them take inventory of their day.  What things are they asking for help with that they could actually do on their own?  What things could they learn how to do that would make them more productive?  What things are you (their parents) doing for them that they could learn to do?  These lists could range from things done around the house to emotional, educational, spiritual and behavioral things.
You could also come up with a list of 3 things each week that they are going to learn how to do, or to take full charge of.  For example, they are going to take full responsibility for getting their homework done without relying on their parents to get them to do it; or they are going to take responsibility in keeping their room, car, bathroom (etc.) clean without the parents constantly asking them to do this.  I would also recommend that they commit to choosing and doing an act of service.
At the end of the week you could review what they had done and then discuss how it went.  It may also be good to have a discussion about skills they could learn that would have helped things go even better.  Self-reliance is something that grows as we grow, and they may feel pretty awesome as they learn that they are really capable of doing great things.
*  With the younger age of missionaries, this is a really great principle to focus on in the home.
*  The lesson outline has some really great ideas for FHE.  For example, you could make the Mormon Ads and then hang them up in your home all month as a reminder of the principles you are focusing on.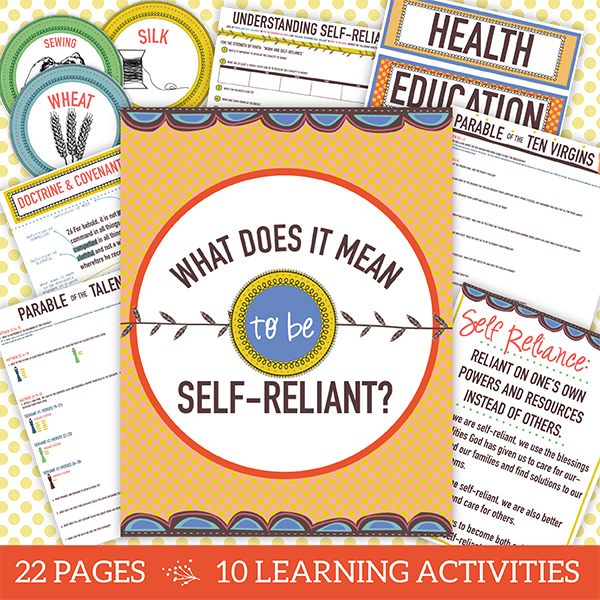 HERE is our teaching package to help you teach this lesson to your kids.
——————————————————————————————
Sunday School:
How Can I Become Spiritually Self-Reliant?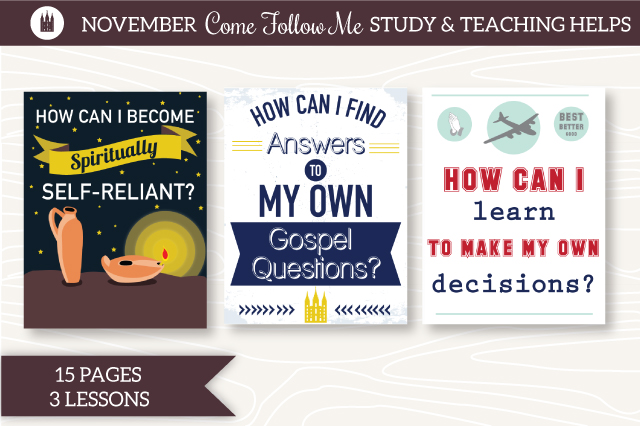 Every parent wants their children to know how to be spiritually self-reliant, rather than relying on others for answers or spiritual direction.  This lesson has a lot of great ides for parents to use in FHE.  One great analogue is that of the Parable of the Ten Virgins – that is such a fantastic lesson that help the youth understand the importance of being spiritually self-reliant.  If you want a great reminder for your children, you can find clay oil lamps on Amazon.  You could set it by their bed or desk with a little note asking them what they did to add oil to their lamp that day.
Another idea is to sit down as a family and list all of the skills you can think of that you need to be spiritually self-reliant.  For example:  Knowing how to pray, how to find answers to gospel questions, how to feel the Spirit, how to get the most out of a lesson, how to study the scriptures, etc.  Once you have a list, you know what to work on together as a family.
HERE is our teaching package for this lesson.

——————————————————————————————
Young Men and Young Women:  Why is it important for me to gain an education and develop skills?
I think the world does a pretty good job teaching about the importance of education.  This lesson helps tie the eternal blessings of becoming educated.  So often a youth may focus more on their grades than the subject they are learning (gaining intelligence) – and this lesson can help them bring those two together.
If you live near BYU, I suggest considering taking your family to the Education in Zion exhibit.  I went to it years ago and it was fascinating to me.  They do a really great job in connecting our endeavor of becoming like Heavenly Father to grasping the knowledge available to us.
HERE are some great quotes (from BYU's exhibit) about the eternal responsibility we have to gain an education.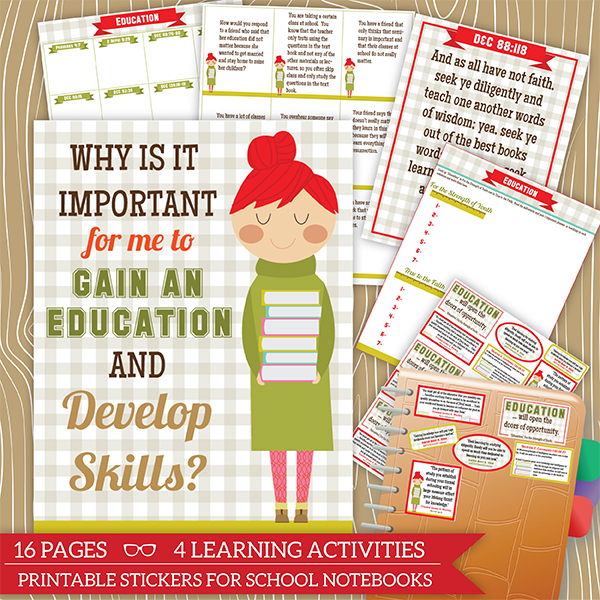 ——————————————————————————————
Sunday School:  How Can I Find Answers to My Own Gospel Questions?
Again, the lesson material has great suggestions on how to teach this topic.  I would also teach my children what resources they have available to them.   For example:  The Topical Guide, Index, and Bible Dictionary; how to search on LDS.ORG; Using True to the Faith and Preach My Gospel, great books like Jesus the Christ, the Great Apostasy, etc; Institute Manuals; etc.
I used to do a lesson like this in seminary:  I would set up a desk in my classroom with a lamp, scriptures, journal and all manners of study aids (like those above and ALWAYS a dictionary!) – and I would go through them one at a time (including websites).  Every year I did this, kids would go out and get those books (or add them to their Christmas lists) – they want to know how to study and learn answers for themselves!
——————————————————————————————
Young Men and Young Women:  Why is work an important Gospel principle?</p>
As a business owner who employs teens – I can't tell you how much I have learned about this particular topic.  It is a rare thing, but when we find a young man or woman who is willing and knows how to work – we feel privileged to employ them.  We can see how bright their futures are, and know that they will do great things in God's kingdom.
The difference between them and our other workers is that they see work as an opportunity and something to run straight at.  Others see it as a hinderance and something they have to do.  And both attitudes are clearly shown in their work performance.  Two separate workers can work the same amount of hours, doing the same responsibilities, working for the same amount of months or years – and the one who is truly "working" learns and grows an immeasurable amount over the one who is there merely by duty.  They are becoming increasingly more skilled, knowledgeable and capable – and their futures will be evidence of this.
After being in my position I would suggest to teach our youth this important principle:
Teach them how to "see" and "do".  We can't just say "clean our store".  We have to say, "get the bucket, fill it with water and this much soap, roll the bucket out, stick the mop in, take it out, ring the water out…."  you get the point.  When we say "why didn't you mop under the tables?", some will say "I didn't know I was supposed to".  But when an employee can look, assess and figure out "cleaning means _____" and they go after it – and if they don't know how to do something – they ask or figure it out – that employee is absolutely invaluable to us.
Once this principle is part of their character it will extend into every other part of their lives and they will continue to grow, progress and accomplish.  This reminds me of this scripture:  D&C 58:26-27  For behold, it is not meet that I should command in all things; for he that is compelled in all things, the same is a slothful and not a wise servant; wherefore he receiveth no reward.  Verily I say, men should be anxiously engaged in a good cause, and do many things of their own free will, and bring to pass much righteousness;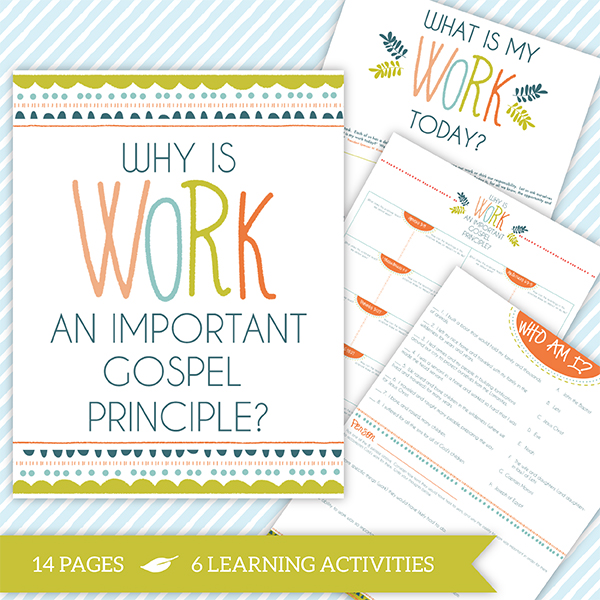 ——————————————————————————————
There are some ideas for the first half of the suggested lesson material – more will come later.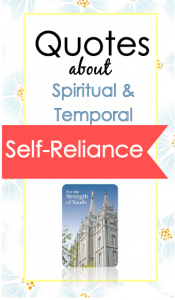 Meanwhile… here are some great quotes:
"The Lord's real storehouse is indeed in the homes and the hearts of His people. As the members of the Church follow the counsel to become self-reliant, they represent an immense pool of resources, knowledge, skills, and charity available to help one another." (Elder Robert D. Hales, Ensign, May 1986, p.29),
"Without self-reliance one cannot exercise innate desires to serve. How can we give if there is nothing there? Food for the hungry cannot come from empty shelves. Money to assist the needy cannot come from an empty purse. Support and understanding cannot come from the emotionally starved. Teaching cannot come from the unlearned. And most important of all, spiritual guidance cannot come from the spiritually weak." (President Marion G. Romney, Ensign, November 1982, p.93)
"Self-reliance comes by complying so completely with the principles of the gospel that each individual and family are added upon by the Lords' strength, making them able to stand strong against the blows of adversity and the changing winds of time and growth." (Sister Barbara B. Smith [former general Relief Society President], Ensign, November 1981, p.85)
"Man is commanded of God to live by the sweat of his brow, not someone else's."
(President Ezra Taft Benson, Ensign, November 1976, p.34)
It is entirely appropriate to depend upon others for some of what we need. There is no substitute for loving and supportive parents, priesthood and auxiliary leaders, skilled doctors, dedicated teachers, and expert auto mechanics. Turning to these people for help is not wrong. But what is wrong is expecting others to do what we can and should do for ourselves." (Elder Hugh W. Pinnock, Ensign, May 1989, p.10)