Young Women Value Throw Pillow- The Red Headed Hostess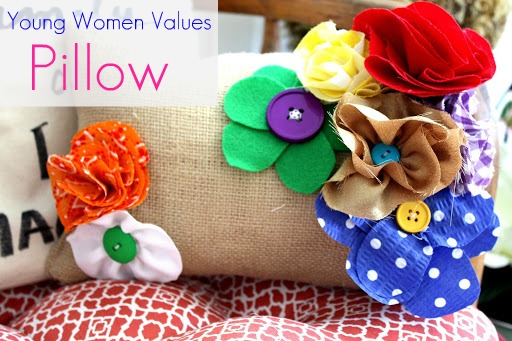 I am in love with these pillows!
We made them with our young women last week and we had a blast making them!
The flowers are super easy to make… the hard part is picking out fabrics that will look together without being too matchy-matchy.
I think I spent over an hour at the fabric store.  All I can say is… good thing my husband wasn't with me!
You know how at bridal showers, they sometimes ask you to write down advice?  I think mine is going to be:  "Don't make your husband go into fabric stores with you or anything like it.  It is NOT proof that he loves you."
Since I love him… I respect his need to never-ever-ever go into one of those stores with me… not to mention spend and hour trying to find fabrics for 8 value colors.  And I never go into car part stores with him.  Its a fabulous deal we've got going.
So there are a few kinds of fabric flowers on this guy.
Here is how you can make them…
For this gold or "Virtue" flower… this is how it is done:
You take a strip of fabric… and don't worry if it isn't straight…
Then you just want to run a needle and thread up one side… back and forth from end to end
Then scrunch it all up by pulling on the thread and pushing up the fabric
And then take the end and twist them up to form a flower and then once you are satisfied, secure it in place with the thread.
Then finish it off with a button like the picture above.
For these fluffy ones (which are my favorites) this is the how to:
Cut out several circles.  Then lay one out flat, and then fold one in half and lay it right on top
Then lay another across the top of those…
And then around the whole circle until it looks like this.  When you lay the last piece down, you will need to reach down and pull up the first half circle you laid so they are all hooked together.
If you want to, you can add more layers than this to make it even more fluffy.
Then you start sewing and securing the flower together in the center
To get it super fluffy like this, you will need to place stitches here and there as you fluff and play around with it.
This guy is the easiest.
Just cut out petals and stitch them together in the center
And then sew them in place on your pillow.
I like to push them up together and layer over one another.
It could have been cute to add a couple of lone buttons… or charms.
And your girls will come up with even more ideas…  I would love to hear what they are!