How a Busy Mom CAN Study Her Scriptures- The Red Headed Hostess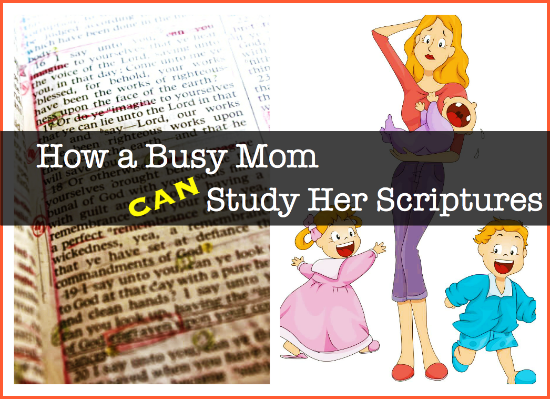 "How do you find time to study your scriptures?"
I can't even begin to tell you how many times I get asked that question by all of you amazing, but very busy moms.  And my answer is…
I absolutely need the scriptures in my life.
But – to be totally clear… I miss plenty of days.  But I can start to feel it if I miss too many, and frankly – I don't like that person.  So, it is a high priority for me.
Let me also be clear:  teaching seminary is why I have come to this place.  Over 13 years I was able to teach each book (Old Testament, New Testament, Book of Mormon and Doctrine and Covenants) three times.  I taught over 2,200 days of seminary.  Each lesson I taught 6 times (3 times per day in 90 minute classes).  I was also given each summer to study and prepare.  That kind of study is unsustainable for me now.  But I have absolutely applied some of the principles to my daily life now as a mom.
Below are several ideas to help you with your scripture study – some I do, and some I don't.  Read through them and pick the ones that will work for you.
1-  Don't wait for quiet time
If I were to commission an artist to paint a mother studying her scriptures, I imagine they would paint something like:  a woman in a perfectly pressed dress, in a perfectly clean room, sitting in a chair with sunlight streaming through the window.   And then I would make them redo it and paint a mom in sweat pants, with her hair pulled up in a messy pony tail, a basket of laundry waiting to be folded and a child tugging on her arm.
Most of us with young children live in a world where that second painting would be the only way to actually get scripture study in our lives.  The first painting?  If her kids aren't around, that woman should have her feet up taking a nap!
Here is the beauty of that second picture:  her children get to see her studying and that will impress upon their minds for the rest of their lives.  That woman may get something profound from her study even though there are things going on around her, but she (as a mother) will also be setting an irreplaceable example.
My sweet Hannah is now almost 17 months and she will take things and will act like she is vacuuming – because that is what mommy does.  She will brush her hair, like mommy does.  She will stir things in a bowl, like mommy does.  She tries to type on the computer like mommy. And someday she will read her scriptures, like mommy does.
We should live out in the open, the things we want them to do and be.
Oh, and if you feel like your the only mom who isn't doing this well – check out this scripture study poll and you will feel differently.
2-  Use it to start your day right.
This is usually how I study my scriptures most days.  For me, the effectiveness of my day is often determined in the first hour upon waking up.  So this is what I do:
I wake up and make the bed
I get ready for the day
I study and make a list of everything I want to accomplish (including parenting and personal goals)
I say my morning prayers, including help to accomplish my list
Some days this doesn't happen.  But I try to make it happen much more than it doesn't.  And as Hannah's schedule changes (as she wakes up at different times), I have to adjust my schedule too.
And let me emphasize why this is so important to me:  I try to put myself in a position to receive inspiration for my day, my family, and the individual things I want to accomplish.  Again, I am not perfect at this, but I really value this power hour in my life.
3-  Study for your children
As mothers, we often put our needs last because we are so committed to loving and serving everyone else.  So, this may be a really motivating force for us who put our personal study on the back burner:  Study FOR your children.  For example:
Get a set of scriptures for each child and put their name on the front.  Then, one at a time, study, mark, and write notes in each book with that specific child in mind.  You could have Dad do the same, and even other relatives like Grandma and Grandpa.  Then you can present that set to the child to keep with them, and cherish, throughout their life
Keep a scripture journal dedicated for each child.  Fill it in with thoughts, ideas, stories, and impressions for that particular child.
I really like this idea because I believe we can be inspired to study and write things that our children may need years from when you write them.  Also, I think it is easy to prioritize something like this into our lives.
Oh – and for those of you who suffer from "my-handwriting-is-not-perfect-so-how-can-I-keep-a-scripture-journal-itis", ask your kids if they care. Ask them if they would rather have your impressions, counsel, and teachings for them to read the rest of their lives, or if they would rather not have it because how could they possibly read it if it isn't perfect?! 🙂
4-  Keep a scripture journal
If you have followed this site for awhile, you know how I feel about writing down what we are learning.  That has been an essential key for me personally, and my scripture journals have become one of my most valuable possessions.
You can read more about ideas of how to set up a scripture journal HERE, or you can read about the ones offered on this site HERE and ideas on how to use them HERE.
You can also see some of my favorite scripture marking techniques HERE.
5-  Show your children that scripture study can change you
I know, without a doubt, that I am a better mother and wife because of the powerful lessons from the scriptures.  They have resonated in my soul and I am different.  When I read this quote by President Kimball, I say "YES! That is so true!"
"We want our homes to be blessed with sister scriptorians—whether you are single or married, young or old, widowed or living in a family.
"Regardless of your particular circumstances, as you become more and more familiar with the truths of the scriptures, you will be more and more effective in keeping the second great commandment, to love your neighbor as yourself. Become scholars of the scriptures—not to put others down, but to lift them up! After all, who has any greater need to "treasure up" the truths of the gospel (on which they may call in their moments of need) than do women and mothers who do so much nurturing and teaching?"  (President Spencer W. Kimball, The Role of Righteous Women, General Conference, October 1979)
I believe, with all of my heart, that my ability to love others has been shaped by the scriptures.  Not only from the doctrines and principles, but from the sacred moments where the Spirit has touched my heart and soul.  And I have learned to count on that lifeline in my life.  I know I can be a good mother to Hannah because I have learned how to access that power.  And I know I will even learn more!  Isn't that a huge relief?!?
I really believe that a Zion woman will be the kind that President Kimball is talking about.  She will be strong and capable because she has paid the price to be that.  She has studied and loved her scriptures, and her children will attest to that.  I want my children to see the direct relationship between how I treat others to the doctrine that is in my soul.
6- Believe that YOU can be a scriptorian!
Here is the thing – I can honestly, HONESTLY, say :  I have learned how to learn, and I have learned how to value the scriptures.  I have NOT always known the scriptures.  I was NOT that girl in seminary who knew all of the answers.  I was the girl who hoped that I was not called on because I probably had no clue what the answer was.  I didn't understand the wording in the scriptures and I could absolutely sit and read a scripture and have NO idea what I just read.
So, I understand.  I understand if you struggle.  I did too.  If someone would have pulled me aside and told me, "hey – you are going to be a seminary teacher!"  I would say that they were out of their mind!  That was too big of a leap and a completely ridiculous idea.
That is the beauty of my journey.  I totally have lived the reality that you can learn and become very knowledgeable in the scriptures.  And you don't have to teach seminary to do it.  It just takes desire and effort. And this is why I even started this site in the first place – to help teach others how I have learned how to learn!
And… I wish I could yell this out… YOU WILL FIND THAT YOU HAVE AMAZING INSIGHTS!   You will surprise yourself over and over again until you stopped being surprised and realize that this is what happens when we put ourselves in the position to receive revelation so often.
If you have any ideas to add – please do!