Come Follow Me Mosiah 18-24
Come Follow Me – Book of Mormon: Mosiah 18-24
This week, we are covering Come, Follow Me – Book of Mormon: Mosiah 18-24.  These chapters are so amazing and loaded with doctrine and principles that everyone needs to know.
Our weekly kit for Mosiah 18-24 brings these chapters to life and helps you and your family grasp those important doctrines and principles by making them applicable to everyday life.  Each kit coincides with the Come, Follow Me Book of Mormon curriculum from The Church of Jesus Christ of Latter-day Saints.  Our kits are geared towards the Come, Follow Me for Individuals and Families manual but are also perfect for the Primary and Sunday School manuals.  They are mostly popular among Gospel Doctrine teachers to Sunday School and Primary teachers.  Since each kit has things for all age groups, there is something for everyone.
The Study Pages offer great insights for adults and teens and all the various activities in each kit will help older and younger children be a part of the conversation as well.  With the commentary and material in our weekly kits being created by retired and current seminary and institute teachers, you can be sure you are getting the very best for you and your family's study.
Every kit has many different options to choose from which gives you as the parent room to receive inspiration for your family and pick what you think is best to study or use each week.  Simply print the items you want to use each week instead of printing the entire kit.  That will help you save on paper and ink.
Keep reading to see what is in this particular kit.
Come Follow Me – Book of Mormon: Mosiah 18-24
STUDY PAGES
The study pages are the highlight of each kit and are by far the most popular item among our customers and subscribers.  All other content in the kit is created after the study pages are done so that those activities can coincide perfectly with the doctrines and principles being taught in those chapters.
We could fill page after page with the great compliments and positive reviews from our subscribers have given us about how these study pages have helped them and their families.  They are meant to turn you into the expert on the chapters so you can then teach your family with confidence and effectiveness.
Reading through these pages will help you decide what is best to cover as a family that week based on your family's particular needs.  Inside, there are plenty of ideas for fun family home evening activities. Each study page has the text from the Book of Mormon in the left column with suggested scripture markings you could add to your own scriptures and the right column has professionally written commentary, insights, applicable quotes and more.  Our kits offer a lot of different things, but each week the study pages are a must and if they are the only thing out of the kit you decide to use, it will still be worth your time and investment.
What are the key teachings and principles in Mosiah 18-24?
TEACHING ACTIVITIES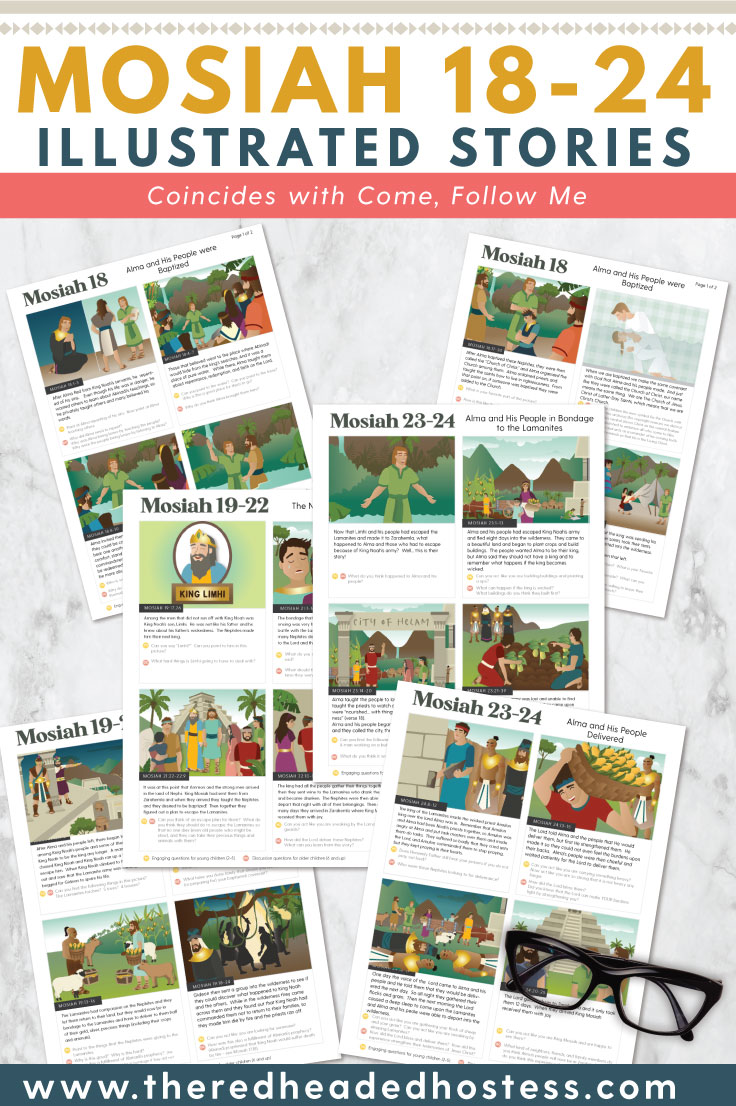 Illustrated Stories
Families with younger and older children will LOVE the illustrated stories in each kit, also known as "Bedtime Stories."   Each story in Mosiah 18-24 is illustrated then there are great discussion questions for each story geared for very young children and also older children who can handle a more advanced question. Paired with 2023 primary songs lds, they are sure to bring the Spirit. The Illustrated stories are great to print off at the start of the week and then keep handy for your bedtime routine.  Each story can be taught or reviewed in just a few minutes each night.  Or you can use these as part of a more structured study instead of at bedtime.  Whatever you think works best for you and your family.  These are great because they give you as the 'parent/teacher flexibility.'  As you go through the Book of Mormon, you can print these and add them to a binder; then add to your collection as the year progresses.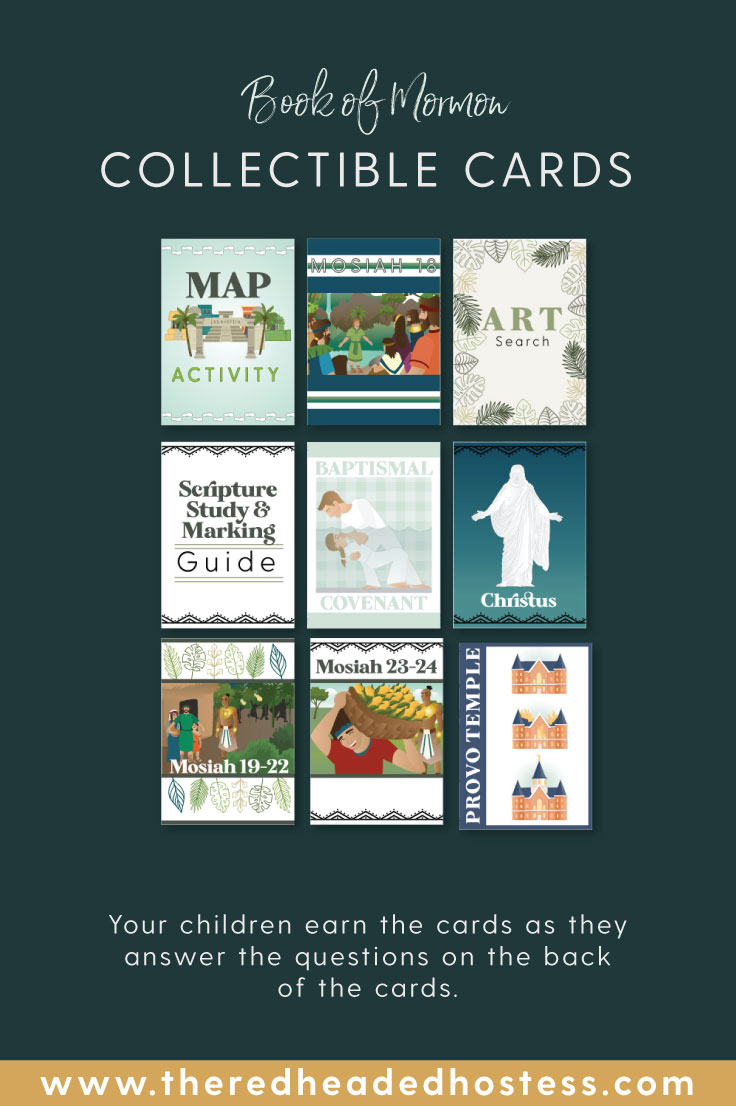 Collectible Cards
Each of our weekly kits offers collectible cards.  These are a tool to help your children develop a consistent desire to study their scriptures and do Come, Follow Me.  The idea is that your child earns new cards each week and adds to their collection.  To earn a card, you answer the questions on the back which can usually discover in the illustrated stories.  After you print them, they are the same size as a traditional trading card.
The cards should be able to fit in the clear plastic trading card sleeves perfectly.  Instead of a binder of sports cards, they will have a binder full of Book of Mormon cards! They will represent all of the progress they have made throughout the year.  It will be something your children are proud of because they earned each card.
Also, you as the parent/teacher can turn to random cards to review by having your child tell you the story on that card.  The feedback we have received about the collectible cards has been amazing and they are a favorite among parents.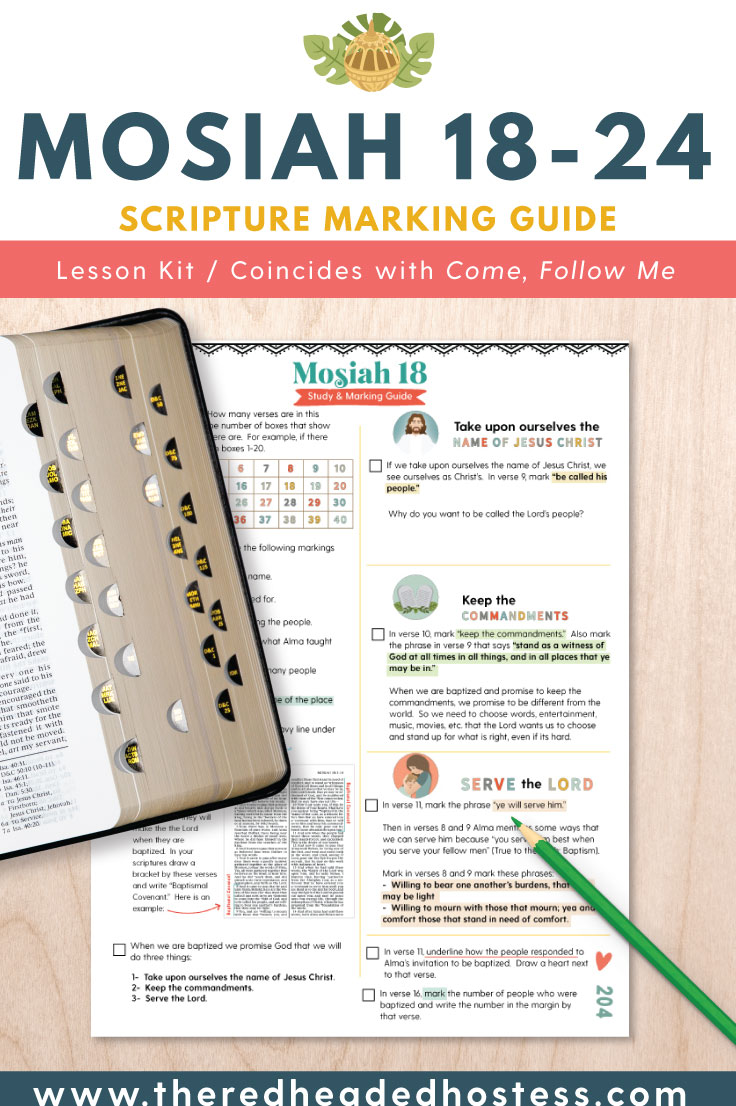 Scripture Marking Guides
Getting kids into the actual scriptures can often be challenging.  Kids can get bored with them or feel like they don't understand the scriptures.  Our Scripture Marking Guide for kids will help you solve this problem.  Each Marking Guide will get your kids directly into the scriptures. It will help them mark, discover, learn, and apply the scriptures to their own lives.
Your children will want to do these marking guides because they can earn a collectible card after they complete it. You can see from the picture above, the marking guide for Mosiah 18-24 helps your children learn what it means to take upon themselves the name of Christ.  It teaches what it means to keep the commandments and it teaches what it means to serve the Lord.  These marking guides are not just simply telling them markings to make in their scriptures. They are helping them know the meanings and principles behind things that they can mark for later contemplation.  Things that are important to know and apply.
If your child can read, then they can do these marking guides.  If your child is just learning to read, you may have to help them through the guide. However, it is still a very valuable tool for you as a parent/teacher.
ACTIVITIES SPECIFIC TO MOSIAH 18-24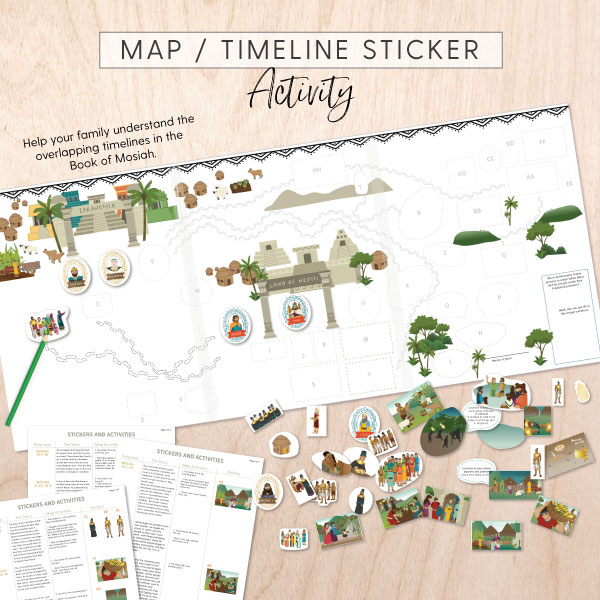 This Map and Timeline Activity is specific to this Mosiah 18-24 kit and is awesome!  Each kit will have unique things for that kit, along with our regular items found in all kits.  The Book of Mosiah can be a little difficult because of all the overlapping timelines in that book.  It can get challenging for families to understand and follow.  We created this map and sticker activity to help you follow all these different timelines.  The great thing is, it's all printer accessible from home.
Kit Pro Tip: The map prints out on three regular-sized 8.5×11 sheets of paper. If you cut the margins your printer leaves off the center page, the image will align perfectly against the other two pages on each side.  Then you can tape the pages together to create your map.  All the stickers have the option to print on regular paper. You can then cut them out and paste them with a glue stick onto the map.  Or if you have full-page sticker paper, you can print on that and just cut out each sticker.  This activity isn't just for kids.  Any adult or teen who has a hard time following the timelines in the Book of Mosiah will appreciate working through this activity too.
More Fun Resources in the Mosiah 18-24 Kit
There are two ways to get our weekly kits.  One way is to purchase each kit individually as needed for $4.00 each.  You can get individual kits from THIS section of our website.  The other way to get our weekly kits, which is the most popular way, is to subscribe.  It saves you on cost and gets each kit down to an average of $2.50.  The current kit is always in your account.  Just log in and download the new kit each week.  See more about how our subscription works and enroll HERE or click the image below.
Either option is a great value.  Each kit has anywhere from 40 to 60 pages of content depending on the week. And we are proud to say that every kit is created by professional teachers and artists.  Each kit has an average of 150 hours put into it through all the people involved in making it.  The things found in each kit are original and unique to Red Headed Hostess.  You will not find them anywhere else.