2017 Summer Study Sale – The Red Headed Hostess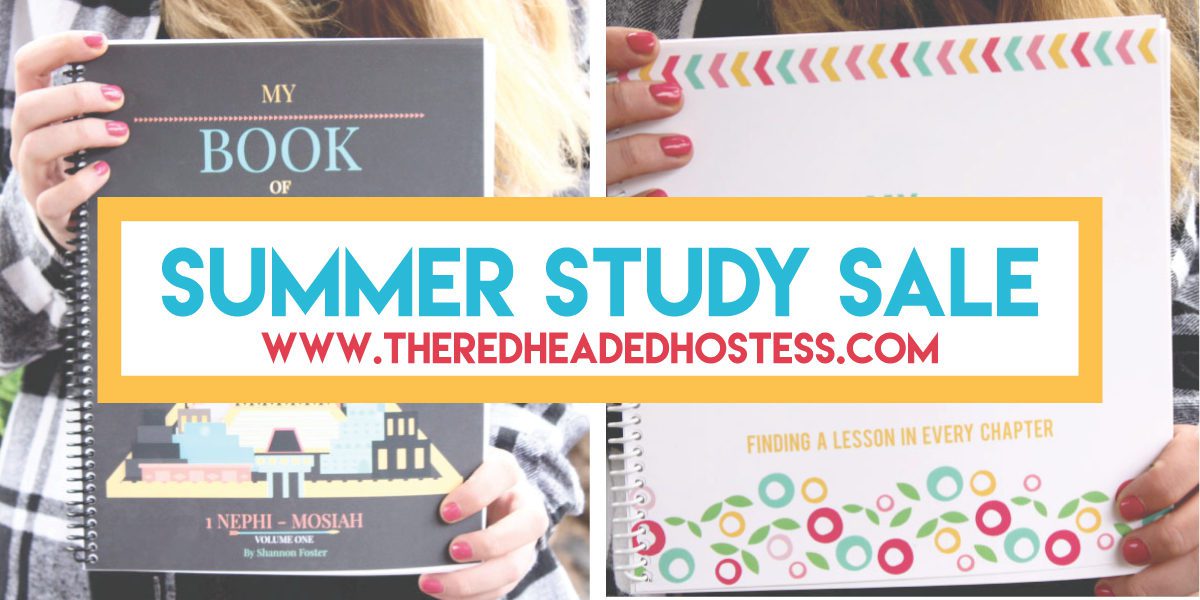 Every year we have a Summer Study Sale for parents who would like things to help their children study their scriptures, prepare for their mission, prepare for seminary,  and work on Personal Progress over the summer!
15% off of the entire site (including books) on orders of $10.00 or more with code: SUMMERSTUDY2017.
Ends 06/19/17 and midnight mountain time.
Sale Extended!!!  Ends 06/30/17 at Midnight Mountain Time.
*This discount code does not apply to bulk rate book orders
Some popular items that may be good for your kids over the summer are: (just click on the links that interest you)
SPIRITUAL UPLIFTMENT:
Our Digital Firesides (by amazing speakers!)
PERSONAL PROGRESS:
Personal Progress Doodle Book:  Digital Version (with printable labels),  Physical Book
Book of Mormon Study Guides (Virtue Project) Volume 1 , Volume 2 , Physical Books
Book of Mormon Study Squares (Virtue Project) Digital Version, Physical Books
Names of Christ Flip Book (Possible Faith 10-hour project)
Book of Mormon Page Titles (Possible Faith 10-hour project) (These are also included in the Book of Mormon Study Squares file)
SEMINARY PREP (Book of Mormon):
See our Book of Mormon Resource page HERE.
Doctrinal Mastery and Doctrinal Mastery Passages (coming soon)
MISSION PREP:
Book of Mormon Study Guides Volume 1   Volume 2   Physical Books
Book of Mormon Study Squares: Digital Version boy and girl combo (individuals also available), Physical Books
Old Testament Study Squares:  Digital Version boy and girl combo (individuals also available), Physical Books
New Testament Study Squares:  Digital Girl and Boy Combo (individuals also available), Physical Books