Come, Follow Me – Book of Mormon: 3 Nephi 1-7
Come, Follow Me Book of Mormon for 3 Nephi 1-7 has more valuable lessons that are applicable directly to our day.  The closer we get to the coming of Christ in the Book of Mormon, the more parallels we find to our world today.  In 3 Nephi 1-7, we can see how the Lord blesses and prospers those who believe and live His commandments in righteousness.  In these chapters, the people were being blessed with great prosperity because ALL the people recognized and believed in the signs of Christ's birth.  They knew what the prophets had said was true, and they repented of their sins because of it.  They were finally able to purge from themselves the Gadianton Robbers and their secret combinations that had greatly threatened their freedoms.  Then, we can also see how crafty Satan can be and how, in just a matter of a few years, pride started to corrupt the hearts of the people.  Soon new secret combinations started to form, even after all the hard lessons they had learned by battling the Gadianton Robbers.  We can see that freedom always had to be fought for.  When the people finally secured their freedom from an enemy, there was soon another seeking to take it away.
Our weekly kits are designed to help you and your family study the scriptures in-depth and coincide with the Come, Follow Me curriculum from The Church of Jesus Christ of Latter-day Saints.  In each kit, there are things for all ages from adults to small children.  Our staff is made up of current and retired full-time seminary and institute teachers who have had many years of training on how to effectively teach the Gospel.  Combined with over 10 years in business in providing professional study and teaching aids, you can be sure that you are getting a product that is high quality and effective for your personal study and for teaching your family.  Each kit has many options to choose from, much more than you will likely be able to use.  The intent is to provide you with a lot and then you pick and choose what you think is best for you and your family; then print only those items you need from each kit.  Each kit is designed to get you into the actual scriptures and help make the time you dedicate to scripture study more effective.  See what is included in the 3 Nephi 1-7 kit below:
STUDY PAGES
For your personal scripture study, each week we provide our Study Pages which are for adults to use.  They are also great for teens.  These Study Pages are the foundation of each kit and they will give you great commentary, insights, quotes, discussion questions, marking suggestions, and more that will help you become an expert in the chapters being studied.  These pages will help you determine which activities to use with your children since all activities in each kit are based on what is found in the Study Pages.  These are very popular, and many of our subscribers sign up just to have access to the Study Pages.  These are also popular among Gospel Doctrine teachers, Seminary teachers, and Sunday School teachers.  The discussion questions provided are great to instigate meaningful conversations with your family or class.  Each page has the scripture text in the left column with suggested markings you could add to your own scriptures.  Then the right column contains relevant commentary, insights, tips, quotes and discussion questions.  We recommend that you use these pages each week as part of your personal scripture study.
ACTIVITY PAGES
The Activity Pages in each kit are loaded with many different options to choose from.  There is going to be more items included than you will likely have time to use in one week.  Our intent is to provide you with a lot and then you pick and choose which items you think are best for your family depending on the age groups in your family and their specific needs.  These Activities are also very popular among Primary teachers.  Below are some popular items we always include as well as some things specific to the 3 Nephi 1-7 kit.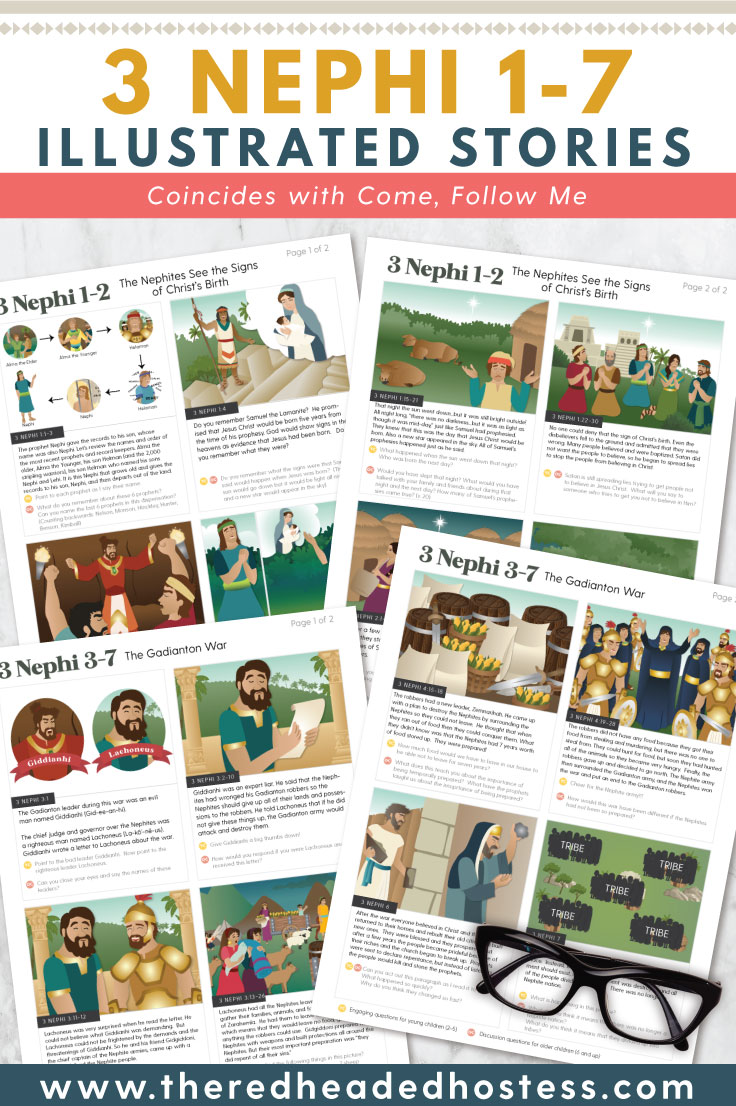 BEDTIME STORIES
Always included are our very popular illustrated stories we call "Bedtime Stories."  They contain illustrations of the stories found in the those chapters with simple, easy for kids to understand, captions below each illustration explaining what is happening.  Also included are discussion questions for younger and older children to help you have meaningful discussions with your children during scripture study.  These can be used for a quick 5-minute lesson or as part of your more in-depth study.  Print them or use them on your iPad or tablet.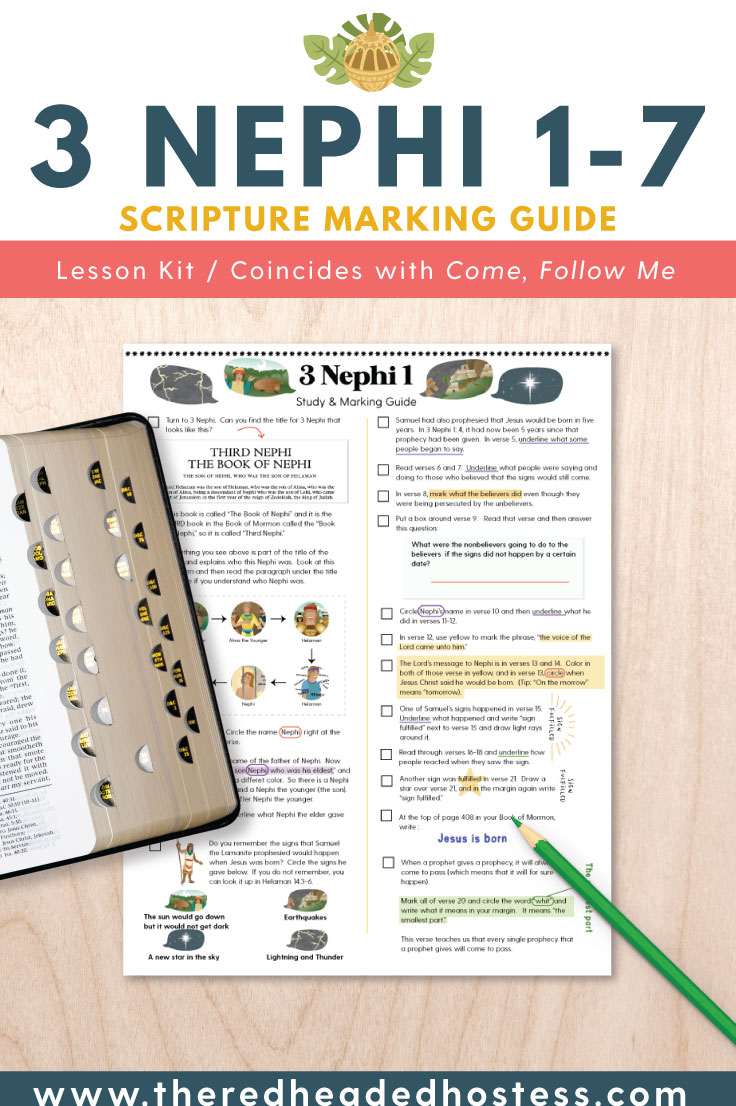 SCRIPTURE MARKING GUIDE FOR KIDS
Another popular item we offer, which will get your children directly into their actual scriptures is our Scripture Marking Guide for Kids.  If your child can read, then they can do these marking guides or help younger siblings do the guide as well.  These guides teach important scripture study skills and also important doctrines and principles found in the chapter being covered.  This is a good print-and-go activity that requires very little preparation other than printing the page and maybe answering the occasional question that might arise as your child learns how to study their scriptures.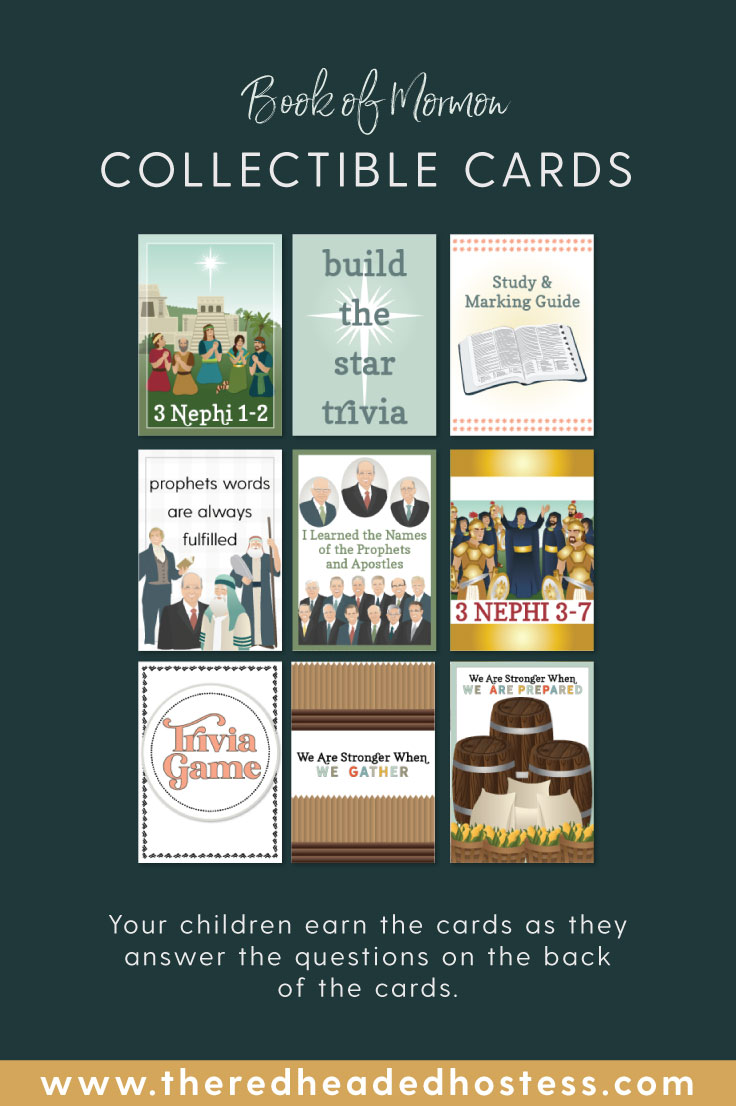 COLLECTIBLE CARDS
Each kit contains a set of collectible cards.  These cards are the same size as a trading card, so you can keep them in clear plastic trading card sleeves in a binder.  As your child answers the questions on each card, they earn that card.  You can set up a rewards system that allows them to earn a prize as they fill up a page.  Then you can also use past cards to review by having your child tell you about the illustration on the front of the card.
HOW TO GET OUR WEEKLY KITS
The most popular option to get our weekly kits is our subscription which is $10.00 per month.  It saves you money on the price per kit, and the latest kit is always in your account.  Just log in and download it.  The other option is to purchase each kit individually as needed for $4.00 each from THIS section.  To learn more about how our subscription works and to sign up, click the image below.
SUBSCRIPTION BONUSES
We love adding value for our subscribers.  There is an entire section of the subscription dedicated to free bonus files.  These files are usually popular things that would otherwise need to be purchased individually from our website.  There are often unique things that we don't even offer for sale individually and are only for subscribers as a free bonus on top of the weekly kits you already get.  One free bonus we offer to only subscribers is a streaming video series called "Drawn In" by David Bowman.   David is an artist who draws out the scripture stories as he teaches them.  We offer these because they are a great supplement and add variety to your main scripture study done throughout the week.  Click the image below to learn more about "Drawn In".