Come, Follow Me – Book of Mormon: 3 Nephi 12-16
The Come, Follow Me Book of Mormon curriculum from The Church of Jesus Christ of Latter-day Saints now covers 3 Nephi 12-16 which are chapters still considered the climax of The Book of Mormon.  Jesus Christ is still visiting the people on the American continent and He is teaching them His Gospel, setting up His Church, and ministering to the people.  He introduces the Beatitudes that we find in the New Testament to the people on the American continent and teaches that the Law of Moses has been fulfilled in Him.  3 Nephi 12-16 is amazing!
Each week, we here at The Red Headed Hostess create kits that coincide with the Come, Follow Me curriculum.  Each kit has material for adults and then helps for children that parents can use to teach their families.  Our kits are geared toward the Come, Follow Me for Individuals and Families manual but because there are so many great options in each kit, our kits are also good for the Sunday School manual and Primary manual.  Our kits are also popular among Gospel Doctrine teachers and Seminary teachers, specifically the Study Pages which offer relevant commentary and great discussion questions.  Our staff is made up of current and retired Seminary and Institute teachers who have had years of professional training on how to effectively teach the Gospel.  Combined with our 10+ years in business creating high quality study and teaching aids, you can be confident that you are getting a great product when you get something from Red Headed Hostess.
See below for more information about what is included in the 3 Nephi 12-16 weekly kit.
STUDY PAGES
Every weekly kit that coincides with the Come, Follow Me curriculum comes with Study Pages which are the foundation of every kit we make.  These are for adults but are also meant for teens as well.  These are used as part of your personal scripture study and are designed to make you an expert on the chapters being studied.  These will help you study in-depth.  These Study Pages offer relevant commentary to today, quotes, tips, insights, and great discussion questions that you could use with your family, class, or study group.  Each kit has a lot of material, much more than you will be able to use in a week's time, but we always recommend you do not skip the Study Pages.  Using the Study Pages will help you determine which items out of all the things we offer for children you want to use and these pages will give you the confidence to be able to teach your children or class with confidence.  Our Study Pages are popular among Gospel Doctrine teachers, Sunday School teachers, Seminary teachers, or anyone who is seeking an in-depth and relevant study of the scriptures.  Many  of our subscribers who have no children at home anymore and do not have a need for many of the children's activities we offer still subscribe to our weekly kits to have access to our Study Pages.  They are our most popular and most helpful item in each kit.
ACTIVITY PAGES
Each weekly kit has lots and lots of activities to choose from.  What is best for you will depend on the age groups in your family and your preferences.  We offer a lot, much more than you will have time to use, because we want you to have plenty of options to choose from based on what you think is best for your family.  Pick the items you think are best and then print only those items.  Some things can even be used on a tablet instead of printed such as the Bedtime Stories. Printing the entire kit is not necessary unless you want to.  See some of our activities found in the 3 Nephi 12-16 kit below.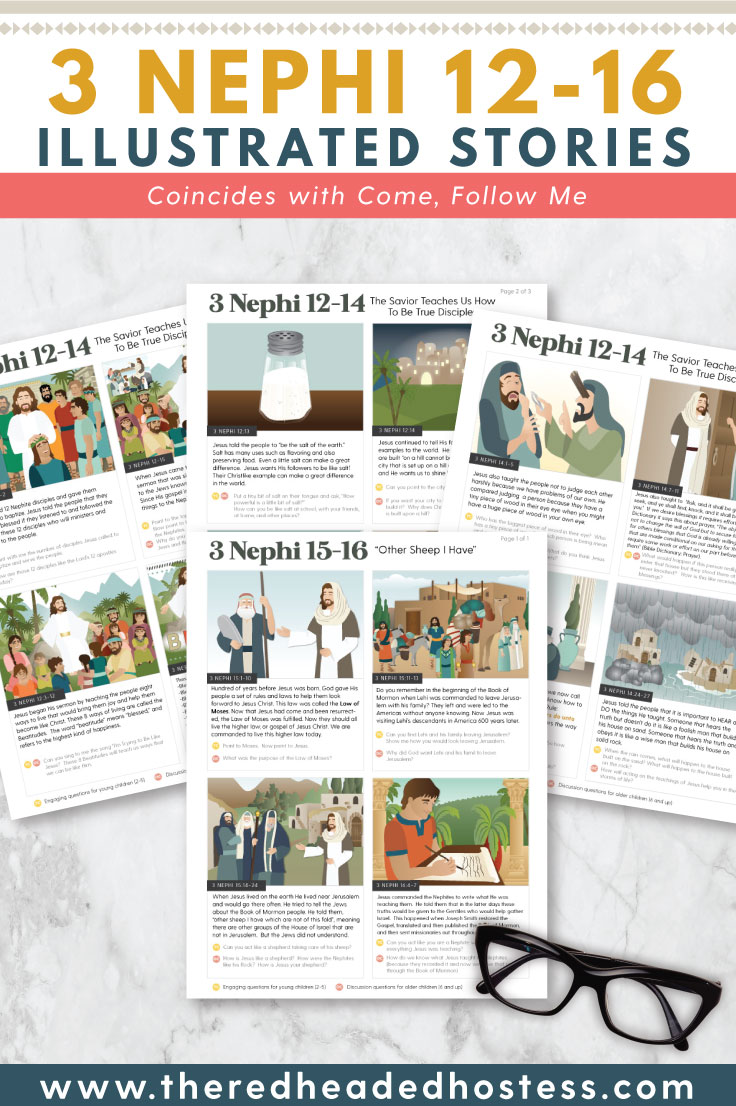 ILLUSTRATED STORIES
Each chapter has a set of Illustrated Stories we call "Bedtime Stories."  These are incredibly popular because of how flexible they can be in their uses.  You can use them at bedtime, for morning scripture study, or as part of your main Come, Follow Me study.  Each illustration has a simple, easy-to-understand for kids caption that explains the story.  There are also discussion questions for younger and older children that you can use to talk about the stories with your children.  These can be printed at the start of the week and used for effective, quick lessons throughout the week, maybe at bedtime or whatever works for your routine.  Since the file is a PDF, you could also open these on an iPad or tablet if you are trying to save on  ink and paper.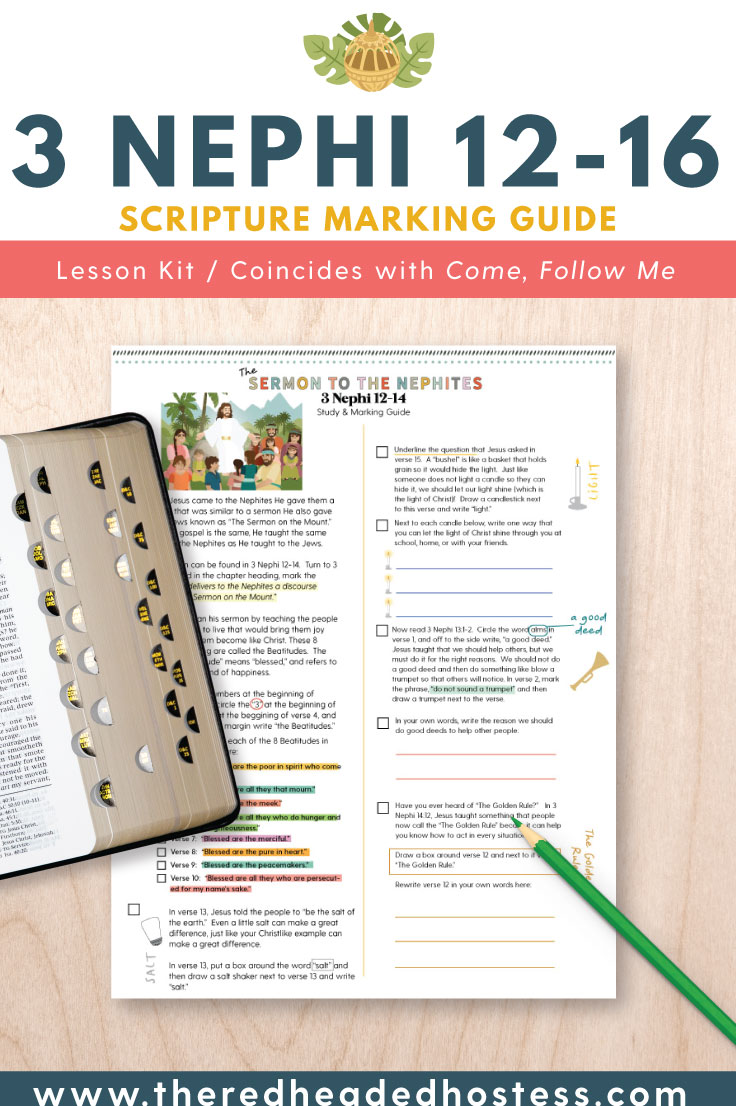 SCRIPTURE MARKING GUIDE FOR KIDS
Parents love our Scripture Marking Guide for kids!  We offer at least one guide, sometimes more, in every kit.  This is an effective activity that requires no prep time for parents other than pushing print on your computer.  These guides will walk your children through step-by-step in studying and learning important doctrines and principles and teaches them valuable study skills they will use for their entire lives.  If your children can read, they can do these marking guides or help younger siblings still learning to read do them as well.
HOW TO GET OUR WEEKLY KITS
We offer a couple of options for you in getting access to our weekly kits.  One, you can purchase each kit individually as needed for $4.00 each from THIS section of our website.  With each kit containing an average of 40-60 pages of great content for all ages, this is a great value!  The other option is our monthly subscription.  This option offers even more value!  At $10.00 a month, it gets the price per kit down to slightly below $2.50 each.  The subscription is the most popular option.  Click the image below to learn more about how our subscription works and to sign up.  There is no pressure because you can log in to your account and cancel at any time.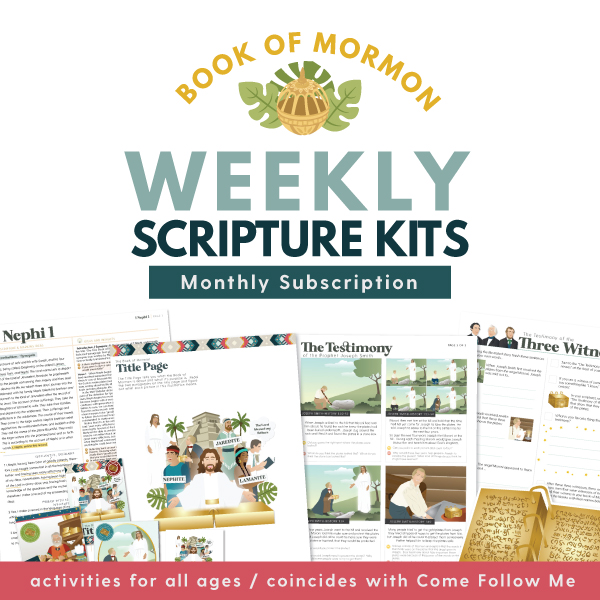 SUBSCRIPTION BONUSES
Another reason our subscription is the most popular of the two options in getting our weekly kits is because of all the free bonuses we give our subscribers.  There is an entire section in your subscription for free bonus files.  We just added some great General Conference items that are only available to subscribers.  One free bonus we like to highlight is a streaming video series called "Drawn In" by David Bowman.  These videos are for kids but will also be entertaining for the entire family.  We offer these because they are a great supplement to your main Come, Follow Me study and give you variety in the things we provide.  Click the image below to learn more about "Drawn In."