Come, Follow Me – Book of Mormon: Alma 30-31
Come, Follow Me Book of Mormon Alma 30-31 is another great week of curriculum and more proof that The Book of Mormon is a book written for our day.  So much happening in the world today can be found in the Book of Mormon and we can learn how to view things and how we can strengthen our faith in these trying times.  Our weekly kit for Alma 30-31 is full of great study aids for adults and fun activities for children that will pull doctrines and principles applicable to today into your Come, Follow Me study.  We pack our weekly kits full of things for all ages from adult, teens, older children, and younger children.  Each kit literally has something for everyone.  Just pick the items that apply to your family and age groups, print those items, and learn.  Our weekly kits coincide with the Come, Follow Me Book of Mormon schedule from The Church of Jesus Christ of Latter-day Saints.  The kits are created to be used with the Come, Follow Me for Individuals and Families manual but because of the many options available in our kits, they are also very popular among Sunday School and Primary teachers.  Our Study Pages specifically are popular among Gospel Doctrine teachers, seminary teachers, and those looking for applicable commentary and principles to today's world.  Each kit has an average of 150 hours put into creating it and all of our material is created by current and retired full-time seminary and institute teachers.  With such amazing experience on our staff, combined with more than 10 years of being in business providing study and teaching aids, you can be sure you are getting the highest quality material from The Red Headed Hostess.  If you have struggled to have a meaningful Come, Follow Me experience in your home, then our kits can help you with your existing efforts and if you haven't been doing Come, Follow me at all, then it's never too late to start; and putting in the effort will bless you and your family with knowledge and power to face the world and the problems we face today.  Our kits will help you have an effective and applicable study even if you have missed previous chapters in the curriculum.  Keep reading to learn more about what is in this kit.
STUDY PAGES
Our most popular items and the foundation of each weekly kit are our Study Pages.  These pages offer in-depth and applicable commentary about the chapters being covered in the curriculum that week.  These pages also offer great discussion questions to use with your family or class, great quotes, and great tips.  These pages are what will help your Come, Follow Me efforts be worth your time.  The knowledge you will gain by studying the Book of Mormon in-depth instead of just simply reading it or just doing activities and object lessons will be invaluable to you as you decide what your family and children need to learn.  We do not create any of the activities for children until our Study Pages are complete so that they coincide perfectly with what you have just studied in detail.  This will give you confidence and the ability to have meaningful discussions with your family about the curriculum being covered.  Our Study Pages are there to assist you in your efforts in doing this.
ACTIVITY PAGES
Our Activity Pages are where you are able to confidently apply your efforts you put into your in-depth study with the Study Pages into teaching your children.  We provide various tools, activities, handouts, etc. to help your children learn the Gospel and to apply the Book of Mormon to themselves.  Each week there are core items that have been proven to be effective and popular that are in each kit every week, and then there are other items that are applicable specifically to just that kit.  Each week there are new things you can choose from to keep things interesting for your children.  The above images show just two of the core items you will always find in each kit:  the Illustrated Stories (Bedtime Stories) and the Collectible Cards.  The Bedtime Stories are designed for those times that you may not have much time to prepare for your lessons.  Simply print them at the start of the week and use them for a quick and effective 5-minute lesson as part of bedtime each night or as part of your official study time as a family.  These are illustrated and written in a way easy for young children to understand.  Each story has great discussion questions for younger and older children to help you lead a discussion with them as you study.
The Collective Cards are a fun way to create excitement for your children in doing Come, Follow Me.  Each card has a colorful and fun illustration on the front and questions on the back.  When your child answers the questions on the back of each card, they earn that card.  They add to their collection throughout the year each week as they do Come, Follow Me and study their scriptures.  They print the same size as a traditional trading card so you can keep them in clear trading card sleeves in a binder.  These are also a great way for parents to review.  Just pick a random card and see if your child can remember and tell you the story in the illustration.  Below are some more activities that you will find in our Alma 30-31 kit.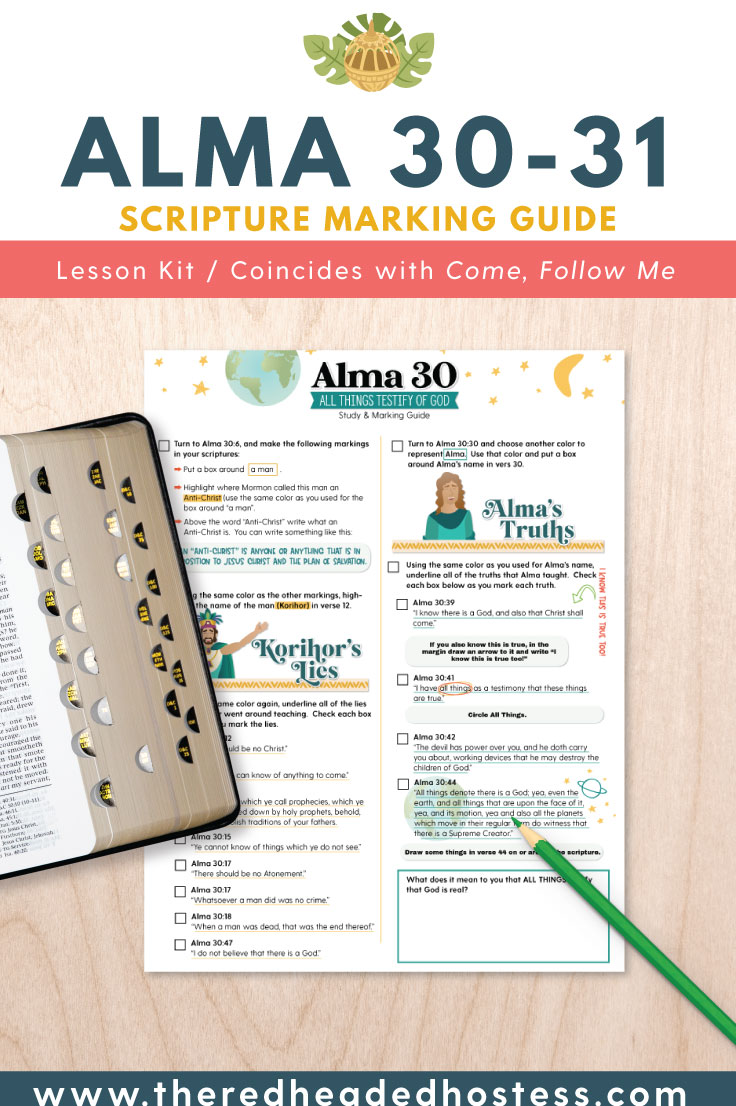 Our Scripture Marking Guide for kids is another core item always included in each kit.  These are a great way to get your children into the actual scriptures.  These will walk your child through step-by-step in finding doctrines, principles, and marking them in their scriptures.  These will teach valuable scripture study skills that will be used throughout your child's entire life.  If your child can read, then they can do these guides or help younger siblings who are still learning to read do the guide in their scriptures as well.
HOW TO USE OUR WEEKLY KITS
Our kits offer many different options for you to choose from but they are still easy to use and organized in a way to help you choose what you think is best for you and your family.  Here is how we recommend you use our kits:
 Login to your account and download the Study Pages file and the Activity Pages file each week.
Read and study your scriptures each week in detail using our Study Pages.  These will give you a great foundation on what is being covered and give you great talking points which will help you teach your children.  Nothing can replace an in-depth study of the scriptures.
Open the Activity Pages file and glance through the first 6-8 pages. These first pages outline, in simple and easy-to-understand pictures and instructions everything in the file.  Each item has an age group designation/recommendation next to it.  Just click the hyperlink next to the item you want to print and then print that item.  Printing only the items you think are best for your family instead of the entire kit will save on ink and paper.  Each kit has more things than you will able to use in a week's time, so picking and choosing certain things will give you a manageable amount of content to use.
HOW TO GET OUR WEEKLY KITS
Our kits are easy to get with two options to choose from.  You can purchase each kit individually as needed  for $4.00 each or you can subscribe for $10.00 a month.  The subscription gets the average price per kit down to 2.50 each and is our most popular option.  Click the image below to learn more about how our subscription works and to learn more about the differences between buying individually vs. subscribing.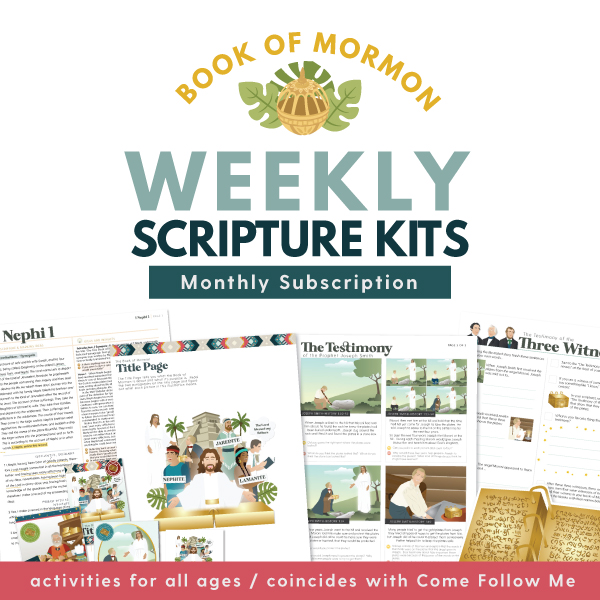 SUBSCRIPTION BONUSES
We love to give our subscribers value!  In addition to all of these great items already described in this article, we offer many free bonus files in our subscription.  There is an entire section for "bonus files" in the subscription full of popular things for free that would otherwise need to be purchased individually.
One bonus we offer for free is a streaming video series called "Drawn In" produced by David Bowman.  These are fun videos for the entire family and are a good way to supplement your personal and family study.  Click the image below to learn more about "Drawn In".