Book of Mormon: Ether 6-11
ETHER 6-11
The Come, Follow Me curriculum for The Book of Mormon is now covering Ether chapters 6-11.  If I could beg everyone to read the Book of Ether, I would.  In fact – I am.  Please read this book.  It is a miracle that we have this book to guide us.  We usually focus on the story of the brother of Jared.  But this time, I really noticed what Moroni was doing with the rest of the book.  Have you ever wondered why we get a history of the royal Jaredite line?  Moroni focuses on the kings and the struggle for power.
This is why…
The Lord sent the Jaredites to a choice land (see Ether 2:8), and the Lord gave very specific instructions for those who live on that land (the Americas).  When the Jaredites failed to live up to this decree of God, they destroyed themselves.  Then the Lord sent a new people to the land (Lehi's family).  And they also failed to live up to the decree.
Now it is our story.  And Moroni had seen our day (see Mormon 8:35).  He knew exactly what to focus on in the Book of Ether.  He knew what to warn us about, and it is in this book.
As you study Ether, you will become more wise.  What a gift the Book of Ether is!
THE RED HEADED HOSTESS
The Red Headed Hostess specializes in providing resources to help you more effectively study and teach the scriptures.  We provide weekly kits that coincide with the Come, Follow Me Curriculum from The Church of Jesus Christ of Latter-day Saints specifically focusing on the Come, Follow Me for Individuals and Families manual which is supposed to be done at home.  Since our kits offer so many options to choose from, they are also popular among Primary teachers, Seminary teachers, Sunday School teachers, and Gospel Doctrine teachers.
Each kit offers resources for adults to use during personal scripture study and then also resources for children to help parents effectively teach what they have been studying on their own.
Our staff is made up of professionally trained current and retired full-time Seminary and Institute teachers. Each kit has a combined average of 150 hours each put into creating it.  From the professional commentary for adults to the amazing illustrations and tools for children, you can be confident that you are getting a high quality resource to study and teach the scriptures.  Studying and learning the scriptures takes effort and our kits will help you make the most of your efforts.  See some of the items below that are found in the Ether 6-11 kit.
How to help LDS primary children be engaged?
STUDY PAGES
Our Study Pages are the resource that we provide for adults and also teens.  These are unique to The Red Headed Hostess and make our Come, Follow Me resources one-of-a-kind.  These pages include relevant commentary to our world today.  They also include quotes, tips, scripture marking suggestions, and great discussion questions that you could use in your family study or if you are teaching a class.
These are the foundation of every kit we make, and all other activities and resources we provide for children coincide with what is in the Study Pages so that parents can gain the knowledge to confidently teach their children the important doctrine and principles being covered in the chapters studied.  Our Study Pages are the most popular resource we offer.  Even those who no longer have kids at home to use all of the other resources with still subscribe to get access to these unique Study Pages.
ACTIVITY PAGES
The other portion of our weekly kits is our Activity Pages which are for kids of all ages.  Perfect for LDS primary kids! There will also often be useful things that help adults learn as well, even though they may be illustrated for a younger age.  Visual learners of all ages will like many of the activities we provide.
Each week, there are things in the Activity Pages that will be found in every kit.  Then there will always be things specific to the chapters being studied.  Some of the popular items found every week in each kit are our Scripture Marking Guide for LDS Primary Kids, Illustrated Stories (Bedtime Stories), Collectible Cards, Scripture Glue-Ins, Scripture Art Print, and Coloring Pages.  See images of all of these items in the Ether 6-11 kit below.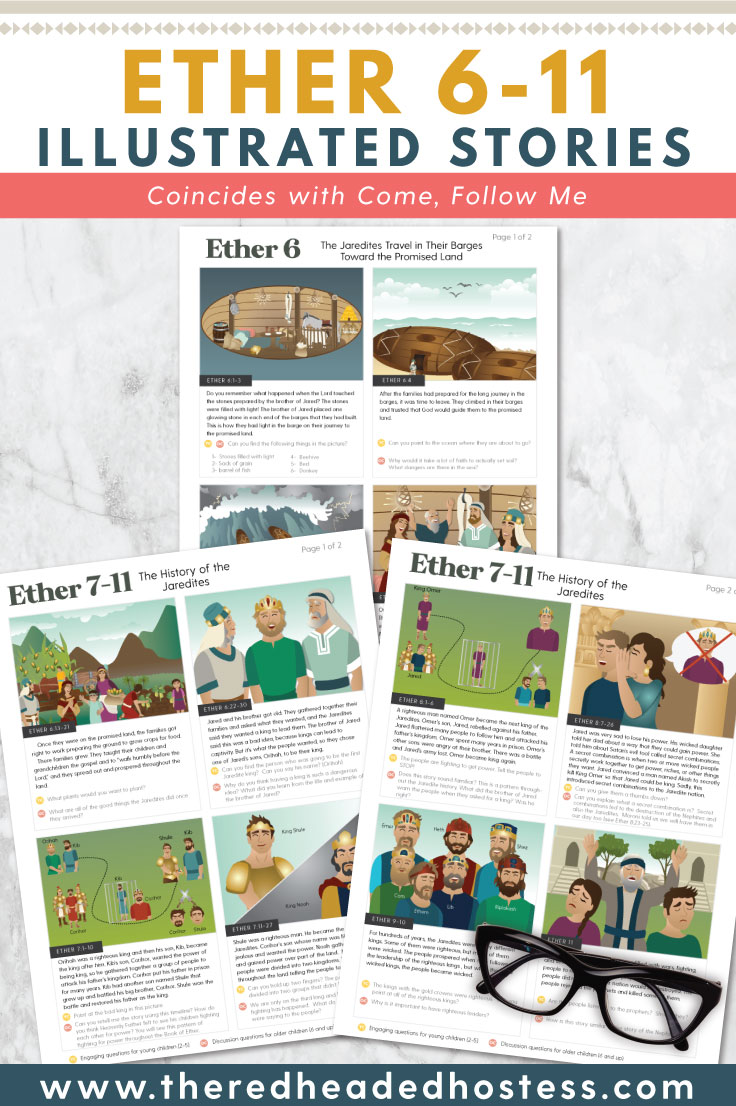 Illustrated Stories
Included for every chapter. These Illustrated Stories can be printed or used on an iPad or tablet.  Easy-to-understand for kids captions explain the story in each illustration.  Followed by great discussion questions parents can use with their children.  Use these for a quick 5-minute lesson or as part of your more dedicated scripture study.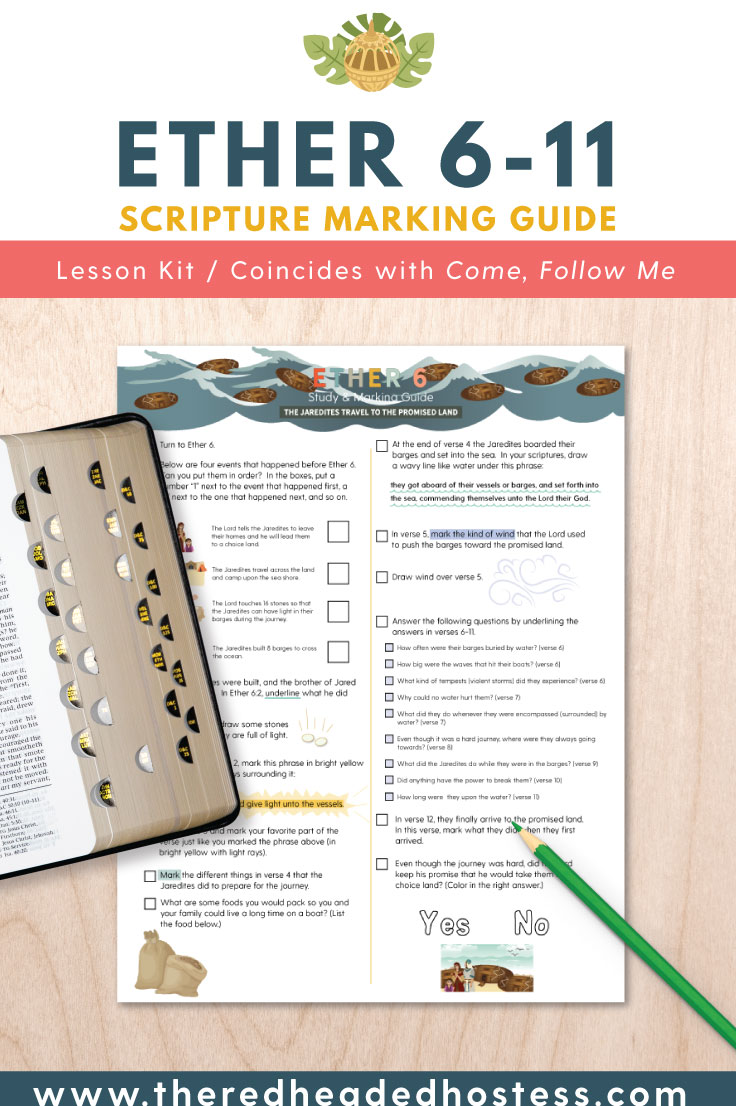 Scripture Marking Guide for Kids
Each week, the Marking Guide for kids will walk your children step-by-step in learning doctrine, principles, and in effectively studying their scriptures.  These are designed to get your children directly into their actual scriptures.  Parents just need to print the page.  If your child can read, then they can do our marking guides or help a younger sibling still learning to read mark their scriptures as well.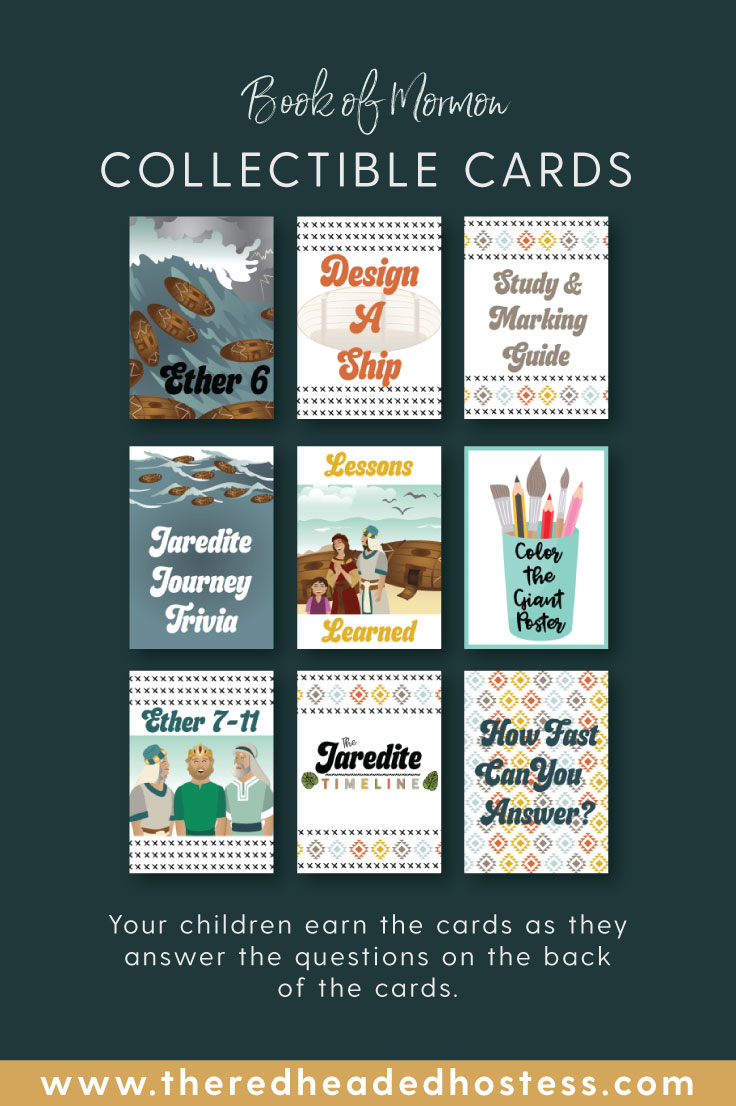 Collectible Cards
Each week, there are a set of Collectible Cards.  Each card has an illustration on the front and questions or an activity on the back.  By completing the back, your child can earn that card.  Keep them in clear trading card sleeves and as your child fills up a sleeve of cards, you can create a reward program to help them always look forward to doing Come, Follow Me and studying the scriptures.
HOW TO GET OUR WEEKLY SCRIPTURE KITS
We have two options for you to choose from when you want to get our weekly kits, both options offering a ton of value considering all the items you get in just a single kit.  Option one is to purchase each kit individually as needed for $4.00 each.  With an average of 40-60 pages per kit of great material to choose from, there is great value in that option.  Option two, and the more popular option, is to subscribe to our weekly kits.  There is even more value in this option.  The price is $10.00 a month which gets the average price per kit down to slightly below $2.50 each.  Plus there are bonuses that subscribers get.  Click the image below to learn more about how our subscription works and to sign up.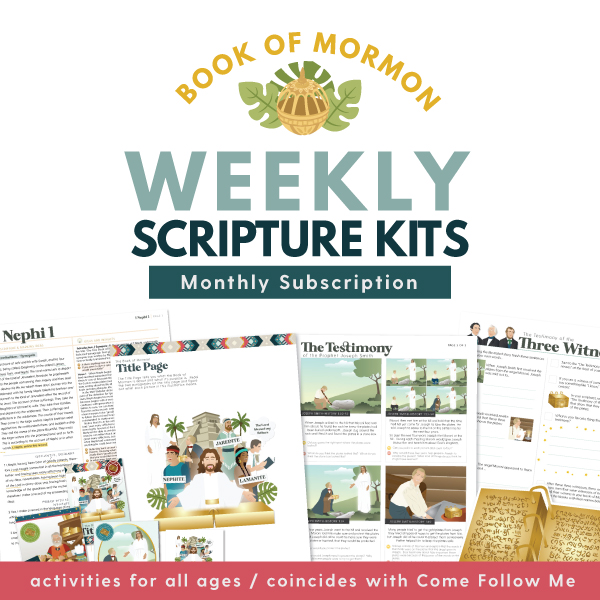 SUBSCRIPTION BONUSES
For subscribers, there is a section in your account for free bonus files.  Things are added throughout the year.  Things like downloadable study booklets, General Conference resources, scripture marking resources, and more are examples of things you will find for free.  Some of the items you would otherwise have to purchase individually from the website and other items are made specific for subscribers and are not even available to anyone else.
One bonus for subscribers only is a streaming video series called "Drawn In" by David Bowman.  These are great videos for LDS primary kids and for the whole family to supplement your family scripture study and Come, Follow Me.  You can learn more about this free bonus by clicking the image below.
Click HERE for an adult Book of Mormon Study Guide.