Come, Follow Me – Book of Mormon: 3 Nephi 20-26
Come, Follow Me Book of Mormon is now covering 3 Nephi 20-26.  In these chapters, Christ is on day two of ministering to and teaching the Nephites.  One of the main things that Christ teaches in these chapters is about the gathering of Israel.  We learn our role in these latter-days in gathering Israel and why it is a main focus for Christ's restored Church.  Prophecy in scripture taught by Isaiah, Christ, and others is literally being fulfilled right now and we can all be a key part of it.  There is some key doctrine taught in these chapters that must be understood by members of the Church today.
Here at 'The Red Headed Hostess', we specialize in creating material that will help you improve your personal scripture study and provide tools that will help you teach your family the scriptures.  Our staff is made up of current and retired professional full-time seminary and institute teachers who have had many years of training on how to effectively study and teach the Gospel.  Coming with over 10 years in business creating study and teaching aids, you can be confident that our material is effective and full of value.
Our weekly kits coincide with the Come, Follow Me schedule from The Church of Jesus Christ of Latter-day Saints and are geared to toward use with the Come, Follow Me for Individuals and Families manual used for your at-home study.  However, each kit offers a lot of options so they are also popular among Sunday School teachers, Primary teachers, Gospel Doctrine teachers and Seminary teachers.  Each kit literally has something for everyone from adults to young children.  We are unique in what we offer.  Keep reading to see what is included in the 3 Nephi 20-26 kit and to get a good idea of what you get each week when using our material.
STUDY PAGES
Each week for adults, and also good for teens, are our Study Pages.  These are priceless and the most popular item we have in our weekly kits.  They are meant to be used as part of your personal scripture study.  Our Study Pages are the foundation of every kit we make.  We do not make any of the other activities or items until the Study Pages are done so that the activities correlate perfectly with what you have been studying in-depth as part of your personal scripture study.
Each page has the scripture text with suggested scripture markings in the left column and in the right column, there are in-depth commentary, quotes, insights, tips and great discussion questions perfect for your family or class.  The commentary is relevant to today and will help you apply the scriptures to your everyday life.  Many of our subscribers, who no longer have kids at home, still subscribe to get access to our Study Pages.  Even if the Study Pages are all you use out of our kits, the low cost and high reward still make our kits a great value.  Getting into the actual scriptures cannot be replaced by other things and paying that price will yield blessings and knowledge that cannot be obtained any other way.
ACTIVITY PAGES
Once you have studied our Study Pages, you will find helpful and effective items to help you teach your children.  Each kit has many options for activities, always more than you will likely have time to use.  That is purposeful.  We want to provide you with a lot of options and then you as the parent can pick and choose what you think will work best for your children instead of us only offering one or two things and therefore dictating what you do as a family.  You may find that you pick and choose the same items each week since they work for your routine.  Other weeks you may find something unique to include in your study that week.  See below some of our popular things included each week and some unique things to the 3 Nephi 20-26 kit.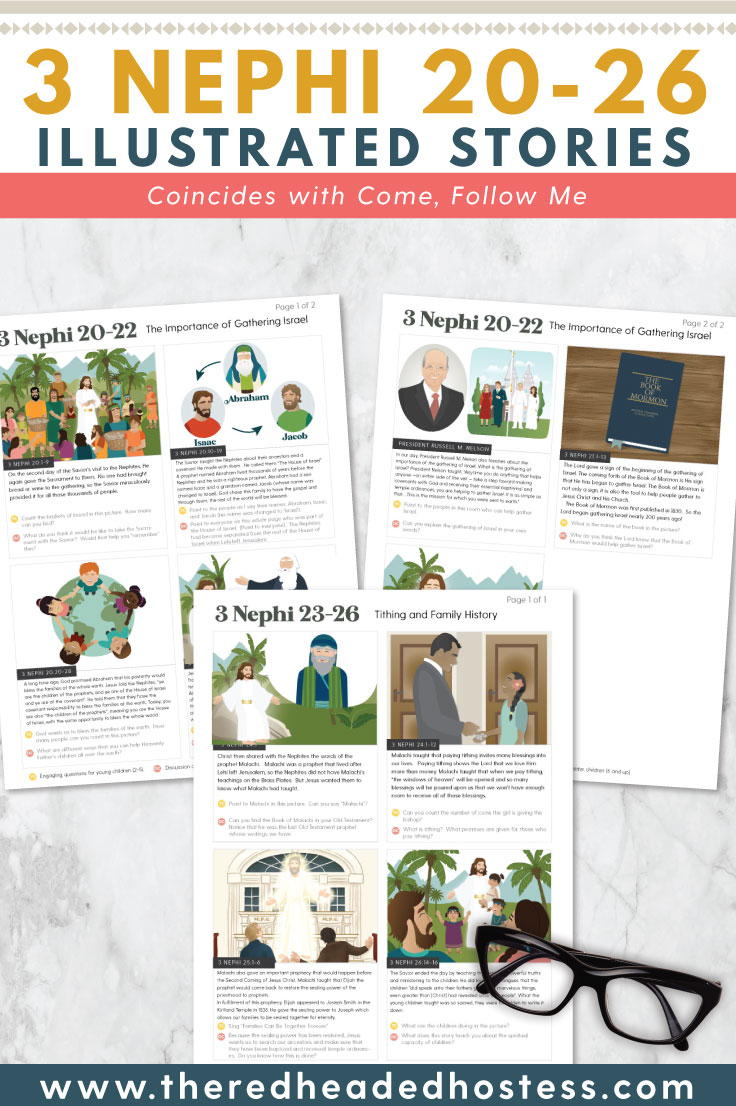 ILLUSTRATED STORIES
Our Illustrated Stories, which we call "Bedtime Stories," are one of our most popular things in the Activity Pages file.  They are popular because they are easy to use and versatile.  Print them or use them on a tablet.  Keep them by your child's bedside for a quick nightly lesson, or use them as part of a more official or dedicated Come, Follow Me study.  Each story has an illustration and a simple, easy-to-understand for young children, caption explaining the illustration above.  Also included are great discussion questions for older and younger children.
SCRIPTURE MARKING GUIDE FOR KIDS
Another very popular item included in every weekly come follow me kit is our Scripture Marking Guide for Kids.  These are popular because they are low-prep for Mom and Dad but highly effective for kids.  Just print the guide and hand it to your child.  The guide will walk them through step-by-step in marking, studying, and applying important doctrines and principles in their scriptures.  If your child can read, they can do this marking guide or help a younger sibling who is still learning to read.
The below items are more things found in this kit.  Some items are included every week and some things are specific to the chapters being covered in 3 Nephi 20-26.
HOW TO GET OUR WEEKLY KITS
It is simple to get access to our weekly come follow me kits with two options available.  With 40-60 pages on average in each kit of high quality material, either option offers great value.  The first option is you could purchase each kit individually as needed for $4.00 each from THIS section.  The other option and the more popular option is to subscribe monthly for $10.00 a month.  This gets the average price per kit down to slightly below $2.50 each and comes with many subscription-specific bonuses.  See more below about bonuses.  Read more about how our subscription works and sign up by clicking the image below.  Don't forget to apply code 50off in your shopping cart to get your first month for only $5.00.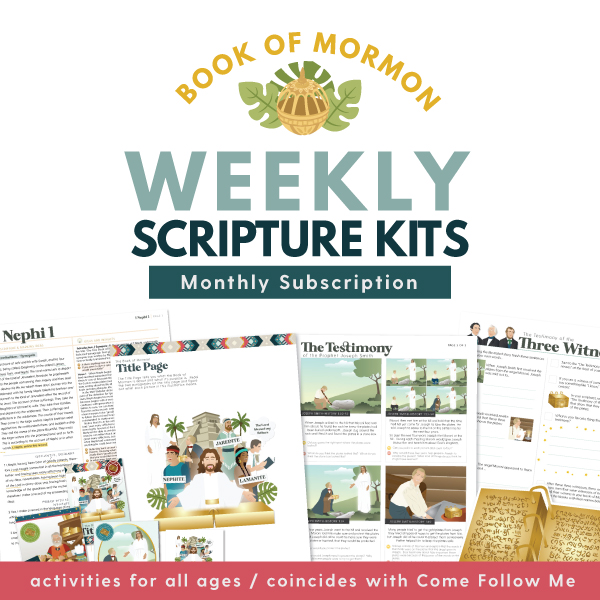 SUBSCRIPTION BONUSES
We strive to give our subscribers added value whenever we can.  One way we do that is bonus files.  In the subscription is an entire section dedicated to free bonus files.  We have things in that section that are specific only to the subscription or popular items found on our website that would otherwise need to be purchased individually.  We recently had some popular files as subscription bonuses related to General Conference.
One popular bonus we offer subscribers for free is a streaming video series called "Drawn In" by David Bowman.  These are great videos to supplement and reinforce what you have been studying throughout the week.  They are created for kids but the entire family will be entertained by them.  They offer a great variety to your study.  See more about "Drawn In" by clicking the image below.