Doctrine and Covenants – Come Follow Me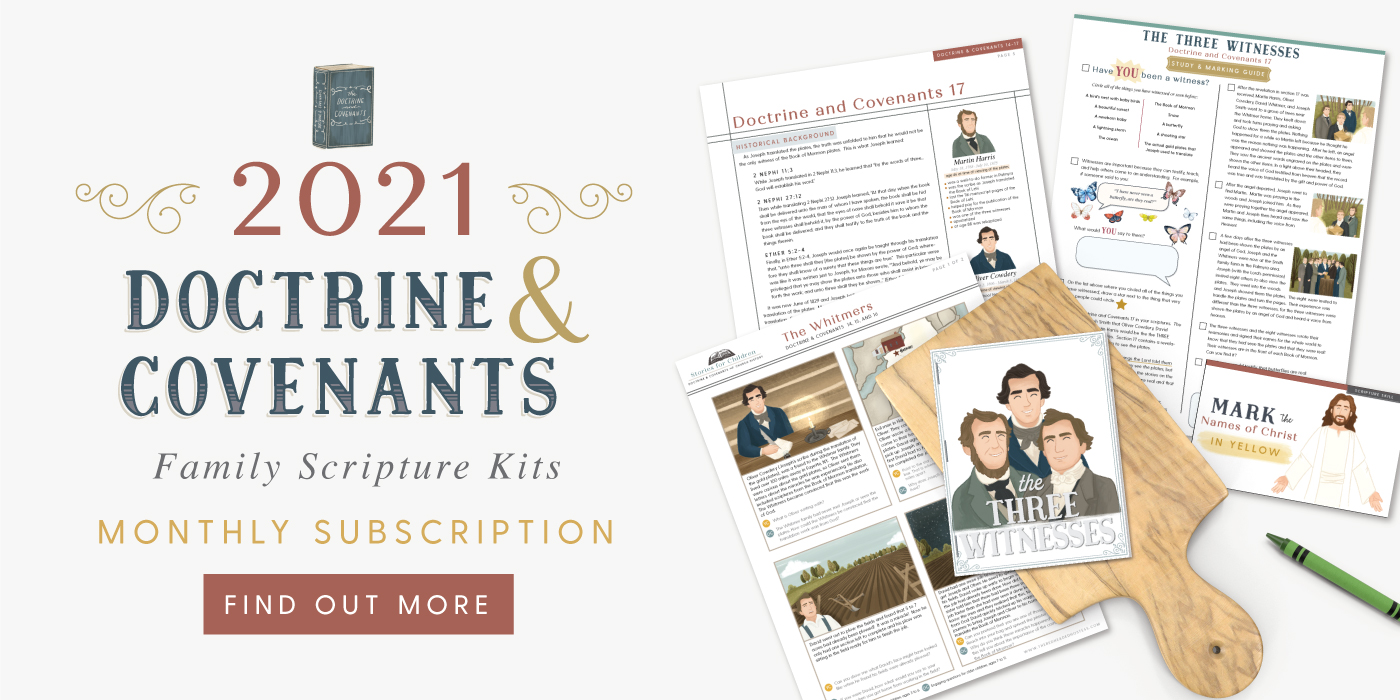 We are so happy to introduce our Doctrine and Covenants weekly kits.  Each weekly kit we create has items specifically created for all ages.  The Study Pages are for adults and teens, and then there are activities for teens, older children, and younger children.  This resource literally has something for everyone of any age for your individual and family study of The Doctrine and Covenants.  It is easy to download each kit from your account.  Then, each kit is organized by age group to help you easily find and print the items you want to use.  Our customers constantly provide great feedback about how they love that each kit has something for everyone in their family all in one convenient place.
Each kit follows the weekly schedule from the Come, Follow Me Curriculum provided by The Church of Jesus Christ of Latter-day Saints so you can easily integrate these helpful resources into your weekly Come, Follow Me routine.  Our weekly kits have also become popular among Primary teachers, Sunday School teachers, Gospel Doctrine teachers, and Seminary teachers.  Since each kit provides things for all ages, teachers of any age can find items to help them in their responsibilities.  The Study Pages are especially helpful for Seminary and Gospel Doctrine teachers as a resource to help them in their lesson preparation.
One Subscription…something for EVERYONE!
 Our weekly kits subscription is simple because with just a single kit, you will have study and activity options for all ages within your family.  Instead of offering and charging for each individual item in our weekly kits, we give you EVERYTHING we have available for the price you would have paid for less than a single item.  Then you get to decide what is best to use with your family or personal study.
At $10.00 a month, each kit averages to a cost of $2.50 each.  Plus the subscription offers free bonus files and free "Drawn In" videos that supplement our main study material.  If you don't want to subscribe and only want to purchase a kit as needed, each kit is available for individual purchase for $4.00 each.  With 30-50 pages on average of professional content each week, either payment option offers great value.
*Our subscription covers whatever the current Come, Follow Me Curriculum is.  It will automatically switch to the new curriculum at the start of each new year.  Just keep your account active to always receive the current kits.
Study Pages…the foundation of every kit.
If you are looking for a meaningful, relevant, and applicable study of the Doctrine and Covenants, then you will love the Study Pages provided in each kit.  The Study Pages are our most popular item and many of our subscribers use our service just to have access to these pages.  These pages include:
-Commentary
-Insights
-Historical Background
-Quotes
-Discussion Questions
-Marking Suggestions
*Created for adults and they are also perfect for teens.
Seminary teachers, Institute teachers, and various Church History experts contribute to the content in these study pages and in our other activities.  Our staff has many years of combined professional experience in teaching the scriptures and we are committed to offering you top-notch and helpful material.
for TEENS
Each kit offers various items for teens.  Some things you will find are:
-Infographics
-Quizzes
-Note Pages
-Scripture Glue-Ins and marking activities
-Scripture Stickers
-Goal Tracking
-Study pages for Recommended Talks
for OLDER CHILDREN (7-12)
Every kit offers plenty of fun and useful items for older children.  Some of the things included are:
-Illustrated Stories (every week)
-Scripture Marking Guide for Children (every week)
-Fun and unique games based on what is being studied that week
-Other section-specific activities
*Each week provides new and unique activities so that there is always something new to experience.
for YOUNGER CHILDREN (2-6)
Even your youngest children can learn and contribute to family scripture study.  Common items you will find are:
-Illustrated Stories (every week)
-Puzzles
-Printable booklets
-Flannel board stories
-Coloring Pages
-and much more!
*There is a variety of age appropriate activities to choose from, each week offering new and exciting ideas.
Collectible Coin Reward System
(only for subscribers)
Offered in the subscription bonus section is the Collectible Coins reward system complete with instructions about how to make them.  Print back-to-back.  The front of each coin teaches about the sections your children are studying that week.   The back of each coin is something from the 1800s.  Each week they will collect a coin about food, occupation, an item, an activity, and an animal from that region.  Each week offers 5 coins your child can earn.
You decide how to use the reward system.  For example:
-One child may need to read the section on their own to earn three coins and give a short family lesson to earn the other two.
-A small child may need to do a single activity from the kit to earn all five coins.
-Another child may need to do one study activity for every coin they earn.
The program is completely flexible and you can decide how your children earn their coins.
See each kit below
To learn more about our weekly kits subscription, click HERE to go to the signup page.  To purchase kits individually, click each link below to go to the product page and learn more about the specifics of each kit.  Kits are created as the year progresses so the below section will get added to as kits are completed.