Basic Doctrines Posters and Study Cards-The Red Headed Hostess

These posters and study cards are really great study and teaching aids for your family or class!
Seminaries and Institutes have identified 26 "basic doctrines" that are essential for us to understand.  You can find them HERE.   They are very similar to the doctrines taught in the Come Follow Me Curriculum.   These printables would be excellent for seminary classrooms, family and personal study!
(By the way… we have some basic doctrines study pages, quizzes and tests coming out soon – as well as scripture mastery quizzes and tests!)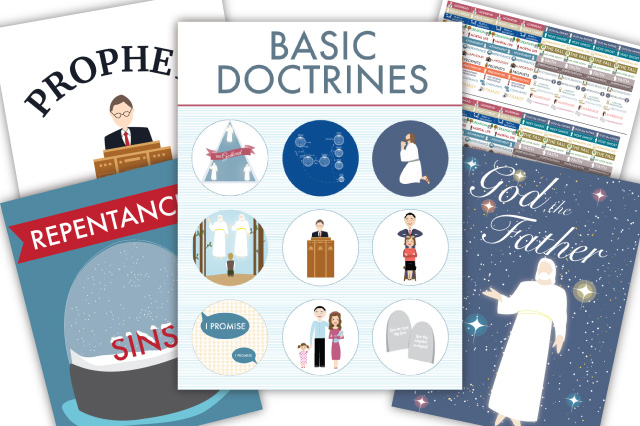 There are 2 packages you can choose from (package 1, package 2, or we have a combo package.
The picture above show you some of what you get in package #1 has 27 printable posters for the 26 doctrines (plus a "basic doctrines" poster) and scripture stickers.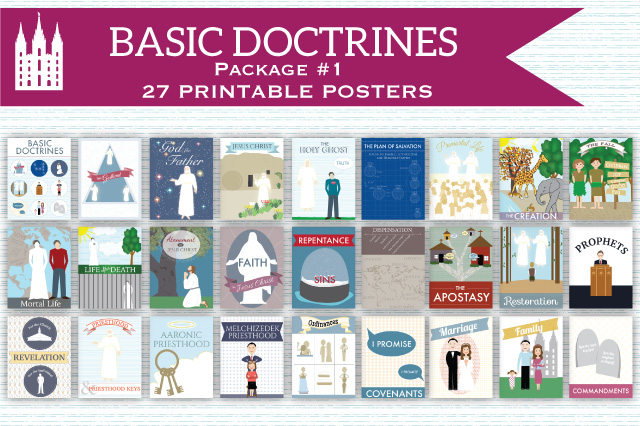 Each poster prints onto an 8 1/2 x 11 piece of paper.  Each picture teaches something about the doctrine (figure it out by reading the basic doctrine descriptions)!
The stickers are sized to fit in the margins of your scriptures.  Just print them onto sticker paper or full size label sheets.  3 sets print onto one sheet, and each set has 4 stickers for each doctrine.
Here are some Ideas on how to use these posters and stickers:
FOR THE HOME:
As you study the scriptures as a family, encourage your children to look for scriptures that teach about these doctrines.  When one is identified, add the sticker into the margin.
Pre-read a chapter and identify some doctrines taught before your family reads a chapter together.  Give your children the stickers with some of the doctrines taught in that chapter and have them listen and look for those doctrines.  When they identify the doctrine and verse, add the sticker to their scriptures.
Pick a doctrine to focus on for Family Home Evening for a specific amount of time (like 1 month or a few weeks).  Put the poster up somewhere in your home.  As you learn about the doctrine, have your children add important facts onto the back of the poster.
Pick a doctrine to study about.  Give each child a poster with that doctrine on it.  Encourage them to study that doctrine (using the scriptures, True to the Faith, lds.org, etc.) Have them fill in the back with everything they can find.  Come together and teach each other from your posters.
FOR THE CLASSROOM:
Use these posters as room decor.
As these topics come up in lessons, take the poster off the wall and put it on the board.  List things on the board that you learn about that doctrine and encourage the students to write those things in their seminary journals.  When the list is complete, have a student write the things on the board on the back of the poster.  Put the poster back on the wall.  You can then pull the posters off the wall and use them for review activities or quizzes.
Give each student a set of scripture stickers and a baggy (3 sets print onto 1 piece of sticker paper, each student will have 4 stickers for each doctrine).  Have the students cut up the stickers and put them in the baggy.  You can then have them find scriptures about each doctrine and place them into their scriptures, or you can divide up the doctrines among the students and have them find 4 good scriptures about their doctrine and lead the class in where to put them in their scriptures.  (I used to play talks in the background while my students worked on stuff like this – I would pick up good fireside talks at Deseret Book from John Bytheway, Hank Smith, John Hilton III, etc.)
Use some of the activities in "for the home" as group activities.
This package has basic doctrines scripture cards that can be used for study or activities.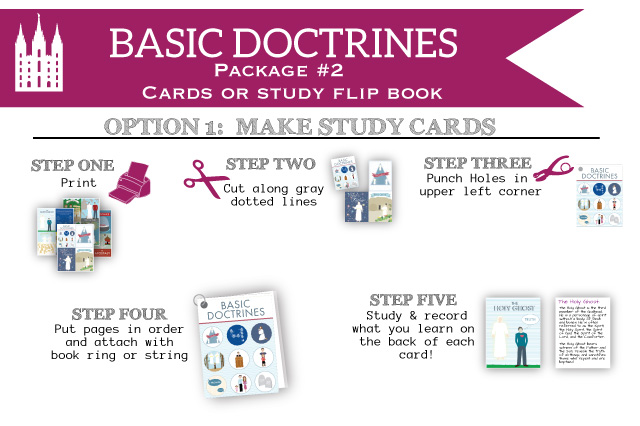 One option with this set is to make study cards for each person.  Everyone can record what they learn about that doctrine on the back of each card.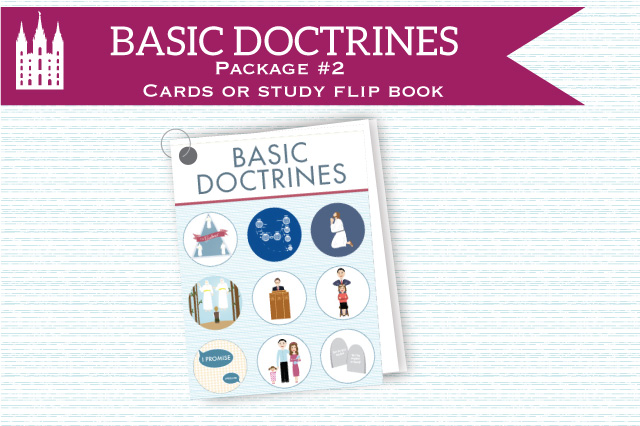 You can then have booklets like this filled with information about each doctrine!
The cards in this package come in 2 sizes (you get both in the package) so you can choose which one best fits your needs.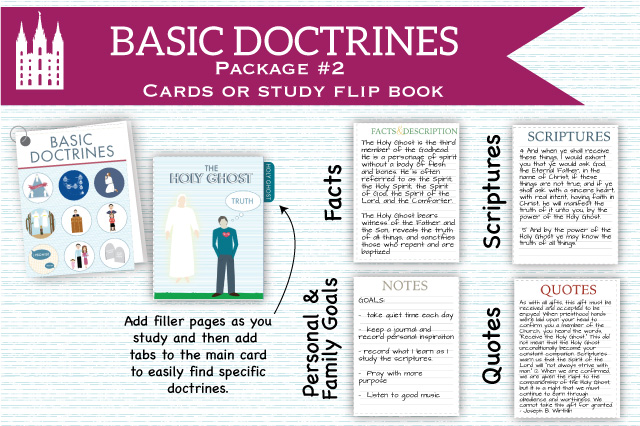 The set also comes with filler cards and tabs.  So if you want to do more than just write on the back of each card you can really fill up your booklet by filling it with quotes, scriptures, goals, etc.!
Here are some ideas on how to use these cards:
FOR THE HOME:
Print a set for each person in the family and encourage everyone to study the doctrines and write what they learn on the back (lds.org, True to the Faith, and Preach My Gospel, and the Bible Dictionary are excellent resources).

Make a family set and study each doctrine.  Decide on family goals that will help live principles you discuss associated with the doctrines.  Record those goals on the back.

Study each doctrine for Family Home Evening.  Fill everyone's set of cards with quotes, scriptures, etc. These can be excellent resources in their future.

Study the latest General Conference talk.  Look for teachings about these specific doctrines.  Record the quotes on the back of each card.

Use as cards to teach your young children and toddlers these important words and concepts
Print a set for each youth.  Encourage them to fill their sets of cards with scriptures, facts, quotes, etc.  Have YW display them at Young Women In Excellence.
Use for class or combined activities (see activities below)
Make a set for each student and punch holes and attach with a book ring.  Have them study each doctrine using True to the Faith and other resources.  Tell them that you will have some future tests and quizzes that (at times) you will allow them to use their cards.  So, whatever they have on their cards they get to use on the test or quiz.
Make a set for each student and punch holes in corners and add ring.   Have them add facts they learn about each doctrine as you study the scriptures throughout the year.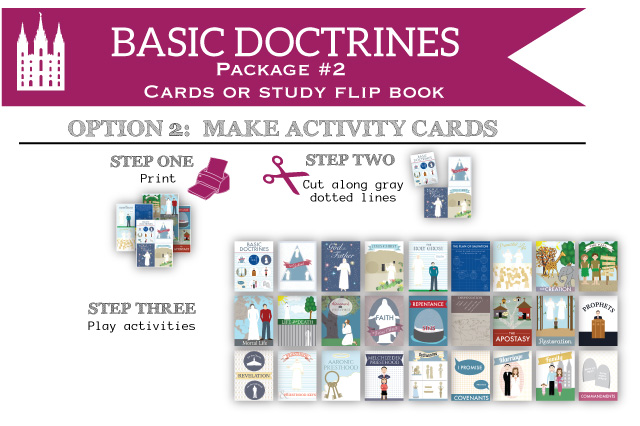 A second option with this same set is to make sets of basic doctrine cards and use them for family or class activities.
Just make several activity sets (a full set is one of each card).  Adapt these scripture mastery activities with basic doctrines.  For example on the "beat your neighbor" activity, rather than a key phrase, you may say a fact about that doctrine.  So, you may say "the sacrament is an example of this" and they would grab the "ordinance" card.
You can find these packages here: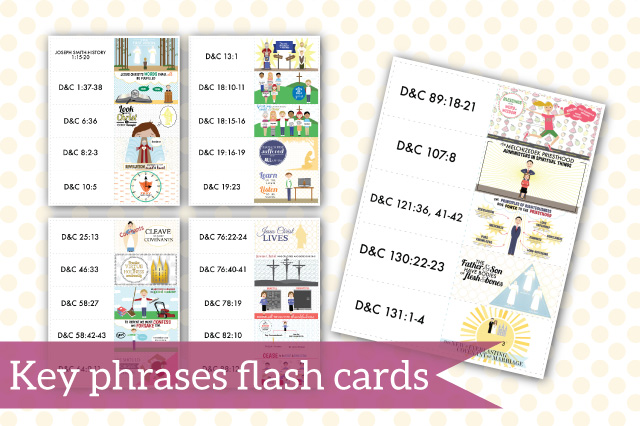 Also – check out our Doctrine & Covenants scripture mastery cards  
HERE
!