Book of Mormon: Come Follow Me Alma 13-16
f
This weekly kit from The Red Headed Hostess for Come Follow Me Alma 13-16 is full of great things to choose from to use with your personal and family study for Come, Follow Me.  The weekly kits from The Red Headed Hostess coincide with the Come, Follow Me curriculum from The Church of Jesus Christ of Latter-day Saints.  They are designed to be used with the Come, Follow Me for Individuals and Families manual, but these kits are also very popular among teachers using the Come, Follow Me Sunday School and Primary manuals as well.
Come Follow Me Alma 13-16
Alma's words in Come Follow Me Alma 13-16 are a powerful revelation about God's priesthood power and its purpose: preparing us to enter into the glorious "rest of the Lord," which is nothing less than eternal life itself.  Our weekly kits are designed to supplement your study of the scriptures and to assist you in your Come, Follow Me efforts with your family.  Each kit offers something for everyone, from adults to young children.
Our team of professional, current, and retired seminary and institute teachers is responsible for creating out kits. With over a decade of experience in the industry, you can trust that you are receiving high-quality and effective study and teaching aids. Each weekly kit is available in PDF format, providing flexibility for customizing your usage from each kit. Simply review the kit's outline and select the items you wish to print. Each kit offers numerous options, likely more than you can utilize in a single week. By choosing and printing only the items that best suit your needs, you can save on ink and paper while tailoring your materials to your family's preferences. As you begin using our kits, you'll quickly discover a treasure trove of valuable content available at a very affordable price. For more details about the contents of the Come Follow Me Alma 13-16 kit, please see below.
How to Teach Come Follow Me Alma 13-16
STUDY PAGES
The portion of each weekly kit that is for adults and teens is the Study Pages. We recommend using Study pages every week. They are the most important and popular part of our weekly kits.  We have many reviews from people who love these Study Pages and how they have improved their scripture study.
These pages contain the scripture text in the left column and in the right column they have commentary, quotes, tips, and great discussion questions.  These pages are very popular among Gospel Doctrine and Sunday School teachers. This is because they provide relevant commentary to today and the great discussion questions provided.  They are designed to turn Mom and Dad into experts on what's being studied so that they can then teach their families effectively and with confidence.  Even many empty nesters with no kids at home subscribe to our weekly kits just to have access to these Study Pages.  Our prices are so low, especially if you subscribe, that even if you just use one item out of each kit, it will still be worth the cost.
ACTIVITY PAGES
After we complete the Study Pages for the kit, we then create various activities for all ages in our Activity Pages download.  These align perfectly with the Study Pages since we created them after the Study Pages. Each week, we have many of the same items in the Activity Pages that have proven to be very popular and helpful, and then we also have unique things for each kit so that your family always has new things to choose from.
Bedtime Stories & Collectible Cards
The two images above feature items included in every kit: The Illustrated Stories (Bedtime Stories) and the Collectible Cards. These items can be used individually or in combination. The Illustrated Stories visually depict and provide simple explanations for kids, aligning with the chapters being covered. They also include engaging discussion questions suitable for both older and younger children. These materials are easy to print and perfect for quick 5-minute lessons at bedtime or during study time. The Collectible Cards offer a fantastic way to foster consistency in your children's Come, Follow Me study. Each card showcases an illustration on the front and questions on the back. By answering the questions on the back, your child earns that card and builds their collection throughout the year. The cards are designed to match the size of regular trading cards, this allows storage in clear trading card sleeves. Kids have thoroughly enjoyed expanding their collection each week, which gives them a strong sense of accomplishment.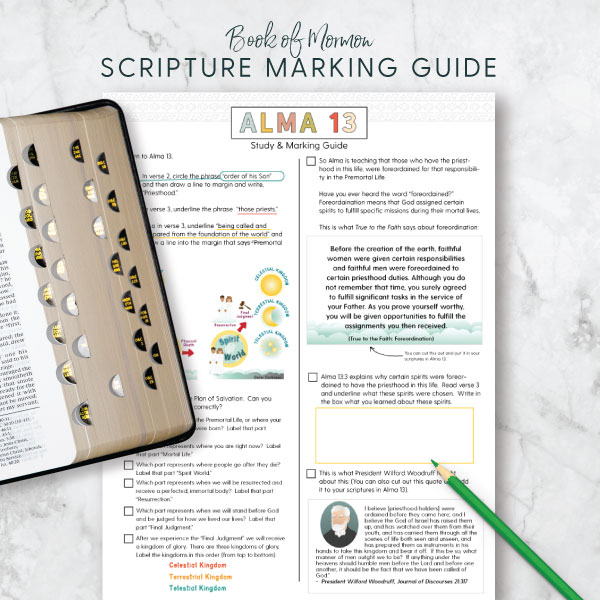 Scripture Marking Guide
Our Scripture Marking Guides for kids are invaluable additions to every kit. They're thoughtfully designed to immerse your children in their scriptures, facilitating the learning of crucial doctrines, principles, and study skills that will serve them throughout their lives. These guides are accessible to any child who can read, making them a versatile resource. Even if your child is too young or just beginning to read, Mom, Dad, or an older sibling can use these guides to introduce them to the scriptures. This is a great way to instill essential skills at an early age. It's important to emphasize that nothing can substitute for direct engagement with the scriptures. While object lessons, activities, and videos can be enjoyable supplements, the irreplaceable value lies in delving directly into the scriptures. The effort invested in studying the scriptures will invariably yield long-term rewards. If you've faced challenges in scripture study previously, our kits aim to enhance your family's scripture study experience, making it more effective and enjoyable.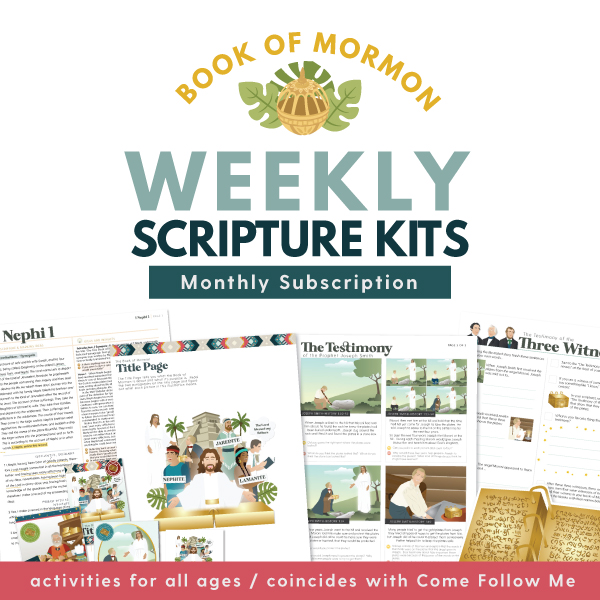 How to Get Our Come Follow Me Kits
You can get our weekly kits two different ways.  The most popular way is to subscribe monthly.  Click the image above to learn more about how our subscription works and determine if fits your needs. .  The other option is to purchase each kit individually as needed.  The cost of each kit when purchasing individually is $4.00 each.  If you subscribe, it is $10.00 a month which gets the average price per kit down to $2.50 each.  Each kit offers 40-60 pages  with many great things to choose from, either payment option is an incredible value.
SUBSCRIPTION BONUSES
We often add free files to our subscriber accounts as part of your subscription.  We have added page titles, printable booklets about various topics, posters, and more, all free to our subscribers.  One such free bonus is a streaming video series called "Drawn In" by David Bowman.  These are great supplemental videos to your main Come, Follow Me study and are entertaining for the entire family.  Click the image below to learn more about this free video series.
See our new video below about what you can expect in a weekly kit.  
Looking for more Come Follow Me resources?
Check out some more of our favorite posts that help to teach from the Book of Alma!