Book of Mormon: Come Follow Me Alma 17-22
Our weekly Come Follow Me kits have a variety of activities engaging for your family or class. This kit includes Come Follow Me Alma 17-22.
Come Follow Me Alma 17-22
The Red Headed Hostess strives to create professional, effective, and easy-to-use material each week that coincides with the Come, Follow Me Book of Mormon Curriculum from The Church of Jesus Christ of Latter-day Saints.  This page highlights the content in our Alma 17-22 weekly kit.  All of our weekly kits are meant to be used with the Come, Follow Me for Individuals and Families manual.  However, due to all the many options in each kit, our kits are also very popular among Sunday School, Gospel Doctrine, and Primary teachers to use alongside Come, Follow Me manuals. Additionally, they are a great tool for LDS family home evening lessons.
Every weekly kit we offer is a unique creation, meticulously crafted by a team of professional educators. This team includes both current and retired seminary and institute teachers who bring their expertise to ensure the quality of each kit. Within each kit, you'll find professionally written commentary and tips that cater to both adults and teens, enhancing the understanding and engagement of the scriptures.
More about our Weekly Kits
Moreover, each kit is brimming with a diverse array of activities meticulously crafted to engage both older and younger children. These activities are firmly grounded in scripture and geared towards immersing your family directly into the rich world of the scriptures. The kit's contents are tailored to accommodate various age groups within your family, usually encompassing 40 to 60 pages, depending on the chapters being covered.
To make your experience even more user-friendly, each kit comes with a detailed section explaining how to effectively utilize each activity. You can simply peruse this section and make informed choices about what to print and use. Opting to print select activities instead of the entire kit not only conserves ink and paper but also allows you to focus on what best suits your family's needs.
It's important to note that our intention in creating these kits is not for you to use every single item provided. Instead, we aim to offer a wealth of options, ensuring that you have the flexibility to pick and choose what aligns with your family's unique requirements and age groups. Each kit is carefully structured to cater to individuals of all ages, from adults to young children, simplifying the process of selecting the most suitable resources for your family. For a comprehensive overview of the contents of the Alma 17-22 weekly kit, please refer to the information provided on this page.
How to Teach Come Follow Me Alma 17-22
STUDY PAGES
Our Study Pages serve as the cornerstone of each weekly kit, providing a strong foundation for your personal study of the chapters featured in the Come, Follow Me curriculum for that particular week. Designed with a focus on adults and teens, these pages deliver expertly composed commentary, practical advice, enlightening insights, pertinent quotations, and engaging discussion questions that you can readily incorporate into your family or class setting.
In the kit's development process, all other activities are carefully crafted after the creation of the Study Pages. This deliberate sequencing ensures that the activities seamlessly complement the content you've been delving into during your personal study of The Book of Mormon. These Study Pages are specifically tailored to empower you with a comprehensive grasp of the chapters under consideration, enabling you to teach your family confidently and effectively. Additionally, they assist you in making informed choices among the various activities provided in the kit.
It's worth noting that these Study Pages enjoy immense popularity among Gospel Doctrine teachers, Seminary instructors, and Sunday School educators, making them our most sought-after resource. Many individuals choose to subscribe to our weekly kits primarily to access these highly regarded pages.
Come Follow Me Alma 17-22
ACTIVITY PAGES
The Activities in each of our weekly kits offer a lot of different options to choose from. Each kit always includes unique and new items. Some of our most popular items are featured in each kit every week. Each weekly kit will also have unique activities and study options based on what is happening in those specific chapters.  See below some of the items included in our Alma 17-22 kit.
Bedtime Stories
The Illustrated Stories (Bedtime Stories) and Collectible Cards are essential components found in every kit due to their immense popularity. Printing the Bedtime Stories at the beginning of each week is a breeze. You can keep them conveniently in your child's room for quick and effective 5-minute lessons each night, or incorporate them into your main Come, Follow Me study as a family. These stories not only illustrate each chapter but also provide simple, easy-to-understand explanations of each scripture story, making them accessible for young children. Additionally, they feature excellent discussion questions suitable for both older and younger kids. These resources offer an effortless and effective way to integrate scripture study into your routine consistently.
Collectible Cards
The Collectible Cards serve as another fantastic tool to engage your children and encourage their participation in Come, Follow Me. These cards are designed to be the same size as traditional trading cards, and you can store each one in clear trading card sleeves kept in a binder. The cards feature an illustration on the front and questions on the back. Your child can earn these cards by answering the questions on the back, and they can continue to build their collection throughout the year, fostering a sense of accomplishment. These cards also provide a great opportunity for parents to review past lessons by selecting cards from the collection and asking their child to describe what is happening in the illustrations.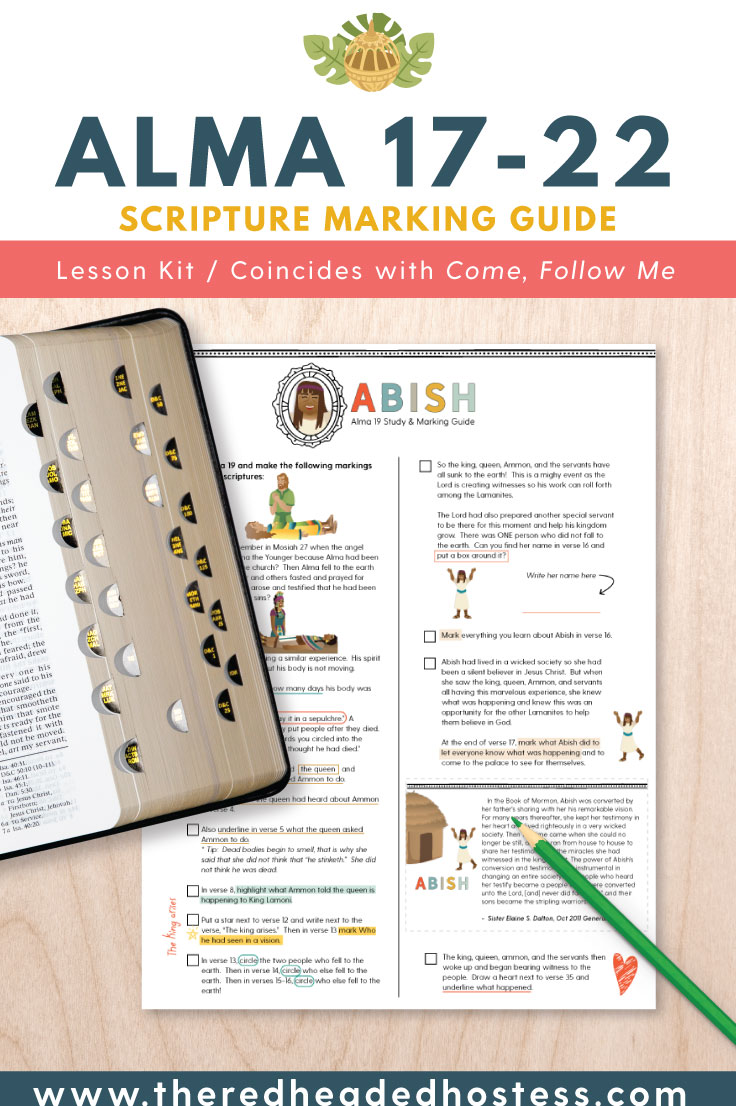 Scripture Marking Guide
Each kit contains a Scripture Marking Guide for kids. The guides aim to get your children into their actual scriptures. Each guide teaches them important scripture skills, such as navigating their scriptures, and imparts essential doctrines and principles. If your child can read, then they can do these guides or help their younger siblings still learning to read do the guide as well.   This is a very popular item among our subscribers.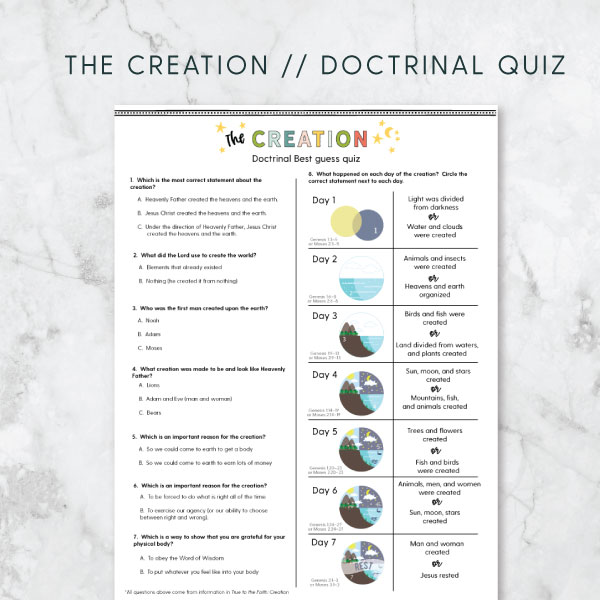 Doctrinal Quizzes
We have recently started adding Doctrinal Quizzes to our weekly kits.  These are incredibly valuable to parents in helping them know exactly how much their children know about a certain topic or principle.  The quiz will help identify areas where more teaching and study may be needed.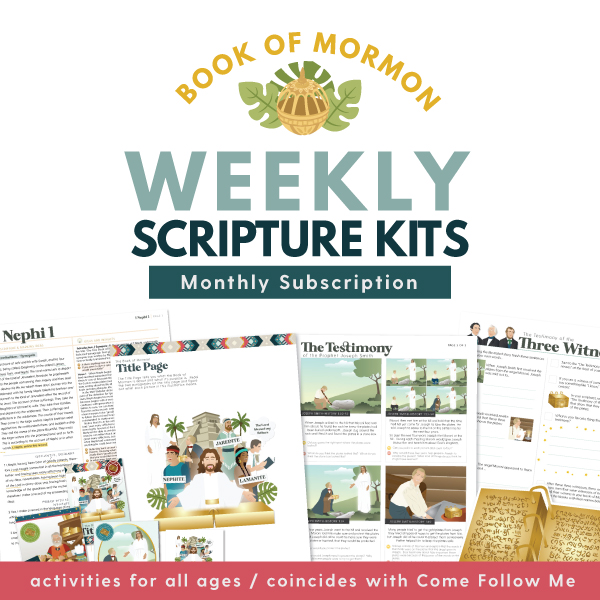 HOW TO GET OUR WEEKLY KITS
Getting our weekly kits is easy with two different options.  Either option is a great value since each kit is loaded with great things to choose from.   The most popular option is subscribing monthly for $10.00 a month.  That gets the average price per kit down to about @2.50 each.  Click the image above to learn more about how our subscription works.  The other options is to purchase each kit individually as needed from THIS section which is $4.00 each.  You can access all kits as PDF downloads when you log into your account.
Come Follow Me Alma 17-22
SUBSCRIPTION BONUSES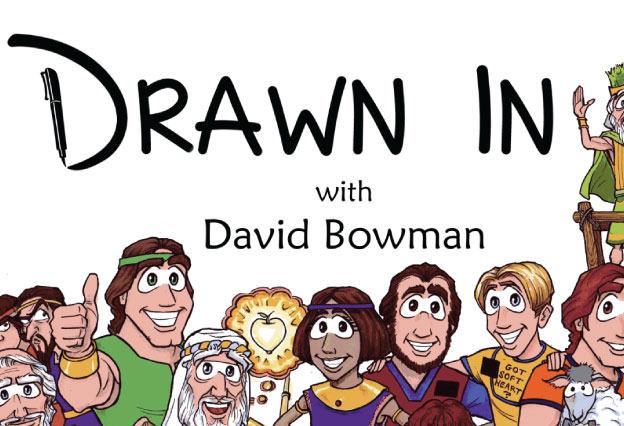 We strive to offer our subscribers incredible value and top-of-the-line content.  We often add free bonus files that our subscribers can login and download. Each subscriber's account has a "bonuses" section with free files that might otherwise need individual purchases or might not be available without a subscription. One of our bonuses to subscribers is a free streaming video series called "Drawn In" by David Bowman. You can use these entertaining videos to supplement your Come, Follow Me study. Click the image above to learn more about "Drawn In".
See our new video below about what you can expect from one of our weekly kits.
Looking for more Come Follow Me Resources? 
Check out some of our favorite posts that help to teach from the Book of Alma!