Come, Follow Me – Book of Mormon: Alma 17-22
The Red Headed Hostess strives to create professional, effective, and easy-to-use material each week that coincides with the Come, Follow Me Book of Mormon Curriculum from The Church of Jesus Christ of Latter-day Saints.  This page highlights the content in our Alma 17-22 weekly kit.  All of our weekly kits are meant to be used with the Come, Follow Me for Individuals and Families manual.  However, due to all the many options in each kit, our kits are also very popular among Sunday School, Gospel Doctrine, and Primary teachers for use with their corresponding Come, Follow Me manuals.  Each weekly kit is unique and created by professional, current and  retired seminary and institute teachers.  Each kit has professionally written commentary and tips written for adults and teens.  Each kit also has many different activities for older and younger children, everything based on the scriptures and designed to get you and your family directly into the scriptures.   Each kit has many options to choose from based on the age groups in your family, averaging 40-60 pages each depending on the chapters being covered.  All of our kits have a detailed section explaining how to use each activity.  Simply look through that section and then decide what you want to print and use.  Printing select activities instead of the entire kit will save you on ink and paper.  Each kit has enough options in it that you likely will not be able to use everything provided.  Using the entire kit isn't our intention in creating these.  We create many options so that you have the ability to pick and choose what you think is best for your family based on your family's specific needs and age groups.  There is literally something for all ages in each kit from adults to young children and each kit is organized in a way for you to easily decide what to use out of each one.  See more on this page about what is in the Alma 17-22 weekly kit.
STUDY PAGES
Our Study Pages are the foundation of each weekly kit.  These pages help you with your personal study of the chapters being covered in the Come, Follow Me chapters for that week.  These pages are specifically for adults and teens.  They offer professionally written commentary, tips, insights, relevant quotes, and great discussion questions you can use with your family or class.  All of our other Activities in each kit are created AFTER we create the Study Pages so that the activities can align seamlessly with what you have been studying and preparing for in your personal study of The Book of Mormon.  These are meant to give you a deep understanding of the chapters being covered so you can then teach your family effectively and with confidence and better help you decide which activities in the kit to choose from.  These pages are incredibly popular among Gospel Doctrine teachers, Seminary teachers, and Sunday School teachers.  These are our most popular item and many people subscribe to our weekly kits just to gain access to these pages.
ACTIVITY PAGES
The Activities in each of our weekly kits offer a lot of different options to choose from.  There are always unique and new things for each kit and some of our most popular items are found in each kit every week.  The Illustrated Stories (Bedtime Stories) and Collectible Cards are some of the items you will find in every kit because of how popular they have become.  The Bedtime Stories are very easy to print at the start of each week.  Keep them close in your child's room to use as part of an effective and quick 5-minute lesson each night or use them as part of your main Come, Follow Me study done as a family.  These stories illustrate each chapter and then explain in simple, easy to understand terms for young children, each scripture story.  There are great discussion questions for each story for both older and younger children.  These are an easy and effective way to work scripture study into your routine on a regular basis.  The Collectible Cards are another great tool to help your children look forward and want to do Come, Follow Me.  These print to be the same size as a traditional trading card and can be kept in clear trading card sleeves that you keep in a binder.  Each card has an illustration on the front and questions on the back.  By answering the questions on the back, your child can earn that card.  Throughout the year, they can add to their collection and watch it grow, giving them a sense of accomplishment.  These are also a great way for parents to review what you have learned in the past by picking cards out of the collection and asking your child to describe what is happening in the illustration.
Each weekly kit will also have unique activities and study options based on what is happening in those specific chapters.  See below some of the items included in our Alma 17-22 kit.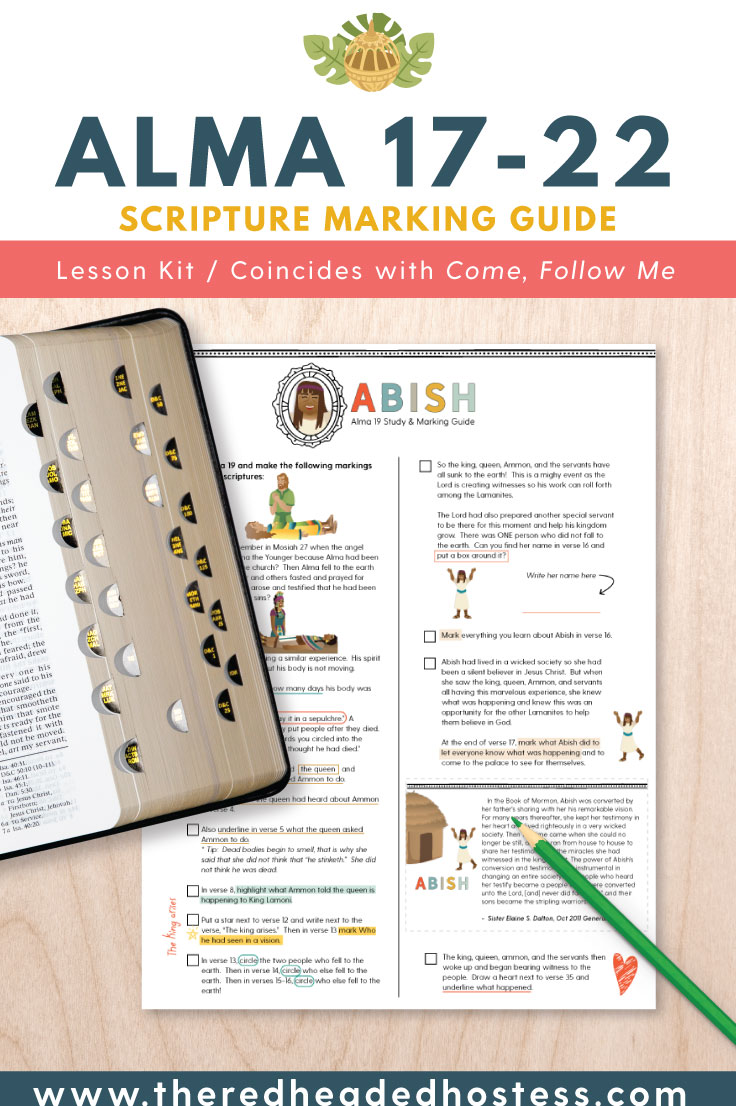 Each kit contains a Scripture Marking Guide for kids.  The guides are designed to get your children into their actual scriptures.  Each guide will teach them important scripture skills such as how to navigate their scriptures, but they also teach important doctrines and principles found in the chapters being covered.  If your child can read, then they can do these guides or help their younger siblings still learning to read do the guide as well.   This is a very popular item among our subscribers.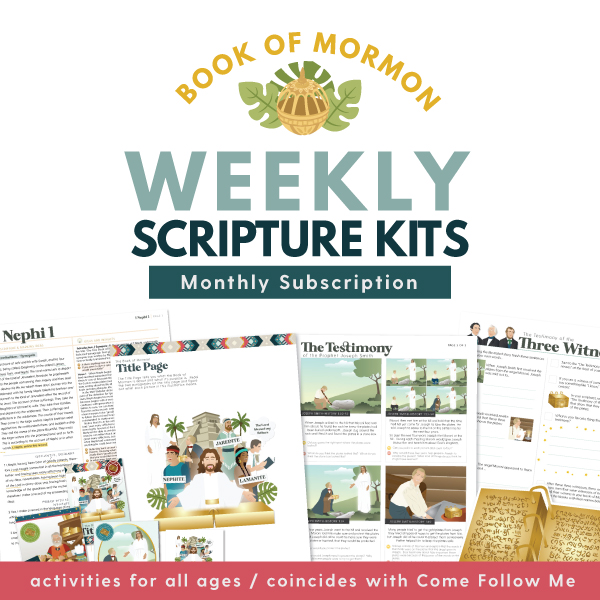 Getting our weekly kits is easy with two different options.  Either option is a great value since each kit is loaded with great things to choose from.   The most popular option is subscribing monthly for $10.00 a month.  That gets the average price per kit down to about @2.50 each.  Click the image above to learn more about how our subscription works.  The other options is to purchase each kit individually as needed from THIS section which is $4.00 each.  All kits are PDF downloads which are accessed by logging into your account.
SUBSCRIPTION BONUSES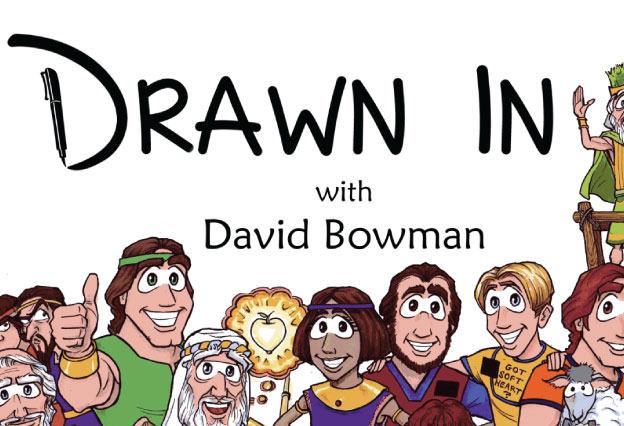 We strive to offer our subscribers incredible value and top-of-the-line content.  We often add free bonus files that our subscribers can login and download.   There is an entire "bonuses" section in each subscriber's account full of free files that would otherwise need to be purchased individually or may not even be available unless you subscribe.  One of our bonuses to subscribers is a free streaming video series called "Drawn In" by David Bowman.  These are very entertaining videos that can be used to supplement your Come, Follow Me study.  Click the image above to learn more about "Drawn In".
See our new video below about what you can expect from one of our weekly kits.