Book of Mormon: Come Follow Me Alma 5-7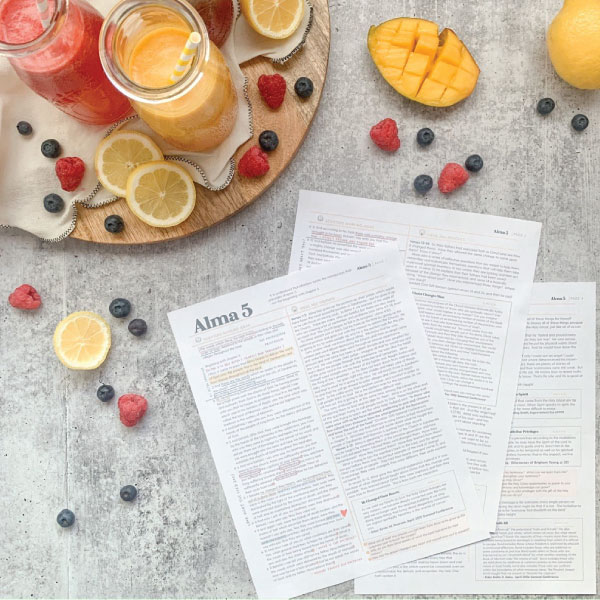 *Scroll to the bottom of this page to download a free trial of the Study Pages for Come Follow Me -Alma 5*
Come Follow Me Alma 5-7
Our latest kit for Come Follow Me Alma 5-7 turned out great and there are so many valuable tools for you to pick from for you and your family that will help you study and learn these amazing chapters.  These weekly kits coincide with the Come, Follow Me curriculum from The Church of Jesus Christ of Latter-day Saints.   Our weekly kits are designed to go with the Come, Follow Me for Individuals and Families manual but there are so many different options to choose from that our kits are also great for the Come, Follow Me Sunday School and  Come Follow Me-for Primary manuals.
More About Our Weekly Kits
Each kit has options for all ages, from adults to young children. For adults/parents/teens, there are the Study Pages which are designed to help you study and learn the scriptures so you can teach your family with confidence and effectiveness.  For teens, older children, and younger children, there are various activities to choose from and print each week.
Each kit has many options to choose from, much more than you will likely be able to use in a week's time.  The intention of our kits is to not try and get through every item but to choose what you think is best for your family and only use those items.  Printing only the items you think are best for your family will also save on ink and paper compared to printing the entire kit, 40-60 pages on average.  Each kit is created by professional current and retired full-time seminary and institute teachers and has an average of 150 hours put into creating it.  You can be sure that you are getting quality, effective, and relevant content with every weekly kit from The Red Headed Hostess.
What Can We Learn From Come Follow Me Alma 5-7?
Explore Alma 5-7 and discover the profound impact it can have on your personal journey towards Jesus Christ. As you dive into its pages, let the Spirit guide your revelations. Alma's introspective inquiries will help you delve deep into your own soul, illuminating the transformative power of a "mighty change of heart" throughout your life. President M. Russell Ballard beautifully expresses the significance of these introspective questions, encouraging us to regularly take the time for a personal, private interview with ourselves. As I embark on this introspective journey, I find solace and inspiration within the thought-provoking words of Alma's fifth chapter (Source: "Return and Receive," Ensign or Liahona, May 2017, 64 by President M. Russell Ballard).
Lesson Helps for Come Follow Me Alma 5-7
STUDY PAGES
We have everything you need to teach Come Follow Me Alma 5-7 all in one place. Each kit offers weekly study pages for the chapters being covered in the curriculum for that week.  These study pages are the main item in our kits and we recommend that they be used every week as part of your personal scripture study.
These can also be used as the main help in our kits for your teenagers as well.  These Study Pages are designed to make Mom and Dad scripture scholars with relevant commentary, quotes, tips, etc. so that you can teach your family with confidence.  Each page has actual text from the Book of Mormon in the left column with suggested scripture markings and tips you could add to your own scriptures as you study.  The right column offers commentary, tips, quotes, insights, etc., written by professional current and retired seminary and institute teachers.
All other items in each kit are created AFTER the Study Pages so that they can correlate perfectly with what you study.  That will help you better pick and choose which items from the Activity Pages you think will be best to use with your family.  Many of our customers subscribe just to get access to these pages.  These are also popular among Come Follow Me lds primary, Gospel Doctrine, and Sunday School teachers.
ACTIVITY PAGES
Illustrated Stories & Collectible Cards
Two of the most popular items in our kits are the Illustrated Stories (Bedtime Stories) and the Collectible Cards. These items come in every kit and can be used either together or separately. The Bedtime Stories feature illustrations of the stories covered in the chapters and include discussion questions suitable for both older and younger children. These stories simplify the scriptures, making them more accessible to young readers. They are easy to print and integrate into your bedtime or study routine.
The Collectible Cards are designed to be the same size as traditional trading cards and can be stored in clear trading card sleeves. Each card features questions on the back and illustrations on the front. Your child can earn these cards by answering the questions about the illustration or story on the front. The illustrations and questions often align with the Bedtime Stories, allowing for seamless integration. Collectible Cards offer a fun way for your children to earn rewards as they progress through Come, Follow Me each week. Additionally, they provide parents with a valuable tool for reviewing the material. Simply select a card at random from their collection and have your child narrate the story it represents.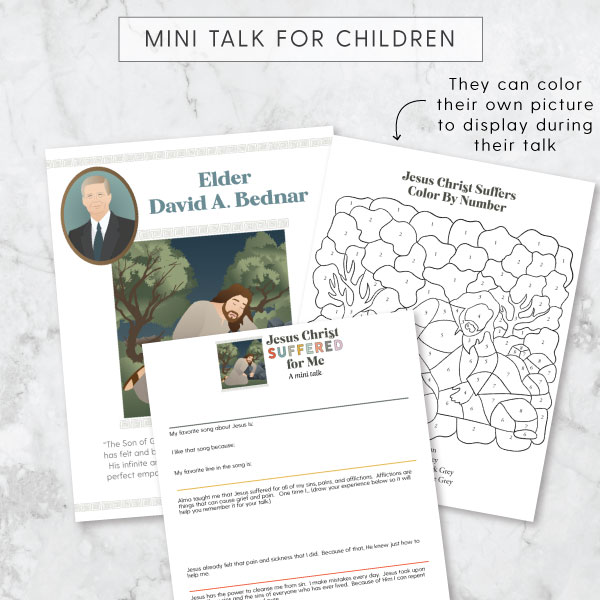 Talk Template
You can invite each child to prepare a mini talk about the Atonement of Jesus Christ and how he suffered for them.  Teens can prepare the talk on their own but younger children can use the template provided.  They can pick a picture of Christ to display or use the color-by-number sheet to use as their picture of Christ.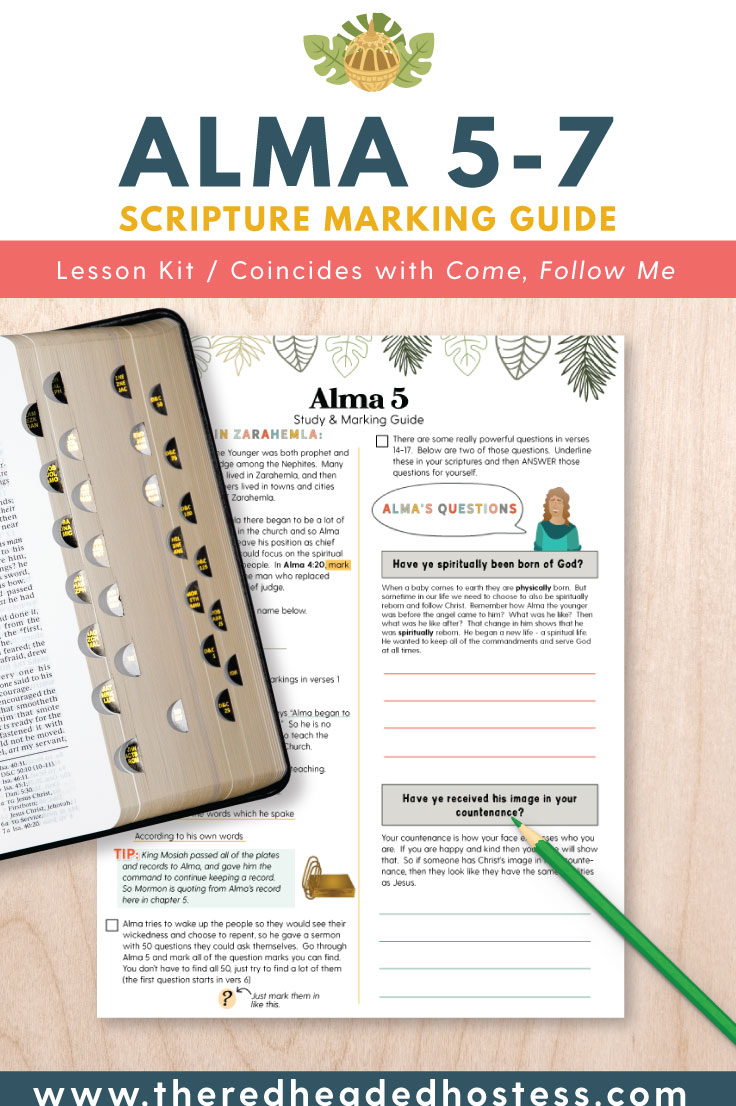 Scripture Marking Guide
Our Scripture Marking Guide for kids is always a favorite and these marking guides are included in every kit. The underlying goal of our products is to get individuals and families directly into the actual scriptures. Our Study Pages do that for adults and teens but these marking guides can do that for younger and older children. If your child can read, they can follow the step-by-step instructions in these guides. If your child is too young to read, they will need some help from Mom and Dad, but this is still a useful activity.
Each guide teaches doctrine, principles, scripture study skills, and more. These are not just busywork telling your child where and what to mark. There are reasons behind each marking that your child will learn. Your child will learn how to navigate their scriptures and learn how to study and find important doctrines. We have received countless reviews from parents about how effective these are for their children.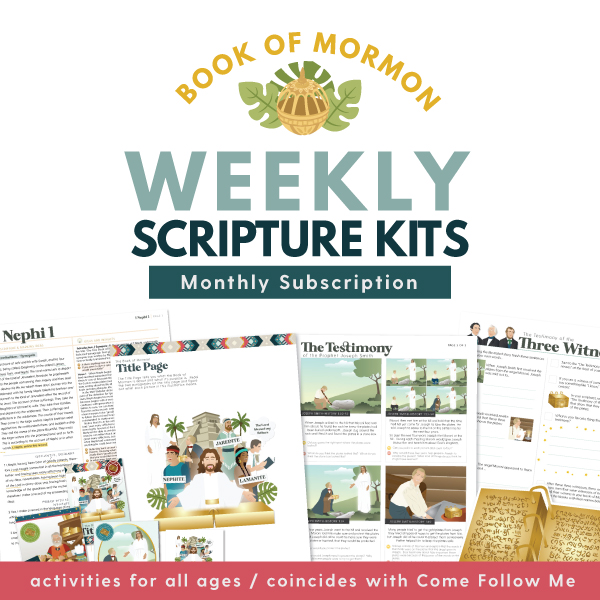 HOW TO USE OUR WEEKLY KITS
Our weekly kits are easy to get with two options to choose from.  You can purchase each kit as needed individually HERE for $4.00 each.  With each kit offering many options to choose from, averaging 40-60 pages of content each, this is an incredible value.  The other option is to subscribe monthly for $10.00 a month.  This means, we are offering even more value because it gets the average price per kit down to about $2.50 each.  Click the image above to learn about how our subscription works to see if it is a good fit for you.  All kits are PDF documents that are downloaded from your account on our website.
More Come Follow Me 5-7 Lesson Helps
SUBSCRIPTION BONUSES
Throughout the year, we offer free files to monthly subscribers as bonuses.  Things like Scripture Page Titles, things for General Conference, printable booklets, are some of the items we have given away this year.  One of the free bonuses we offer is a streaming video service called "Drawn In" by David Bowman.  Each week, David creates fun and engaging videos for kids that coincide with the chapters being covered.  David is a professional artist and retired Seminary teacher.  As you listen to David tell the stories, you watch him draw them out at the same time. These are a great supplement to your main scripture study done throughout the week.  See more information about these free videos HERE.
Try our Free "Drawn In" videos that are included each week in your Red Headed Hostess subscription!
Looking for more Come Follow Me resources?
Check out some more of our favorite posts that help to teach from the Book of Alma!